Best Flannel Lined Pants – 2021 Edition
In a
Hurry? Editors choice: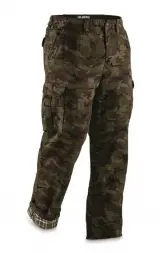 Test Winner: Guide Gear Men's Cargo

Have you ever woken up to
frigid winter temperatures
that were well below zero, snow that continued to fall with no sign of stopping, and an icy cold car that you had to start for work? Alas, you had to continue with life as if you weren't in danger of frostbite just by looking out the window. Well, to counteract the bad news of you actually having to leave the confines of your warm abode on these days, we come with a bit of good news. Flannel lined pants.
Yes, it's true… these pants look like jeans or simple khakis but are lined with flannel and will keep you warm and comfortable while still looking professional. While we at GWA can't help you call in a 'snow day' from work, we can certainly help you get there feeling more comfortable and toasty warm.
Standout Picks
Criteria Used for Evaluation
Fit
As far as fit goes when you're selecting your flannel-lined pants, the most popular fit is the relaxed style because it offers plenty of space and freedom to move.
However, that doesn't mean that you might not like some of the classic slim-fit design pants, because much of this depends on the brand, fabric flexibility, and personal preference. When figuring out what fit works best for you, you'll need to look at the fabrics in the flannel-lined pants to see their flexibility levels, and it also is a great idea to go to the store and try on a few different types of fits with varying brands to see what is most comfortable for you. Flannel pants come in three different fit categories, which are classic, relaxed, and slim. We'll cover each one below.
Classic Fit
Flannel-lined pants designed with the classic fit are usually what we'd call an average, or standard fit. They are a bit snugger than some of the other fit categories, which can restrict movement unless the pants are designed with flexible materials.
Relaxed Fit
Flannel-lined pants made with the relaxed fit style usually provide you with a lot of extra room in the pants, which you'll find in the seat and thigh area. You get a roomier type of pant with this fit, and plenty of freedom to move with or without flexible material designed into the flannel-lined pants.
Slim Fit
Slim-fit pants are more contemporary and designed with slimmer legs when compared to classic and relaxed fit pants, but also don't fit too tight in important areas. With slim fit flannel lined pants, the pants are still designed to include leg openings that will fit over work boots.
Style
The cut and fit of the pants have already been discussed, but we haven't explored the style of the pants.
Whether the pants will be primarily used for work, or as your go-to winter pants, chances are that you want to look good doing it. Pants are offered in many different styles, colors, and fabrics.
For the style, we focused on researching the shape of the bottom of the pant, such as skinny, boot cut, or flared. Additionally, when talking about style, of course, we need to mention the colors. Luckily, most of these pants are available in neutral colors that can be easily matched with any shirt. However, if you are specifically looking for a black pant, it's good to know if the fit and style you have fallen in love with are offered in black.
Materials
Most flannel-lined pants are made out of one of the two standard fabrics: cotton duck or denim.
Remember, the cotton duck fabric has no relation to ducks and is actually a name for a durable type of cotton. What can you expect if you buy either denim or cotton duck flannel pants? We'll break that down for you in more detail below.
Denim Pants
With denim, you get pants that are known to "break-in" to fit well as you work. Basically, the more often you wear and wash denim pants, the more comfortable you'll experience, and the better they will fit you. Denim work flannel lined pants are designed with thicker materials than your standard, casual jeans. Also, many denim work pants come with flannel-lined material to help keep you warm while you work outside. Denim pants don't tend to be as durable, strong, and long-lasting as duck cotton pants, but are usually more comfortable.
Cotton Duck Pants
Cotton duck flannel lined pants tend to be more durable than denim, and since they have a smooth surface of the material on the exterior of the pants, they won't snag and tear as often as denim will when you are working outside. Also, most cotton duck pants aren't flame-resistant, but they work better than denim will in high-heat situations, like welding or other activities. Cotton duck pants can also work like denim and become more comfortable as you wear and wash them, but overall, they tend to not fit as comfortably as denim.
Comfort
Some brands also make special fabric blends, like cotton combined with nylon to add flexibility or a cotton duck fabric that can resist flames.
Typically, brand-specific fabrics still include some kind of cotton or denim on the exterior of the pants. So, when you're trying to decide if you want denim or cotton flannel pants, what do you need to think about? Really, focus on whether or not you'll be around fire or flames, and if so, then you're probably better off with cotton duck flannel lined pants. The other major factor you'll have to decide is whether you want flannel lined pants that are more durable, or pants that are more comfortable, because depending on the material you pick, you may have to sacrifice one or the other.
If comfort is a major feature for you, then you'll want to go with denim flannel-lined pants, since they do tend to feel much cozier when you're working. However, if durability is your main priority, the duck cotton pants will be the better option for you.
Also, you'll need to know a little bit about fabric weights, as that's another feature of fabric that could factor into your decision. Most manufacturers of flannel pants will list the weight of the fabric in the description—so knowing what that means can help you make your decision easier. Heavier fabric weights, like 14 ounces in fabric, are usually found on heavy-duty work clothes and work better in colder temperatures. Lighter fabric weights can be less durable, and usually works better for warmer weather. Since you'll want to focus on warmth when working outside in the winter, a heavier fabric is probably the better option, and will also offer a lot of durabilities.
Subscribe to our Newsletter