Best Pool Vacuums
In a Hurry? Editors choice: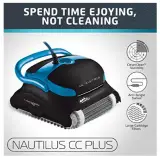 Test Winner: Dolphin Nautilus CC Plus

As enjoyable as swimming pools may be, they also need regular maintenance; and that is where pool vacuums come in. Gone are the days that people used to rely on pool maintenance companies. Smart pool owners all over the world are resorting to pool vacuums, because of the numerous benefits they offer.
Pool vacuums are cheaper in the long run since they are a one-off purchase. They reduce the amount of time and effort needed to clean up swimming pools. Wouldn't it be nice to have a clean, debris-free pool all the time? You will be able to swim whenever you want, or even host people as often as you wish. The best pool
vacuums
will offer you such convenience and so much more.
Standout Picks
Criteria Used for Evaluation
Compatibility
Is the pool vacuum compatible with your swimming pool?
There are different kinds of pool vacuums for different swimming pools. Some pool vacuums are for above ground pools, while there are those for in-ground pools. There are also those pool vacuums, which are limited to certain surfaces, while others are capable of cleaning a variety of surfaces. These are the reasons why you need to check if the pool vacuum you wish to buy is compatible with your swimming pool. Make sure that it can deliver the performance you want, by selecting the right kind of cleaner for your pool and its surface.
Use
How effective is the pool vacuum you are buying?
Before making a purchase, you need to check if the pool vacuum can get you the results you desire. You should have some information about it, to learn about what it can offer you. If you are looking to eliminate algae, it's not logical to get a pool cleaner which only deals with leaves. By knowing the kind of services the pool vacuum provides, you can analyze if it can meet your pool cleaning needs.
Features
What makes the pool vacuum effective?
There are many pool vacuums in the market. To get the most out of your purchase, you need to be aware of the features the cleaner has. Some features are highly convenient. For example, there are pool cleaners that have wireless connectivity, allowing you to operate them remotely. You will also find that some pool cleaners have automated programs and schedules. Features help show how advanced or helpful a pool vacuum will be. Ensure you always analyze pool vacuum cleaners to enhance your user experience.
Ease of Use
The best pool vacuum is user-friendly.
Pool cleaning has always been hectic if not taxing. The purpose of getting a pool vacuum is so that you get to lessen the workload. It, therefore, defeats the purpose if you get one, which is difficult to handle. You need to make sure that the cleaner will be easy to operate and manage. It should not add to the frustration, but instead, make you glad that you bought it. The best pool cleaner is easy to use and will get the work done within a short time.
Best Pool Vacuums
1

. Dolphin Nautilus CC Plus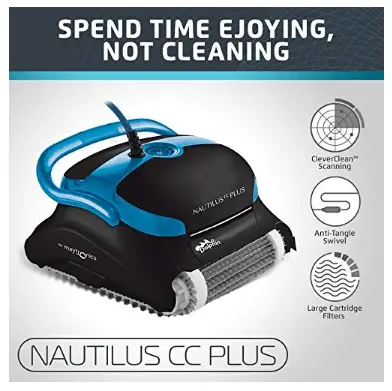 Dolphin has some of the most advanced pool cleaners in the market. The company's number one focus is on enhancing user experience. They offer the highest level of convenience with their robotic pool cleaners. You won't dread cleaning your pool as much as you used to. Best of all, you don't even have to be there each time the pool vacuum is working.
Read more
Compatibility:
The Dolphin Nautilus pool vacuum is the best alternative for in-ground pool owners. It is useful for swimming pools with varying depths, up to fifty feet.
Use:
The pool vacuum will get the smallest bits of debris on the pool floor. It will also capture any leaves inside the pool. You won't believe the difference in your pool's appearance in just two hours. You need this robotic cleaner if you haven't been able to clean your pool in a while. It will drastically reduce the duration you would have taken to clean your pool by more than half. It not only cleans the pool floor but can handle the walls as well.
Features:
It has a pair of powerful scrubbing brushes. The brushes can remove the toughest kind of dirt effortlessly. The pool cleaner is very efficient and can handle a size-able quantity of debris. Its design enables this since it consists of a large cartridge, of a top load nature.
The company incorporates advanced logarithms into this pool vacuum model. As a result, the pool vacuum can carry out its functions smartly and efficiently. You can rest assured that you will get complete coverage for your pool.
Ease of use
Operating the robotic cleaner is very easy, because of its single button set-up. You will be able to schedule the time you want your pool cleaned. If you want your swimming pool cleaned daily, all you have to do is program the cleaner to do so. Users have the freedom to determine the frequency that works for them. You can also set it to clean after every few days if you want.
It also has a swivel cable that is anti-tangle. The cable has a patent and allows the pool vacuum to maneuver with so much ease. That feature is part of what makes your presence unnecessary. The chances of the cleaner getting stuck or unable to move are minimal.
Overall:
The Dolphin Nautilus is an energy efficient alternative. It consumes eight times less energy compared to other types of pool vacuums. You can't compare it with some of the pressure and suction cleaners in the market.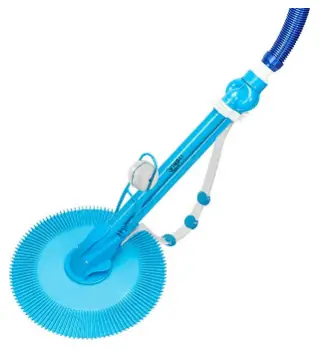 Vingli pool vacuums haven't been in the market as long, compared to some other alternatives. However, that shouldn't deter you and make you reconsider it as a viable option. The pool vacuum continues to gain recognition thanks to its excellent performance.
Read more
Compatibility:
You can use this pool vacuum if you have an in-ground pool. It can clean a variety of swimming pool sizes. However, you should note that the size of the swimming pool also determines the amount of time taken to clean it.
Use:
The Vingli pool vacuum deals with a variety of contaminants. When you use it, you will be able to get rid of short twigs, leaves, debris, pebbles, and dirt. The vacuum can also remove bugs fro, your swimming pool.
Features:
When you make this purchase, you will also get some replacement hoses. They are ten in number and are highly durable. One of the main advantages of these hoses is that they are easy to integrate with filtration systems. The hoses have resistance to scuff and will help eliminate any dwelling on the surfaces of your pool. It is not an exaggeration to call them lifelong hoses.
You will need to have a pump to ensure that the vacuum works properly. The company recommends a 3/4 hp or one that is 1600 ghp. Users are also advised to adjust the (parts K) regulator valve and the weights to get ideal results. If you already have this kind of pump power, all you need to do is focus on adjusting the weights.
For those who have large cleaner suctions, the company advises that the suction needs dispersion. You should open the regulator valve, in order to do this. User's with small suction cleaners should clove the valve, enabling the passage of water through the pipe.
Ease of use
One of the things you will like about this pool vacuum is the fact that it has a simple assembly process. It is also effortless to install, making it a frustration-free alternative. The cleaner will not jam or break down as well. So, the cleaning process will not get interrupted once it starts.
Overall:
If you hate noisy appliances and equipment, you should get this pool vacuum. It is an excellent option for people who like quiet environments. You won't have to worry about hammer-like noises that some pool vacuums have.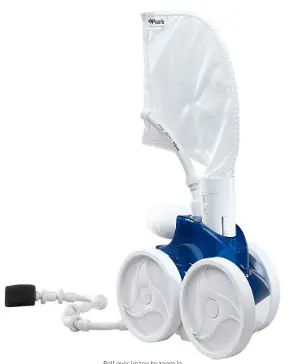 Polaris offers a pressure side pool cleaner that has a solid reputation among pool owners. The Polaris Vac-Sweep 380 is a good fit for people who want a pool vacuum mechanism, which is more advanced. Its level of efficiency is unquestionable, and it has several interesting suction features.
Read more
Compatibility:
The pressure-vacuum cleaner works with all in-ground pools. What makes it an outstanding option is that it can accommodate any pool shape. The size of your swimming pool won't be an issue as well. It can work perfectly regardless of the in-ground pool you have.
Use:
The pool cleaner can carry out the vacuuming functions that you require. On top of that, it will give your swimming pool a good scrubbing. Both your pool walls and pool bottom will look spotless. In addition to the two functions, it can sweep your swimming pool as well.
Features:
The pressure cleaner works at a high-speed rate, with excellent vacuuming power. Polaris uses triple jets to power the cleaner, to make such functions possible. The pool vacuum uses an all-wheel-drive mechanism. To use it, you will need a different booster pump.
The vacuum cleaner comes with a filter bag that has a single chamber. Its inlet measures about 2 ¼ inches in size, and it also has a hose. You will find it extremely convenient since it measures about 31 ft.
Ease of use
You will realize that your pool filters will have an extended life span. Reason being, the cleaner inhibits the debris from making contact with the filter. The debris is taken out before that happens. The vacuum has a powerful mechanism and has an ideal construction for the intake of debris. Its design consists of a large opening to accommodate all sizes of debris. Additionally, the company uses a dual-jet vacuum.
One other exciting benefit that the vacuum offers is the reduction of cold spots. People who heat their pools are the ones most likely to benefit from this function. The pressure cleaner will maximize the circulation of heated water. As a result, there will be even temperature levels in the swimming pool.
Overall:
Much like other pool cleaners, this one also has a mechanism to ensure that it cleans consistently. The Polaris vacuum cleaner has a valve, which helps free it up in case of intrusions.

4

. Hayward Poolvergnuegen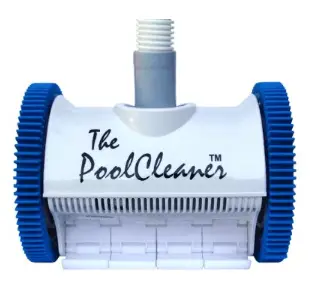 Hayward is a renowned company in the swimming pool industry. The company has been offering solutions and technologically advanced equipment for more than eighty years. They have helped pool owners on a global scale, and many homes consider them as reliable manufacturers.
Read more
Compatibility:
You will benefit from the Hayward pool vacuum if you have an in-ground pool. Some users point out that it is too powerful to use in an above ground pool. The need for a skimmer port also disqualifies the pool vacuum for above ground use.
Use:
Users appreciate this Hayward vacuum whenever they want to clean up their pool thoroughly. It is the fastest and efficient way to get the desirable full coverage. This pool vacuum is also ideal for all kinds of surfaces.
Features:
One of the features that stand out in the pool vacuum is the tire treads. The tires are patented and unique to Hayward's pool vacuum. They enhance the cleaner's ability to climb, setting it apart from ordinary cleaners. As a result, it maneuvers obstacles effortlessly, even when it comes to the main drains.
The pool cleaner also has turbine vanes that adjust themselves. Like the tire treads, they are also patented. Due to the flexibility of the vanes, the cleaner can operate at full power. It will continue to operate at the same level regardless of any flow.
Ease of use
The construction of this pool vacuum includes a reliable steering system. The steering system is responsible for the cleaner's directional capabilities. It is able to cover the entire swimming pool area because of such pre-programming. The sequences of its internal steering enable the wheels to reverse periodically and move to the direction that needs cleaning. So you don't need to worry yourself about any places being left out.
Overall:
This pool cleaner is highly versatile. You can also use it with different speed pumps. One of the reasons why this is possible is because it comes with "throats" that are interchangeable. They optimize its performance, especially when it comes to suction. As a result, it can work under any flow and deal with different debris sizes.
Additionally, you can attribute the suction performance to its roller skirt. The cleaner's roller skirt is patented and adjustable. You will find that it is also able to work on uneven kinds of surfaces.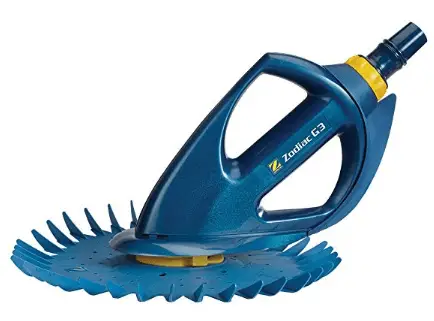 The Zodiac Baracuda pool vacuum is one of those cleaners that have been around for some time. Part of what makes it unique is its simple operating system. The Pool cleaner does not have any flappers, gears, or wheels. However, it matches the performance of other vacuums with the said features. So, don't let its appearance fool you; its performance might end up surprising you.
Read more
Compatibility:
The Baracuda is an in-ground pool cleaner that works well with low-speed pumps. It is capable of cleaning a variety of swimming pool surfaces. You can use it on tiles, concrete, and vinyl as well.
Use:
The pool vacuum will take care of your swimming pool steps, floor, and wall. It is capable of handling the smallest to the medium-sized debris. The results it delivers are noticeable, and nothing short efficient.
Features:
What makes it able to operate with low-speed pumps is its flow-keeper valve. The valve ensures that there is some regulation to how the water flows. As a result, the pool vacuum can maintain top-notch performance.
It also comes with a hose that is resistant to scuff. It simultaneously eliminates the scuff from the surfaces of the pool.
Ease of use
The cleaner will not have trouble maneuvering tight corners. It has a wheel deflector that makes this possible. The pool vacuum will not get stuck on fittings, drain covers, lights, or other features around the pool. It avoids doing so thanks to its 36-Fin Disc. The disc successfully increases the pool cleaner's adhesion to the surface. That is how it is able to move without being stuck.
You won't have trouble when it comes to maintenance. The cleaner has a patented cassette, which has a quick release mechanism. As a result, you will find it easy to carry out routine checks.
Overall:
The Zodiac Baracuda is also a durable alternative. The vacuum's diaphragm is reliable and long-lasting. You will be amazed at what it can do, despite it being a mobile one-part technology.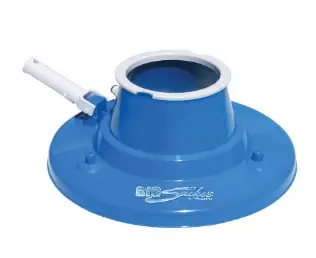 For homes surrounded by trees, leaves can be a big problem. During Fall, the situation worsens, and pool owners deal with constant pool cleaning. If you don't have a leaf pool net cover, you are in dire need of a pool leaf vacuum. The Poolmaster 28300 is one of the highly ranked cleaners that will help lessen your workload.
Read more
Compatibility:
The pool master vacuum is useful for both in-ground and above ground pools. It has benefited many pool owners, but its efficiency also depends on the size of the swimming pool. Some users claim that its performance is questionable when it comes to larger ones.
Use:
As mentioned earlier, the pool vacuum is best for leaf removal. It has a large diameter for this purpose. The large profile design is highly convenient for taking in big leaf loads.
Features:
It comes with a useful leaf bag, which consists of mesh material. The bag is all-purpose and reusable. It has a push to lock feature, for closure purposes. That is how it's able to hold the leaves securely.
One of the main functions that make the pool vacuum effective is its suction power. The cleaner's underside has water nozzles that turn in to mini-jets once connected to the hose. In turn, the suction they help create is powerful.
Ease of use
The vacuum has four wheels, which are multi-directional. They help it move flawlessly when on the pool floor. The company also added a ring to the leaf bag to help hold it in place. The ring makes it easy to fit the bag on the vacuum neck.
Overall:
This Poolmaster stands out in many ways. If you are looking for convenience, then this is purchase is a good choice. You will be able to use the adapter with any garden size hose.

7

. XtremepowerUS Automatic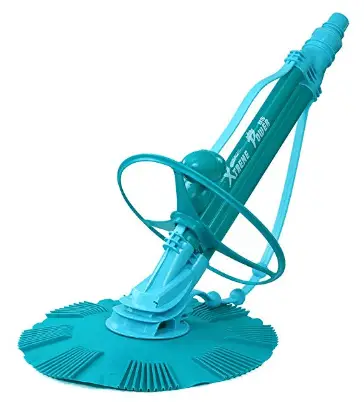 The XtremepowerUS pool vacuum helps people reduce their energy costs. You get to clean your pools by in the most affordable manner there is. The pump doesn't require an electrical connection to function. As a matter of fact, you won't need to attach any tools as well. It works perfectly, via a connection to the pool's filtration system.
Read more
Compatibility:
Ideally, the pool vacuum is for in-ground swimming pools. Some have used it for their above ground pools, but few have been successful. It's probably not a good idea to buy the vacuum if you don't have the recommended pool. You should also note that the pool cleaner can only be used with pools that are up to 30 ft.
Use:
It has a smart construction, which makes it able to clean several surfaces. You can use it on vinyl, fiberglass, tile, and concrete. The cleaner works well against stains, not to mention algae, dust, and dirt. Unfortunately, the cleaner doesn't work well with leaves.
If you want to keep using the vacuum for some time, you need to take care of it properly. The company advises that users should wash and keep it in a dry place. Reason being, the materials that constitute the pool cleaner, may get eroded. The bleach and chemicals in the pool water are very likely to cause erosion.
Features:
To get the most out of the pool vacuum, you need a 1600GHP or a 1hp pool pump. To also help carry out its functions, you need to set a proper balance for the vacuum. The cleaner comes with seal clips to help stabilize its weight. The company recommends that a clip is put after every 3 feet.
Ease of use
For every minute, the cleaner covers about eight to twelve feet of the pool. That is faster than the time it would have taken a single person to clean the pool. You will be able to change the water flow easily. The pool cleaner has an "eyeball divert" which you can adjust to do so.
Overall:
The vacuum also comes with ten extra hoses. You will be able to adjust them based on the length you require. Be careful not to choose one that is too long or too short. Excessive length will lead to tangling, while shorter length will inhibit thorough cleaning.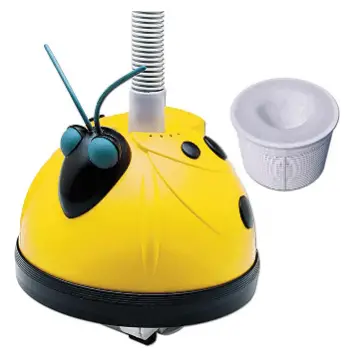 In the swim has some interesting pool vacuums. They come in critter shapes, so you can choose one that appeals to you the most. The options include; Wanda the whale, Penguin, and Aqua critter. All of them are suction types of pool vacuums that are automatic. They have some excellent features and are much smarter than they look.
Read more
Compatibility:
You can get yourself this critter pool vacuum if you have an above ground swimming pool. The only connection you need to make them work is the pool suction you're currently using. Once you connect it, you can set it to start cleaning your pool. It can work with your pool, whether it's a flat or dished out variation.
Use:
The pool vacuum can handle the smallest of particles. It won't just pick up leaves and let you work out on how to clean the rest. You will be able to get rid of the bugs in your pool, alongside a ton of debris. So, once you finish using the cleaner, you will have a comprehensively clean swimming pool.
Features:
If you check the bottom of the pool vacuum, you will note that it has a bumper ring. The deluxe ring is responsible for the minimization of friction as the vacuum cleans. It makes it easy for the cleaner to maneuver away and resume to the steering program.
Your purchase will also include five filter savers. The company refers to them as such because they trap debris before they get to your filter. In the end, you will notice that you spend less time on maintenance and filter cleaning as well.
Ease of use
The cleaning pattern it uses is of a pre-programmed SmartDrive. The company has a patent on the pattern and a gearing/turbine system, which is unique to it. As a result, the cleaner's water flow is balanced. You also get the benefit of having it operate quietly as the process continues.
Overall:
The pool skimmer filters described above are nets, which are re-usable. They carry out their function by going over the skimmer basket. By doing so, they are able to trap any form of debris that skimmers often let through. After you're done check if you need to replace it. If not, just rinse it properly and put it back.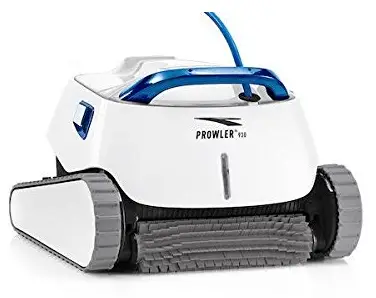 Pentair is another brand name that not most people are familiar with. Their robotic pool vacuum is an excellent fit for trendy individuals who love convenient alternatives. When compared to some of the established cleaners in the market, this is a modern alternative. If you are looking to trade in your old pool cleaner, why not explore new features that you haven't used before.
Read more
Compatibility:
Pentair's kreepy krauly is only compatible with in-ground swimming pools. You can purchase one if your pool size measures up to 30ft X 60ft.
Use:
The pool cleaner can vacuum perfectly. It will also scrub the swimming pool and filter it. It also filters the waterline as well. You will find its deep scrubbing function quite impressive. Most users love the cleaning performance it delivers. The vacuum will also rid your pool of any algae.
Features:
The cleaner has two mesh baskets. One basket is for collecting large debris, while the other is for fine debris. The baskets allow pool owners to customize the level of filtration they want. The pool vacuum has a convenient cart. It is quite sturdy and is useful for storage.
Ease of use:
This pool vacuum has a ton of convenient features. The ideal one is the vacuum's Bluetooth connectivity option. By using the wireless feature and its mobile application, you will be able to control it from your phone. It also has a controller with multiple options you can run.
Overall:
Users have the option of programming the pool cleaning schedules. The pool vacuums also have in-built weekly timers.

10

. Aquabot APRVJR Pool Rover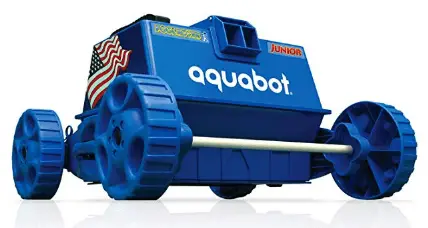 Aquabot pool vacuums are available in several packs. This specific option is a one-pack alternative, but you can still get it in two, three, four, and five pack varieties. You can choose the pack that is most likely to satisfy your swimming pool needs.
Read more
Compatibility:
The pool rover is for above ground swimming pools. It will work efficiently whether you own a rectangular, round or oval pool.
Use:
You will be able to get rid of the contaminants in your pool. The vacuum has one of the best filtration systems in the industry. Unlike most cleaners, it can filter down to two microns. Because of this, it can get rid of algae, bacteria, sand, and silt, to mention a few.
Features:
It has a timer that you can set to shut-off after two hours. The pool vacuum won't have trouble moving on different surfaces. It has wide wheels which are non-marring, enabling it to deal with obstacles on its way.
Ease of use:
The vacuum doesn't require any hoses to function. You will just need to plug it in and put it to work. The pool cleaner has a jet-like propulsion and vacuum suction that one can easily switch on by the touch of a button.
Overall:
The Aquabot will help you save on energy and chemical costs, as you continue to use it. It is definitely worth trying out.

Subscribe to our Newsletter