Best Steam Mops
In a
Hurry? Editors choice: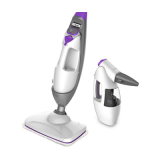 Test Winner: LIGHT 'N' EASY

We think that life is just too short to hassle with old-fashioned and outdated cleaning tech such as the traditional mop and bucket. Investing in an innovative steam mop can not only save you a lot of time, but it will give all of your interior floors a fresh and clean shine. These products typically have a water reservoir that is easy to fill, and typically can run for up to 20 minutes before it needs to be refilled. The base usually has a soft
cleaning
pad that is either made from reusable microfiber material, or it just uses disposable pads that can be tossed into the
trash
can when you are done with them. So next time you
clean
your floors make sure you have your new steam mop handy, to get the best clean quickly and efficiently.
Standout Picks
Criteria Used for Evaluation
Value
We, like you, love to save money when we can. While we tried to select a few options that were reasonably priced, we steered clear of the options that had a price tag that seemed too good to be true. Typically when a product such as this has an incredibly low price tag, a quick visit to user reviews will reveal that the product either isn't very powerful and effective or that it won't last more than a few months without breaking down. We made sure to select a few products that had a reasonable price point while still having positive user reviews. For the most part, however, you are going to have to dish out a little bit of money to ensure that you purchase a product that will be powerful enough and will last for you many years to come.
Style
There is nothing that is going to take up as much room as the traditional mop and bucket, but that didn't stop us from trying to save you just a little bit more closet space. We were drawn to products that had a lower profile and a slimmer base. Often, that means that the water reservoir doesn't hold as much water as some of the bulkier, heavier designs. However, what we discovered is that users are far more inclined to continue to refill the water chamber rather than fuss with a heavy and bulky design that isn't very easy to use. We also liked designs that were able to be disassembled to make for easy storage, especially in shorter, more narrow spaces.
Ease of Use
The end game here is to offer something that will be able to get your floor shining like new when you are running a little short on time. That's why we made sure to select products that were easy to use. Users typically prefer water reservoirs that detach from the entire unit so they can put their directly under the faucet for easy filling, rather than filling up a cup and putting that into the reservoir directly on the unit. We also made sure to select designs that weighed between 5-10 pounds so they were easy on tired backs from a full day of work. One of our favorite features was the ability to heat up the water in under 20 seconds. Many of the higher end models took upwards of 60 seconds to get hot enough, but there were come out there like the Haan design that went from plugged in to read yo go in just 20 seconds.
Versatility
Just like with anything else in life, we like things that come with additional features and are versatile to allow you to clean other parts of your home. We were drawn to products that a base that was able to be detached, and hoses that have a myriad of attachments to clean spaces such as automobiles and widows. One feature that users really appreciate is the carpet attachment feature. If your carpet is smelling a little bit stale and you feel it needs something more than a simple vacuuming, simply attach the carpet attachment onto the base of your unit and use the power of hot moisture to lift up some of the more set in odors to leave your house smelling fresh.
Subscribe to our Newsletter