Best Doormats
In a Hurry? Editors choice: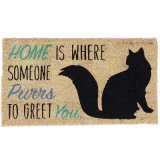 Test Winner: DII Natural Coir

When people enter your home, they are doing so from the
outside
world that is full of dirt, mud, and overall filth. Clearly, you do not want all that dirt and grime to get in your carpets or on your hardwood floors. What is the answer? Well, one of the best ways to prevent this is with a doormat. Doormats, depending on the design, can either be used indoors or outdoors and there are a variety of different styles available. Ideally, a doormat is well
constructed
, durable, easy to maintain and the right size for the intended area. You may also want it to fit the style of your home and express your personality. But, where to begin? Take a look at our guide below where you will find a collection of our favorite doormats, fully reviewed.
Standout Picks
Criteria Used for Evaluation
Materials
As with most consumer products on the market today, it all starts with physical construction. All you really need to focus on is the materials that are utilized as you can gauge the performance based on that alone. But, there are several types and variations available so which ones are superior? Well, some materials are superior in certain areas and lacking in others. For example, let's take a look at the rubber. While it is far from the most appealing material in the world, rubber is world-renowned for its durability, strength, and overall toughness. Of course, some rubber will begin to crack under intense frigid air.
Then, you have fabric versions. One of the most notable fabrics that some doormats utilize is known as coir coconut. This is a fiber that is naturally extracted from coconut and it is one of the strongest and most durable fibers you will find. Plus, they do an excellent job of scraping off dirt and mud from your shoes. In addition to the core makeup, also assess the backing. Thick backings that will not slip are preferred to keep the doormat from moving all over the place.
Style
When you invest in a home, one of the most satisfying tasks to accomplish is orchestrating the overall décor. No matter where you intend to place this product, the visual design and seller choices will come into play so you can decide which artwork and colorization are appropriate for your home. The question then becomes are you simply looking for a model that has no artwork or wording whatsoever and is straightforward? Or, are you looking for an outlandish design that makes your guest laugh or chuckle? Of course, maybe you simply want the best of both worlds, a simple design with a simple context.
No matter where you land, it is all up to you. A luscious black and brown version can do wonders for your home, but you could make your guests laugh with one that sports the words "enter at your own risk". Let your imagination run wild here as, after all, only you can decide what type of design you desire.
Durability
What is the overall purpose of the product that has been discussed in this guide? Obviously, it is to remove all the gunk present on your shoes (such as dirt, mud, dust, snow, grass, etc.) to prevent it from being exposed into your home. Because of this, it is only common sense that they are going to require cleaning from time to time. To be perfectly honest, you should clean them as often as you can as they will be much more effective when they are not already loaded with debris. For the most part, they should be easy to clean but you certainly want to ensure that it is.
Again, this is where the outdoor and indoor debacle rears its ugly head. For indoor mats, you can probably get away with merely shaking them off outside or vacuuming them. Yet, outdoor mats that are made of rubber, as an example, may need to be hosed down and allowed to air dry. Still, no matter how you look at it, these types of mats should be cleaned regularly.
Size
Does the size really matter that much? For all intents and purposes, it could just be the most important section on this list. When it comes down to it, this product needs to fit in coordination with your doorways. Clearly, what good will it do you if both of your feet do not even fit on it? Aim that the doormat is around 80 percent the width of your doorway and you should be good to go.
However, the thickness is also a consideration. Most models will range anywhere from ¼-inch to one-inch in thickness. If you intend to place the mat in an area where your door will physically pass over it, it needs to be thinner than the gap between your door and the floor. No one wants to deal with the mat constantly becoming jammed and stuck underneath the door, after all.
Top Ten Doormats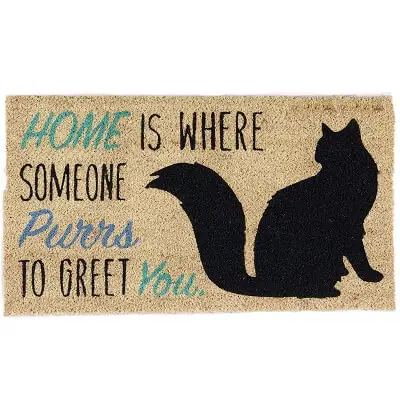 In many ways, it is a bit of shame that DII did not manufacturer the lettering on their doormats more efficiently. As it rests, the plethora of design choices available are fantastic but the lettering has been known to fade on them.
Read more
Materials and Effectiveness
The combination of 100 percent coconut coir and a rubber backing make this worth the price of admission. Both add performance benefits that have been alluded to.
Color and Design
While there are loads and loads of cute and bodacious designs, too many buyers have experienced issues with fading for it not to be a concern.
Ideal Placements
In any exterior entranceway that you can possibly fathom, this will work wonders and provide guests with a location to stomp their muddy and dirty shoes.
Maintenance
Scrubbing at this with a broom or beating on it is probably the best way to clean it. For extensive mud buildup, try hanging it up and beating it that way.
Size and Thickness
One could consider this the cliché size for a doormat, to be honest. Again, this measures 18 inches by 30 inches with a ½-inch of thickness.
Overall
If you can rest easy with the fact that the design may fade out over time, there is still a lot to like about this. For example, it is made of coconut coir and is durable enough for outdoor use.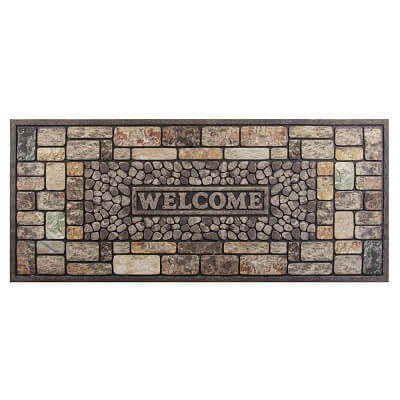 If there are two facts to take away from this next entry it is the unbelievable visual design that is at play and also the massive length. Have you ever wanted an entrance way that depicted pebble stones with an all-stone border?
Read more
Materials and Effectiveness
Both the 100 percent recycled rubber and molded rubber backing construction work together to deliver tremendous durability, an abrasive surface that can remove all sorts of gunk from shoes, and stability.
Color and Design
The design almost depicts an actual front porch with the word "welcome" embedded in the middle. The pebble stones surrounded by an all-stone border as the design is truly something to behold.
Ideal Placements
Even though there are no gaps throughout, this is still recommended for outdoor use. As it can withstand the elements of any of the seasons, it is easy to see why.
Maintenance
As with most of the models on this list, cleaning can easily be performed by shaking, sweeping, or hosing this off with water.
Size and Thickness
To put it bluntly, this bad boy is a monster. With a massive length of 47 inches and a thickness of ¾-inches, this is going to require a lot of space on your front deck or patio.
Overall
Even though this design will match different types of décor, it is almost too perfect for a log cabin or a house deep in the woods. Yet, its rough and tough design is also nice.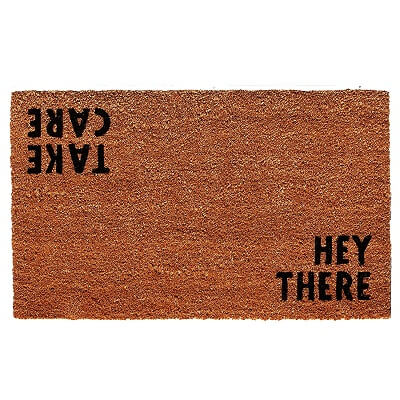 Even though your final decision should come down to other variables past the visual design, one can't help but appreciate the wordplay of this next doormat. After all, on one side is a greeting message of "hey there" and on the other is "take care".
Read more
Materials and Effectiveness
Two key materials make this next model tick. First up is the natural coir which is a dense fiber that is both excellent and scraping shoes clean and durable. Topping that off is the vinyl backing which adds extra stability.
Color and Design
Though simple in context, the design of this is quite ingenious. After all, when someone leaves they are greeted with a "take care" and when they enter, they notice a "hey there".
Ideal Placements
The manufacturer specifically recommends that their product is left in a sheltered area that is free from extreme sunlight and moisture. In other words, keep this inside or on a covered porch.
Maintenance
Per the product description, the maintenance is as easy as vacuuming, sweeping, or cleaning with a light dose of water from a garden hose.
Size and Thickness
While doormats are typically 18 inches by 30 inches in size, this version is actually 17 inches by 29 inches. This is not too big of a drop but it may be smaller than what some of you are seeking.
Overall
Clearly, the unique wordplay of this model makes it worth the price of admission. Of course, its natural coir and vinyl construction do not hurt matters in the long run, either.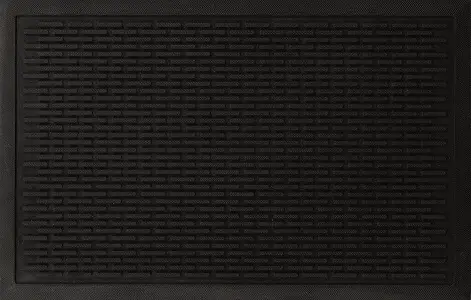 Instead of using coconut coir to design their model, Ottomanson went with polypropylene. One of the main benefits of this material is its maintenance as cleaning this rug is as easy as shaking off the loose dirt that is on top of it.
Read more
Materials and Effectiveness
Thanks to the ribbed surface, you can easily scrape the dirt, grime, snow, and gunk off of your shoes. In addition, with a durable non-slip rubber backing, this is skid-resistant.
Color and Design
While the overall appeal is not going to blow people away, it gets the job done with its simple design. That said, you can either get this mat in charcoal or green.
Ideal Placements
It really does not matter where you place this, whether indoors or outdoors and next to any entranceway, this is versatile enough to be placed anywhere your little o' heart desires.
Maintenance
The key component that makes this easier to clean is the polypropylene material that is utilized. Because of this, you can choose to either hose this down or simply shake it off.
Size and Thickness
If you want a larger version than the typical 18 inches by 30 inches, you can opt for a little larger mat at 24 inches by 36 inches. Either way, the thickness is around ¼-inch.
Overall
Those that are seeking a doormat that is glistening with stunning appeal may want to look otherwise here. Yet, that is not really the point the manufacturer wanted to emphasize as they focused on performance.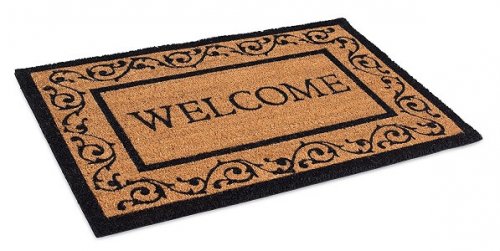 Out of all the models on this list, this one may just be the best-looking on this entire list. That is a strong claim but what makes it even better is this mat can be easily cleaned by either vacuuming, shaking, or sweeping.
Read more
Materials and Effectiveness
A durable and strong husk of coconuts was used in the engineering process as well as a vinyl backing which acts as an adhesive grip. However, the bristles may begin falling out over time.
Color and Design
While there are different variations and colors, the "welcome" variant is arguably the most appealing. This is due to its beautiful black outline and vine border, on top of its light brown shade.
Ideal Placements
Due to how uncomfortable this can be with bare feet, it may be better suited for outdoor use. Yet, if you do place it indoors, ensure that you shake it off thoroughly or you may end up seeing loose fibers in your home.
Maintenance
Do not overcomplicate the maintenance of this product as it cleans very easily. In fact, you can do so by simply shaking, sweeping, or vacuuming all the dirt and dust that is present.
Size and Thickness
You can either go with the oversized model or the standard one. For the former, the dimensions read 24 inches in depth by 36 inches in width. Also, the thickness is 0.5 inches.
Overall
While you may have to deal with loose fibers from time to time, BirdRock Home provides one of the most appealing designs on this list. However, with its high-quality craftsmanship, it can also perform.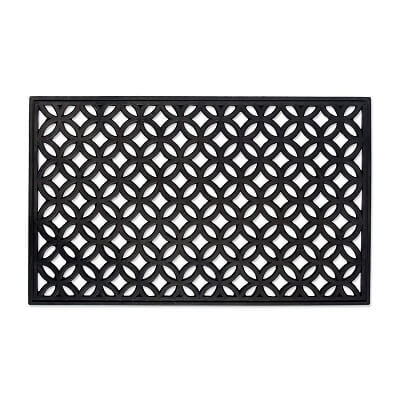 This is another model on this list that is made primarily of recycled rubber. In addition to this, it comes in three different styles and is a perfect addition to any and all entrance ways in your home.
Read more
Materials and Effectiveness
Due to the tough rubber design, the trapping of dirt, grit, mud, grass, mud and snow is not going to be much of an issue. Plus, it includes an anti-mold chemical that offers superior longevity.
Color and Design
Each of the three available designs is stylish in their own right. In specific, the Lotus design features the word "welcome" at its core and looks striking.
Ideal Placements
Given the makeup of the design, this is going to be suitable for outdoor use next to virtually any entrance way. Again, with the gaps at play, it would be counterproductive for indoor use.
Maintenance
One benefit to the open-cut design is it makes cleaning the mat that much easier. All you really need is a garden hose with cold water and you are golden.
Size and Thickness
At 18 inches by 30 inches by 0.25 inches, this could be considered small. Yet, the actual size, not thickness, is similar to various other models.
Overall
Not all doormats are ideal for indoor placement, and this is a great example of one of them. Yet, due to the 100 percent recycled rubber, if you are looking for a great outdoor model then this could be it.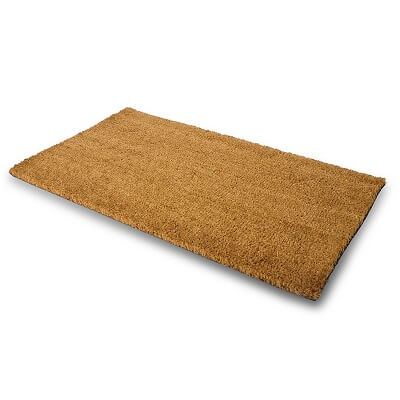 While the design is ordinary and plain, this next model is made purely of coconut coir. Simply put, this is one of the strongest natural fibers in the world today and is very efficient at capturing dirt, moisture, and various other particles.
Read more
Materials and Effectiveness
As just mentioned, this is comprised of 100 percent pure coconut coir. On top of its amazing strength, its efficiency was also alluded to. Yet, remember, with this type of material light shedding may occur.
Color and Design
Once again, there are a few different design choices at your disposal. Some feature neat phrases while the main model is simply the coconut coir.
Ideal Placements
No matter if you prefer to use this inside or outside, it can handle both very well. Due to its durability, it will withstand the elements of the outside world. Then again, the loose shedding may prove to be a nuisance when inside; so keep that in mind.
Maintenance
Because this type of a material is naturally resistant to so many elements, it is relatively maintenance-free. For example, it is resistant to bacteria and fungi and even water so you do not have to worry about mildew or mold.
Size and Thickness
This is offered in a typical size of 18 inches by 30 inches. That being said, it is one of the thicker models on this list, falling somewhere between ½-inch to one-inch in thickness.
Overall
If you can deal with shedding from time to time, there is no reason why you can't love this product. The coconut coir really speaks for itself as it provides incredible strength and performance while being resistant to practically everything.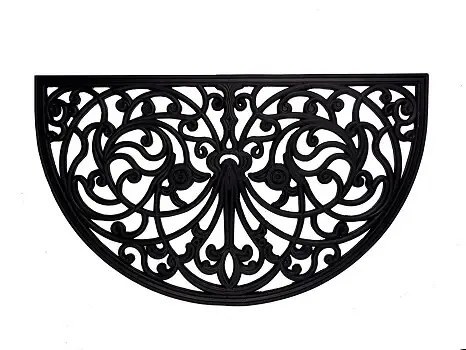 Due to the massive thickness that so many buyers have alluded to, this is one of those doormats that are better suited for doors that will not slide over them. In fact, it is probably going to get stuck with most doors, to be honest.
Read more
Materials and Effectiveness
Iron Gate crafted this out of 100 percent vulcanized rubber. While it is claimed that this sustains traction, some buyers have reported it does slide around. But, it does resist fading, stains, and even mildew.
Color and Design
Each of the five choices offers something different for everyone. While not all of them are vibrant and overflowing with detail, there should be enough variety for everyone.
Ideal Placements
Due to its toughness and ruggedness, this is ideal for outdoor use only. Part of the reason why is it will not melt in the heat or crack in freezing weather.
Maintenance
If it is not too dirty or filthy, simply wiping this down with a cloth should do the trick. For more intense cleaning, a garden hose can be used.
Size and Thickness
Several buyers have taken issue with the thickness of this model. Some claim they can't find a door in their house that will slide over it.
Overall
Despite the flaws that are present, this is a very rugged mat that will perform its job about as well as anyone can hope for.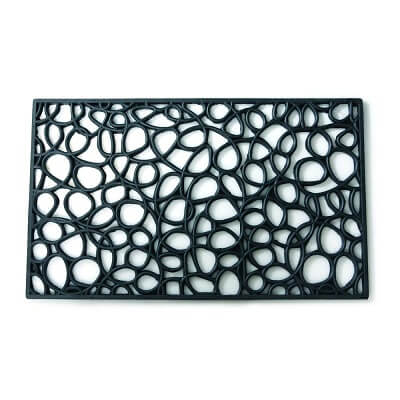 As you can no doubt tell from the photos, Entryways aimed to design their model to look like antique iron. Of course, this mat is clearly not made of iron as that would be ridiculous. Instead, it is designed of recycled rubber and will resist mold and fading.
Read more
Materials and Effectiveness
This is constructed of both recycled rubber and natural latex. In addition to this, molding and fading will not be an issue over time. To wrap it all up, this is slip-resistant and also tough enough to be used as a boot-scraper.
Color and Design
Again, this was clearly a great design choice as it was inspired to look like an antique iron. The result is very satisfying and even if you do not like it, there are other styles available.
Ideal Placements
As the manufacturer claims, this product is recommended for outdoor use. Part of the reason why is due to the gaps in the design as dirt would still be exposed to your floors and carpets.
Maintenance
While the gaps make this an outdoor design, they do come in handy for maintenance. Because of them, it is very easy to either shake, sweep, or rinse this off with water.
Size and Thickness
A majority of the negative reviews are aimed at the size and thickness. At 18 inches by 30 inches in size and ½ inches in thickness, some wished it was both larger and thicker.
Overall
Entryways really hit it out of the park with their design here. Few models in the world can compete with this version's antique aesthetic, great toughness, and resistance to both mold and color fading.

10

. Refetone Non-slip Mat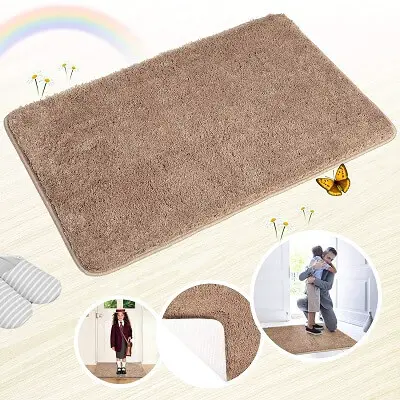 For some of you, this will be one of the best doormats simply because of its simple yet effective design and functionality. An added bonus, in fact, is this can be machine washed in cold water safely.
Read more
Materials and Effectiveness
Overall, this is comprised 55 percent of cotton and 45 percent of microfiber. The latter is nice as the strands dry five times faster than ordinary materials. Also, this integrates a non-skid backing.
Color and Design
To be perfectly honest, the subtle design may actually be a positive for some of you. Despite the lack of wordplay or artistic depiction, both color options (gray or brown) look lovely.
Ideal Placements
Most of the ideal locations that the manufacturer listed off are indoor locations. Given that this can absorb moisture, it is even ideal to use as a kitchen rug if nothing else. Yet, it is clearly stated to avoid placing it in the bathroom.
Maintenance
A huge bonus is you can actually utilize a washing machine for the cleaning process. However, when doing so, you must avoid warm water or any detergents or fabric softeners.
Size and Thickness
With the low-profile design, you should have no issues with doors getting stuck on top of this. In terms of its physical size, it measures 20 inches by 31.5 inches when laid out.
Overall
Let's just be honest for a second; this product is not going to be ideal for everyone. As one user proclaimed, it is a glorified bathroom mat. Yet, it holds up well as a doormat because of its absorbing properties and stability.

Subscribe to our Newsletter