Best Hiking Sunglasses
In a
Hurry? Editors choice: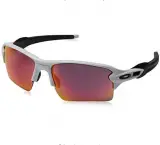 Test Winner: Oakley Flak 2.0

There's no doubt that we have all forgotten our sunglasses at least once in our life. Driving or being on the beach without them is miserable enough, but being in the outdoors is even worse!
Hiking sunglasses can help you in more ways than you can imagine. Protecting your eyes is an important thing to do any time you
venture outdoors
, and even more so when you are performing an activity where you need to see clearly.
When you are outside hiking, you want to make sure you have the
protection from the Sun's harmful UV rays
so that you don't incur any eye problems or headaches.
A good pair of hiking sunglasses will bring you all the durability, glare, and UV protection you need so that your eyes stay protected. Check out our top picks on hiking sunglasses below.
Standout Picks
Criteria Used for Evaluation
Features
The sunglasses on our list all come with a wide variety of different features. Some of the sunglasses feature cases that you can use and get no additional money.
They are a great way to extend the life of your sunglasses and keep them protected when you aren't using them. So, you are going to need a case whether your sunglasses come with them or not, and getting a case is a great bonus.
Some of these sunglasses also come with long-lasting warranties, which is terrific if anything ever breaks and you need to replace something on your sunglasses.
You'll be able to get a lot of use for the price if you buy something with a warranty because you'll be able to replace parts on the sunglasses as you see fit easily.
Brand
Frames vary widely from brand to brand and style to style, but all of the products on our list offer frames that are durable and made of some plastic.
They are all able to withstand any abuse or dropping that might happen while out on the trails, and still perform well. Of course, you'll want that kind of durability when you are out on the trails.
Frames also come with different features and benefits depending on brand name and style. Some of the glasses on our list are very adjustable, which is a nice feature to have because it ensures that the sunglasses will fit.
Others feature bonus parts you can add to them and other additional options. While adjustability is a great feature, you won't always get frames that can do this. So, in essence, you want to make sure your frames can fit you well.
UV Protection
Before you purchase your sunglasses, you will want to consider the types of lenses you are going to get.
Many of the styles of sunglasses on our list offer polarized lenses. Polarized lenses help to significantly cut back on glare and also prevent temporary sun-blindness, which can be a real problem when you are out on the trails.
Sun-blindness can also create headaches and other issues, which can often ruin an enjoyable outing and make your day miserable. However, not all people want polarized lenses, and some hikers prefer to go without them.
Polarization depends on whether you can handle it or not, and whether you are very sensitive to the glare, the Sun can create when you are out on the trails. Some people prefer to go without, while others like this level of protection.
Also, you want to make sure the lenses you buy can block out all of the Sun's rays. All of the sunglasses on our list come with lenses that can do this, whether they are polarized or not. You'll want all of the protection from the Sun's rays to help keep your eyes from getting damaged as you go outside and stay active. If you aren't careful with this, you can wind up with a variety of eye problems later in life.
The strength and durability of the lenses will also matter. You want to make sure your lenses are abrasion resistant and built to handle some mishandling while you are active.
Fit
Frames are another thing you'll need to look into, and what you need in your frames depends on how you want the sunglasses to fit.
Some of the products on our list come with adjustable frames, which can be great if you want to make sure that whatever sunglasses you buy will fit your face. Also, all of the products on our list come with durable frames, and they are all designed to stay in place while you are active.
However, some sunglasses are with a design that fits smaller faces, while others adjust better to larger faces. The extra features that come with sunglasses you might purchase can feature things like cases or additional pieces to help better protect your eyes.
Some sunglasses give you a few lenses to snap in that can vary depending on what you need. Also, some of these sunglasses come with lengthy warranties, which is also a nice feature to have.
Subscribe to our Newsletter