Best 2 Person Tents
In a
Hurry? Editors choice: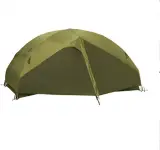 Test Winner: Marmot Tungsten

If you have stumbled across this guide today, you are likely in the market for 2-person
tents.
This guide has been created for buyers just like you. So, what exactly do you need to know? While this guide will go in-depth on everything you need to know and offer you some highly recommended choices, you should know immediately that they may not all
fit
a couple of people. Some models are better fitted for one person and their gear; so, it is more important to assess the interior capacity rather than the marketing label of
two
people. Read on to learn everything you need to know before you purchase your next tent and you'll be snuggling up in the great outdoors before you know it.
Standout Picks
Criteria Used for Evaluation
Weight
Are you going to bring yours backpacking? This is a very important question that you need to answer before you invest in something. The key word there is before. It may not seem like much, but an extra couple of pounds can make all the difference in the world in a backpack. So, you may prioritize a lighter model over a heavier one. Now, it is also vital to point out that a reduction of weight does not necessarily insinuate that the quality will suffer. In fact, an ultralight portable shelter can actually sport more premium materials if it cuts down on the extra features and roominess.
Also, you may want to keep an eye out for choices that come with a dual-stage stuff sack. These sacks are unique as they can allow you to disperse the load with a friend. As such, you could each carry three pounds separated, for example.
Breathability
When it comes down to it, there are two primary factors that determine the breathability. Firstly, it is the actual ventilation to prevent condensation from building up and the second is how much breathing room is provided. The former is easy to assess as there needs to be enough mesh throughout. But, when it gets cold, you may not want this air flowing in. So, look for mesh panels that can be zipped up.
As far as the breathing room is concerned, this is where things can get controversial. "Controversial" in the sense that manufacturers can sometimes fib and mislead you in regards to the sizes. The reality is not all models will comfortably sleep two people; at least, not comfortably. Instead, you need to focus on the specifications. This would include the peak height, floor area, floor dimensions and interior volume. These values will go a long way in determining if there truly is enough space for you.
Durability
No matter what type of tent you are in the market for, they will get you as far as their build quality will. To elaborate, if a particular model is comprised of cheap and thin materials that can't hold up to some decently rough environments, it may not even be worth a look. Often times, you do get what you pay for and it is best to ignore the price tag and focus more on the build quality. Most are typically constructed of nylon and polyester materials as both offer performance advantages and are tough. If you are looking for the most durable option, though, pay attention to the denier of a fabric as the higher it is the more rugged the fabric will be.
However, you may also need to consider how the one you choose will hold up in the rain and through storms. The build quality will certainly help it stay intact during storms but that is only half the battle. The other is assessing its ability to keep out water. To do so, ensure the seams are fully taped to prevent water from seeping through. Secondly, assess what type of coating has been used.
Capacity
Of all the design features you need to factor into the equation, this is the one that is easiest to forget about. However, it is also one that could silently be one of the most critical. If you are merely camping in a campground and are looking for a one to accommodate more people, they may not care if there are storage compartments inside. Yet, if you plan to use yours frequently and on backpacking trips, it can be nice to have dedicated compartments to store your gear. If this matters to you, look for models with interior pockets, such as lampshade pockets for lighting, media pockets for electronic devices, and so on.
But, this is also where vestibules come into play. Not all options will have one but some will and others will have multiples. They are convenient as they are essentially oversized floor areas that give you a location to store your boots or other dirty gear. It essentially can keep certain items separate from the main interior.
Subscribe to our Newsletter