Best Waterproof Tent
In a
Hurry? Editors choice: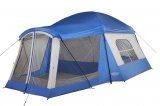 Test Winner: Wenzel Klondike

A waterproof tent - "Aren't they all?!" I hear you shout. What's the point if they're not – who wants to wake up at 4 am to a sleeping bag full of water? Sure, all tents provide shelter, and mean you're not sleeping out under the stars, however romantic that might seem. But the degree to which they'll keep you dry, and the clever little features they're packing can vary. High-specification waterproofing doesn't have to mean you're staring at a lifetime of trips spent in an ergonomic, one person, minimalist capsule.

Tents of all shapes and sizes can boast some of the best features out there, and certainly more than enough for leisure campers. Whether you're in need of something small and light for a solo trek, or a multi-room cabin for the whole gang, check out our picks and tips for staying dry.
Standout Picks
Criteria Used for Evaluation
Breathability
Ventilation is crucial in a tent, especially in one in which you're focused on sealing off all possible gaps.
While you're stopping water from getting in, you don't want to stop all air from getting out. When a tent is filled with people, it will retain heat, which cools when it hits the tent walls and turns into condensation. You need to look for tents that have dedicated ventilation points without creating openings that will let water in. The inner layer of many tents is partly or wholly mesh, which aids breathability. Doors and windows are also likely to be zippered mesh panels.
There may even be ground-level vents with a small, individual rain fly, like a porch roof, which allows air in and lets the water runoff.
Protection
If you're looking for a waterproof tent, you'll typically be using it in conditions where it's not just rain you have to contend with – it comes with other elements.
Your tent will need to be strong all-round to survive bad weather. A common rating for this is a number of seasons. Two season tents can be used in Spring and Summer, so will protect against temperature drops at night, and as much rain as is likely to fall then. Three season tents are more hardcore and can stand to withstand much colder temperatures and much more moisture. Four season tents are rare and very expensive, as technically they should be able to keep out rain, wind, snow, extreme heat and anything else the sky can throw at it. The season indicator isn't absolute, and many can handle more than they're billed to, it's just a minimum you can expect as a guide.
Another very important element of pitching a sturdy tent is stakes and guy ropes. These are invaluable tools in keeping your tent anchored to the ground. Even if you think it's not windy, or your tent will be weighted down with people and gear, it can still roll and move. As much as anything, this will make the floor more susceptible to catching and ripping.
Depending on the conditions in which you camp, you might like to get more specialized or more stakes than those provided with your tent. In a similar way, guy ropes will keep your tent anchored, but also taut, which will aid water run-off and prevent sagging. If possible, make these bright or add visual aids to prevent tripping hazards.
Water Resistance
One waterproof tent isn't the same as another.
In general, yes, anything advertised as such and all of our picks will be efficient at keeping you dry, but they do this in different ways and to varying degrees. "Waterproof" is actually somewhat of a catch-all term which can mean a few things when it comes to protection against water. Strictly, if something is described as waterproof, like a bag or a watch, it means that it can be submerged underwater without being damaged or water getting in. Obviously, for a few reasons, this isn't relevant for tents, however, "waterproof" has come to refer to how good the tent is at keeping the rain out of the inside and keeping you dry.
Water-resistance, which might be familiar from small electronic devices and raincoats, refers means that the material on the tent is able to defend against water and penetration, but it doesn't guarantee to let anything in. It just helps to stop the inside from being completely soaked, but with a large volume of water or after a long time, there'll be leakage – both through seams and the material itself. It's fine for drier climates, but unlikely to be enough if you've come looking for a waterproof tent, and as such all of our picks offer more protection than this.
Water-repellent is better, and much more likely to be the situation when a tent is described as waterproof. The fabric as a whole and/or threads themselves have been treated so that water rolls off. It actually is a semi-impermeable layer. This is the category that our picks are more likely to be in, and will handle repelling water to one degree or another; it's this that you'll be comparing. Water-repellent tents are going to be fine for pretty much all types of weather you would encounter.
Capacity
How much space you have will be a consideration with any tent.
Whether this is about how big your party is, how much you can carry, or where you're going to pitch, you need to think about the size of your tent. When it comes to waterproofing, this is important because you're likely to have wet gear and wet shoes, so you need space to put this and keep it dry, as well as keep it out of your sleeping space. Consider the size of the tent in relation to how much space you'll need for people, and how much space that will leave you for your gear – and whether you'll want it inside the tent. There's no point in a waterproof tent if you bring water inside on your clothes! Features like vestibules, gear lofts, utility pockets, and hooks can help save space and keep you dry.
When it comes to vestibules, porches, and screened off areas, bear in mind that barriers like this will also affect ventilation, so make sure all areas have adequate airflow.
Subscribe to our Newsletter