Best TV Headphones
In a Hurry? Editors choice: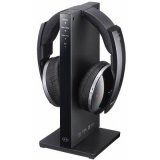 Test Winner: SONY MDR-DS6500

Right from the get-go, you may be wondering why a guide needs to be tailored specifically to headphones that work on televisions. After all, won't they all (at least, wireless models)? No, they are not all going to work as most models will utilize Bluetooth technology and not all televisions will be built with this. Of course, you could always go out and buy a Bluetooth transmitter to transmit the correct signal. However, Bluetooth itself can have latency issues and while this is not a big deal with music, it is huge for movies and television shows. So, this is why most specifically-tailored TV headphones will utilize radio frequency (RF) technology as this takes away noticeable latency issues (though Bluetooth can still be effective). Of course, as you will quickly find out, there is much more to it than this so let's get this bad boy on the road.
Standout Picks
Criteria Used for Evaluation
Comfort
Depending on your sessions of use, this could be the most important section right here.
Much like with shoes, it can be tough to test out the comfort from headphones as some of them will be comfortable at first but will then cause fatigue and discomfort after a few hours. If you plan on binge watching any movies or TV shows then you will definitely want to put an extra emphasis on this section. And, to start, you need to be aware of the different types of TV headphones. The most common are over-ear, on-ear and in-ear models and all work a little differently. Over-ear models will sport large ear cups and will completely encapsulate your ears. With these, the ear cups will typically be well-cushioned but they can also be known to cause a lot of heat.
As for on-ear models, these are similar except the ear cups are typically smaller and merely rest on your ears. These are typically lighter in weight than over-ear designs so that is nice. And, lastly, you have in-ear models and these literally get inserted into your ear canals (which can be uncomfortable after a while). All in the meanwhile, regardless of the type you go with, ensure that the model you pick fits your head properly.
Compatibility
Bottom line, the model you pick needs to be compatible with what you have.
Okay, so let's talk about Bluetooth technology for a second. It was mentioned earlier that it is not the preferred wireless protocol for TV headphones. Outside of its poor range (even with some of the latest versions), it is also a digital technology and that means that the audio needs to be converted to digital from analog. What you recognize this as is latency as you may hear the audio before or after a certain character actually says anything. Meanwhile, this is not an issue with the most common protocol with this technology (RF). The reason why is RF is an analog technology and it is able to skip this conversion and this results in little to no latency issues.
Now, the second area of concern here is with the included transmitter. If it can't be connected to your TV then you will need to look for an alternative. But, because most TV headphones are offered with transmitters, anyway, you might as well get a total package that is compatible. No matter the different compatible audio output ports (such as RCA, optical digital audio and a 3.5-millimeter headphone jack) ensure that one of them will work for your needs.
Sound Quality
With any device that emits sound, this section right here will be critical.
As you probably know, there is a major difference in listening to music and listening to movies or shows. With movies and shows, the sounds are more dynamic as you have background effects, dialogue, and soundtracks. So, you do not necessarily just want a pair of headphones that have amazing bass. You want the sounds to mesh well so you can clearly hear the dialogue and also enjoy the background music. In this case, it may be a good idea to see what previous buyers have had to say.
Now, let's also talk about stereo sound and surround sound. Some options on the market will be designed to mimic a home theater system and will either use 5.1 or 7.1 surround sound. Of course, other models will simply have stereo sound and this is going to work for most people. The primary reason why is stereo sound creates a sound-field that is essentially right in front of you. As there are only two physical speakers, you may not feel the need for full-fledged surround sound (though it can create a more dynamic experience).
Battery Life
Wireless models will be desired but that means the battery life will come into play.
Wait, what about wired models? Is this the question that just popped into your head now? It is a fair question because some of you still probably prefer wired models as they do offer advantages over their wireless counterparts. But, in the case of TV headphones, most people will probably not want to mess around with cables. After all, unlike when connecting to your audio devices, people typically sit far away from their televisions (especially if they are large) and will not want to be restricted by a cable.
The obvious tradeoff to this, however, is that you will have to deal with limited battery life. Now, most models on the market will be rated to last upward of 20 hours on a single charge. But, not all of them will and some will only be rated to handle 10 or 11 hours. If you know you will be binge-watching shows on a regular basis then it will be in your best interest to opt for an option with superb battery life.
Features
There are not too many features to look out for but there are a few.
Last but not least, let's talk about some features you can look out for. First and foremost, it is common when sellers include a transmitter that does more than just transmit audio. You see, some transmitters will also double as charging stands and not only does this provide you with a convenient place to charge your headphones, but you can also leave them there when you are not using them. In addition, these two-in-one stations (so to speak) will also sometimes come equipped with different controls to alter the audio.
Oh, and speaking of which, these controls may also be on the headphones themselves. All in all, you can either put a ton of emphasis on this section or not. Its importance really comes down to you and your preferences.
OUR TOP PICKS FOR THE BEST TV HEADPHONES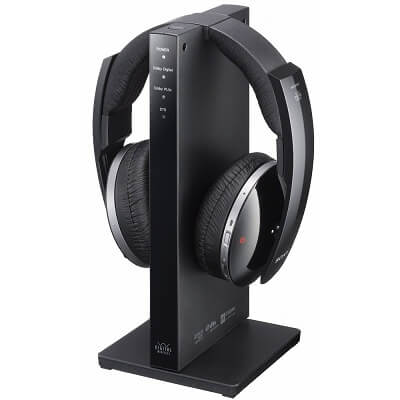 It just seems right to kick off a list of this magnitude with Sony. When it comes to technology, you could make the claim that this global juggernaut is ahead of everyone else. And, these headphones are a great example of why.
Read more
Comfort
Even though these are a bit on the bulky side and will build up heat over time, they are still comfortable to wear for longer sessions.
Compatibility
The RF connection is not going to require any line-of-site and can function up to 328 feet away from compatible devices. Also, these are compatible with a wide range of audio formats.
Sound Quality
In combination with the 40-millimeter drivers, a dynamic frequency range works to mimic the experience from a 7.1 surround sound home theater system. While not perfect, these do so pretty well.
Battery Life
Thanks to the 20-hour battery life, you will not need to charge this model every single day. Depending on usage, you may only have to do so once or twice a week.
Features
The charging station that comes with your purchase also doubles as the wireless transmitter. When you are not using these, they can be conveniently placed on this stand, as well.
Overall
Should it really surprise you that a Sony model topped this list? What is great though is their headphones here really live up to the hype and while they will not completely replicate a home theater system, they get somewhat close.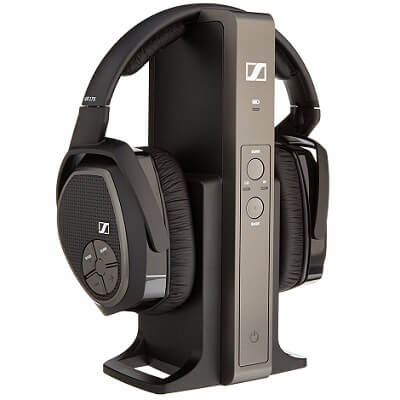 The RS 175 Headphone System is one of the most popular when it comes to televisions and there are many reasons why. Not the least of which is the RF wireless signal that is utilized.
Read more
Comfort
Overall, many buyers agree that the comfort of the RS 175 is ideal. Yet, at the same time, heat buildup can be an issue for longer sessions in warmer environments.
Compatibility
As mentioned, these do utilize RF technology and sport a transmission range of up to 328 feet. Also, these are compatible with both analog and digital audio inputs (and you can toggle between them).
Sound Quality
A neat little feature here is you can switch between Bass Boost and Surround Sound listening modes. Each can be tailored to different experiences and are impressive, quite frankly.
Battery Life
The included charging station is really convenient and as for the battery life itself, it has been raved by a few previous consumers.
Features
Even though there are buttons that are built into the headphones themselves, accessing said buttons can be a little difficult when this unit is on your head.
Overall
Much like Sony, you have to love Sennheiser models. It sounds simple but brand recognition can be an important factor and Sennheiser proves that right here with flying colors.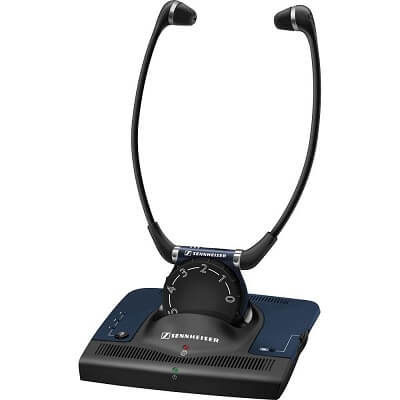 Now, this option is a little different even though it is provided by a familiar brand. Instead of being over-ear headphones, this model right here is designed to go in your ear.
Read more
Comfort
Again, this is an in-ear model and that means that many of you will not like it from the get-go. Additionally, it seems to be much heavier than its predecessor.
Compatibility
The transmitter that comes included with your purchase can connect via the included TV connection cable (that sports two 3.5-millimeter stereo jack plugs and also an adapter to a 6.3-millimeter jack). When doing so, the transmitter itself will have a range of 100 feet.
Sound Quality
This is Sennheiser so you know the sound quality has got to be at least solid. Based on user feedback, it appears to be that and then some.
Battery Life
The removable battery that is integrated is rated to last up to nine hours. However, you can always buy a spare battery to essentially double this time (swapping out the new one for the old one).
Features
One of the best features integrated here is actually on the transmitter itself. You see, you can select from three different hearing settings to optimize the audio to the current movie or show you are watching.
Overall
From a quality standpoint, several of you are probably already sold. Yet, the style and the weight could be enough to repel you away from this option and that is fair.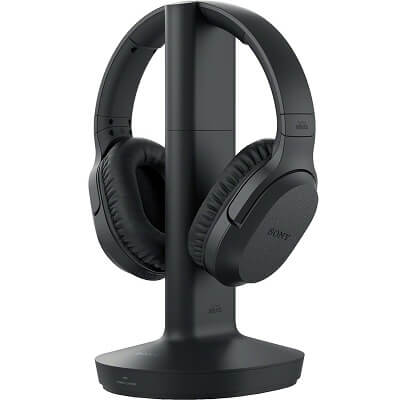 Hey, would you look at that, it is Sony again. This is another set that utilizes RF technology and this is ideal for those of you who have zero tolerances when it comes to dealing with latency issues.
Read more
Comfort
When compared to some of Sony's other headphones, these are not nearly as comfortable. They are certainly not unbearable but they do not conform to your head as well as others.
Compatibility
All you need to do is connect the transmitter dock to your TV and then with the power of RF technology, you will be able to listen to the emitted audio from up to 150 feet away.
Sound Quality
Though the sound quality here may not be legendary, the 1.57-inch dynamic drivers coupled with the noise-reducing technology do provide above-average audio.
Battery Life
With a rated battery life of up to 20 hours, you will not need to charge these for every new session (depending on how long you use them).
Features
All in all, this option is actually a kit and comes with additional accessories. Past the obvious, this includes a gentle cleaning cloth, stereo connector cable, and also operating instructions.
Overall
For what they are intended to do, you really have to love these TV headphones. While they could be improved in the comfort area, they nail pretty much everything else.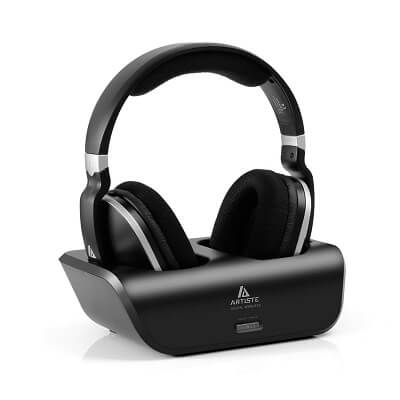 For access to all kinds of audio devices, this comes with an RCA cable and also a 6.3-millimeter adapter. Additionally, you can enjoy Hi-Fi stereo sound with these on your head.
Read more
Comfort
The combination of the comfortable ear pads and the soft-padded headband make for a pair of headphones that are pretty darn cozy.
Compatibility
It is noted that these are designed with breakthrough 2.4 gigahertz RF technology. This completely amplifies the wireless range (up to 100 feet) and thanks to the included RCA cable and 6.3-millimeter adapter, makes it compatible with all types of devices.
Sound Quality
Yes, it is indeed touted that you can enjoy Hi-Fi stereo sound here and the digital signal also produces crisp treble and extra bass. Oh, and the full-sealed ear pads also help to prevent sound leakage.
Battery Life
As with other top models on the market, the integrated battery is capable of lasting up to 20 hours on a single charge.
Features
Okay, so the transmitter/charging station is both good and bad. It features a standby mode for energy efficiency but also has a finicky charging system. Several previous buyers have made mention of this fact.
Overall
In spite of a few flaws, this option is more than worthy to be recognized on this list. If you do not believe us then just go check out all the other previous buyers that have raved about it.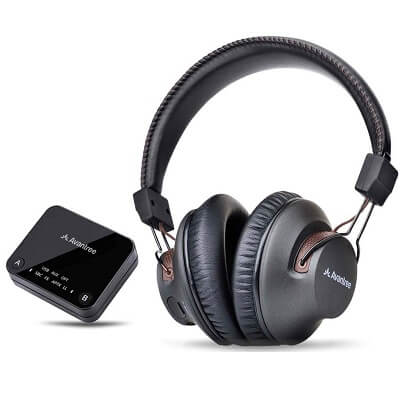 Whether you want to use this next option with the included transmitter or with any other Bluetooth transiting devices, the flexibility is there to do so. Also, the 40-hour battery life rating is simply phenomenal.
Read more
Comfort
What you can expect here are headphones that will be both comfortable and warm for longer sessions. The super soft ear cups and adjustable headband are really the primary reasons for both.
Compatibility
These are compatible with any device that uses optical, RCA or 3.5-millimeter audio out ports. Of course, the transmitter utilizes Bluetooth Class I technology which gives it a range of 100 feet.
Sound Quality
For the record, the driver size here is 40 millimeters. However, one specific user went on to report that they felt the mid-range sounds emitted here were way too muffled.
Battery Life
It was mentioned earlier and it deserves re-mentioning that the integrated battery is rated to last up to 40 hours. Oh yeah, in standby mode, this can increase to 20 days.
Features
To be honest, there is not a huge emphasis placed on features here. While this will be disappointing to some of you, others will not think much of it.
Overall
Whether you want to point to the exceptional battery life or the advanced Bluetooth Class I technology, it really does not matter as most of you will find this option compelling.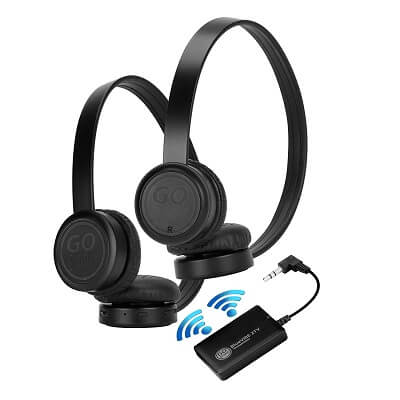 Probably the best aspect of this option is the fact that you get two individual pairs of headphones. Even if you are buying for yourself, this can essentially double the battery life you get.
Read more
Comfort
Do be aware that these are on-ear headphones and though they are extremely light and ergonomically designed, many of you will not be appealed to this type of style.
Compatibility
Though you do not need to deal with the RF channel tuning with the included transmitter, you will have to put up with the Bluetooth transmission. Also, the transmitter can be plugged into any televisions with an RCA or 3.5-millimeter audio port.
Sound Quality
All in all, the sound quality here is not that impressive. Many previous buyers have even noted that the maximum volume level is still not loud enough for them. Also, these emit stereo sound.
Battery Life
Each model you get is built with a battery that can last up to 11 hours on a single charge. If you want to use them both, this means you could essentially get 22 hours of battery life.
Features
There are volume controls that are equipped into these headphones but other than that, there are not too many features to make mention of.
Overall
Is two for the price of one always worth it? Well, in this case, it more than certainly is and this is thanks to the overall quality of each of the models that you receive.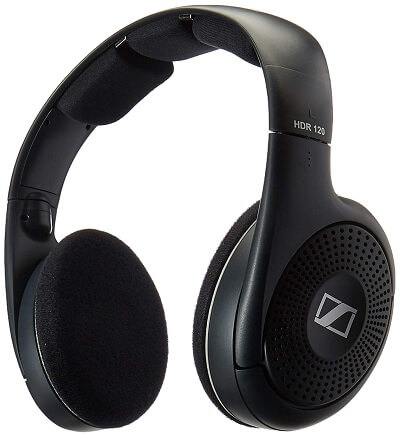 Right from the word go, you need to know that this next option from Sennheiser is an on-ear model. This means the ear cups will not encapsulate around your ears as well as over-ear models will (though some prefer this style).
Read more
Comfort
The good news is these are very light in weight and will not feel bulky when you wear them. However, at the same time, they definitely are not optimized for users with larger craniums.
Compatibility
It is noted in the product description that a charger is actually not included with these and that they are designed to work with RS110 and 120 systems.
Sound Quality
Overall, the bass response is strong and the stereo sound is solid. Yet, the included transmitter does become overloaded a bit too easily which can lead to the audio sounding distorted.
Battery Life
A multitude of previous users have noted that the battery life here is quite good.
Features
Thanks to a few buttons on the side (such as volume control), you can adjust a few settings without getting up from the coziness of your couch or chair.
Overall
In spite of the brand name, these are just simply not optimized for everyone. Due to their smaller fit and on-ear design, you may or may not be appealed to them.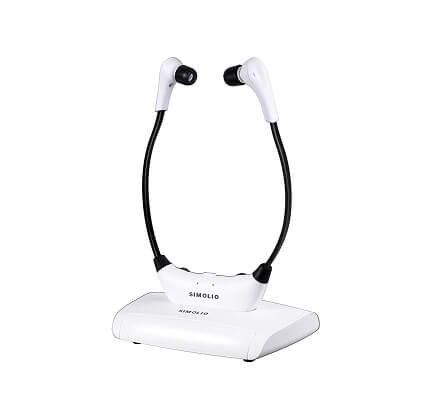 For the simple fact that these will literally be hanging from your face and under your chin, a lot of you may not be appealed to this design. Do note, though, that the quality is good, nevertheless.
Read more
Comfort
The actual beams are quite comfortable and also adjustable. As mentioned, though, you may find the idea of "hanging" headphones from your face to be a little annoying.
Compatibility
Right away, it is noted that this option is not suitable for digital optical audio out ports (but will work with analog RCA and 3.5-millimeter outputs). As for the operation range, this is rated at 100 feet.
Sound Quality
Though some nice features are included such as the ability to increase the sound of dialogue to make it more profound, some previous users have noted that the audio can cut out for short periods of time randomly.
Battery Life
All in all, you can expect these to last for right around 10 to 11 hours on a single charge (which is not too bad at all).
Features
Thanks to the integrated "MIC" button, you can actually pause the sound that is being emitted from your TV to able to hear other people's voices nearby. Pressing it one more time will resume the sound.
Overall
Some people just simply do not like in-ear models and will never return to them. Do note, however, that the implemented technology here makes this option a thumbs up.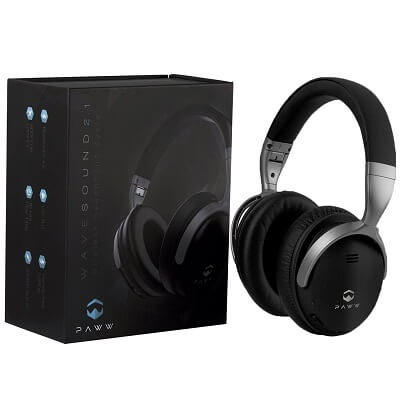 Understand that this option actually does utilize Bluetooth technology and while it was "panned" at the beginning of this guide, it is proven here that it can still be effective for televisions.
Read more
Comfort
Because these gently hug your head and are comfortable on your ears, they can be worn for longer sessions.
Compatibility
Yes, Bluetooth technology is used here. But, to combat the latency issues, aptX LL's latency speed has been implemented and it is able to mitigate any possibility of lagging.
Sound Quality
Though nothing will set the world on fire here, the low latency of the aptX technology plays a pivotal role in enhancing the sound quality overall.
Battery Life
With an advertised battery life of 16 hours, depending on usage, you may only need to charge these once or twice a week.
Features
The Bluetooth technology will keep you connected to your smart devices so that is nice. However, the built-in microphone has literally been crucified by previous users.
Overall
Yes, it is proven here that Bluetooth technology can still be used in TV headphones effectively. If you, for whatever reason, refuse to abandon Bluetooth then these are a great option.

Subscribe to our Newsletter