Best Hair Dryers for Traveling
In a
Hurry? Editors choice: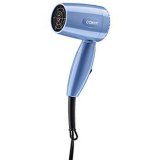 Test Winner: Conair Folding

Sure, the hotel that you booked for your vacation this
summer
might claim that it has a blowdryer in the bathroom of your room- but how many times have you found that it is missing or broken? You know better than anyone that is it better to always bring your own
tools
when it comes to traveling so that you never have to rely on an unreliable listing in hotel descriptions. Packing up the unit that you use at home is problematic because it is not designed to travel. It is more than likely pretty bulky and takes up way more room in your suitcase than you would like. Investing in a great hair dryer that was designed specifically for
traveling
will save you room, as will ensure that you get a really great unit that has been used by you and only you.
Standout Picks
Criteria Used for Evaluation
Advanced Features
Traveling gear has evolved a lot in recent years. It used to be that something that was considered to be a compact version of a full product often didn't have a lot of the features that their full-size cousins had, and they were often just built be a lot smaller. What we discovered is that many companies offer their full-size products, but they just have features that make them more compact, such as the ability to fold in half at the handle or having a cord that is retractable. We were drawn to designs that still offered the cool shot that is perfect for cooling your scalp down and locking your style into place. We also liked products that used ion conditioned air. This function not only helps speed up the process, but it also helps your style look its best.
Durability
The best products are those that use ceramic internal components because they help distribute heat more evenly and they aren't as hot to the touch. However, ceramic isn't great for putting into a suitcase because it runs the risk of breaking when you luggage comes into the hands of angry baggage handlers, and it also adds a little bit more weight, which isn't ideal. We made sure to select units that were made from unbreakable components such as plastics and metal to ensure that it gets to wherever it is you are going in one piece. The things that make these items great to bring along with you on a trip is their size, their ability to be folded up, and their overall function.
Power Source
You need to be careful when trying to find a product that as a lot of power because there are certain pitfalls to maximum power. A lot of these units have a wattage of about 1875- which is pretty powerful for a smaller unit. 1875 watts will allow you to have just as much airflow as the standard designs that you use at home, but if you aren't careful these more powerful options might burn up more quickly and have a shorter lifespan. We liked products that had a wattage of around 1600 because they were the perfect marriage of power and longevity- but they weren't as easy to come by as the 1875 watt designs. When selecting a design that had a wattage of 1875, we made sure to read up on what some of the past users had to say about how long they worked before needing to be replaced.
If there was a lot of users that claimed their units couldn't make it past the 6-month mark, we moved on to a different model. Another point that we took into consideration was ionic conditioning. This technology dries a lot faster, but it also comes in at a higher price point. We know that many aren't willing to spend a lot of extra money on something that they will just keep in their suitcase for when they need it, so we only included a few ionic designs on our list, and we made sure that the price tag was low enough that it wouldn't knock your socks off.
Style
The design of these products was the very first thing that we looked at when conducting our research. We kept an eye on three things: size, compactability, and cords. We were drawn to items that not only were able to be folded at the handle, but that also had cords that were retractable. We know that when you are trying to be neat and organized when packing a suitcase, devices that have cumbersome cords make staying neat almost impossible.
There were also three different types of barrel sizes out there on the market that users could select from- short, mid-size, and a full barrel (that mimicked a full-size product). We found that products that used the mid-size barrel with a foldable handle were more widely received than the styles with the shorter barrels. The shorter barrels are great for traveling and fitting into smaller spaces, but a lot of users found that designs with short barrels sounded like a jet engine taking off. We found that midsize barrels typically weren't as loud, and they weren't as big and difficult to pack as the full size.
Subscribe to our Newsletter