Best Zero Drop Running Shoes
In a Hurry? Editors choice: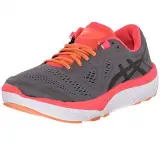 Test Winner: ASICS 33-M 2

When you talk to an avid runner they will probably tell you that they enjoy the comfort and support from
good running shoes
, but what happens when their feet are not designed to fit a standard shoe? That's where specialty shoes come to mind. There are shoes designed to fit all types of people with all types of needs; from orthotics to shoes made to fit with warts. There are shoes to suit people with blisters, arthritis, and plantar fasciitis, and then there are those who need shoes with a zero drop. Basically, zero drop running shoes match your feet, because you were born with a zero drop from your heel to your forefoot. It only seems logical to pair these types of shoes with your feet. In some cases, you will feel as though you are barefoot, and some people are the most comfortable in that state.
Standout Picks
Criteria Used for Evaluation
Features
Some features are more important than others and some are solely based on personal preference, but when it comes to the best zero drop running shoes, you will want to pay close attention to certain features over others. One important thing to consider is the comfort of the footbed and the cushion between your foot and the ground. Arches are always one of the most important features to consider in a good pair of running shoes, while the toe box and traction are next in line. You need to be sure your feet will remain comfortable throughout the entire time you are wearing your shoes and if the traction doesn't provide a good grip, you won't stay on your feet for long. Features such as brand might be important to your preference as well as color and design.
Durability
The construction is always important to a good pair of shoes. You want to be sure they are made of high-quality materials that meet your standards. A thick rubber sole will last longer than a thinner synthetic sole, and for a good running shoe, you should consider a soft upper that provides some form of ventilation. Durable, yet lightweight construction would be the better choice as opposed to a bulkier shoe that will weigh you down. Be sure you examine the strength of the stitching and the lacing system. These are all important factors to keep you safe and protected during your run. The last thing you need is for your soles to fly off or lace to break mid-way through your performance.
Breathability
You already know the stress you put on your feet can cause them to sweat and tire out sooner than you do. For this reason, you want a pair of shoes with the best ventilation you can get. Shoes with the most mesh will provide the best performance in keeping your feet fresh and happy. Check for airflow throughout the entire top of the shoe and pay attention to the security of the laces and tongue; if they fit tight, they will squeeze your feet causing them to smother and choke. Shoes with removable linings are a bonus and if they can be washed in a machine that is an even bigger plus. Anything you can add to keep your feet dry and cool will not only provide the best performance, but they will also prevent a nasty stench that nobody wants to smell.
Fit
The fit is the most important factor to consider when shopping for the best shoes. They need to fit the exact size, don't try cutting corners by getting a size larger, bigger socks won't act the same when it comes to the proper support from the shoes. They need to fit right in the arch, heels, and the toes. Look for a larger toe bed if you have wide feet, but if your feet are narrow, you will want to opt for a smaller toe bed. It's never a good idea to settle for a pair of shoes just because you like the way they look, the comfort and fit are the most important for the results you expect.
Top Ten Zero Drop Running Shoes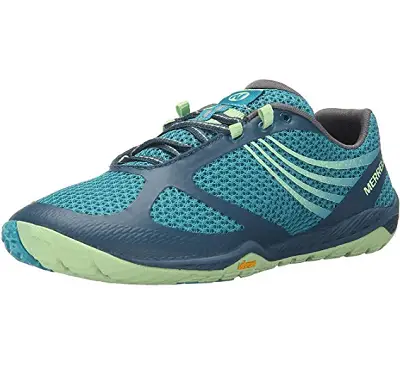 Here is another excellent pair of minimalist running shoes that will have your feet feeling as though they are naked. They provide a specially designed tread just for running and they are extremely comfortable.
Read more
Features
If they made gloves for feet, these would be the ones. They are so minimal that it's like you are running in your bare feet. They feature a special tread with 3mm lugs that are deep enough to dig into the most challenging terrain. They provide a soft cushion, so you won't feel the rocks under your feet even though they are minimal, and they provide a lightweight midsole that is packed with comfort. They are available in four attractive colors that will make everyone notice and the comfortable padded collar with the high arch support will make you glad you made this choice at the end of the day.
Construction
They are made of high-quality materials and the construction is exceptional. The tread is durable and withstands the test of heavy feet running over uneven terrain. The synthetic materials look to be long-lasting and the thing laces hook into strong eyelets, so you won't have the worry of annoying laces coming loose.
Ventilation
The mesh upper lining provides plenty of breathing room leaving your feet feeling dry and fresh each time you put them through a powerful workout. The laces are tight, yet loose enough to allow for additional breathing room and you won't have to worry about the smell of your feet because, with these shoes, you won't have that problem.
Fit
There are a lot of sizes to choose from in this style and they fit true to size, so you should be able to get it right the first time. The lacing system allows for a secure fit, and although the toe box is roomy, it seems that a narrow foot would fit best.
Value
These are an inexpensive pair of specialty shoes designed with perfect features and comfort in all the right places. You will be happy with your decision and you won't feel like you threw money out the window.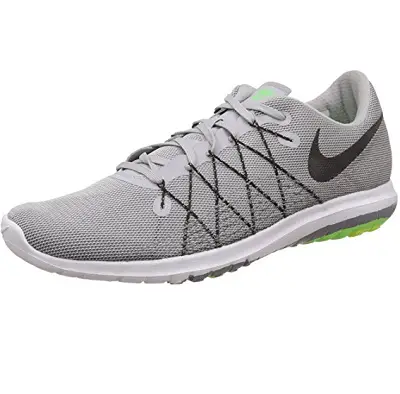 For short distance running, strolls through the park, and everyday wear, these shoes provide excellent comfort, good support, and an attractive style with trendy colors. There is a reason these shoes are in the number two position on our list.
Read more
Features
Comfort, flexibility, durability, and support is what you get when you step foot inside these shoes. They provide a comfortable durable cushion and rubber sole under your foot, while you experience extreme lightweight, comfort, and flexibility from the top. They are designed with Flywire cables to complement the fit and you will enjoy the wide selection of colors and sizes.
Construction
Quality construction is obvious at the first glance of the durable rubber soles and the mesh fabric on the top. The seams are strong and durable, and the strong laces stay securely in place.
Ventilation
There is an exuberant amount of breathing room through the mesh holes on the top of these shoes. The ankle and tongue provide just the right amount of room to keep your foot from choking, yet sturdy enough to keep you on track.
Fit
Although these shoes are available in a large variety of sizes, they do run a half-size too small, so keep that in mind when making your selection.
Value
Nike is an age-old name that automatically comes with a value, so when you add the quality, support, comfort, and price to these shoes, you can watch the value rise even higher.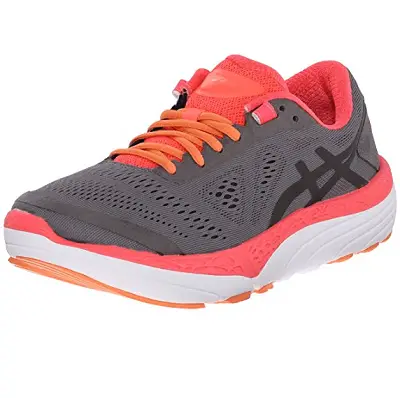 Asics are highly rated running shoes, and these are the best choice for the beginner. They offer excellent support and provide more than average comfort and cushioning in the soles.
Read more
Features
If you have ever experienced the feeling of Asics running shoes, then you probably already know how well these must feel. They are designed with durability in mind and they are softer than most in all the right places. They feature the perfect platform, excellent comfort, and outstanding flexibility. With the Solyte midsole, they perform better than others and they will make you believe you are walking on a cloud every time you walk across the room. The heel drop feels great and they will help with the comfort of your knee pain. The three popping color choices scream style for miles away.
Construction
They are constructed with pride and durability to last and the thick rubber sole will keep you standing solid and firm on your feet without worry. The mesh upper is firmly attached to the rubber sole and the stitching is remarkable. The laces are tough, strong, and secure in the quality eyelets.
Ventilation
They are made of a thin, soft, breathable upper mesh that will keep your feet dry and cool during your workout. They feature a superior moisture control lining and antimicrobial properties to help control bacteria growth. You won't have a problem with stench foot and you won't be wringing out your socks when you take them off.
Fit
The sizes are limited to this style, but they do have some common sizes, so you should find something that will work for you. They do tend to fit on the smaller side, so be prepared for that when making your choice.
Value
They are reasonably priced for this quality and style making them more affordable than some of the others on our list. You won't regret spending your hard-earned money on these shoes.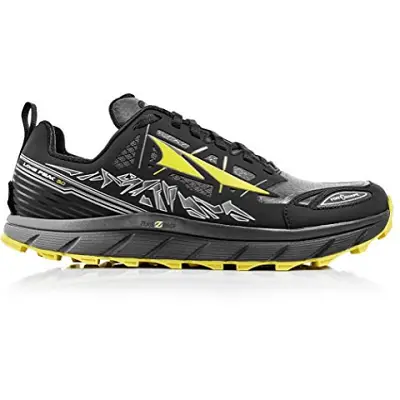 If you enjoy running but you live in a colder climate, don't let that stop you, these shoes are the best for running through snow and rain while keeping your feet warm and dry.
Read more
Features
These are the perfect cold weather shoes because of the bulkiness and thick rubber sole they provide. They are warm, you won't slide, and best of all they are comfortable unlike some of the bulkier running shoes on the market. They provide plenty of cushion in the bottom of your foot to make running, walking, and everyday adventures more tolerable. They are offered in three stylish colors that are sure to pair with all your running accessories and attire.
Construction
The thick rubber sole is durable and acts as a barrier between the sharp rocks and uneven terrain. They are made of high-quality materials that are built to last. The laces appear to be strong as well as the seams and lining.
Ventilation
There is adequate ventilation throughout portions of the top so that your feet will breathe easy and stay dry. Your feet won't stink even after having them on for several hours at a time.
Fit
There is a size for everyone, but be careful when selecting your size, because they run half a size smaller than what you would normally wear.
Value
These are the perfect cold weather shoes with high-quality construction. The price is exactly where it should be for this kind of shoe.

5

. Merrell Bare Access Arc 3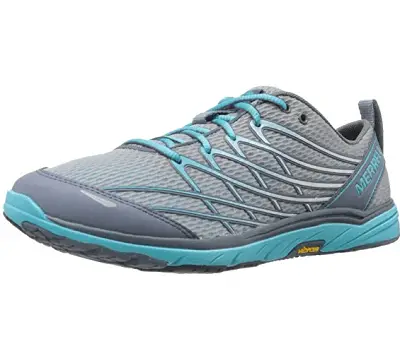 These are the best zero drop shoes for running or walking across any uneven terrain. They provide a great lightweight fit with outstanding comfort and support with a minimal fit that will make you feel as though you are barefoot.
Read more
Features
With a Vibram sole and 8mm of cushioning, rest assured you will have all the comfort and support you will need throughout the day. The extra-cushioned toe will provide the added support you need in a zero-drop shoe. These shoes fit like a glove on your feet and will give you the feeling of not wearing shoes at all. Although they are only offered in two colors, they are stylish and inviting to the pickiest people.
Construction
The soles are thick, and although they look durable, they might not hold up as long as you would expect. Other than the possible sole malfunction, they have been well thought out and deliver high-quality performance. The construction is durable enough to withstand the beating from the washing machine when they get dirty.
Ventilation
There is a mountain of ventilation throughout the upper of these shoes and they feature an odor control lining that has been thoughtfully put together with mesh so that it will maintain the moisture and avoid the horrible stench that could otherwise protrude from the shoes. You will no longer have the need for mesh socks when you wear these shoes because they will control the ventilation for you.
Fit
They do only offer a handful of sizes, but with the right luck, you should have no problem finding a pair to fit. Once they are on your feet you will notice the outstanding comfort and you will instantly notice the confirmation of the shoe to your foot. They are a bit on the narrow side though, so if you have wider feet these might not be right for you. The laces are smaller than most making the shoes feel a bit looser than you might expect.
Value
For a high-end pair of zero drop running shoes, they are priced right, allowing you the most bang for your buck. You can see why you should consider these as one of your top picks.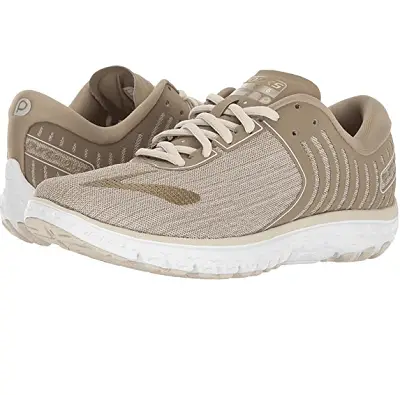 This is a sleek pair of running shoes that are designed to provide excellent cushioning while maintaining lightweight comfort with plenty of breathing room. If you're in the market for a unique look that will give you plenty of support, look no further, we have the shoe that will fit your taste.
Read more
Features
These running shoes offer a unique and fun style filled with lightweight cushioning with excellent flexibility. They provide full-length midsoles and a rounded heel that will give you a better alignment keeping you steady. One of the best features is that you can easily pair your orthotics with these shoes. They offer so much in the way of support and comfort, and with the six fun and stylish colors, you will find the perfect match for your needs.
Construction
They are designed with high-quality materials, a rubber bottom, and a lightweight mesh upper. The sole appears to be thick and secure and the laces are soft and durable.
Ventilation
There is a lot of room for your feet to breath from the mesh upper, and they will stay dry and fresh after being on your feet all day. The excellent ventilation will assist in keeping your feet from feeling fatigued on the warmest day.
Fit
Although these shoes offer a sufficient toe box, it is narrower than some and might not fit a wide foot as comfortably. There are plenty of sizes to choose, but they do tend to run a bit smaller.
Value
These shoes are offered at an affordable price, and with all the comfort, support, and added features, you will soon discover that they are worth every penny.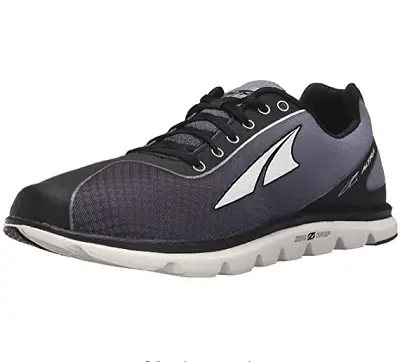 If you are a runner who likes a challenge and enjoys pushing our limits, try these running shoes on for size. They are designed for speed, provide superior underfoot protection and support.
Read more
Features
The unique design of these shoes appears to be a casual dress instead of the running shoes they are. Designed for speed, you can see why these are the best pair of running shoes you will own. They are exceptionally light in weight and offer a significant support system. They provide omnidirectional flex grooves and the perfect A-Bound cushioning to keep your feet protected with all your moves. Rest assured, you will experience phenomenal comfort and quality stability with these powerful and fast running shoes on your feet.
Construction
Made of quality materials and designed with durability, these shoes provide a strong upper that is attached securely to the synthetic rubber bottom. The laces appear to be strong and soft and they are securely attached to the high-quality eyelets at the top. Although the heel is thick and comfortable, they might wear out sooner than expected if you are a heavy runner. Overall, the construction seems to be better than some and they should last a long time when they are cared for properly.
Ventilation
The quality mesh uppers will provide a plethora of breathing room and they will keep your feet dry avoiding the stink you might usually get from sweaty feet. They will keep your feet cool and comfortable in the summer, and with heavier socks, they will keep your feet dry and warm during colder fall days.
Fit
The sizes are plentiful with something for everyone and they seem to fit the size, so you shouldn't have a problem finding the right one to fit. The exceptionally wide toe box leaves additional space for movement, so keep that in mind if you have a narrow foot. The laces seem to be secured appropriately for additional assurance of a good fit.
Value
They are reasonably priced and packed with features that will keep you on your feet longer than some. The support is exceptional, and the quality is outstanding, there isn't anything more you could add to these shoes.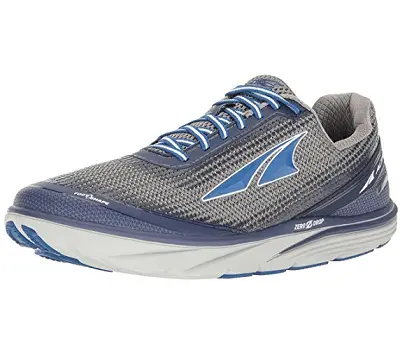 These shoes offer all the comfort and support you would expect from quality zero drop running shoes. If you have wide feet, you will fit into these like they were made for you.
Read more
Features
You can proudly strut through town with the style and flare of these shoes on your feet. Not only do they look good, but they provide comfort and support when you run or walk. They offer plenty of cushions to comfort the bottoms of your feet, while the wide toe box gives you all the room you need to move your toes freely without feeling cramped. They are lightweight, they will keep your heel steady and you wouldn't want a better zero drop heel. With these shoes on your feet every day, you won't feel the foot and knee pain you once had.
Construction
Constructed with quality materials, these shoes provide an EVA midsole and rubber bottoms that will keep you steady on your feet even in wet conditions. While they seem to be constructed with quality, the sole might not hold up to your expectations as they have a history of coming apart after several uses.
Ventilation
The upper part of the shoe is made of quality mesh that will dry quickly when wet and they will offer your feet plenty room to breathe without profusely sweating, so forget the worry of stench feet when you take these shoes off at the gym
Fit
These shoes are available in a variety of sizes to fit everyone, however, be cautious when selecting your size because they do tend to run a size smaller than usual.
Value
The shoes are reasonably priced for what they offer, and you can't go wrong with the cushion and support they provide.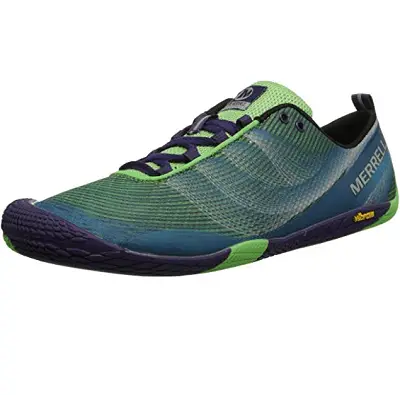 If you hate wearing shoes, then you should consider these minimal, low-profile barefoot running shoes. They not only offer excellent zero drop performance, but they will make you feel as though you are not wearing any shoes at all.
Read more
Features
The low-profile style of the shoes is not your typical bulky running shoe. They are thinner and lightweight and offer more comfort than you are used to in a standard running shoe. They provide excellent flexibility throughout the sole and they are designed with a multi-directional lug pattern that will have you jumping for joy. They are comfortable, and although they are designed for running, the sole is thinner than average and might take some time to get used to. They are great for walking and everyday use, but they wouldn't make the best shoes for hiking because you would feel every rock and limb on the trail. They are available in four different stylish colors to please everyone's taste.
Construction
Constructed with a rubber sole that will keep you from slipping and sliding with every step, these barefoot shoes also provide an even mixture of high-quality mesh and polyurethane on the top that will keep your feet cool and dry.
Ventilation
These shoes offer plenty of breathing room through the mesh upper, and the laces and tongue fit just right to keep your foot from choking. You will find comfort with plenty of breathing room no matter what style socks you choose to wear with these shoes.
Fit
The variety of sizes are plentiful, and you shouldn't have a problem finding the perfect fit because they are true to size. The laces make the fit even more secure and they are so comfortable it almost feels like you're wearing socks instead of shoes.
Value
These are an excellent pair of zero drop running shoes that provide all the comfort and support you could ask for. There are enough colors and sizes available to get the fit right the first time and the quality makes it worth the comparably low-price tag that is attached.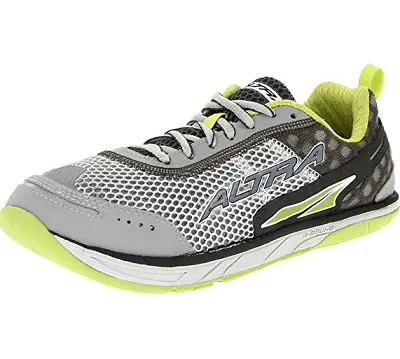 This choice is perfect for someone who wants a zero-drop shoe with a lot of cushion. It's an excellent choice for someone with chronic foot pain and the style is designed specifically for the foot of a female to assure the best fit.
Read more
Features
With the 4.5mm outsole, you will find this one to provide positive footing when you're running. The tread is designed you to stay on your feet when you hit a wet patch along the trail and the wide platform will provide a natural feeling with every step you take. They are lightweight with an EVA midsole that doubles the space between your feet and the pavement to assure added comfort and protection. Although the style is unique and may not appeal to everyone's taste, these shoes are available in two appealing color choices that are sure to please.
Construction
Constructed of synthetic material and a thick rubber sole, these shoes will stand the test against any uneven terrain that comes along. Most of the seams appear to be durable stitched and the laces are strong and secure. The soles are solid and designed to match your foot. They are tough and should last a long time even throughout the most abusive relationship with your feet.
Ventilation
There is an array of ventilation holes throughout the mesh upper and with the extra- large footbox, your feet will have an exceptional amount of room to stretch out and breathe. While the laces and tongue are secure, they leave enough breathing room so that the tops of your feet won't smother. There is plenty of space around the ankles that will allow for more breathing room as well. You shouldn't notice a disturbing odor when you remove these shoes and you won't have the need to wring out your socks, because your feet should stay dry while keeping cool.
Fit
The sizes do run small in this shoe and the sizes are limited, so it might be harder for you to find the perfect fit. They offer the perfect amount of space in the toe box and the back is narrow to provide a better fit. These are specifically designed for the shape of a female foot, so these won't work well as a unisex shoe.
Value
These shoes are priced exceptionally low for what they offer, but don't let that be a deal breaker, instead, consider it a true bargain. With all the comfort and quality these shoes offer, you can see where the value stands.

Subscribe to our Newsletter