Best Zero Drop Running Shoes
In a
Hurry? Editors choice: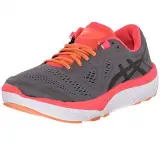 Test Winner: ASICS 33-M 2

When you talk to an avid runner they will probably tell you that they enjoy the comfort and support from
good running shoes
, but what happens when their feet are not designed to fit a standard shoe? That's where specialty shoes come to mind. There are shoes designed to fit all types of people with all types of needs; from orthotics to shoes made to fit with warts. There are shoes to suit people with blisters, arthritis, and plantar fasciitis, and then there are those who need shoes with a zero drop. Basically, zero drop running shoes match your feet, because you were born with a zero drop from your heel to your forefoot. It only seems logical to pair these types of shoes with your feet. In some cases, you will feel as though you are barefoot, and some people are the most comfortable in that state.
Standout Picks
Criteria Used for Evaluation
Features
Some features are more important than others and some are solely based on personal preference, but when it comes to the best zero drop running shoes, you will want to pay close attention to certain features over others. One important thing to consider is the comfort of the footbed and the cushion between your foot and the ground. Arches are always one of the most important features to consider in a good pair of running shoes, while the toe box and traction are next in line. You need to be sure your feet will remain comfortable throughout the entire time you are wearing your shoes and if the traction doesn't provide a good grip, you won't stay on your feet for long. Features such as brand might be important to your preference as well as color and design.
Durability
The construction is always important to a good pair of shoes. You want to be sure they are made of high-quality materials that meet your standards. A thick rubber sole will last longer than a thinner synthetic sole, and for a good running shoe, you should consider a soft upper that provides some form of ventilation. Durable, yet lightweight construction would be the better choice as opposed to a bulkier shoe that will weigh you down. Be sure you examine the strength of the stitching and the lacing system. These are all important factors to keep you safe and protected during your run. The last thing you need is for your soles to fly off or lace to break mid-way through your performance.
Breathability
You already know the stress you put on your feet can cause them to sweat and tire out sooner than you do. For this reason, you want a pair of shoes with the best ventilation you can get. Shoes with the most mesh will provide the best performance in keeping your feet fresh and happy. Check for airflow throughout the entire top of the shoe and pay attention to the security of the laces and tongue; if they fit tight, they will squeeze your feet causing them to smother and choke. Shoes with removable linings are a bonus and if they can be washed in a machine that is an even bigger plus. Anything you can add to keep your feet dry and cool will not only provide the best performance, but they will also prevent a nasty stench that nobody wants to smell.
Fit
The fit is the most important factor to consider when shopping for the best shoes. They need to fit the exact size, don't try cutting corners by getting a size larger, bigger socks won't act the same when it comes to the proper support from the shoes. They need to fit right in the arch, heels, and the toes. Look for a larger toe bed if you have wide feet, but if your feet are narrow, you will want to opt for a smaller toe bed. It's never a good idea to settle for a pair of shoes just because you like the way they look, the comfort and fit are the most important for the results you expect.
Top Ten Zero Drop Running Shoes
Subscribe to our Newsletter