Best Electric Skateboards
In a Hurry? Editors choice: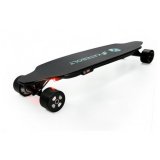 Test Winner: SKATEBOLT

It's 2019 and we have finally found a way to make using a personal transportation device less difficult and taxing on our bodies. With
bicycles now being equipped with motors
to make cycling easier, it was only a matter of time before technology caught up and made electric skateboards to ease the difficulty of getting around on board. We have caught up and made this guide to best electric skateboards.
But between motors, deck material choices and weight restrictions, how can you know which e-board is going to be the best for you? Below we have reviewed ten of the best options that are on the market today, taking materials used in the construction, speed, motors, weight and battery life into account.
Read on to see which one is best for you, your needs and your budget.
Standout Picks
Criteria Used for Evaluation
Materials
Deck materials can make or break your riding experience.
There are a number of different materials used in the construction of the boards that made our buying guide. It can be hard to navigate which material type will be best for your particular needs but it is very important for you to become versed in the world of skateboard decks. The material you choose can greatly affect the durability of the board and also how easy it is to ride. Let's take a bit of a closer look at some of the most common materials used in the construction of the board decks.
Maple. This is perhaps the most common deck material today because it is not only flexible but durable as well. This is a great dense wood that will provide an ample amount of strength and pop needed for your ride. It is important to note that not all maple wood is the same. The qualities of the wood really depend on where it is grown. Maples grown in Canada, for example, are growing at a higher elevation and will have more dense fibers than maples grown in other countries. Maple is a renewable resource when it is managed responsibly and requires a non-toxic process which makes it a better choice for the environmentally-conscious.
Bamboo. This is a great choice for deck material as it is quite responsive and will spring back easily. It's also firm which can provide ample sturdiness. Bamboo boards are typically lighter and stronger than boards made from maple. They also provide an ample amount of shock absorption. Bamboo is less durable than maple, however, and is known to lose its flexibility over time. Bamboo grows fast, especially when we compare it to the time it takes for a maple tree to grow to maturity. Because of this, some people believe that bamboo is a more environmentally-friendly material choice.
Polycarbonate. Though we only have one product on our list with a polycarbonate construction, we should still look over this material type. This is a lightweight thermoplastic material that is really easy to ride (and carry if you need a break). Polycarbonate provides UV protection naturally, effectively boosting the lifespan of the board.
Carbon Fiber. Carbon fiber is a strong material type that will rival the strength of polycarbonate. Boards made with this material are designed to last (and last….and last…) so the price tag often reflects this quality. Carbon fiber is often lighter than wood and is more aesthetically appealing. That said, it is open to receive more vibrations which can greatly affect your ride.
Power Source
What kind of power is your board capable of?
Motors are a vitally important part of an electric skateboard. Without a motor, the skateboard isn't going to take you anywhere unless you power it with your legs and isn't the point of an e-board to avoid having to do extra work? We took a look at the motors of all of the options on our buying guide in order to provide you with the vital information you need to know about the capability of the e-board. The most common motor type you'll see is the hub motor. These are a great choice because you'll find that they don't provide you with any (or much) resistance if you try and use your board once the battery is dead.
Battery Life
How far can you go on one charge?
Knowing the battery life of your skateboard is important. You don't want to be caught 5 miles away from your destination with a dead battery, forced to lug your dead e-board with you the rest of the way. You need to know how far you can go on our board before needing to return home to your charger, plain and simple. The battery life for the options on our list varies greatly. Some manufacturers provided the number of miles you can expect to go on your skateboard before it dies on you, others provided a time period. If you have miles to make, the furthest you can go on any of the boards on our list is (up to) 30 miles with the Evolve Carbon GT Series 2-In-1.
It is important to note that battery life is dependent on the weight of the rider. A heavier rider may not be able to go as far because the motor is working harder to hold their weight.
Speed
You need to know how fast you can go!
Isn't this what it's all about? Of course, speed would be an important consideration to take into account as you begin your hunt for the best e-skateboard for your needs. You want to know what the max speed of your new board will be so we were sure to include this for each of the ten products you will find above. The speed is either controlled by a throttle that you hold in your hand or via weight shifting. Many of the options on our list can reach up to 20 miles per hour with some even getting closer to 30 miles per hour! If you're a beginner, however, these speeds might be a little excessive for you. In that case, might we suggest considering the Swagtron or RazorX options in our buying guide? These are designed to be for beginners and provide the slowest maximum speed of all the options in our list.
Weight
Weight capacity and weight of the board are important to be aware of.
Weight is an important factor to consider when you're searching for the best e-skateboard for your needs. We looked at not only the weight of the item itself but also the weight capacity that the board is able to hold. These are both important things to know in advance of investing in an electric skateboard. If you plan on traveling a lot with your board, you aren't going to want to tote around something that's excessive in weight. It's also important to know what the weight capacity is of each board because you'll be able to find out if you're within the right weight range to safely operate the skateboard without injuring yourself or others in the process. It would be very disheartening to invest in one of these only for it to arrive at your door and get broken on your first time out with it.
Top 10 Picks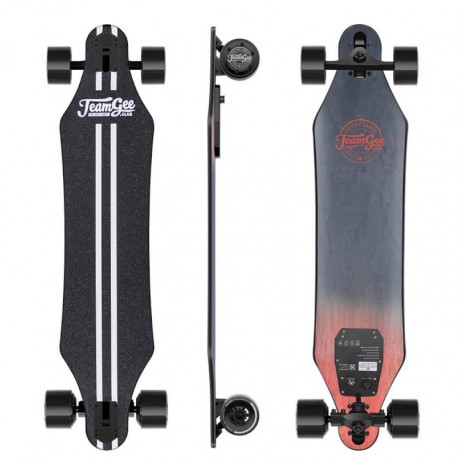 Taking the number one spot in our buying guide for very good reasons is this 37-inch long and 8.7-inch wide option from Teamgee. We think you're going to love how sleek this board is and at just over half an inch thick, you'll love how much control and stability you'll have to ride it. This slick looking e-skateboard has a lot of value to provide to consumers. Let's see what put it at the top of our list.
Read more
Materials
The Teamgee board is made from 10-ply Canadian maple and one ply fiberglass. This combination provides both stability and smoothness, making for a fun board to take riding.
Power Source
This board is run by two high performing 380-watt motors.
Battery Life
Thanks to the two motors on this beast, you should find that you're able to go around nine to 11 miles before needing to charge.
Speed
You will be able to reach speeds of up to 22 miles per hour with the Teamgee.
Weight
This board is just 14.5 pounds in weight and is rated to hold up to 200 pounds.

2

. Boosted 2nd Generation Dual +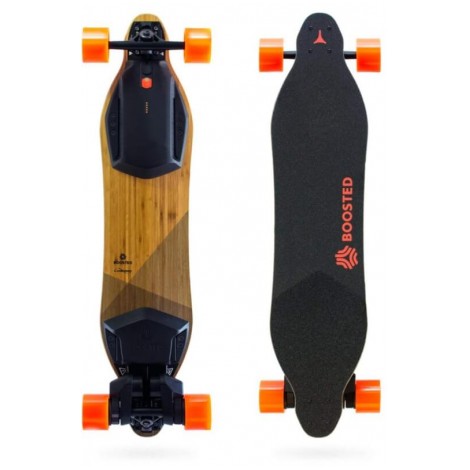 Taking the coveted second place spot is this option from the brand Boosted. If you're in the market for a smooth and powerful ride, this is going to be the one for you. Climbing hills ain't nothing with this on your side (or should we say 'underfoot'?). Let's see what else it has to provide in terms of benefits.
Read more
Materials
The deck is made of bamboo, which provides a more rigid feeling board. This material is great to hold up to more pressure and speed (especially on hills) but some people might not find it as comfortable or cushioned as other options on our list.
Power Source
The motor on this board provides 2000 watts of power.
Battery Life
The standard range for this board is around six to seven miles. If you find that this isn't enough juice for you, the company does make an optional battery that will last 12 to 14 miles!
Speed
The top speed you will be able to reach on this bad boy is 22 miles per hour.
Weight
The weight of the board is around 15 pounds. Though we were not able to get an exact answer from the company regarding the weight capacity, we were able to determine that this board is designed for riders between 150 and 200+ pounds.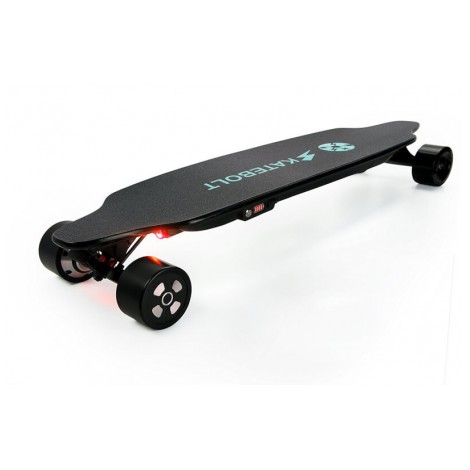 Rounding out the top three we have this longboard option from SKATEBOLT. There are a lot of great benefits to investing in this board including its inclusion of taillights for additional security and safety when riding on dark streets. It comes with a finger ring remote control that helps you access the speed modes, tail light power, and battery life.
Read more
Materials
The SKATEBOLT is made of 8-ply northeast maple, providing users with a sturdy and supportive ride.
Power Source
The SKATBOLT is powered by two 500-watt hub motors, making it an incredibly powerful board you can take with you anywhere.
Battery Life
Do you have places to go and people to see? You'll love that the battery for the SKATEBOLT will allow you to take your board a whopping 15 to 20 miles per charge!
Speed
Do you want to go fast a la Ricky Bobby? You're definitely going to want to check the specs on this product. It has two ride modes – normal & sport. In normal mode, you can expect to top out at around 13.75 miles per hour, while sports mode can see you reach a whopping 25 miles per hour!
Weight
The weight capacity of this board is 280 pounds, making it one of the heavier duty options in our buying guide. One should keep in mind, however, that the heavier you are, the less likely it is you will be able to reach peak speeds. The actual weight of this product is 19.5 pounds.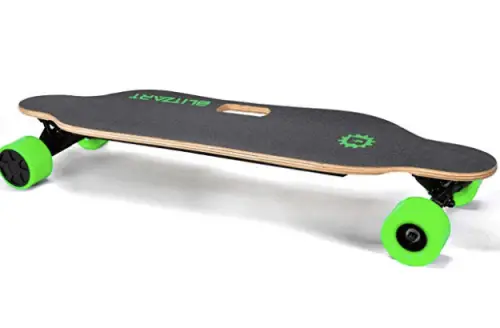 Do you like your skateboard to really POP with color? This option from BLITZART comes in four different options for wheel colors – lime green, orange, red or black. If you want to stand out in the crowd, we suggest the lime green! This board comes with an easy-to-use (and hold) ergonomic wireless remote among other great features listed below.
Read more
Materials
Thanks to the 6-ply maple wood and 2-ply bamboo deck construction, users will find this board provides plenty of flexibility while remaining sturdy and stable. The concave deck also features grip tape to help provide additional traction.
Power Source
The BLITZART Tornado is equipped with a 350-watt brushless hub-motor providing a more reliable ride that'll give you less of a headache than if it were belt-oriented. Not only is the hub motor quieter than belt motors, but it can also be used as a regular skateboard without battery if the mood strikes.
Battery Life
This board is equipped with a 36V and 4.4 Ah Li-ion battery that will charge to full in 2.5 hours. You will be able to go up to ten miles on just one charge!
Speed
The max speed that can be reached on this board is over 17 miles per hour.
Weight
On the heavier side? That's okay! This board can hold up to 250 pounds of weight. This product is quite a bit heavier than other options on our list, however, weighing in at 38 pounds.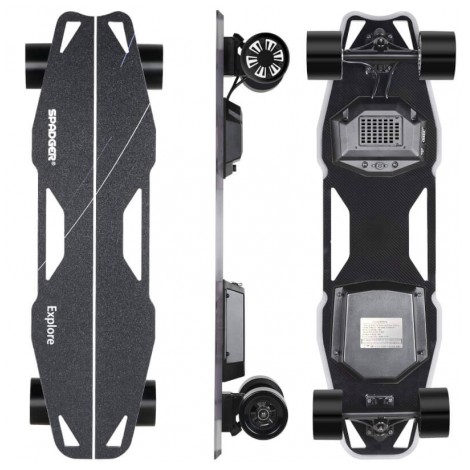 Are you in the market for something a little different looking, something a little more futuristic, perhaps? Then look no further than the longboard from Spadger. This funky looking board is great for both beginners and advanced riders and provides a host of unique features that aren't seen in any other options on our list. Take, for example, the built-in LED lamp (with 30 different light modes!) and Bluetooth speaker! How cool is that? Let's see what else this item has to provide consumers.
Read more
Materials
This board is perhaps one of the most durably constructed options on our list. It's made using the same materials you would find in combat aircraft (polycarbonate) and is explosion-proof. The board itself is uniquely flexible, providing riders with a turning radius of 1.5 meters.
Power Source
With two 450-watt superpower motors, you can expect some serious power behind this beast!
Battery Life
You can expect to go around 12 miles on one single charge.
Speed
Would you believe me if I told you this item has four different speed modes? Well, it does! The beginner mode can have you reaching speeds up to 9 mph, eco mode up to 15 mph, expert up to 19 mph and pro mode all the way to 23 mph.
Weight
This product is rated to hold up to 264 pounds (could they be any more exact with that number?). It weighs just 17.6 pounds.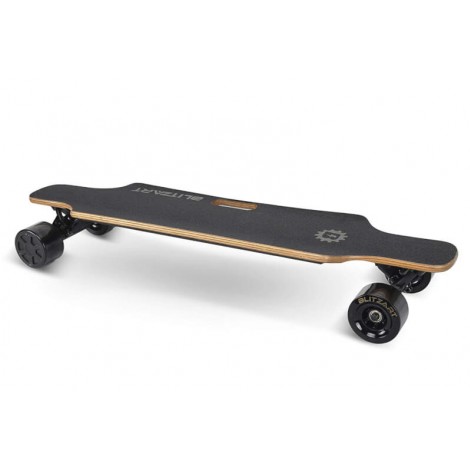 Here we have another e-board from BLITZART – the Huracane. This is one of the more affordable options you're going to see in our buying guide. We loved it for a number of reasons. Just like the Tornado we reviewed above, this board is available in four different color choices for the wheels – lime, black, red or orange. It comes with a wireless remote that is as easy-to-use as it is comfortable to grip.
Read more
Materials
These boards are made from 7 layers of maple wood alongside two of bamboo found on the bottom side. The construction of this adds an adequate amount of flexibility and stability to your riding experience. The deck is lined with a gripping tape that will provide an adequate amount of traction.
Power Source
There is a 350W motor on this bad boy.
Battery Life
You should find that you will have no problems going around six to eight miles while riding this board thanks to the 36V and 4.4Ah li-ion battery.
Speed
The maximum speed of the Huracane is 17 miles per hour.
Weight
This longboard is rated to hold a maximum weight of 250 pounds, while the unit itself weighs just 13 pounds.

7

. Alouette Phoenix Ryders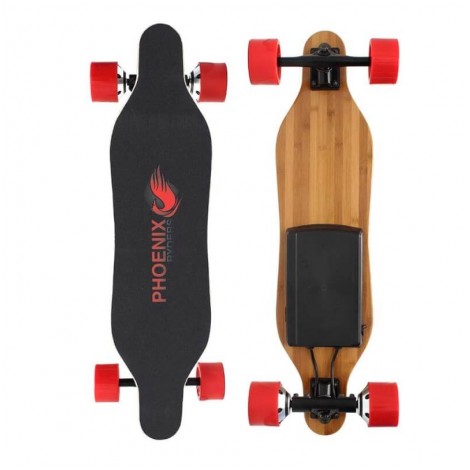 This e-board from Alouette is not only slick in appearance but affordable in price as well. It comes with a smart remote control that allows you to switch it from low to high speed, accelerate and break, turn on/off the LED light or choose which direction you're going to move.
Read more
Materials
This board is very strong and provides users with a lot of durabilities, thanks to its 6-ply maple construction. Alouette also outfitted the Phoenix Ryders with one extra layer of bamboo to provide some flexibility and stability.
Power Source
The Phoenix Ryders is equipped with dual 250W hub motors.
Battery Life
You're going to get around 9.3 miles on one charge thanks to the 25.2 lithium battery that Alouette has included on this board.
Speed
The top speed you're going to get on this is 16 miles per hour.
Weight
The maximum load that this board can bear is 220 pounds. The board itself weighs just 9.9 pounds, making it one the of the lightest options on our list.

8

. Evolve Carbon GT Series 2-In-1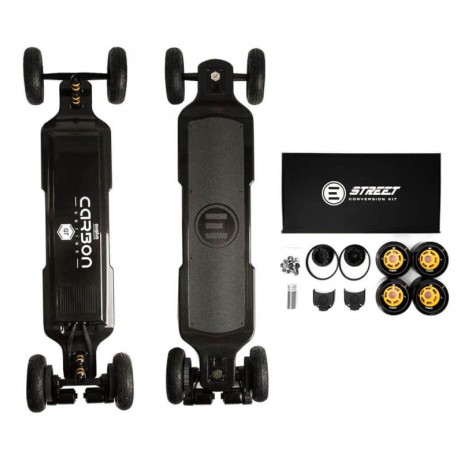 Evolve is a rather big name in the world of skateboards so it should surprise no one that they have some great, albeit expensive, e-board options. This particular option is priced much higher than other products on our list, but it is also able to boast a feature that no other board can – it's a 2-in-1. This means you can take it on the streets or on more difficult terrain without any problem. Let's see what else sets this board apart.
Read more
Materials
Ready for something a little different? The deck of this board is made from carbon fiber. The electronic components are all built-in so you have a wonderful aesthetic ride with a low-profile look.
Power Source
The twin brushless motors that are on this board can work together to provide an incredible 3000w of power!
Battery Life
Do you have an extra long commute or just enjoy being outside on your board for long stretches of time? This model from Evolve Skateboards is going to take you a whopping 31 miles on streets or 18.5 miles if you're taking it on more difficult terrain.
Speed
You can expect to get up to 26 miles per hour when you're using the street version or up to 25 miles per hour on the all-terrain option.
Weight
If you're using this in street set-up, it weighs just 17 pounds. If you're going to hit some more difficult trails and want the all-terrain mode, you'll be looking at 21 pounds. The maximum load of this boards is 200 pounds.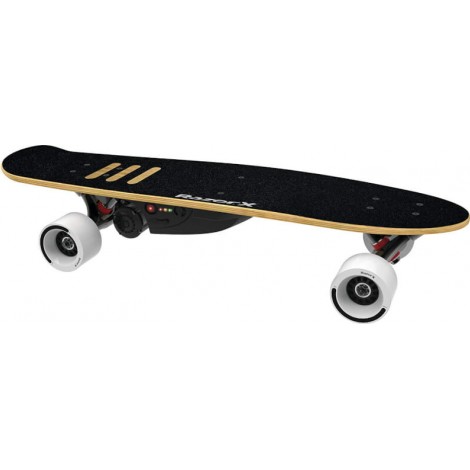 Are you on a pretty tight budget but still want to dabble in the world of e-boards? This option from RazorX will allow you to dip your toes into e-boarding without requiring too much of an investment right out the gate. Let's see what else, aside from a smaller price point, this board has to offer.
Read more
Materials
This deck is made from 5-ply maple. This is considerably less than other options on our list, but it helps to add an air of light weightedness while also providing a rather responsive ride as well.
Power Source
This board features a kickstart 125-watt RWD motor.
Battery Life
You should expect to receive just around 40 minutes of use from each charge.
Speed
You will be able to reach speeds of 10 miles per hour while riding the Cruiser.
Weight
This board can hold up to 220 pounds and weighs just 9.7 pounds.

10

. Swagtron SwagBoard NG-1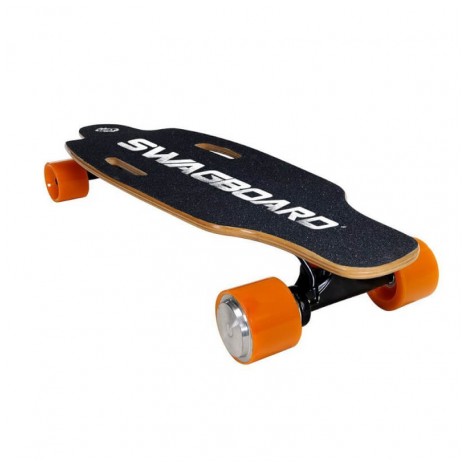 Bringing up the rear, we have this option from Swagtron. In case you can't tell by the name of this brand and the board (we've never heard a grown adult use the word 'swag'), it's designed for use specifically by youth. Of course, if you fit within the weight specifications listed below, you can use it as well. This is an affordable option, great for beginners. Let's see what else it offers.
Read more
Materials
The deck is made with 7-ply Canadian maple, providing a smooth ride with an enhanced amount of stability for safety.
Power Source
We were not able to find information regarding the motor on this board.
Battery Life
The 24V li-ion battery takes around 3 hours to charge fully and will be able to provide riders with a distance of around 10 miles.
Speed
You can expect to reach maximum speed at 11 miles per hour.
Weight
This board is able to support riders up to 176 pounds. It weighs just 9.5 pounds.

Subscribe to our Newsletter