Best iPhone Armbands
In a Hurry? Editors choice: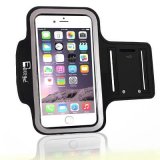 Test Winner: Revere Sport

Around 20 to 30 years ago, people would go out for a run or head over to the
gym
with no worry of how they were going to transport their technology devices (most notably their cell phones) because they rarely needed them. However, everyone knows this is a far cry from the reality in the present day. People have become so engrossed and reliant on their
smartphones
that they can't leave home without them. Do not kid yourself; you are probably one of these people. Yet, this can lead to complications when you want to exercise. Not only that you may also want to utilize your smartphone while exercising. What is the answer? It is simple; the solution is an armband. Although there are several different smartphone models people are using today, we want to focus specifically on the best armbands for
iPhone
users.
Standout Picks
Criteria Used for Evaluation
Color
Look, if an armband is not functional enough for you or does not fit right, then the visual appeal of it should hold no value to you whatsoever. Yet, if all the cards in your hand matchup, is it so bad to ask for a design that is appealing? For some people fashion is everything and they will want to wear an armband that either does not deter their overall fashion statement or enhances it. Heck, for some people, though, they will be fine with a basic black and gray design. Others, however, may want some more variety and depending on the seller, you may get just that. Keep an eye out for additional color options and do not be ashamed if you prefer one armband over another one because of its appeal (granted the actual design is above average).
Fit
It is important for you to make sure your smartphone fits. This you already know but this brings up yet another point of interest for you. Even though fitness armbands will be adjustable, it does not mean that all of them will fit you. As such, much like with your iPhone, you need to guarantee that the armband will not only fit you but will fit securely and comfortably without falling down. In order to figure out if it will fit you, take the circumference of your upper arm.
As long as it falls in the range that the manufacturer displays for you, you should have nothing to worry about. But, from one armband to the next this range is going to be different, sometimes drastically. If you are an individual with bigger arms, you may have a more daunting task; much as people with scrawny arms have the same troubled road ahead. This can limit your options but do not ignore this as a proper fit is arguably the most important design feature of all.
Features
At their core, iPhone armbands are devices that are used to hold your smartphone up against your upper arm during fitness activities. Yet, if you follow the modern trend of technology, you would have already known that their functionality does not end there. In fact, it is not even close as most of them offer several special features. A few good examples of such would be a reflective strip on the exterior to provide you with visibility at night and also storage compartments for your credit cards, cash, keys and other belongings.
But, perhaps the most important "extra" feature to look out for is if you can retain functionality for your smartphone. Whether you want to listen to music while you run, stop and answer a phone call, or respond to a text, you may want your iPhone to remain functional while installed in an armband. To do so, the included screen cover needs to be touchscreen compatible and to listen to tunes, there need to be built-in audio portholes.
Durability
Once you have ensured that your iPhone is compatible with the armband that you are looking into, it is time for you to analyze the physical design of it. What it boils down to is this, nine times out of ten, you will be using your armband in a fitness-related activity. As such, it not only needs to provide you with comfort but it also needs to hold up to rigorous activity. In terms of comfort, ideally, the armband will not only feature comfortable materials but also a sweat-resistant exterior. You do not necessarily have to look for an armband that is soft and mushy, but you do want to ensure it is not irritating to your skin.
A common material you will see utilized is neoprene. Because it is a synthetic rubber, it is able to resist water (which also means sweat) and is also able to retain its shape even after being folded, flexed, or bent. Speaking of retaining shape, the durability of an armband is also vital. No one wants the Velcro or materials to begin fraying or deteriorating within a month or two.
Top 10 Picks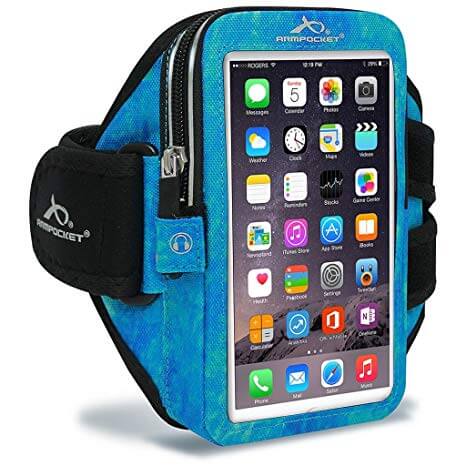 The best overall iPhone armband in the world is still the Ultra i-35 Armband. Even though it is claimed that it fits the iPhone 7, it is more suitable for the iPhone 6 and iPhone 6s. With its memory foam padding and sweat-resistance, though, it is one of the most comfortable armbands out there.
Read more
Phone Compatibility
Again, it is claimed that this will work with the iPhone 7 but if user feedback is any indication, it is not ideal for it. Instead, it will fit iPhones such as the 6 and 6s models.
Physical Design
To ensure the maximum amount of comfort for you, this armband has been made with memory foam padding and soft natural bamboo. Additionally, it is certified to be sweat and water-resistant per IPX4 standards.
Special Features
Due to the plethora of interior storage compartments, you can store your money, keys, credit cards, and various other personal belongings in this band. Plus, the protective fabric cover has multiple audio port access points.
Sizing and Adjustability
While the strap itself is adjustable, you can select from various sizes to better accommodate your arm size. No matter which variation you choose, though, slipping should not be an issue.
Color Options
There are only four color options available; yet, still, the variety is quite nice. Standard colors, such as black, pink, and purple are available and if you want to get really extravagant, you can opt for arctic storm.
Overall
Some may feel this armband is too outdated to warrant an investment and if you have moved on to the iPhone 7 or beyond, this is accurate. Notwithstanding this, it is going to prove a difficult task to find an armband with better quality.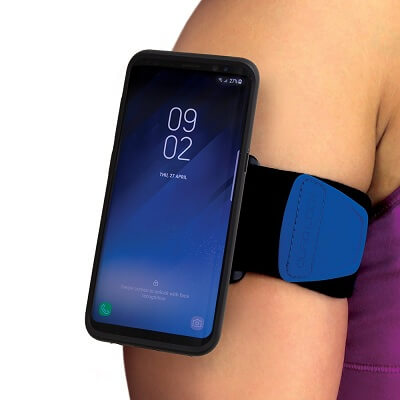 One fact is certain; the Quad Lock Run Kit does not have any issues with being outdated. Considering the model displayed for you is designed specifically for the iPhone X, only a certain demographic will appeal.
Read more
Phone Compatibility
As you will notice on the product page, there are Quad Lock Run Kits for other models of the iPhone. However, this specific kit is for the iPhone X and iPhone X only.
Physical Design
To reduce the amount of sweat that is absorbed by the material, the armband has a low amount of contact with your skin. Combine this with its comfortability and you have a recipe for success.
Special Features
Unlike other designs, your iPhone is in plain sight and you can access any applications and features that you could if it were in your hands. Simply lower your arm down and navigate the touchscreen with ease.
Sizing and Adjustability
The arm sizes that this kit accounts for is quite astounding. Because of the range of the armband, you can adjust it to fit arm sizes of circumferences between 6.5 inches and 15 inches.
Color Options
No, there are no additional color options to choose from. Yet, the default black and blue design is quite appealing to the eyes and should not stand out to random bystanders.
Overall
There is not a better armband for the iPhone X in the world today. Granted some runners commented that the weight was a bit too excessive, it could just be the solution to exercising with your iPhone X.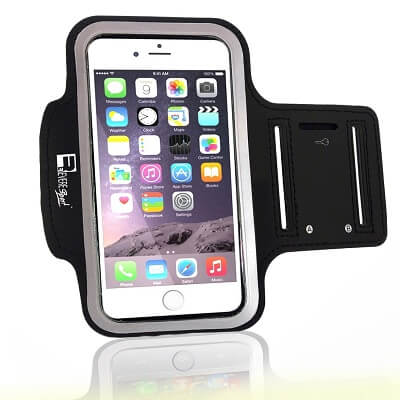 If you still own and use an iPhone 7, then this armband is going to be perfect for you. As it was designed to adapt to the size and dynamics of the iPhone 7, you are provided with full functionality even with the case installed.
Read more
Phone Compatibility
In conjunction with a slim case, Revere Sport has designed their armband to work with the iPhone 7, not even the iPhone 7 Plus. Because of this, fingerprint ID access and the middle headphone jack access are accounted for.
Physical Design
Being crafted from an advanced neoprene material, it is practically guaranteed that sweat is not going to damage your smartphone. In addition to this, the strap is designed to not fall down.
Special Features
A built-in 3M reflector strip provides you with a high amount of visibility at night and a separate key pocket inside of the band gives you a convenient location for your keys.
Sizing and Adjustability
Ensuring the band will not fall down, there is reinforced stitching and because of its improved design, it will accommodate arm circumferences of 8.5 inches to 15.7 inches.
Color Options
This comes in a jet black design, with the aforementioned reflector strip, and the appeal is not the issue. Yet, due to this, it could be a nuisance if you run on excessively hot and sunny days.
Overall
The iPhone 7 has been triumphed by the iPhone 8 and iPhone X. Still, it is not naive to assume that millions of people are still using an iPhone 7 and as such, this armband is still relevant and a high recommendation.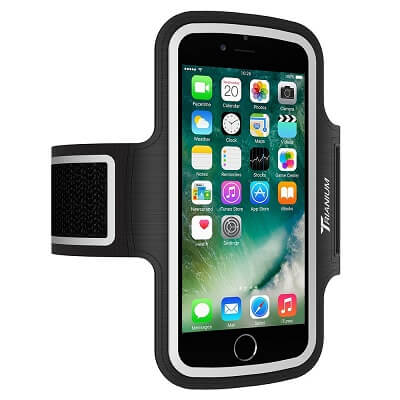 While most of the armbands so far have tailored to one or a few specific iPhones, Trianium's version breaks that mold. Due to its unique design, it can properly account for the iPhone X, iPhone 8, iPhone 7, etc.
Read more
Phone Compatibility
Because Trianium designed their armband with added space, it can fit most large smartphones. Past the iPhone models (from 6 to X), it can also fit most of the newer Samsung Galaxy's.
Physical Design
Neoprene is a common material you see utilized in armbands and for good reason. Not only does this allow for bends, flexes, and folds without compromising the strap, it also is water-resistant and ideal for light rain.
Special Features
Beyond just a strap to hold your smartphone in place, there is a built-in key pocket and secret compartments built into this armband. Plus, the protective screen is touchscreen compatible.
Sizing and Adjustability
Granted the circumference of your arms is not beyond 14 inches, this armband should fit you adequately. But, there is also a removable strap that comes with it.
Color Options
It is interesting to note that there are two versions of the same colors (both classic and pro variations). The colors include purple, mint, hot pink and black.
Overall
It sure is hard to beat a product that is immense in quality and affordable. There are some slight issues present with Trianium's armband but they are not large enough to warrant a pass.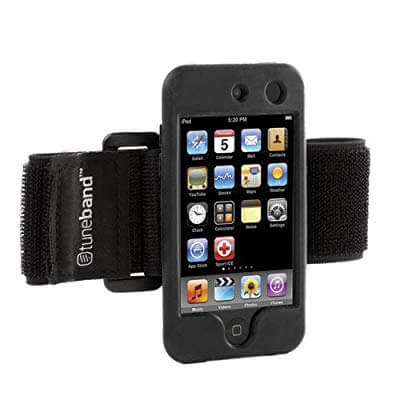 The TuneBand Armband is fantastic by itself but what is convenient is you receive two separate Velcro straps to help accommodate more arm sizes. While the larger of the two was clearly inspired by Arnold Schwarzenegger, it is nice to have it.
Read more
Phone Compatibility
As the product description so eloquently indicates, the TuneBand is an armband that is tailored to the iPhone 7 and no other smartphone. There are other TuneBands for different smartphones; so be aware of that.
Physical Design
The Velcro straps themselves are made from a durable silicone skin and are very comfortable. A potential nuisance, however, is that the back of your smartphone will make contact with your skin.
Special Features
This is what is known as an open-face design. Because of this, you can access your phone with little to no obstructions. In addition, two separate screen protectors are included with your investment.
Sizing and Adjustability
Due to the two straps that you receive, this armband can fit arm circumferences between 7 inches and 18 inches. However, as a few users have reported, the larger of the two is rather ridiculously enormous.
Color Options
Each strap you receive is black but you can choose the color of the screen protectors. Your choices are blue, pink and glow.
Overall
Does the good outweigh the bad? That is a loaded question as the inclusion of multiple straps is ingenious; yet, does this make up for the issue with the back of your smartphone contacting your skin? The answer is up to you.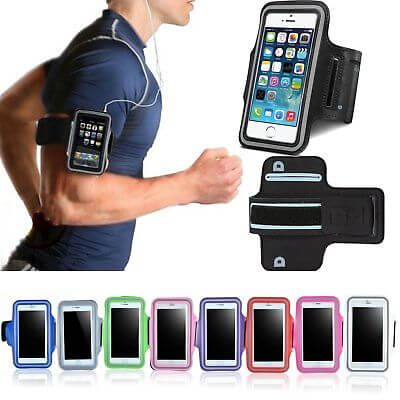 When an armband is designed to account for a wide range of smartphone models, you need to tread carefully. Because they are not designed to fit one type, the fit may not be optimal for one type. This armband has that issue but thankfully, it is not an astronomical deal.
Read more
Phone Compatibility
From the iPhone 6 to the iPhone 8, and even Android devices up to five inches, this armband is compatible. But, it is also claimed that it can fit the iPhone X. However, some users have reported that the fit is too tight.
Physical Design
To enhance the durability of the strap, YORJA adopts three layers of Lycra material. Yet, even with this enhanced longevity, it is able to maintain optimal breathability and sweat-resistance.
Special Features
On both the top and the bottom of the case, there are three headphone jack holes integrated into each side. Even more so, the protectant TPU material is touchscreen compatible.
Sizing and Adjustability
A variety of reviewers have had issues with the fitting of this model and claim that it is designed for muscular arms. Considering it is designed to fit girths from 10 inches to 16 inches, this claim is not too farfetched.
Color Options
There are two options available in terms of color choices. You can either go with a black or gray-colored version. Both are not flashy but at the end of the day, they are not appalling, either.
Overall
If you feel like you are a scrawny individual, you will have a hassle getting this armband to stay in place. A minimum size of 10 inches is a bit much but for those who fall within the range, it is a terrific armband.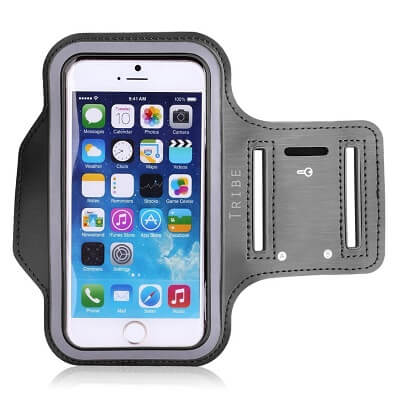 If you are not concerned with frequently operating your iPhone when it is installed in an armband, then this next model is as good as it gets. Yet, as you have figured out, functionality can be an issue due to the rigid screen of the armband.
Read more
Phone Compatibility
This is dubbed a universal armband and that is not too far from the truth. It is capable of holding most iPhones from 5 to 7; in addition to various Samsung Galaxy models.
Physical Design
The soft neoprene material is designed to hold up to twisting, flexing and bending. On top of this, the blend with polyester creates a weatherproof design.
Special Features
Unfortunately, the included screen is quite rigid and this makes it difficult to operate your smartphone. But, there is a built-in key holder and reflective strips for nighttime use.
Sizing and Adjustability
With the inclusion of an additional Velcro strap, granted you have the armband tight enough, it should have no problems staying in place. From 8-inch arm girths to 16 inches, this will properly fit.
Color Options
As a bonus, there are actually quite a few distinct color choices to select from. This includes dark blue, dark pink, red, black, gray, purple, black and gray, black and red, and light pink.
Overall
Outside of the issue of operation, there are not too many noteworthy downsides to this otherwise impressive design. This could be too much of a hurdle to overcome but it is universally praised for a reason.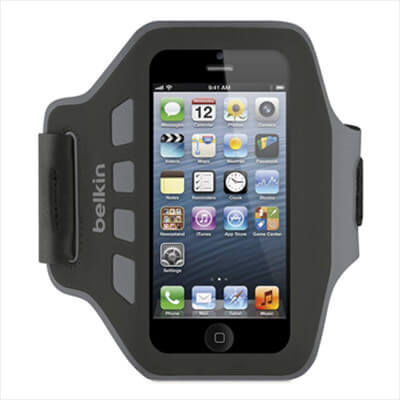 This is yet another armband that is not tailored to smaller arms. But, that does not mean it is excessive in weight as it only weighs 1.5 ounces. Plus, with all the additional features this will be ideal for most people.
Read more
Phone Compatibility
As this will fit smartphones up to 5.5 inches, you can use this in conjunction with the iPhone 5, iPhone 5S, iPhone 5C and iPhone SE (including all of the Plus versions).
Physical Design
While the soft elastic Lycra fabric is ideal for its ability to not lose its shape even after it is bent, twisted, or flexed, one user expressed their discomfort with the lack of sweat-resistance.
Special Features
All the basic features that you are accustomed to seeing with smartphone armbands are present in this design. This includes a convenient pocket pouch, a headphone jack openings and full touchscreen functionality.
Sizing and Adjustability
Limited is a good word to associate this armband with in regards to the fitting. It is rated to fit arm girths of 12.6 to 15.8 inches.
Color Options
Comes in many different colors with a slim fitting
Overall
The slim form fitting design helps make this product even more popular. It also comes with a long adjustable strap to help secure to your forearm. Overall it is a great product.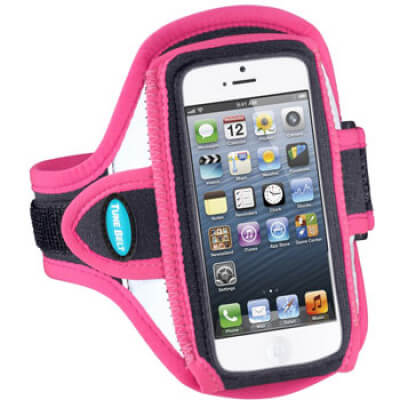 Those who are obsessed with staying up-to-date with their current model of smartphone will appreciate the Tune Belt Armband as it is compatible with the iPhone X. But, note, it does so with the use of no case or a very slim case.
Read more
Phone Compatibility
Tune Belt actually fine-tuned their design to better fit the newer smartphone models (iPhone X and Galaxy S8). With a slim case, in addition, it will also fit older iPhone models.
Physical Design
Not only is the neoprene fabric that is utilized extremely cushioned and comfortable but it also manages to wick away moisture for enhanced breathability.
Special Features
If you happen to be using wired headphones, there is an integrated location to wrap the cable to avoid excess cable from being an issue. Also, touchscreen control is delivered to you.
Sizing and Adjustability
There is an armband extender if you happen to need a larger armband. However, with a range of 9 inches to 16 inches, most people will not need to worry about it.
Color Options
While certainly not the flashiest or most awe-inspiring visual design of all-time, the lone gray and black blend is certainly far from unattractive.
Overall
No products are without flaws and debating how great they are is a matter of analyzing how bad the flaws are. Well, the reported issues with durability raise some red flags and thus, prevent the otherwise amazing armband from ascending any higher.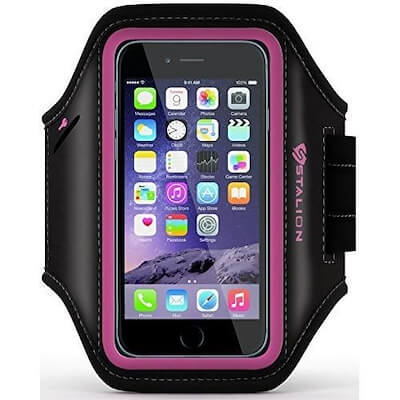 Though it is last on this list, Stalion's armband just might be the sleekest and most visually appealing armband in the world. Clearly, that does not make or break a product; but, for the most part, the quality also warrants a serious look.
Read more
Phone Compatibility
Stalion designed their armband specifically for the iPhone 6 Plus and iPhone 6s Plus. While this limits the possibilities, it means the fit will be amazing for these smartphones.
Physical Design
This has been manufactured with water-resistant neoprene material and not only is it comfortable to the skin, it is highly breathable.
Special Features
Several of your belongings, such as your cash and credit cards, can be stored in the rear pocket. It is also equipped with charging and headphone jack openings.
Sizing and Adjustability
Thanks to the dual-strap positioning, you can adjust this armband to properly fit arm circumferences between 8.5 inches and 15 inches.
Color Options
Again, the visual design is very impressive. The choice is yours from either jet black, cyan blue, and fuchsia pink; but, no matter, they all look fantastic.
Overall
Sure, this design is outdated because it only accommodates for the iPhone 6 Plus and iPhone 6s Plus. Yet, these smartphone models can't be considered obsolete so there will always be a market for them.

Subscribe to our Newsletter