Best iPhone Armbands
In a
Hurry? Editors choice: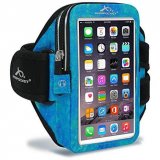 Test Winner: Armpocket Ultra I-35

Around 20 to 30 years ago, people would go out for a run or head over to the
gym
with no worry of how they were going to transport their technology devices (most notably their cell phones) because they rarely needed them. However, everyone knows this is a far cry from the reality in the present day. People have become so engrossed and reliant on their
smartphones
that they can't leave home without them. Do not kid yourself; you are probably one of these people. Yet, this can lead to complications when you want to exercise. Not only that you may also want to utilize your smartphone while exercising. What is the answer? It is simple; the solution is an armband. Although there are several different smartphone models people are using today, we want to focus specifically on the best armbands for
iPhone
users.
Standout Picks
Criteria Used for Evaluation
Color
Look, if an armband is not functional enough for you or does not fit right, then the visual appeal of it should hold no value to you whatsoever. Yet, if all the cards in your hand matchup, is it so bad to ask for a design that is appealing? For some people fashion is everything and they will want to wear an armband that either does not deter their overall fashion statement or enhances it. Heck, for some people, though, they will be fine with a basic black and gray design. Others, however, may want some more variety and depending on the seller, you may get just that. Keep an eye out for additional color options and do not be ashamed if you prefer one armband over another one because of its appeal (granted the actual design is above average).
Fit
It is important for you to make sure your smartphone fits. This you already know but this brings up yet another point of interest for you. Even though fitness armbands will be adjustable, it does not mean that all of them will fit you. As such, much like with your iPhone, you need to guarantee that the armband will not only fit you but will fit securely and comfortably without falling down. In order to figure out if it will fit you, take the circumference of your upper arm.
As long as it falls in the range that the manufacturer displays for you, you should have nothing to worry about. But, from one armband to the next this range is going to be different, sometimes drastically. If you are an individual with bigger arms, you may have a more daunting task; much as people with scrawny arms have the same troubled road ahead. This can limit your options but do not ignore this as a proper fit is arguably the most important design feature of all.
Features
At their core, iPhone armbands are devices that are used to hold your smartphone up against your upper arm during fitness activities. Yet, if you follow the modern trend of technology, you would have already known that their functionality does not end there. In fact, it is not even close as most of them offer several special features. A few good examples of such would be a reflective strip on the exterior to provide you with visibility at night and also storage compartments for your credit cards, cash, keys and other belongings.
But, perhaps the most important "extra" feature to look out for is if you can retain functionality for your smartphone. Whether you want to listen to music while you run, stop and answer a phone call, or respond to a text, you may want your iPhone to remain functional while installed in an armband. To do so, the included screen cover needs to be touchscreen compatible and to listen to tunes, there need to be built-in audio portholes.
Durability
Once you have ensured that your iPhone is compatible with the armband that you are looking into, it is time for you to analyze the physical design of it. What it boils down to is this, nine times out of ten, you will be using your armband in a fitness-related activity. As such, it not only needs to provide you with comfort but it also needs to hold up to rigorous activity. In terms of comfort, ideally, the armband will not only feature comfortable materials but also a sweat-resistant exterior. You do not necessarily have to look for an armband that is soft and mushy, but you do want to ensure it is not irritating to your skin.
A common material you will see utilized is neoprene. Because it is a synthetic rubber, it is able to resist water (which also means sweat) and is also able to retain its shape even after being folded, flexed, or bent. Speaking of retaining shape, the durability of an armband is also vital. No one wants the Velcro or materials to begin fraying or deteriorating within a month or two.
Subscribe to our Newsletter