Best Running Shirts
In a
Hurry? Editors choice: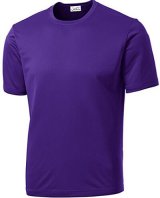 Test Winner: Joe's USA Athletic All Sport Training Tee Shirts

Running
can be an enjoyable and invigorating way to get in shape, and as an activity, it greatly benefits both your physical and mental health. Clothing is something that is important to think about because having the right duds will not only make you more comfortable but can also
boost your overall performance
. A good running shirt is essential to a runner's wardrobe. Running
shirts
will provide breathability and comfort so that you're feeling good while you are hitting the trails. Check out our top picks below and hit the road in style.
Standout Picks
Criteria Used for Evaluation
Comfort
Comfort is probably the most important factor to consider when you are trying to find a great shirt for running. If the shirt isn't comfortable, then most likely, you probably won't get much use out of it. So, finding something that feels good will not only make you feel great when you run, it'll probably improve your overall performance because you won't be distracted.
Most shirts that are made for running are designed with some combination of materials that feature polyester. Some shirts are 100% polyester, and others combine a large amount of polyester with a smaller percentage of spandex. A less frequent combination of material you'll see is a blend of polyester and cotton.
Polyester is frequently used in these types of shirts, because the material is durable, and typically, also very soft to the touch. Also, polyester is a material that manufacturers can easily combine breathability and ventilation, which you certainly want when you are running often. Some brands also combine other features into polyester, like sun protection, for example.
Versatility
How versatile a shirt is usually depends on the design and how good the range of motion and comfort levels are. Many shirts that are made for running are still versatile enough to be used for other sports, or even for training. Typically, running shirts are either made to be slightly over-sized, so they are comfortable and easy to move in, or they are made to provide a more form-fitting style. The more form-fitting shirts usually also feature spandex in the shirt, so you get that stretchy, flexible feeling.
Even if a shirt was meant to be designed only for running, it can still provide you with other useful options. And if you wind up with a very durable shirt, you'll be able to use it for a long period of time and in all sorts of physical activities.
Versatility also factors in whether or not you can wear a shirt all year round, or just for one season. Some shirts are made to be used only for warm weather and are too thin to use as a base layer. Typically, these shirts are used just as a single layer. However, some warm weather shirts are thick enough to be used as a base layer, so they can be used in a wide variety of ways. Also, you typically have shirts made for cold weather that are designed to provide warmth during the chillier seasons.
Features
Some of the features you'll find in these shirts include things like UPF or sun protection, as well as abrasion resistance. Some of these shirts have built-in sun protection to help keep your skin healthy, which is a great bonus. Others are made to be abrasion resistant, giving you plenty of durability. Also, depending on the manufacturer and style of shirt that you select, there are several fashionable shirts that come in a wide range of colors but are also very functional.
While you don't necessarily need all of these different types of features to have an effective shirt, take the time to prioritize what you need and want in a shirt to feel your best while running.
Weather Resistance
Depending on what type of weather you plan to run in and what the seasons will be, you'll need to plan ahead when you select your shirt. If you know the weather is colder where you live, then you'll want to consider a long-sleeved shirt designed to keep you warm. Shirts made like this often feature fleece lining and two-way ventilation systems. Those ventilation systems allow for moisture to escape so that you don't overheat, but still help you stay warm in cold temperatures.
Short-sleeved shirts are sometimes made to be either very thin, or thicker. Thin, lightweight shirts typically don't function well as base layers and should only be used as a single layer in the warmer weather. On the other hand, thicker short-sleeved shirts that have some level of durability can be used as a base layer when it is cold, but also as a single layer when it is warm.
Subscribe to our Newsletter