Best Rooftop Tents
In a
Hurry? Editors choice: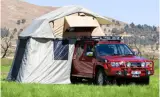 Test Winner: ARB SIMPSON III

Have you ever seen someone rig a tent to the rooftop of their vehicle only to scratch your head as to why they would do such a thing? It seems utterly ridiculous, right? Well, perhaps you felt that way or even still feel this way today. The reality is rooftop tents are ingenious and even though they have their drawbacks, you have come here today (for one reason or another) because the idea of them intrigued you. They are pretty simple in concept as they are optimized to fit directly over the
rooftops of your vehicles
.
But, in spite of their simplicity, you can't afford to overlook some of their most important and vital characteristics. After all, from brand to brand, the features, fabrics, and overall designs will be slightly different so you need to educate yourself. Thankfully, that is why we are here.
Standout Picks
Criteria Used for Evaluation
Durability
There just is not a more important factor for you to consider, period.
There is a reason many rooftop tents are not cheap because they are built to last. But, there is a lot to cover here so let's not waste another second.
For starters, you need to assess what fabrics are utilized and the craftsmanship techniques that are in play. For the former, you will often see various types of Oxford fabrics utilized and the reason for this is that they are generally heavier and more durable than other fabrics.
However, as for the specific fabrics, nylon and canvas are two extremely common ones. Out of the two, nylon is great but the canvas is better as it is more durable and is less prone to abrasions. With that said, ripstop nylon is a different story as this fabric will utilize a special weave to prevent rips from occurring. Then again, you should also assess the denier count of any fabric that is implemented (with the higher denier counts signifying thicker and more durable materials).
You also need to worry about inclement weather, though. So, you may want to look for models that are designed with taped sealed seams and those that come with waterproof coatings. Oh, and you can't forget about the metal components. Not only is it advisable to look out for those that are made out of aluminum but you may want them anodized, as well, as this will enhance their corrosion resistance and durability.
Capacity
It will be in your best interest to shop for a model that sleeps as many people as you need it to.
Perhaps you are in the market for a rooftop tent because you are traveling by yourself and need a cheaper means of sleeping. Or, perhaps you and your family are going camping and want to try one of these suckers out.
The difference is astronomical because, as with regular camping tents, rooftop tents will not all be designed with the same size. This is pretty obvious but it means that if you need to sleep four people comfortably, you need to look for an appropriate model. For the most part, sellers will make this easy for you as their models should be rated to sleep x amount of users comfortably. And, "sleep comfortably" is an important phrase to keep in mind.
After all, some two-person tents could probably sleep three people but there would be little to no breathing room. Also, these ratings will typically account for full-sized adults and not children or teens. Additionally, you also do not want to exceed the maximum weight rating of the model you pick.
Comfort
Not only do most models come with built-in mattresses but most will also be breathable.
For this section, you really want to keen on two factors. The first of which is the breathability. Now, this may not be as much of an issue for you if you will be traveling during the colder months of the year. However, whenever the temperature outdoors gets a little warm or humid, you will want to sleep in a rooftop tent that is highly breathable.
To ensure you get a model that is, keep a few things in mind. Firstly, the utilized materials will affect the breathable nature of anything, quite frankly. And, going back to nylon and canvas, this is one of the issues with nylon, admittedly. This material tends to allow condensation to form on the walls and transfers heat rather quickly. Meanwhile, canvas does not transfer heat as quickly and is naturally more breathable.
But, nylon models are really good so how does this issue get combated? Most models will simply rely on mesh paneling and windows to get the job done. The more mesh that is integrated, the better the airflow will be and the higher the breathability will be. Now, the second factor of this section is assessing the design of the built-in foam mattress. This is a staple of rooftop tents but, from brand to brand, the included mattress may be extremely comfortable or rather hard (it just depends on the brand).
Features
While there are not too many features here, there are a few.
There are actually not too many features that you will need to worry about. With that said, there are some prominent ones that deserve mentioning. The first of which is if you want interior storage pockets with the model that you choose. While not a mandatory feature, storage pockets, and possibly even waterproof storage bags can help you protect your belongings and keep them somewhat organized at the same time.
Another feature to keep in mind is what is known as an annex. In short, this is basically an add-on for the tent and can provide you with additional storage and sleeping space. One nice aspect about annexes, though, is they typically can be purchased separately even if they are not included with your purchase.
Lastly, you may even see models to implement LED strips. These may require power from your 12-volt cigarette lighter plug and, as such, should only be used in situations where light is essential (as you do not want to drain your vehicle's battery too much).
Ease of Use
Look for models that are easy to set up and install.
What is really nice about most models out there is that they will be designed with convenience in mind. Most of them will only take a few minutes to set up when you want them ascended and folded down when you need to travel again, once the initial installation has been completed.
Now, that last part of that sentence is the really important part. The reality of the situation is these types of tents do not just magically mold to your vehicle for operation. Instead, you will need to buy a roof rack for your vehicle.
Installing this is one thing but then you will need to ensure that the actual tent you buy will be able to be mounted on the rack itself. This is the part that will require the most research and time to install. The best suggestion is to utilize your resources (online forums, manufacturer's websites, etc.) to ensure that everything you buy will be compatible with each other.
OUR TOP PICKS FOR THE BEST ROOFTOP TENTS
Subscribe to our Newsletter