Best Rooftop Tents
In a Hurry? Editors choice: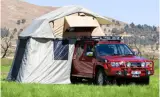 Test Winner: ARB SIMPSON III

Have you ever seen someone rig a tent to the rooftop of their vehicle only to scratch your head as to why they would do such a thing? It seems utterly ridiculous, right? Well, perhaps you felt that way or even still feel this way today. The reality is rooftop tents are ingenious and even though they have their drawbacks, you have come here today (for one reason or another) because the idea of them intrigued you. They are pretty simple in concept as they are optimized to fit directly over the
rooftops of your vehicles
.
But, in spite of their simplicity, you can't afford to overlook some of their most important and vital characteristics. After all, from brand to brand, the features, fabrics, and overall designs will be slightly different so you need to educate yourself. Thankfully, that is why we are here.
Standout Picks
Criteria Used for Evaluation
Durability
There just is not a more important factor for you to consider, period.
There is a reason many rooftop tents are not cheap because they are built to last. But, there is a lot to cover here so let's not waste another second.
For starters, you need to assess what fabrics are utilized and the craftsmanship techniques that are in play. For the former, you will often see various types of Oxford fabrics utilized and the reason for this is that they are generally heavier and more durable than other fabrics.
However, as for the specific fabrics, nylon and canvas are two extremely common ones. Out of the two, nylon is great but the canvas is better as it is more durable and is less prone to abrasions. With that said, ripstop nylon is a different story as this fabric will utilize a special weave to prevent rips from occurring. Then again, you should also assess the denier count of any fabric that is implemented (with the higher denier counts signifying thicker and more durable materials).
You also need to worry about inclement weather, though. So, you may want to look for models that are designed with taped sealed seams and those that come with waterproof coatings. Oh, and you can't forget about the metal components. Not only is it advisable to look out for those that are made out of aluminum but you may want them anodized, as well, as this will enhance their corrosion resistance and durability.
Capacity
It will be in your best interest to shop for a model that sleeps as many people as you need it to.
Perhaps you are in the market for a rooftop tent because you are traveling by yourself and need a cheaper means of sleeping. Or, perhaps you and your family are going camping and want to try one of these suckers out.
The difference is astronomical because, as with regular camping tents, rooftop tents will not all be designed with the same size. This is pretty obvious but it means that if you need to sleep four people comfortably, you need to look for an appropriate model. For the most part, sellers will make this easy for you as their models should be rated to sleep x amount of users comfortably. And, "sleep comfortably" is an important phrase to keep in mind.
After all, some two-person tents could probably sleep three people but there would be little to no breathing room. Also, these ratings will typically account for full-sized adults and not children or teens. Additionally, you also do not want to exceed the maximum weight rating of the model you pick.
Comfort
Not only do most models come with built-in mattresses but most will also be breathable.
For this section, you really want to keen on two factors. The first of which is the breathability. Now, this may not be as much of an issue for you if you will be traveling during the colder months of the year. However, whenever the temperature outdoors gets a little warm or humid, you will want to sleep in a rooftop tent that is highly breathable.
To ensure you get a model that is, keep a few things in mind. Firstly, the utilized materials will affect the breathable nature of anything, quite frankly. And, going back to nylon and canvas, this is one of the issues with nylon, admittedly. This material tends to allow condensation to form on the walls and transfers heat rather quickly. Meanwhile, canvas does not transfer heat as quickly and is naturally more breathable.
But, nylon models are really good so how does this issue get combated? Most models will simply rely on mesh paneling and windows to get the job done. The more mesh that is integrated, the better the airflow will be and the higher the breathability will be. Now, the second factor of this section is assessing the design of the built-in foam mattress. This is a staple of rooftop tents but, from brand to brand, the included mattress may be extremely comfortable or rather hard (it just depends on the brand).
Features
While there are not too many features here, there are a few.
There are actually not too many features that you will need to worry about. With that said, there are some prominent ones that deserve mentioning. The first of which is if you want interior storage pockets with the model that you choose. While not a mandatory feature, storage pockets, and possibly even waterproof storage bags can help you protect your belongings and keep them somewhat organized at the same time.
Another feature to keep in mind is what is known as an annex. In short, this is basically an add-on for the tent and can provide you with additional storage and sleeping space. One nice aspect about annexes, though, is they typically can be purchased separately even if they are not included with your purchase.
Lastly, you may even see models to implement LED strips. These may require power from your 12-volt cigarette lighter plug and, as such, should only be used in situations where light is essential (as you do not want to drain your vehicle's battery too much).
Ease of Use
Look for models that are easy to set up and install.
What is really nice about most models out there is that they will be designed with convenience in mind. Most of them will only take a few minutes to set up when you want them ascended and folded down when you need to travel again, once the initial installation has been completed.
Now, that last part of that sentence is the really important part. The reality of the situation is these types of tents do not just magically mold to your vehicle for operation. Instead, you will need to buy a roof rack for your vehicle.
Installing this is one thing but then you will need to ensure that the actual tent you buy will be able to be mounted on the rack itself. This is the part that will require the most research and time to install. The best suggestion is to utilize your resources (online forums, manufacturer's websites, etc.) to ensure that everything you buy will be compatible with each other.
OUR TOP PICKS FOR THE BEST ROOFTOP TENTS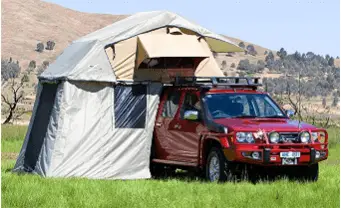 Wow, is there any other word that could be used to describe the Simpson III? As impressive as it is, additionally, you also receive an annex that will enhance the storage space you are provided with.
Read more
Craftsmanship
To say this is well crafted is the understatement of the millennium. Just to note a few of the Simpson's III outstanding features, it sports taped sealed seams, anodized aluminum components, ripstop canvas, and oxford polyester.
Capacity
When fully opened, this measures 55 by 94.50 by 51 inches in size. Now, to give you an idea of how many people you could fit inside, one user hinted at the fact that three adults would be a little cramped.
Comfortability
Some foam mattresses that come with some of these rooftop tents are pretty dreadful in their designs. However, this is not one of those cases as the bonded chip foam present on this mattress will evenly spread your weight.
Features
As was noted earlier, you do receive an annex with this product. For the record, this can increase the storage space and overall space you are provided with.
Ease of Use
Thanks to the implemented bungee cord system, this is easy to open and fold once you get it installed initially (which will save you a lot of time if you use it continuously).
Overall
Really, does it get any better than this? Sure, you will be paying top-dollar for the Simpson III but it is safe to say that every single penny will be worth it.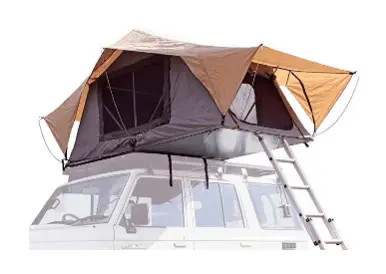 As incredible as the Simpson III is, this bad boy is right up there with it in terms of quality and functionality. It is also lightweight in its design and optimized for comfort.
Read more
Craftsmanship
The tent itself is engineered with 400-denier Oxford fabric but the flysheet is also high in quality being designed of 200-denier Oxford fabric. Also, this same fabric is waterproof for protection against inclement weather.
Capacity
This is actually not one of the larger options on the market so do make a note of that. Comfortability, this is ideal for one to two people (not including small children).
Comfortability
Both the windows and the roof ventilator are screened and that means that they can allow air in to enhance the breathability of this model. Additionally, this does come with a mattress.
Features
There are all sorts of features packed into this design such as two interior storage pockets, overhead Velcro light loops, privacy panels and windows with zippers that close upward.
Ease of Use
Even though there is a bit of preparation work that you must do before you mount this on your vehicle (you may need to purchase the mount kit separately), this does come with everything you will need after the fact.
Overall
Much like with the Simpson III, this is an utterly superb design that deserves all the accreditation it receives. If you do not believe that then why don't you try it out for yourself?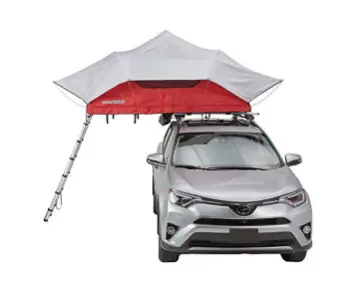 Admittedly, the Yakima Skyrise is not quite optimized for week-long camping trips. However, for just a few days (such as a weekend camping trip), this is literally as ideal as it is ever going to get.
Read more
Craftsmanship
Even though there are more rugged and overall durable options on the market, it does not mean that the Skyrise is poorly built. The 210-denier nylon tent body and rainfly (plus the aluminum poles) are proof enough of that.
Capacity
The Skyrise can safely support up to 600 pounds and as for the interior space, it can comfortably sleep up to three people. For the record, it sports 37 square feet of interior space.
Comfortability
The breathable nylon fabric couples with the mesh-lined windows to create a tent that is highly breathable. Additionally, the included plush foam mattress is actually really, really comfortable.
Features
Yakima actually sells a small LED strip that can be used inside this model. As for what is included, this is equipped with several interior pockets for storage.
Ease of Use
Due to the fact that detailed instructions are included with your purchase, you can install this even if you literally know nothing about assembling regular tents.
Overall
Yakima should be commended for the design of their Skyrise. It really is one of the best in the business and it shows with its excellent combination of materials and features.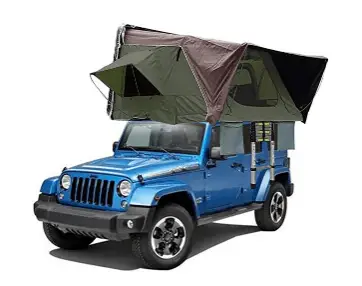 This model does not have the recognition of some of the others on the market and that is really a shame, quite frankly. As you will see, it is as impressive and as well-designed as any other option out there.
Read more
Craftsmanship
Due to the fact that this is designed from polyester and cotton ripstop fabric (that is waterproof) and sports fully taped seams, it delivers superb protection from the weather. Also, a double sewing technique has been implemented all over the place.
Capacity
For those of you looking for a larger tent, this could be it. After all, it can support up to 770 pounds and can sleep up to four full-sized adults.
Comfortability
Past the ergonomic design of this tent which features mesh windows for enhanced ventilation, a high-density sponge mattress is also included.
Features
If it concerns you, you will be happy to know that this has been engineered with interior storage pockets to account for some of your personal belongings.
Ease of Use
The longest part of the installation process is initially mounting this to your vehicle. After which, it only takes a matter of minutes to pack it away and then to pop it back up.
Overall
Products such as this can be tough to judge. Just by looking at the product description and the specifications, you can tell this is well-designed. However, at the same time, there is a worry about the lack of consumer feedback.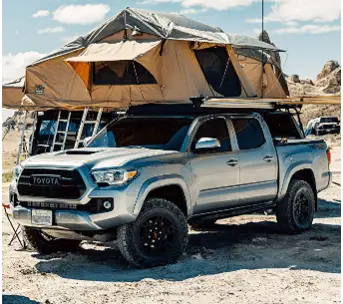 Tuff Stuff must take pride in their brand name as their tent right here is literally tough as nails. In addition to this, all your bedding accessories can be stored inside it to free up some storage space for you.
Read more
Craftsmanship
In addition to the 1000-denier PVC driving cover and the 420-denier Oxford polyester rainfly, several consumers have reported that this has been able to survive serious weather situations.
Capacity
Depending on other factors, this is rated to support up to 685 pounds. And, in addition to the annex room, this tent can comfortably fit and sleep up to two adults (and possibly a child or two).
Comfortability
Even when this is folded, you can store all your bedding inside of it. In addition, a thick foam mat is included and pre-installed with your purchase.
Features
Past the addition of the annex room, a nifty waterproof storage bag also comes with this. This can account for any items that you want to be protected from the weather and is made with 1000-denier PVC.
Ease of Use
In spite of the fact that the installation of this model is not too tricky, the included instructions could have been better detailed. Also, the vestibule can be a pain to work with.
Overall
Man, with models like this it can become really difficult to choose which option to go with. After all, this is not even one of the top three best models on this list.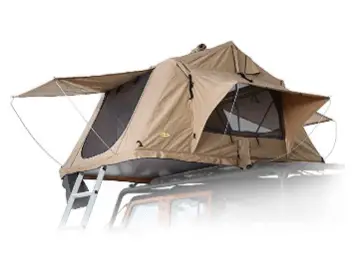 About the only issue with the Overlander is the fact that it comes with straps that are cheaply made. Other than that, it offers superb weather protection and a comfortable place to sleep.
Read more
Craftsmanship
Both the tent itself and the rainfly have been designed with 600-denier ripstop polyester. Also, it has been water tested and is packed with anodized aluminum poles.
Capacity
It is worth noting that if the standard size does not work for you (which fits two to three people), an extra-large size is also available (which can sleep three to four people).
Comfortability
Being equipped with a full foam mattress, you will be provided with a comfortable sleep in this tent.
Features
To point out some of the most prominent features of this option, it comes with an interior LED strip, heavy-duty carrying bag for transport, and external shoe storage bag.
Ease of Use
It is noted that both the mounting hardware and the dual aluminum track are included with your purchase. Yet, the real talking point here is the quality (or lack thereof) of the straps. Let's just say that they are not impressive at all.
Overall
As one reviewer so eloquently phrased, you may need to deal with shady straps if you go with this design. Then again, pretty much everything else is top-notch.

7

. TEPUI KUKENAM 3 EXPLORER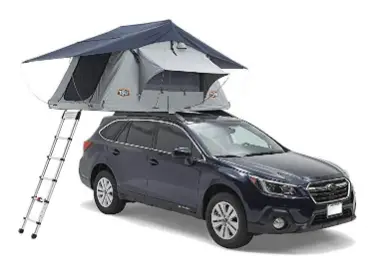 For the record, even though this is rated as a four-season tent, it seems more optimized for three seasons (not winter). That said, for the spring, summer, and fall it is an excellent choice.
Read more
Craftsmanship
Though this is really not a four-season tent, it is a beast regardless. It has been engineered with 600-denier ripstop fabric and a polyester-cotton blend to provide protection and durability. Oh yeah, the zippers are also water-resistant.
Capacity
This is not astronomical in size but it can account for up to three people (instead of just two).
Comfortability
The good news is the mesh panels that are equipped enhance the breathability of this model as a whole. Yet, the bad news is the included foam mattress is a little on the hard side.
Features
For the record, you can buy both an annex and additional canopies separately. As for what is included, there are four internal pockets that can be used for storage purposes.
Ease of Use
Unfortunately, the included instructions can be unclear at times. However, the quick-release clips that are included on the rainfly do make things a bit easier for you.
Overall
Looking past some minor flaws and issues with this rooftop tent, it remains one of the better choices on the market due to its overall design.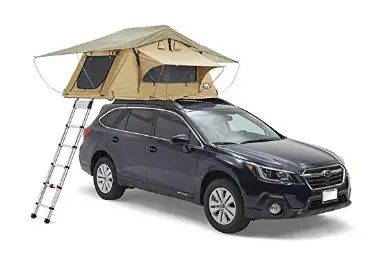 This rooftop tent is very similar to the Kukenam 3 Explorer and is known as its little brother. As you can tell, this is better for you if you own a smaller vehicle.
Read more
Craftsmanship
Much like the Kukenam 3 Explorer, this tent is built to last. It sports heavy-duty 600-denier ripstop fabric and is rated to handle all four seasons of the year.
Capacity
It is noted in the product description that the Ayer 2 Explorer can accommodate up to two people. Now, you could probably get away with three people if one or two of them were children.
Comfortability
Even though it was nice for there to be a foam mattress included, it is rather brutal to sleep on. The good news, though, is this is equipped with mesh panels for enhanced airflow.
Features
When it comes to its features, this is eerily similar to the Kukenam 3 Explorer as it sports four internal pockets and can be coupled with additional canopies and an annex.
Ease of Use
There is no denying that this bad boy is not too complicated to set up. And, after a few uses, you will have it down pat.
Overall
If you go with this option, which would not be a bad choice, you should just account for needing a different mattress to sleep on. Otherwise, you will be good to go here.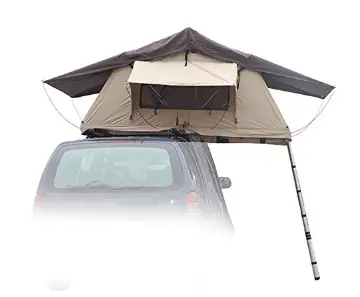 Not too many of you are going to have too many negative remarks toward this model, let's just say that. It is a two-person rooftop tent that is built to handle various weather conditions that you will experience.
Read more
Craftsmanship
In addition to the stainless steel hinges and the anodized aluminum poles, this tent is also designed with waterproof and heavy-duty ripstop polyester fabric.
Capacity
With dimensions of 48 by 83 by 49 inches, this is going to comfortably accommodate two adults.
Comfortability
What is interesting to note is not only is a foam mattress included (which is pretty much a standard feature) but it also comes with a cover that can be removed and washed.
Features
By glancing at the photos, it does appear that there are internal pockets equipped here to provide you with a convenient location for your accessories and belongings.
Ease of Use
All the hardware and accessories are included for installation, for the record. Yet, one previous user was pretty upset that they never received an installation guide.
Overall
If you end up as unlucky as the previous user that was alluded to, you may need to search online for instructions on how to install this sucker. Though this would be a slight nuisance, do not let it stop you from highly considering this option.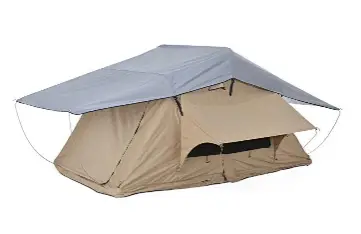 Chances are, none of you have heard of this brand. But, do not worry because no one else has either. After today, though, you may think twice about overlooking this model.
Read more
Craftsmanship
The combination of the anodized aluminum poles, stainless steel hinges, and 420-denier ripstop polyester construction makes for a high-quality design overall.
Capacity
This has a maximum load capacity of 660 pounds and is rated to sleep up to two full-sized adults.
Comfortability
Not only are the windows made of mesh material for enhanced breathability but a non-deforming sponge mattress is included.
Features
This is a pretty simple design overall and it does not look like it comes with an annex or anything like that.
Ease of Use
Here is the deal; there is little to no feedback to go off of here. And, for a section like this, it makes this a weak point just by necessity.
Overall
Is this a risky purchase? Yes, you could say that due to the lack of feedback. Yet, at the same time, the specifications and features do really speak for themselves.

Subscribe to our Newsletter