Best Slipper Socks – 2023
In a
Hurry? Editors choice: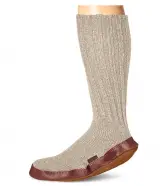 Test Winner: Acorn Unisex

If you have been on your feet all day, the best way to help your feet recover is to sit down, put them up, and take some time to relax. To make your feet even comfier, throw on a pair of cozy slipper socks!

Perfect for keeping your feet warm over the winter months, slipper socks are a great alternative to regular socks as they give you extra cushioning and support. They also provide additional grip, particularly if you have wooden or tiled flooring. Available in a range of colors and styles, they can make a fabulous Christmas stocking filler!

However, with so many different styles to choose from, picking the best slipper socks, can be a tricky and time-consuming task. That is why we have compiled a list of the ten best slipper socks currently available. Have fun picking from our top 10 options! 
Standout Picks
Criteria Used for Evaluation
Comfort
Don't settle for something that doesn't fit amazingly!
You don't want to spend a cent of your money on something that is ultimately not going to feel comfortable for you to wear. There are some fabric types that just don't jive well with some folks. The great news is that every single one of the products that made our top ten list is known to be comfortable.
Size
Don't get disappointed by purchasing something that doesn't come in your size.
It is very important to make sure that the garment you are investing in is going to fit you. Some of the options on our list are a One Size Fits Most product. This is less than ideal for people who have feet that are either quite small or larger. In these cases, we would recommend reading the reviews from users to see how the product fit their feet.
On the other hand, there are options on our list that offer more precise sizing.
Materials
Every material type comes with its own pros and cons.
The most common material types you're going to see on our list are acrylic, polyester, spandex, and wool.
Acrylic
Typically, options made with acrylic materials will also have Spandex blended in, in order to help provide a more form-fitting design. This type of material is fairly durable and will help to wick away any sweat.
Polyester
Polyester is a durable material that will last a long time. It's less resistant to fading, perfect for those beautifully bright and colorful options.
Spandex
You will notice right away that none of the socks on our list are made predominately with Spandex. This is because it is usually blended in with another type of material in order to provide some stretching.
Wool
Though wool only made its way into one of the products on our list, we still wanted to touch base on all of its benefits. Wool is a colorfast material that will breathe with your body. It's a perfect material choice to provide the wearer with a lot of warmth and insulation.
Top 10 Picks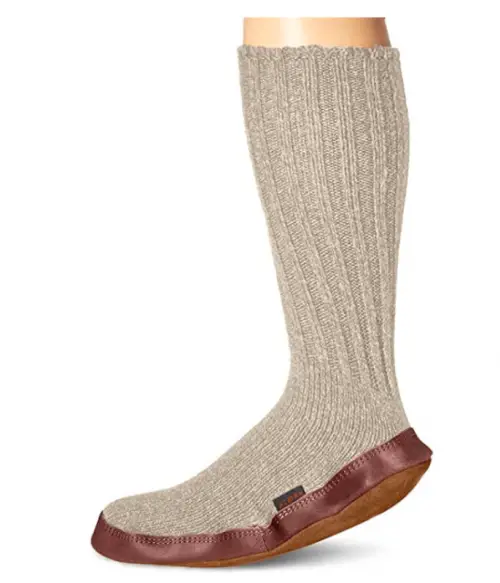 Have you ever wondered how Astronauts keep their feet warm in space? They wear the Acorn Unisex-Adult Slipper Socks. Having been around for 40 years, the Acorn still hold true to their dedication to providing comfortable and relaxing products.
Read more
Comfort
What makes these slipper socks extremely comfy is the flexible and soft multilayer Cloud Cushion footbed that provides the right level of support and contours for your foot. The slipper socks also help by alleviating tired and sore feet.
 
Size
These slipper socks from Acorn come in a variety of sizes, suitable for both men and women, ranging from XX-Small to 3X-Large. 
Materials 
The Acorn slipper socks feature a hand-sewn leather suede sole that improves insulation and traction of the slipper. A leather sidewall provides an increased level of flexibility and warmth. Additional warmth comes from the mid-calf crew length that has been constructed from Ragg Wool and Cotton blends. These two materials combined, create a warming, stylish and classic looking slipper sock. 
Style
With over 10 different patterns and colors to choose from, there is plenty to like with these shabby chic style slipper socks. They can also be conveniently machine washed cold and air-dried. 
Value 
Available for a mid-high price, you can purchase your very own Acorn Unisex-Adult Slipper Sock, famously worn by Astronauts. Made from warm and durable materials, we struggled to find something that we did not like about them.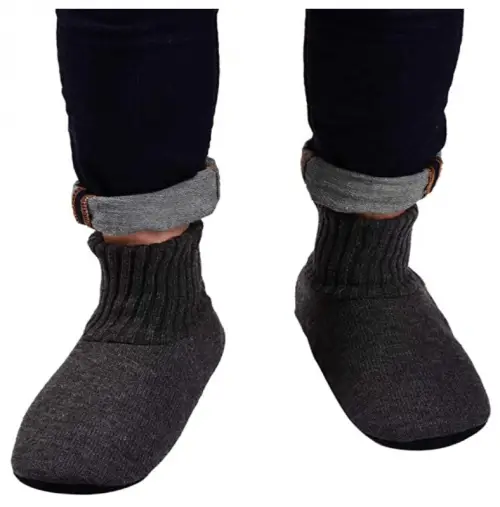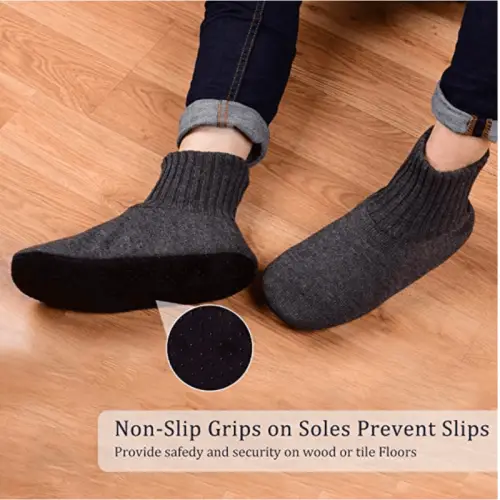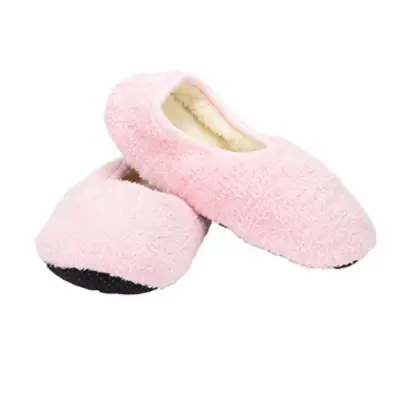 These Panda Bros Fluffy Slipper Socks are perfect for lounging around after a long day at work. Known for being the leading designer, manufacturer, and provider of home clothing, Panda Pros' mission is to bring you comfy, fashionable, and high-quality home clothing at an affordable price.
Read more
Comfort
Featuring a fluffy fleece lining, these slipper socks will keep your feet lovely and warm. The fleece is also extremely cozy, breathable, and smells fresh. The socks are made of 100% polyester, making them lightweight and soft. 
Size
When it comes to sizing, these slipper socks come in 3 different sizes including 10-13, 13-16, and 7 – 9.5M US. 
Materials
The base of the slipper features a non-slip grip that prevents them from slipping on wood flooring or tiles. The slippers are also great insulators and work well by absorbing any noise. They can be bent and packed away in your suitcase without resulting in any damage. This is because they have an extremely fast rebound, allowing them to go back to their original shape, without deforming. 
Style
Panda Bros offer two styles of slipper socks, one being a low-cut slipper and the other a slipper booty. They also come in a variety of colors and patterns, giving you plenty to choose from. 
Value 
This pair is one of the more affordable options in our collection. Comfy, slip-resistant, and extremely versatile, we struggled to find something we did not like about these slippers.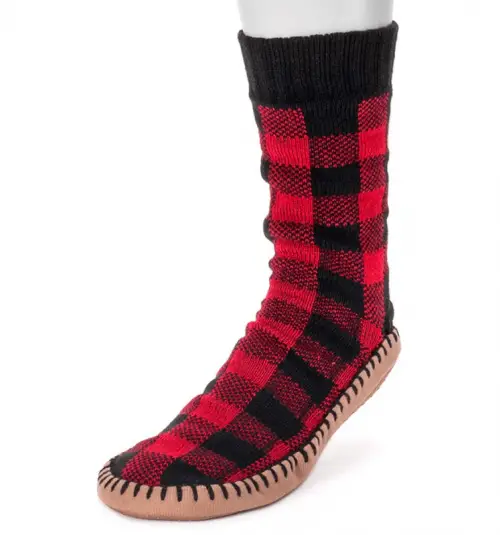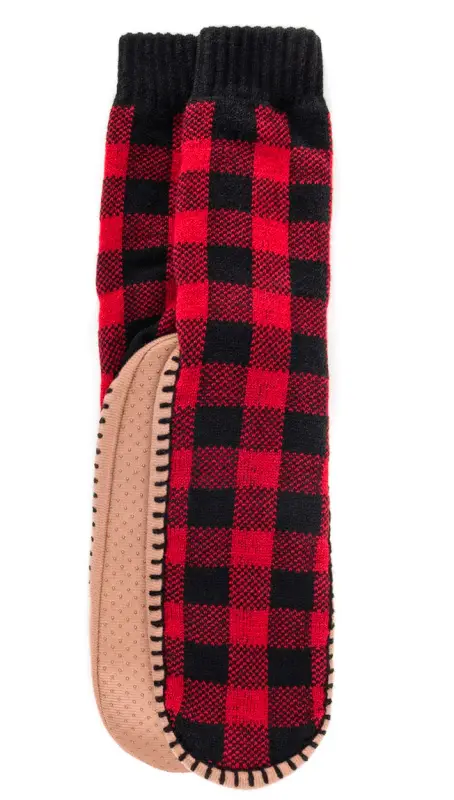 If your man needs a pair of slipper socks that will hug his feet, so they are nice and warm, then the MUK LUKS Men's Slipper Socks are exactly what he needs.
Read more
Comfort
These slipper socks will keep your feet warm all day long and will give you the comfort you need. Form-fitting, these socks offer a secure and no-slouch fit so you do not need to worry about them falling down. They can also be pulled on and off with little effort. 
Size
These are available in two sizes including Small/Medium (8-10) and Large/X-Large (11-13). 
Materials
They are 100% acrylic and 100% polyester. While the lengthy sock is made from a knitted fabric, the base of the sock has a non-skid bottom, providing extra support. 
Style
The slipper socks come in various patterns and colors including Black, Brown, Buffalo Check, and Deer Nordic. They are machine washable, on a gentle cycle, and can be tumble dried on low heat. 
Value 
Sold for an affordable price, these are one of our cheaper options. Featuring a basic spec, these are great if you want a cheaper slipper sock however if you are looking for a higher spec, you may want to look at other options in our collection.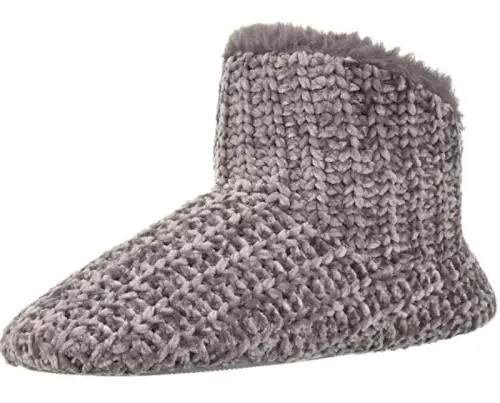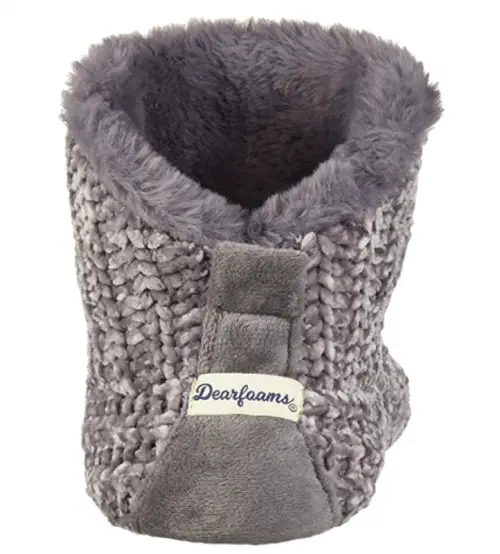 These Dearfoams Women's Chenille Bootie Slippers will make a cozy and sophisticated addition to your lounge wear.
Read more
Comfort
Wearing them will be the ultimate relaxation therapy. The slippers offer a classic bootie fit that has a multi-density memory foam insole. As well as keeping your feet warm, they are highly breathable so will ensure your feet do not get sweaty. 
Size
When it comes to sizes, these slipper socks from Dearfoams come in four sizes including Small, Medium, Large, and X-Large. 
Materials
Featuring a chenille knit upper with a velour trim, these slippers are a very stylish piece. They are also easy to clean, being machine washable, so they can stay smelling and feeling fresh all day, every day.
 
Style
This option is by far the most stylish pair of slippers in our collection. Available in 4 different colors you can choose from Aubergine, Black, Excalibur, and Peacoat, depending on your preference. 
Value 
This stylish pair of slipper socks certainly look more expensive than they are. Sold for a low price, these are a great buy. With a multi-density memory foam insole and a chenille knit upper with a velour trim, people may be surprised to hear how reasonably priced they are.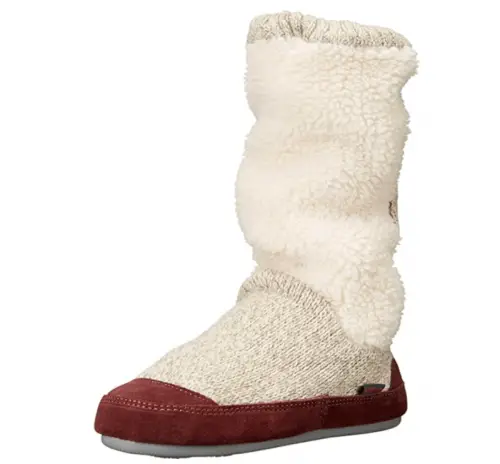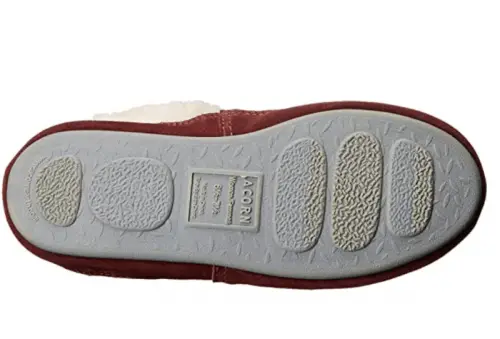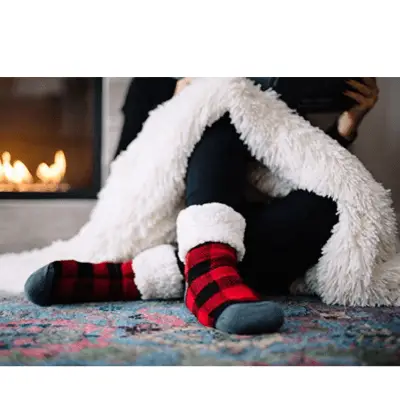 Designed for life's adventures, the Acorn Women's Slouch Boots are extremely comfy and exceptionally durable, you will not want to take them off!
Read more
Comfort
To achieve the comfiest of steps, these slouch boots have been constructed with a soft multilayer cushion insole with a memory foam footbed. The flexible base also provides additional support, as it cradles the contours of your foot, offering a therapeutic fit. 
Size
These Acorn boots come in four different women's sizes including 5-6, 6.5-7.5, 8-9, and 9.5-10.5. 
Materials
Made from quality materials, these boots feature a suede toe and heel guard with a rubber outsole that is extremely durable. The outsole is skid resistance which is particularly helpful when walking on wooden or tiled flooring. The slipper socks are of a mid-calf length so they will keep your feet and legs warm. The boots feature a soft sock inside and have a microfleece lining. 
Style
The slouchy boots come in a variety of materials, patterns, and colors. Some of which feature rag wool, Berber, faux, or a knitted blend.
 
Value 
Sold for a mid to high price, these slipper socks are one of the more expensive options in our collection. Offering plenty of warmth, comfort, and design, if you have the extra money to spend these are a great buy. However, Acorn boots may not be suitable for everyone's budget.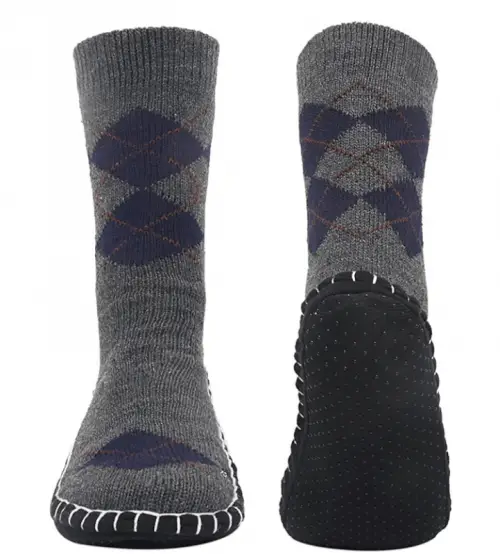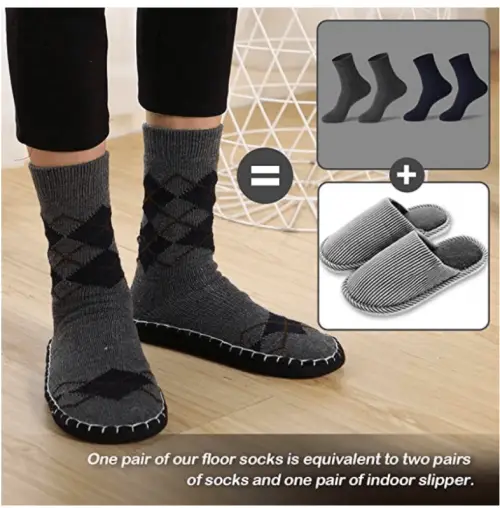 One pair of the Vihir slipper socks are equivalent to two pairs of socks and one pair of indoor slippers, making these slipper socks a must-have item!
Read more
Comfort
These socks are cozy and warm so your feet will feel extremely toasty in them. They have a 3mm sponge sole, providing an extra layer of cushioning. An additional double-knitted inner lining offers further warmth. The sock has an elastic opening so the socks can be pulled up high easily. All seams are featured on the outside of the sock, reducing the risk of skin sensitivity. 
Size
This pair of slipper socks come in one size ranging from size 6-11.  
Materials
Made from 100% polyester, these slipper socks have been created using a knitted jacquard process. To give you enough grip the socks feature a non-slip silicone on the base. A thick knitted lining provides extra warmth and comfort. These are machine washable and are best hung to dry. 
 
 Style
This is another of our stylish options that come in a range of colors and patterns. 
Value>
These are a fantastic pair of slipper socks that are extremely affordable so you will not break the bank.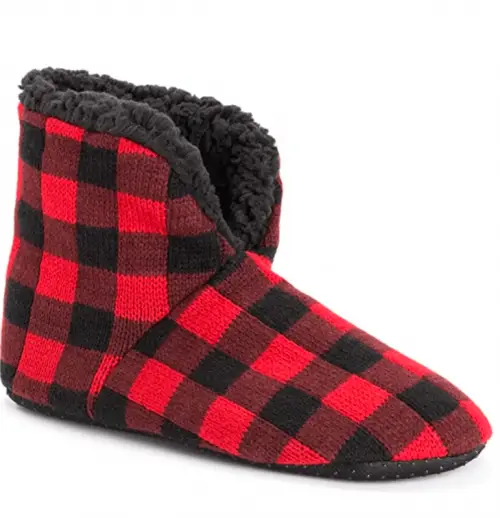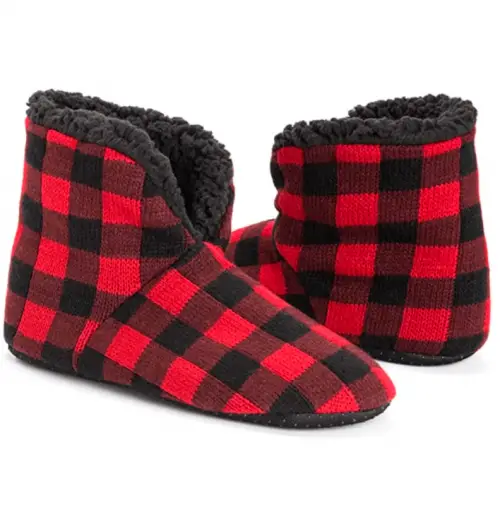 MUK LUKS Men's Slipper Booties Socks will give you the added warmth and comfort you need this winter.
Read more
Comfort
These slipper bootie socks offer a form-fitting design, keeping your feet warm and well supported. They have a convenient pull-on/off closure, making them extremely easy to wear. The faux fur lining provides a comfy base, so you will not want to take them off. 
Size
The MUK LUKS booties come in limited sizes including Small – Medium and Large/X-Large. 
Materials
These slipper bootie socks are made from a mixture of acrylic and polyester. The boots feature a faux fur lining, for ultimate comfort and have a non-skid bottom, making them safe to wear on wooden or tiled flooring. The booties are machine washable. 
Style
When it comes to style, there are four different designs and colors including Red/Black, Shadow/Pearl, Twilight, and Brown/Blue.
 
Value
These slipper socks are one of the more affordable options in our collection. Sold for a low price, they are a fabulous buy that you will not want to miss out on!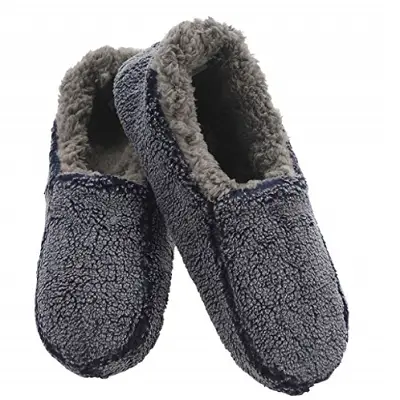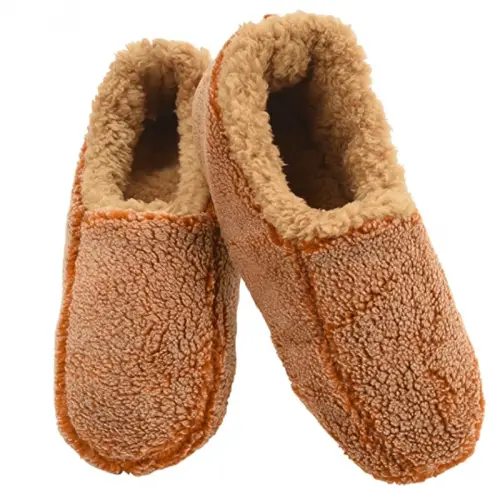 These resemble a loafer shoe and are available in four different colors. They have been rated highly for overall comfort and are one of the favorite options on this list!
Read more
Comfort
No matter if the style is not your thing or your preferred color is not available, almost everyone agrees that these are extremely comfortable. A few reviewers said that you can feel the ground underneath you, but we don't think that that should come as any surprise.
Size
There is a size for every man here. You have the option to choose from size Small to XXL.
Materials
This option is made from polyester and features a soft sherpa fleece interior. The interior lining provides great warmth and comfort. They can be thrown in the wash, preferably in a delicate bag and on a gentle cycle. The bottom of the garment has small gripping circles that make it non slip.
Style
This option is available in four different colors. You can choose from camel, chocolate, black, or navy.
Value
This option is affordably priced.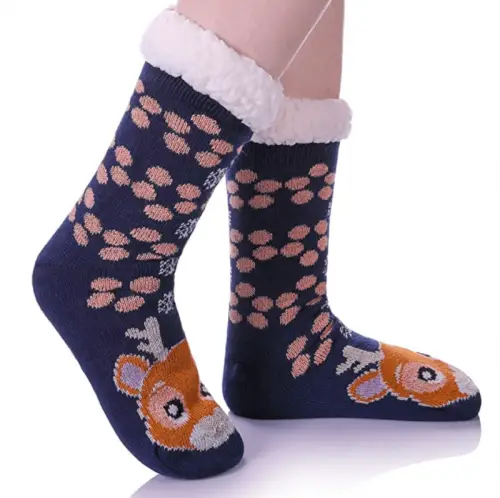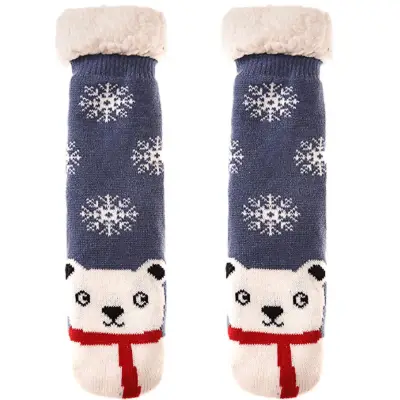 With a number of different designs to choose from, we bet you're going to find one you simply love.
Read more
Comfort
The fleece on the interior of these slippers is not only incredibly warm but very comfortable as well. It'll feel like you are slipping your feet into a little cloud every time you put these on.
Size
There is just one size available.
Materials
This high-quality option is made with 90% polyester and 10% spandex in order to provide a luxurious feel that fits on like a glove.
Style
As mentioned, this option is super cute. You can choose among many designs including cats, baby chicks, horses, cows, unicorns, pandas, dogs or snowmen (amongst others).
Value
These socks from DYW aren't the most inexpensive option on our list, but they're definitely not the most expensive either.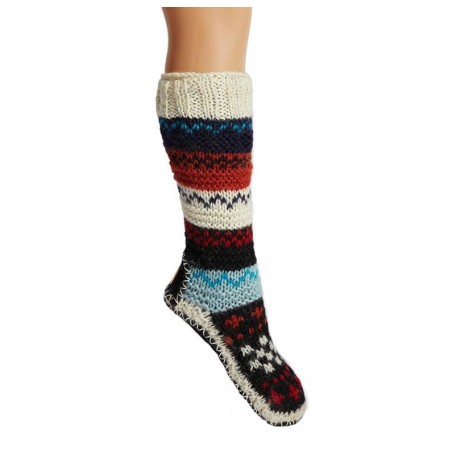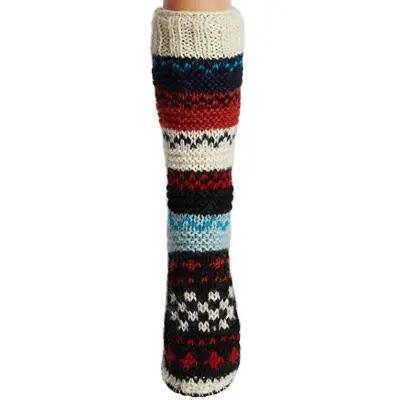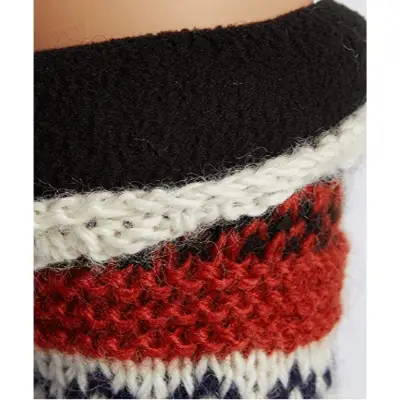 Though this option from Tibetan Socks comes in at number 10l it certainly doesn't mean it's not worth your attention!
Read more
Comfort
These foot warmers are hand-knit and able to provide wearers with that comfortable homemade feel that only garments that are hand-knit can.
Size
These are available in a number of different sizes.
Materials
They are hand-knit using 100% wool materials on the shell. The interior of the slippers has a fleece lining that will provide warmth. The sole is padded for additional comfort and the opening is elasticized so it can fit a number of different calf sizes.
Style
They are available in four different color schemes – purple/grey/yellow/blue, red/black/blue/white, rose gold/black/white/cream or shades of blue/white/black.
Value
These are expensive. That said, they are also handmade!

Subscribe to our Newsletter