Pacific Outdoor – Peak Elite AC Sleeping Mat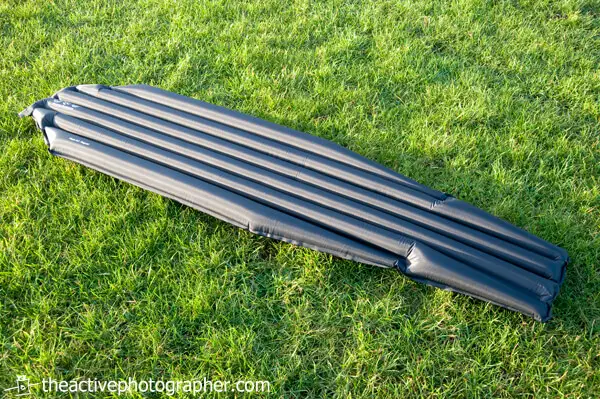 I wouldn't say I'm a creature of habit, but it is true enough that I don't tend to change my outdoor kit very often unless there's a very good reason to do so. If it ain't broke and all that... For example, the thing I like about my tried-and-tested standard-size Thermarest mat is that it has reliably kept me off the cold ground when camping in my tent for around the past 15 years.
So, for me to throw caution to the wind and entrust my comfort and sanity to a completely different mat, of a completely different design, by a completely different manufacturer, it was always going to be something of a baptism of fire for any new pretender.
[caption id="attachment_4924" align="aligncenter" width="600"]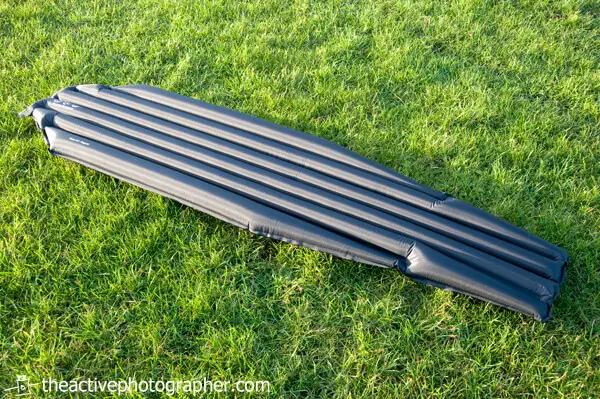 Doesn't look overly comfy, does it?[/caption]
Picture the scene: January, a 2-night trip into the Dorset hills, temperatures hitting a low of -4 degrees and barely pushing beyond 0 at any time in the dark. Some said they thought I was mad, others knew it. Me, I was happy to take the risk.
At 396g for the 'Regular' size, the 3-season Peak Elite AC comes from the company's range of highest-performing mats and uses Radiant Heat Return (RHR) technology in order to throw heat back towards the sleeper for a warmer night's sleep. With 2.5 inches of air cushioning separating you from the ground, you do get a definite feeling of insulating support; pretty impressive for something made of fabric derived from recycled 1-litre plastic bottles.
Once unpacked, the first thing I noticed was how long it took to inflate; not an eternity, but clearly longer than self-inflating mats. Maybe this actually has more to do with the valve that's used, because the deflation process was also fairly slow, too. No great shakes if you're pretty warm and comfortable but imagine doing this on a chilly, blustery, wind-swept hillside.
Now, I tend to sleep right on through, regardless of temperature, but the first thing to become immediately clear on the first night was that this mat doesn't offer a great deal of width either side of the body when you're lying down. With restless sleepers in mind, Pacific Outdoor will tell you that the oversized outside tubes are designed to cradle you throughout the night; to my amazement, I guess this must be true because I actually didn't slip off at all once settled down.
At 10cm x 30.5cm when packed in the supplied pouch, this mat easily fits into your backpack without too much cause for concern. Using a pretty angular design for the head and feet sections, Pacific Outdoor have naturally saved some weight and bulk, but this is not going to be to everyone's tastes. Sound like you? If so, you might want to take a look at the Adventurer AC and Classic models and weigh up the pros and cons.
Summary: Comfortable, insulating, light-weight and compact - pretty much everything you would immediately look for in a sleeping mat. It also comes in 'long', '2/3' and 'Petite (women's)' sizes, too.

 Price: £75
Subscribe to our Newsletter