Penn Battle II Spinning Reel Review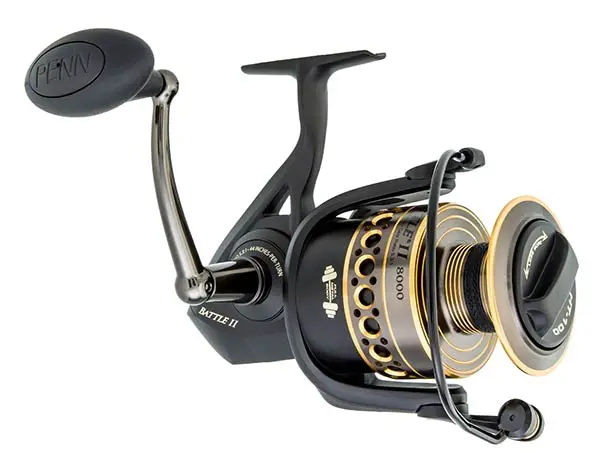 Some people like to have a specific reel for a specific scenario.
If they are fishing from surf, they have one reel and fishing from a boat they have another. For those of us that like to have a reel that can be used in various ways, there is the Penn Battle II Spinning Reel.
It's nice not needing to bring along an arsenal with you every time you go out to fish. Let's say you decide you're just going to hit the surf, so you bring your Penn Battle II Spinning Reel. But, on the way, you meet your buddy who is going out on his boat and invites you. Well, you don't need to borrow one of his combos since you didn't bring another set-up. Your Penn Battle II Spinning Reel is perfect for either scenario.
It's a durable reel made almost entirely of metal. It's versatility makes it a great option for the surf, boat or kayak. Don't worry if you are looking for flounder but end up hooking into a monster fish. This reel is made to get it's hands dirty and fight some beasts from the dark.
Penn has been making high-quality spinning reels for decades. When you're not sure what reel to get, Penn is never a bad choice. They're made to last and for years have been listening to what anglers want in their reel.
We will get into all the features of the Penn Battle II specifically so you can decide if it's the right reel for you.
Our Review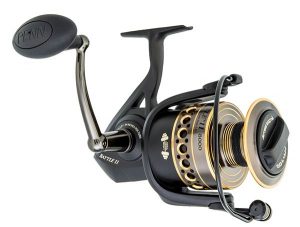 You can see that the Penn Battle II is almost flawless. Of course, that doesn't mean that you won't have any issue with it.  There is always the possibility that there is a defect in the manufacturing and a part fails. That's why there is a warranty.
Barring any defect, you will be getting a fantastic reel that has the potential to last decades if you treat it right.
Being made almost entirely of metal means it is built to perform. When battling the catch of a lifetime, there is no room for error. The Penn Battle II won't let you down.
The drag is super smooth and doesn't catch or skip. And the instant anti-reverse sets that drag right away without any slippage. The washers are two-sided carbon fiber and lubricated with Penn's proprietary blue lube.
For the small 1000 model, the maximum drag is a respectable 9 lbs. The biggest of the models is the 8000 and has a 30 lb maximum pull. With six more models in between, you are sure to find the size that best fits your needs.
Adding to the ease of use of the Penn Battle II is the rubber gasket inlaid on the spool. No need for backing or splicing the line with mono to prevent slippage if you like to use braided line. There's nothing worse than hooking up and realizing you are running in place because the line isn't getting wound up.
The spool is also etched with line capacity rings. See how much line is left after playing it out with just a glance. When letting the fish run, you want to know how many lines you are playing with.
The other thing I love about this reel is the feel of the handle. It's soft and comfortable making reeling all day a pleasure. It reduces fatigue on the hand which is very much appreciated when the day os over and your hand isn't sore from a rough feeling reel.
This might not matter much to most anglers out there, but the look of the reel is beautiful. It looks like a high-tech instrument thanks to its metal construction. The matte black finish adds a modern touch that looks great. Performance is the most important factor obviously, but it doesn't hurt if it also looks nice!
One thing to note, the reel is not water tight except in the ball bearings. That means that you must do proper maintenance. Make sure that you are washing down the reel in fresh water after every use.
Occasionally you will need to open the reel up and lubricate all the gears and washers. Even with Penn's lube in there, you will likely be getting some sane and salt water in there and over time that lube will be less effective. Luckily, it is pretty easy to do since the construction is kept simple for that purpose.
Take care of your reel, and it will take care of you!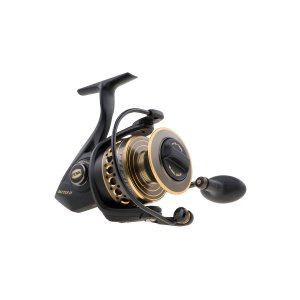 Decision time
Every fisherman is looking for that workhorse reel that is going to last them years. And some will pay hundreds of dollars or more for that reel.
With the Penn name behind it, the Battle II is the right reel for just about any type of fishing you want to do.  It's built to perform and last a lifetime.
It doesn't matter if you are after porgies from a pier or striped bass from a boat. With the right sized reel, you will find the right reel for you. Don't be afraid to put this reel to the test. Get out there with it and have some fun.
The action on the Penn Battle II Spinning reel is so smooth you will almost forget that it's there. Which is what you want. When you want to focus on the fishing and not have to keep adjusting your reel, you want the Penn Battle II.