Ultimate Beginner's Guide: Fishing Reel Types
In a Hurry? Editors choice: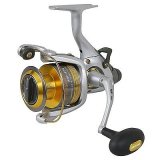 Test Winner: Okuma Avenger ABF

Fishing, or angling, is an excellent hobby to take up for both your health and your overall happiness. Fishing is a hobby that you can take up at any age and continue well into retirement.

However, when you're starting a new hobby there are so many different products to choose from in order to get started, it can be difficult to know what the best option is for you and your needs and skill set. This article has put together some general tips and guides to help you find the best features and choose the best reel for your needs as well as the fishing reel types.
Standout Picks
Criteria Used for Evaluation
Use
Spinning vs. Conventional
Spinning reels are perfect beginner fishing reel types because of how easy they are to use. Casting is extremely easy and they effortlessly swap between left handed and right handed use. Spinning reels are intended for lighter baits and catches, so they are rarely used for catching larger fish because they are not as robust or as strong as more conventional reel types. This is ideal for beginners so that they can get used to reeling in smaller, easier fish before they start fishing for larger catches. Spinning reels are much more commonly used for fresh water fish, as these fish are typically smaller and do not produce a large enough drag to warrant a stronger, conventional reel.
Conventional reels have a rotating spool that spins as you cast; these reels also have a crank to turn in order to reel in the fish and they can keep up with a tremendous amount of pressure. This makes them much more suitable for larger fish, as they can keep up with the strength of the drag, however they are more difficult to use for beginners and they do require a lot of practice in order to get used to them.
Baitcasting Reels
Baitcasting reels are much more streamlined fishing reel types and usually have a line guide to help the line spin onto the reel in an even way. The are much sturdier than other kinds of reels, and are popular in both fresh water as well as salt water, as they can handle much higher weighted fish than other reels, whilst still being a lightweight reel. Baitcasting reels are much more versatile than other reels as they have many more bearings, gearings and variable settings.
spinning reel types
With conventional reels, there is a risk of forming a backlash. A backlash is basically a large loop and knot that forms when the reel is spinning faster than the line is casting out. Usually these backlashes can be fixed by carefully and slowly pulling one loop after another as you reel in slowly; this moves the know further down the line until it come undone. In some cases, if these backlashes are bad enough then you can sometimes have to cut off large parts of the line in order to rectify the backlash.
Some reels have a cast control feature that slows down the spool to turn at the same time that the line is casting in order to reduce the risk of a backlash. However, some more experienced fishermen have learned to use a zero cast control reel and simply add pressure to the spool with their thumb in order to keep the timing and casting at the correct speed. This can be difficult for beginners, however, as it requires a lot of practice and precision, but this can also be helpful in order to make more accurate castings for certain types of fish, or to get closer to your catch.
Level Winding Reels
Some conventional reels will come with a level winding feature, which is a great addition for beginners. Level winding helps the reel to evenly space out the line across the spool as you reel in, ensuring that the line is even across the reel and not bunched up in one area of the spool. Again, some more experienced fishermen don't need this feature and have learned to guide the reel with their finger in order to help the reel sit in the correct place. Although this is a much more advanced level of fishing, and can be difficult for beginners to learn.
Weight
Matching your spool to your line is very important. It's also important to think of the size and strength of your line and the fish that you are going to try to catch. Your rod will have a certain weight limit that it can comfortably handle, and you should always purchase a reel with a similar weight limit and line strength as recommended for your rod. For example, a reel listed as 230/6lb will be able to hold 230 yards of 6-pound test monofilament. Weight limits and measurements are important to keep track of when buying all of your fishing equipment, as this will help you to understand what kinds of fish you can catch. Make sure that you research some of the specifications in order to get the best specifications to catch the size and weight of fish that you want, without worrying about damaging or breaking your rod. To find out what fish are most popular in your area, you should do some research what is most common in order to get the rod and reel that are ideal for your usage.
Durability
The body of your fishing reel is important to take into account when looking into buying your reel, as this will tell you the weight limit of your reel. The heavier the fish you want to catch, the stronger and more versatile you will need the reel to be, and this can be a bit more costly than some of the lower-grade materials. Cheaper materials used for reels consist of different types of plastics, whereas more expensive materials used can be different metals or metal alloys and graphite, and they are much stronger and more versatile than the cheaper versions, but they can be harder to use as a beginner angler.
Value
Once you feel that you have decided what aspects and weight limits you need your reel to offer you, you should also look into what your price range is for your reel. The more money that you can spend on a reel, the better quality reel you will be able to buy, and you will get a much better longevity out of your reel, rather than having to buy new reels as your skills change and improve. Buying a reel that will last also helps you to get used to your reel, how it works and how to minimise the formation of backlashes, and this skill will be useful when catching fish, and you won't have to get used to many different reels. Below we have put together some of the best reels currently available on the market, with a variation of price and material, in order to help you to find the best match for your needs.
Top 10 Picks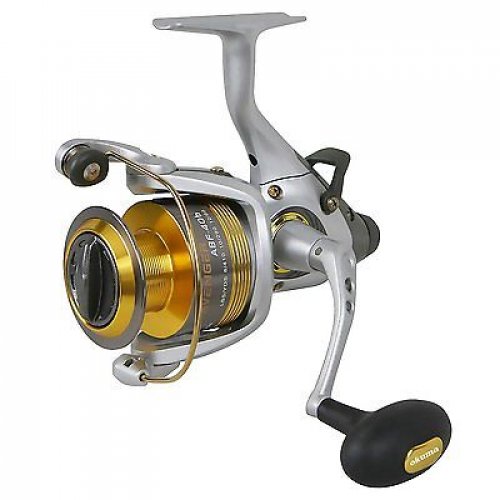 The Okuma Avenger is one of the top rated fishing reels currently available.
Read more
The Baitfeeding system allows the line to run without the risk of backlashes or the bail pulling open. It simply runs at an even, controlled pace. The drag system is made from multiple disks and Japanese oiled washers in order to support the drag from heavier fish. The materials that the Okuma Avenger ABF is carefully crafted from corrosion and erosion resistant materials such as machined aluminium, stainless steel and graphite. The Okuma Avenger ABF has six ball bearings and a quickset anti-reverse roller bearing in order to give the best ease of usage and support heavier weights and stronger drags. It comes in a range of sizes, so you are sure to find an Okuma Avenger ABF in the size that will suit your rod perfectly. The Okuma Avenger ABF comes with a one-year warranty, so you can be assured that the sturdy craftsmanship of this reel will last as long as possible.

2

. Piscifun Tuned Magnetic Brake System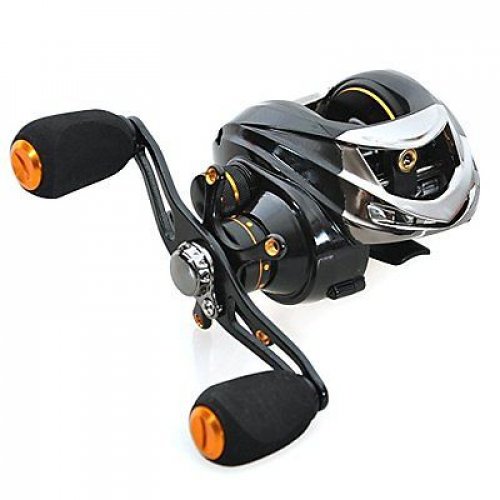 The Piscifun Low Profile Bait Caster has a low profile design and gear structure to deliver a high performance reel with low noise and low cost.
Read more
The The Piscifun Low Profile Bait Caster comes in both left handed and right handed options, so no matter what hand is dominant, there is an option for you. The Piscifun Low Profile Bait Caster holds a capacity of 12lbs/100yards or 0.3mm/100M, so there is plenty of room for both large and small capacity lines. The maximum breaking force is around 4 kilograms, so the The Piscifun Low Profile Bait Caster is perfect for larger fish and salt water fishing, where the catches are generally heavier.
The The Piscifun Low Profile Bait Caster is made from strong Nylon Glass Fibre and a Brass Gear, so tit has a great durability and longevity. The aluminium spool is computer numerically controlled, giving it a great versatility and durability. This reel is a great option for beginners as it is a versatile reel that will change and adapt as you learn the hobby.

3

. KastKing Royale Legend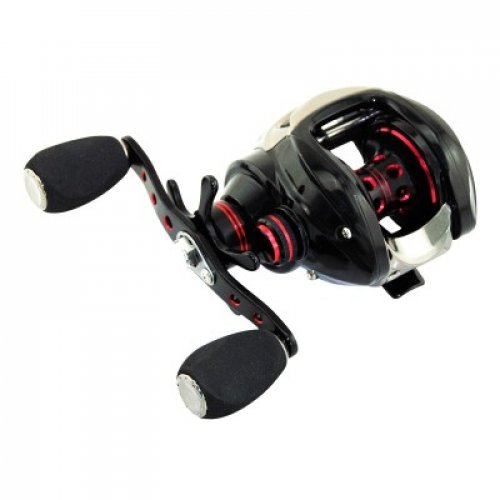 The KastKing Royale Legend has both left handed and right handed options, so it is perfect for any beginner angler.
Read more
The KastKing Royale Legend has a low profile design with a silent, but high-speed line retriever, which can be very helpful for beginners when reeling in larger catches. The brass gear structure is carefully designed and cut to provide over 17 pounds of drag for a high performance reel. KastKing's patented MaxiDur ball bearings are resistant to corrosion, and offer a smooth cast, retrieve, and an unmatchable long life, all of which add to the KastKing Royale Legend's high performance.
The KastKing Royale Legend has a centrifugal magnetic brake in order to help you control both your casting and your reeling, and this can be massively helpful for beginner fishers as help during the difficult parts of a reel.
The anodized aluminium gives the KastKing Royale Legend maximum strength without adding extra weight to the reel, making it totally portable and easy to use.



The Shimano Spin Reel has an excellent line capacity of 6/170, 8/120, and 10/100, so it is a versatile and durable piece of fishing kit, suitable for all experiences and abilities.
Read more
The Shimano Spin Reel also has a maximum drag of 7lbs, which makes it ideal for beginners who are focusing on a smaller size of catch, without restricting the size of the catch too much, as it also gives a versatile usage, which is great for the beginner angler. The Shimano Spin Reel is also approved for use in both salt water and fresh water as it is made from lightweight graphite and is a lightweight option for a spinning reel for a great price.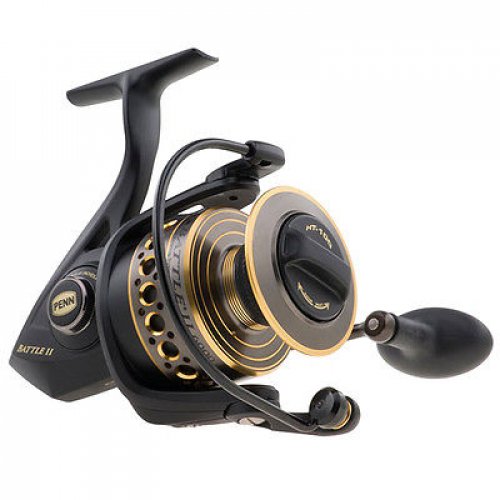 The Penn Battle 2 is a fully metal spinning reel, with heavy a heavy-duty aluminium bail.
Read more
There are six ball bearings to help you ease in your catch as smoothly as possible, as well as cast out an even and snag-free line. The Penn Battle 2 is an ambidextrous spinning reel, ideal for beginners with either dominant hand, and gives a great versatility and variety in the weight limits of the reel wire. The metal materials are non-corrosive, so the Penn Battle 2 is built to last as long as possible, which is also great for beginners who do not want to have to purchase new reels as their experience and skill improves.
Fishing is a great past time, and as confusing as it is to find the best tools and equipment to use, this shouldn't scare you off starting the sport. We hope that this article has helped to simplify and point out the best options for you and your skill set, and given you some examples of top quality reels for all budgets, so that you can build your skill and get the most out of the equipment that you are buying, whilst getting the most enjoyment out of your new sport.