Best Boot Trays
In a Hurry? Editors choice: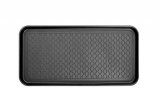 Test Winner: Ottomanson

As a homeowner, you want a boot tray because there is there anything more annoying than when a guest enters your house (or even a family member for that matter) with muddy
shoes
or boots on? Most of the time, you will tell them to leave their filthy footwear out on the porch or in another area. This tool is extremely convenient once the winter season approaches, as well, as when the snow melts, it turns back into the water. As you will learn, boot trays can also serve other purposes and knowing what to look for when buying one is key to making the best choice. Take a look at our top boot trays and boot mats below.
Standout Picks
Criteria Used for Evaluation
Stability
You knew there had to be a downside to plastic, right? It was not claimed in the previous section because it fits perfectly in this one. Unless there is an anti-skid bottom or some sort of anti-skid pads integrated onto the bottom, plastic is generally going to slide across hardwood and tile floors. This is where rubber holds a distinct advantage as it simply does not have this issue thanks to its resistance.
The question is, though, can this be fixed? Well, for starters, you could just keep the plastic tray in a corner or up against a wall to alleviate the issue. Or, you could invest in some anti-skid adhesives or bottoms and install them yourself. If the issue starts to become a nuisance, you may want to do just that.
Materials
As you probably noticed while going through this list, boot trays come in several different materials. Among those are common materials such as plastic and rubber, and others (which you may not see as often) such as wood and metal. All these materials are suitable in one way or another and choosing the one you desire is really up to you. But, let's break down some of the characteristics to make the decision a bit easier. To get wood and metal out of the way, both will offer superb durability. Plus, they both can offer natural appeal. Then again, wood and metal can be a little more finicky to clean than rubber and plastic so there is that. As for rubber, this could be the best material for this purpose. Due to its fantastic durability and abrasion-resistance, in addition to its stability, it is an excellent choice.
Now, let's talk about plastic. First off, you will often see polypropylene and yes, this is plastic. In specific, it is a thermoplastic polymer. The reason this specific plastic is often used is due to its high resistance to cracking and its high flexibility. Also, when in reaction to various chemicals, it is not going to break down easily.
Size
Okay, this one is pretty easy ladies and gentlemen. While a decent amount of thought needs to go into the material you prefer, this is all about how much room you need. Do note, though, that most designs will probably only be able to accommodate four to five pairs of boots, maximum. Yet, if you are not careful and do not pay attention to the physical dimensions, you may invest in a model that can only hold two to three pairs of footwear. But, you also need to remember that a boot tray does not need to be a permanent location for all your boots and shoes.
Instead, they can be used to allow them to dry and then afterward, you could place them in the normal location you do. Or, they could be used as a permanent location. Again, it all comes down to your preferences. However, you also need to pay attention to the height. Most of the time this will refer to the lip of the edge as without it, the loose water and debris would flow everywhere. Especially in the wintertime when your boots are covered in snow, look for a decently-sized lip to keep all that melted water at bay.
Versatility
These boot trays can be quite versatile. For the most part, they should all be this way but it does depend on the materials that are utilized. For instance, in regard to using them either indoors or outdoors, wood and metal will need to be protected. To prevent the wood from rotting and the metal from rusting, that is. This is not an issue with plastic and rubber most of the time (besides general weathering if left out too long).
For indoor purposes, these types of tools have so many more uses than you would think. For example, they could be used as a temporary location for your firewood when you need to load up your fireplace. Also, they could be used to hold your plants and to collect all the spilled water when you water them. Or, how about this one? Is your cat messy when using the litter box? Well, place their litter box on top of your tray to collect some of the excess cat litter. Seriously, use your imagination here.
Top 10 Boot Mats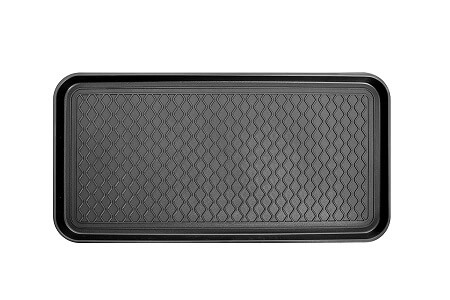 The two major flaws of this last option are common ones in regard to boot trays. But, because of the simplicity of the design they can be overlooked as they may not even end up being issues.
Read more
Build Quality
What is nice is if you are not about the polypropylene construction, Ottomanson also has a model that is available in rubber.
Size and Dimensions
There are a few size options you can pick from. There is the standard, which measures 32 inches by 16 inches, and there also is a smaller unit available (30 inches by 15 inches).
Versatility
Nearly any boot tray you invest in will have its versatility and this is no different. Whatever you can think of, this can probably be the solution.
Color and Appeal
A couple of different styles are available to choose from but all of them are fairly similar. Still, there is a bit of diversity between them so be sure to check them out.
Convenience
Due to the lightweight nature of the plastic model, not with the rubber option, it tends to slide around very easily when it is not loaded with items.
Overall
This is actually one of the more popular options on the market today. However, a little more bulk would have gone a long way here; let's just put it that way.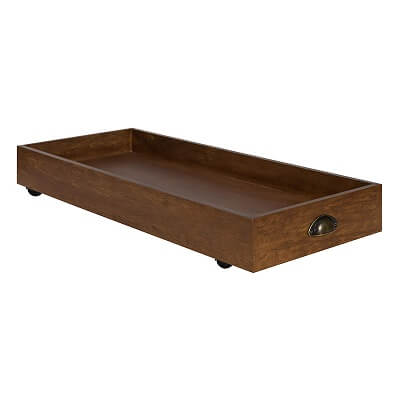 At first glance, it is okay if you thought this was a drawer that was pulled out of a dresser. In reality, it is actually intended to hold your footwear. The integrated handles on the side merely make it easier to transport.
Read more
Build Quality
While a lot of these entries are made of plastic, this is actually comprised of MDF wood. Plus, it has been constructed so the seams do not show to add to the appeal.
Size and Dimensions
At 34 inches long by 14 inches wide (and a massive four-inch lip), this is easily going to fit up to four pairs of adult boots or shoes.
Versatility
Thanks to the hidden wheels underneath, this can actually be a solution to all the clutter underneath your bed. Also, this specific design would do wonders in an office place.
Color and Appeal
As for the actual appeal itself, the wood construction comes in a satin finish (others are available) and looks gorgeous. Yet, some may feel it will look tacky resting on the floor.
Convenience
It was mentioned earlier but the integrated underneath wheels really do wonders here. This allows the unit to effortlessly glide across floors.
Overall
This is probably the most unique design on this list and for that, it deserves praise. It may not be for everyone but without question, it is the most well-built design on this list.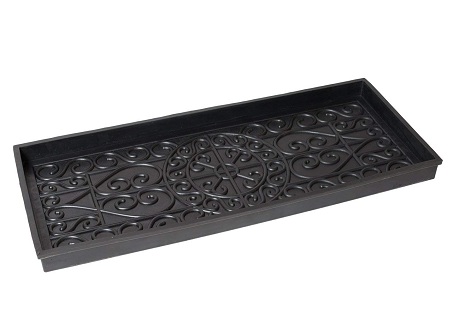 From wood to rubber, this next model is exceptional. What is nice about the rubber construction, also, is that it protects your floor. But, be wary, several consumers have warned this has a potent odor at first.
Read more
Build Quality
As mentioned, this is engineered with rubber materials. Due to the thick composition of the rubber, this can be used indoors and outdoors with equal success.
Size and Dimensions
This bad boy measures 34 inches wide by 14 inches deep (with a two-inch height). It is suitable to fit around three to four pairs of footwear (depending on the size of them).
Versatility
Thanks to the all-weather construction, this is a versatile product. It can be used to hold plants, a cat's litter box or even dog food.
Color and Appeal
While the decorative pattern adds to the design, what is really noteworthy here is the odor. As many buyers warn, at first, the emitted odor from this is strong and not pleasant.
Convenience
One of the benefits of rubber is the fact that it will not slide as easily as plastic. So, you can still lie this on your hardwood floors with little to no hassle.
Overall
If you can live with the initial odor, which is going to fade over time, you can live with one of the better units out there. Truth be told, in this case, it is hard to go wrong with rubber.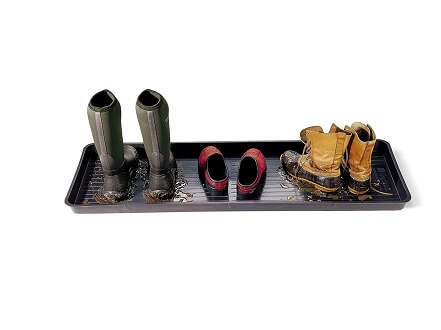 Even though this is not the fanciest product in the world, it certainly is highly functional and well-designed. The plastic is flexible enough to have some give if accidentally dropped, which is nice.
Read more
Build Quality
Being made of tough and recycled plastic, this is able to maintain a solid amount of durability while also being flexible. Because of this, the plastic is not going to break easily.
Size and Dimensions
This is much longer (46.5 inches) than it is wide (15.5 inches). Also, the rim is two inches which provide enough room to contain water and debris.
Versatility
If you can imagine any place a watertight tray would be handy, this could fill the void. It can perform so much more than just holding footwear.
Color and Appeal
The one similarity to most plastic trays is that they are generic in appearance. But, this can be a good thing as it will fit into most decors and will not stand out.
Convenience
You may want to keep this snug up against a wall or a corner as it can accidentally slide around.
Overall
Sometimes, plastic gets a bad rep but in this case, it works very well. For the average consumer, this will be just what the doctor ordered.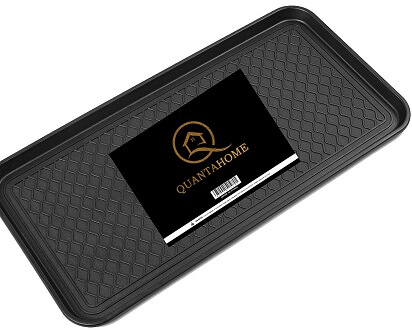 Of all the models on this list, this is the one that could appeal to people the most. This is simply due to its incredibly basic and simple design and appeal, which performs adequately without being noticed.
Read more
Build Quality
Not only is this mat made of 100 percent recycled polypropylene, but it has also been engineered with precision in mind to offer you maximum protection.
Size and Dimensions
For certain, this is not the largest unit on this list. However, at 30 inches by 15 inches (with a 1.2-inch lip), it will still provide space for a few pairs of footwear.
Versatility
Your imagination is the only factor stopping you here. Whatever you can imagine this coming in handy for, it can probably provide.
Color and Appeal
You would probably classify the color of this polypropylene to be dark gray. Either way, it should match your existing décor very well.
Convenience
If you can, it would be wise to either install an anti-slip backing on this or place something underneath. If not, it could have sliding issues (on certain floors).
Overall
Take away the sliding issues and this is a near-perfect design. Given it is plastic, though, it is not like this is uncommon. Thankfully, you can manually fix this issue if you desire.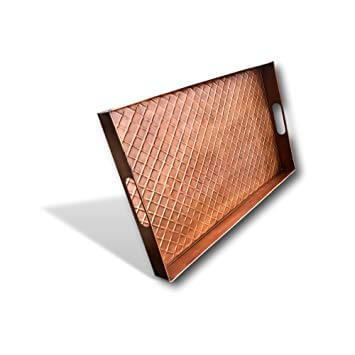 Let's just say that this next option is probably going to be hit or miss. Due to the copper construction, it is built to last. Yet, copper has a distinct appeal that may or may not be what you are looking for.
Read more
Build Quality
Indeed, this is made of copper. As opposed to plastic, rubber, or even wood, this metal construction could offer even more durability. Plus, it is hand-made.
Size and Dimensions
With internal dimensions of 24 inches by 14 inches by two inches, this is a solid size but far from the largest, you will see.
Versatility
Due to the construction of this design, it is suitable for both indoor and outdoor use. In fact, this could even make a perfect gift for holidays and weddings.
Color and Appeal
Yeah, this is the deal-breaker here. The copper appeal is one that is not going to be for everyone. If it does not mesh with your current décor, you may not like it.
Convenience
Kauri added four non-slip pads on the corners of the back of this tray. What these anti-slip pads will do is prevent the unit from sliding around, which is nice.
Overall
Here is the deal; if you love the look of copper then consider this a serious contender. It is well-designed and it is difficult to find any flaws otherwise.

7

. Alex Carseon Multi-purpose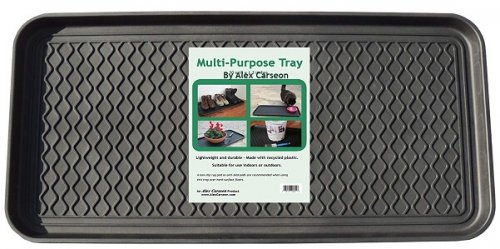 Just by glancing at this product on Amazon, you can tell it is a fan-favorite. Though it is not a perfect or flawless design, it is one that deserves recognition based on its sheer positive feedback alone.
Read more
Build Quality
What is nice about this polypropylene composition is the fact that it is more flexible than it is hard. It is still rigid but flexible enough to not break under pressure.
Size and Dimensions
While the 30-inch by 15-inch dimensions are accurate for the entire unit, the interior is more along the line of 14.5 inches in width. Also, the edge is raised 1.2 inches.
Versatility
It really does not matter what you intend to use this for or where, as it can be used indoors and outdoors, because it is as versatile as it gets.
Color and Appeal
If you are not a fan of the black appeal of polypropylene, you are in luck. This is because Alex Carseon also sells its model in brown and beige colors.
Convenience
To fix the issue of sliding, especially on hardwood floors, you will need to install an anti-skid bottom on the bottom of this tray.
Overall
All in all, this does a fairly sufficient job of performing exactly what you, the consumer, need it to do. Plus, if you install an anti-skid bottom to it, it will fix the sliding issues.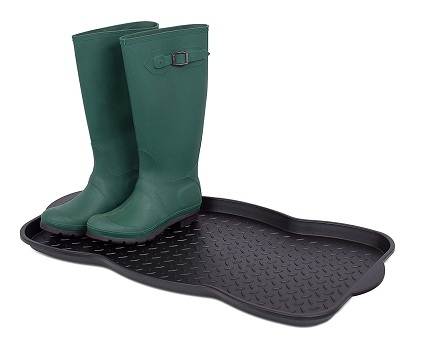 At the end of the day, it really is hard to go wrong with this next boot tray. It is made of high-quality polypropylene, much like many of the others on this list, and is ideal for indoor and outdoor uses.
Read more
Build Quality
Once again, you have a model that is made of high-quality polypropylene. And, once again, the plastic is rigid but not as hard as a rock. Still, it can be susceptible to cracks.
Size and Dimensions
You are given the option of investing in two trays if one, which measures 29.75 inches long by 15 inches wide by 1.25 (the lip), is not suitable for you.
Versatility
Given the plastic craftsmanship, as with the others on this list, this model is ideal for both indoor and outdoor storage uses.
Color and Appeal
Besides the black design, you can also choose your style. The two that are available are either round (which is still shaped mostly like a rectangle) or rectangle.
Convenience
Not only does the textured surface add traction but the integrated handles make this model extremely easy to carry if you need it moved.
Overall
As stated, it really is hard to go wrong here. Sure, nothing is going to blow you away but you know what does it really needs to in this case?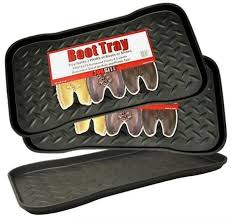 Outside of the actual design of this next model, one of the biggest benefits is that you receive an extra tray. It is hard to argue with two trays for the price of one.
Read more
Build Quality
Now, this is a rigid plastic here and because of such, it can break and chip if you are not careful.
Size and Dimensions
As opposed to the rest of the competition, the dimensions of this model are about what you would expect (28 inches by 15 inches with a 1.25-inch lip).
Versatility
Once again, get creative here. This can be as suitable for footwear as it can be to transport dirty equipment from one location to the next.
Color and Appeal
Not a lot of manufacturers offer different types of color and style choices as Jobsite does. For that, they should be appreciated.
Convenience
Most likely, if used on non-carpet floors and away from corners, this will probably have a good chance of sliding.
Overall
Even something as simple as a different interior style can make a difference. In this case, it could be the deal-breaker for you (just be wary about the plastic).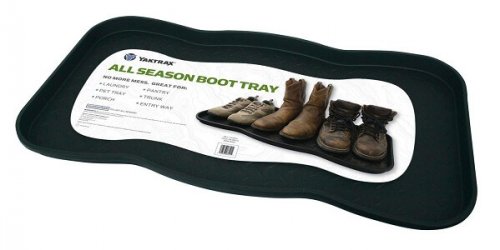 With what you have been witnessed thus far, nothing about this design from Yaktrax is going to surprise you. But, in this case, the old adage if it is not broke then why to fix it applies perfectly.
Read more
Build Quality
The plastic construction of this design is more flexible than it is rigid. Again, this pays dividends when you accidentally step on it or drop it as it is less likely to crack.
Size and Dimensions
For the average person, given that this is 27 inches by 15 inches, a maximum of three shoes will be able to fit on here (with only two of them being boots).
Versatility
If you wanted to use this as a pet tray, you easily could. Or, heck, you could even use this for plants, if you are into that.
Color and Appeal
The black appeal of this design is both casual and stylish. After all, black is one of the most common colors you will see in a house and for good reason.
Convenience
On hardwood or tile floors, this will most likely slide around unless it is secured in some fashion. Or, you could pin it up against a corner or a wall.
Overall
Could this get any more cliché? Hey, when a design works as good as this one does, excluding the sliding issues, why change it?

Subscribe to our Newsletter