Best Boot Trays
last updated:
Mar 12, 2020
As a homeowner, you want a boot tray because there is there anything more annoying than when a guest enters your house (or even a family member for that matter) with muddy shoes or boots on? Most of the time, you will tell them to leave their filthy footwear out on the porch or in another area. This tool is extremely convenient once the winter season approaches, as well, as when the snow melts, it turns back into the water. As you will learn, boot trays can also serve other purposes and knowing what to look for when buying one is key to making the best choice. Take a look at our top boot trays and boot mats below.
In a Hurry? The test winner after 17 hrs of research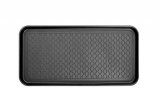 Ottomanson
Why is it better?
Provides indoor and outdoor protection
A rubber model is available
The interior pattern adds traction
In a
Hurry? Editors choice: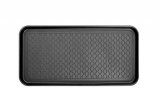 Test Winner: Ottomanson

15
Researched Sources
2.3k
Reviews Considered
17
Hours Researching
19
Products Evaluated
Stability
Materials
Size
Versatility
By Default
Criteria Used for Evaluation


Stability
You knew there had to be a downside to plastic, right? It was not claimed in the previous section because it fits perfectly in this one. Unless there is an anti-skid bottom or some sort of anti-skid pads integrated onto the bottom, plastic is generally going to slide across hardwood and tile floors. This is where rubber holds a distinct advantage as it simply does not have this issue thanks to its resistance.
The question is, though, can this be fixed? Well, for starters, you could just keep the plastic tray in a corner or up against a wall to alleviate the issue. Or, you could invest in some anti-skid adhesives or bottoms and install them yourself. If the issue starts to become a nuisance, you may want to do just that.


Materials
As you probably noticed while going through this list, boot trays come in several different materials. Among those are common materials such as plastic and rubber, and others (which you may not see as often) such as wood and metal. All these materials are suitable in one way or another and choosing the one you desire is really up to you. But, let's break down some of the characteristics to make the decision a bit easier. To get wood and metal out of the way, both will offer superb durability. Plus, they both can offer natural appeal. Then again, wood and metal can be a little more finicky to clean than rubber and plastic so there is that. As for rubber, this could be the best material for this purpose. Due to its fantastic durability and abrasion-resistance, in addition to its stability, it is an excellent choice.
Now, let's talk about plastic. First off, you will often see polypropylene and yes, this is plastic. In specific, it is a thermoplastic polymer. The reason this specific plastic is often used is due to its high resistance to cracking and its high flexibility. Also, when in reaction to various chemicals, it is not going to break down easily.


Size
Okay, this one is pretty easy ladies and gentlemen. While a decent amount of thought needs to go into the material you prefer, this is all about how much room you need. Do note, though, that most designs will probably only be able to accommodate four to five pairs of boots, maximum. Yet, if you are not careful and do not pay attention to the physical dimensions, you may invest in a model that can only hold two to three pairs of footwear. But, you also need to remember that a boot tray does not need to be a permanent location for all your boots and shoes.
Instead, they can be used to allow them to dry and then afterward, you could place them in the normal location you do. Or, they could be used as a permanent location. Again, it all comes down to your preferences. However, you also need to pay attention to the height. Most of the time this will refer to the lip of the edge as without it, the loose water and debris would flow everywhere. Especially in the wintertime when your boots are covered in snow, look for a decently-sized lip to keep all that melted water at bay.


Versatility
These boot trays can be quite versatile. For the most part, they should all be this way but it does depend on the materials that are utilized. For instance, in regard to using them either indoors or outdoors, wood and metal will need to be protected. To prevent the wood from rotting and the metal from rusting, that is. This is not an issue with plastic and rubber most of the time (besides general weathering if left out too long).
For indoor purposes, these types of tools have so many more uses than you would think. For example, they could be used as a temporary location for your firewood when you need to load up your fireplace. Also, they could be used to hold your plants and to collect all the spilled water when you water them. Or, how about this one? Is your cat messy when using the litter box? Well, place their litter box on top of your tray to collect some of the excess cat litter. Seriously, use your imagination here.
Expert Interviews & Opinions
Most Important Criteria
(According to our experts opinion)
Experts Opinion
Editors Opinion
Users Opinion
By Default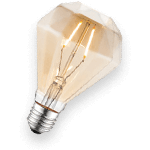 Style Matters
It is absolutely 100 percent fair if this next section is completely irrelevant to you. If it is, you are free to skip it entirely. But, for some consumers, anytime they add a new piece to their home, the style of that particular piece is going to come into play. Yes, even for something as simple as a boot tray. For the most part, you will not run into too many appalling designs. Even a material as basic as polypropylene can still fit in with your existing décor (as trays that are designed with this are typically darker colors such as black).
The same goes for other materials such as rubber, metal, and wood. This is one of those areas where you do not need to overthink things. Then again, and this can't be stated enough, never prioritize look over function. Keep that in mind.
Other Factors to Consider


Protection
Given the nature of their design, it is no surprise that you will need to clean your boot tray. Now, for the sake of this question, let's assess how to do so with a rubber or a plastic model. For the record, just to let you know, it is not a difficult task (unless your tray is literally encased with mud and dirt that has been sitting for months). To begin, go ahead and whip up a solution of warm water and dish soap. You can use as much soap as you think you will need but remember a little does go a long way. Also, go ahead and take your tray outside to shake it vigorously. This will get excess dirt and debris off beforehand.
Okay, now, with your solution, begin scrubbing with an appropriate scrubbing tool. As a side note, you may need a smaller tool to get inside the crevices (an old toothbrush may work well). When finished, rinse it off and allow it to dry.
Frequently Asked Questions
q:

Can Polypropylene Last in the Sun?

a:

Okay, so due to the material's high resistance to heat, it would then seem logical that it can be left out in the sun with no worries, right? Most plastic and rubber designs will be suitable for outdoor use, however, exposure to the outdoor world means that the sun is going to become a factor. Due to the chemical structure of the plastic, it will degrade more quickly if exposed to the UV lighting of the sun. The light itself causes the bonds to hold the polymer to break. This does not mean that outdoor use is not feasible, it just means you can expect the product to need replacing earlier than it would if kept indoors.
q:

Is Polypropylene Plastic Toxic?

a:

This question seemed extremely appropriate given the fact that polypropylene is a common material within this technology. Typically, when consumers see a product is made of plastic, they want to know if that plastic is toxic. Now, in this case, it seems arbitrary as these trays are primarily used for boots and shoes. Yet, remember their versatility. But, here is the good news. You really are not going to need to worry about this when it comes to polypropylene.

When it comes to plastics, this is considered to be the safest. Due to its high resistance to heat, it will almost never leach when exposed to higher temperatures.
q:

How do you Remove the Sticker Residue?

a:

You may have noticed that a few times on this list, consumers were disappointed with certain plastic models leaving a sticker residue. Well, this can happen when designers slap a sticker onto their plastic item. For buyers around the world, this quickly turns into a nuisance as most of the time when the sticker will not come off flush. Instead, it will leave a nasty residue that is nearly impossible to get off. Well, if this predicament presents itself then you can try one of the following remedies.

Firstly, try using rubbing alcohol. To do this, dab a paper towel with alcohol and then lay the paper towel on the residue. Allow it to dissolve the glue for a few minutes and then try and rub the residue off. You can try the same method with cooking oil or vinegar diluted with water.
q:

Does the Raised Interior Help to Dry Shoes?

a:

It was discussed earlier that you need to make sure you invest in a model that has an appropriately-sized lip. This is going to prevent any water build-up from leaking all-around your home. Sometimes, a model will have a raised interior and this can actually come into play when you are trying to dry your shoes as it allows for enhanced airflow to dry the bottom. This doesn't mean it will allow them to dry within minutes, but it could be an extra incentive for you if you see fit.
Subscribe to our Newsletter