Best Boot Trays
In a
Hurry? Editors choice: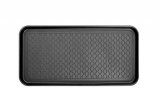 Test Winner: Ottomanson

As a homeowner, you want a boot tray because there is there anything more annoying than when a guest enters your house (or even a family member for that matter) with muddy
shoes
or boots on? Most of the time, you will tell them to leave their filthy footwear out on the porch or in another area. This tool is extremely convenient once the winter season approaches, as well, as when the snow melts, it turns back into the water. As you will learn, boot trays can also serve other purposes and knowing what to look for when buying one is key to making the best choice. Take a look at our top boot trays and boot mats below.
Standout Picks
Criteria Used for Evaluation
Stability
You knew there had to be a downside to plastic, right? It was not claimed in the previous section because it fits perfectly in this one. Unless there is an anti-skid bottom or some sort of anti-skid pads integrated onto the bottom, plastic is generally going to slide across hardwood and tile floors. This is where rubber holds a distinct advantage as it simply does not have this issue thanks to its resistance.
The question is, though, can this be fixed? Well, for starters, you could just keep the plastic tray in a corner or up against a wall to alleviate the issue. Or, you could invest in some anti-skid adhesives or bottoms and install them yourself. If the issue starts to become a nuisance, you may want to do just that.
Materials
As you probably noticed while going through this list, boot trays come in several different materials. Among those are common materials such as plastic and rubber, and others (which you may not see as often) such as wood and metal. All these materials are suitable in one way or another and choosing the one you desire is really up to you. But, let's break down some of the characteristics to make the decision a bit easier. To get wood and metal out of the way, both will offer superb durability. Plus, they both can offer natural appeal. Then again, wood and metal can be a little more finicky to clean than rubber and plastic so there is that. As for rubber, this could be the best material for this purpose. Due to its fantastic durability and abrasion-resistance, in addition to its stability, it is an excellent choice.
Now, let's talk about plastic. First off, you will often see polypropylene and yes, this is plastic. In specific, it is a thermoplastic polymer. The reason this specific plastic is often used is due to its high resistance to cracking and its high flexibility. Also, when in reaction to various chemicals, it is not going to break down easily.
Size
Okay, this one is pretty easy ladies and gentlemen. While a decent amount of thought needs to go into the material you prefer, this is all about how much room you need. Do note, though, that most designs will probably only be able to accommodate four to five pairs of boots, maximum. Yet, if you are not careful and do not pay attention to the physical dimensions, you may invest in a model that can only hold two to three pairs of footwear. But, you also need to remember that a boot tray does not need to be a permanent location for all your boots and shoes.
Instead, they can be used to allow them to dry and then afterward, you could place them in the normal location you do. Or, they could be used as a permanent location. Again, it all comes down to your preferences. However, you also need to pay attention to the height. Most of the time this will refer to the lip of the edge as without it, the loose water and debris would flow everywhere. Especially in the wintertime when your boots are covered in snow, look for a decently-sized lip to keep all that melted water at bay.
Versatility
These boot trays can be quite versatile. For the most part, they should all be this way but it does depend on the materials that are utilized. For instance, in regard to using them either indoors or outdoors, wood and metal will need to be protected. To prevent the wood from rotting and the metal from rusting, that is. This is not an issue with plastic and rubber most of the time (besides general weathering if left out too long).
For indoor purposes, these types of tools have so many more uses than you would think. For example, they could be used as a temporary location for your firewood when you need to load up your fireplace. Also, they could be used to hold your plants and to collect all the spilled water when you water them. Or, how about this one? Is your cat messy when using the litter box? Well, place their litter box on top of your tray to collect some of the excess cat litter. Seriously, use your imagination here.
Subscribe to our Newsletter