Best Bouldering Crash Pads
In a
Hurry? Editors choice: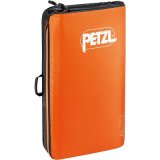 Test Winner: Petzl Alto

One of the most versatile and enjoyable aspects of the climbing world is the fine art of
bouldering
. Not only does it test your flexibility and ingenuity, but it also requires very little equipment. It may be a fairly simple sport on the face of it, but it certainly can provide quite a few challenges to your body, mind and spirit. One of the required pieces of
equipment
however, is a quality bouldering crash pad, as it can mean the difference between concentrating on the next boulder or worrying about your next fall. After all, whether by accident or design, you
are
going to fall while bouldering.
Standout Picks
Criteria Used for Evaluation
Style
When it comes to bouldering crash pads, there are a number of criteria that most rock climbing and bouldering enthusiasts look for. First on the list for many is the overall design of the crash pad, or simply put how it folds or lays flat. Generally speaking, there are pads that fold like a sandwich, those that fold like a taco, and those that actually are more akin to an accordion. Each has their advantages and drawbacks.
For example, the type that folds more like a sandwich, like the Black Diamond Mondo often offer great "bounce" and support for landing, but will often require something like a Velcro fastener to keep them together. And while the accordion style offers fantastic versatility, it doesn't often last as long as the simpler "taco" or "sandwich" design. And while the "taco" design does offer fantastic cushioning when using it as a crash pad, it's not as portable as the other choices.
Materials
For the most part, the interior of a bouldering crash pad is made of some type of foam material arranged in either "cells" or "layers" One way to think of the interior is much like a mattress. The firmness or stiffness of the inner foam material is often what dictates how much support or give the pad provides. This is important, since you want a good balance between providing good shock absorption and flexibility when you fall. The stiffer the foam, the more shock absorption, the softer, the more "give" the bouldering crash pad will have. And while hopefully, you'll not have to replace the interior foam of your bouldering crash pad, it's good to know that in some cases, it is possible.
Size
And finally, when it comes to finding the best bouldering crash pad for you, you need to consider the overall thickness. As expected, the thicker pads not only offer more cushioning for your body, but also more shock absorption. However, it's also important to remember that they do weigh more, sometimes by quite a lot. This decreases their portability and usefulness, especially if your boulder field is slightly inaccessible. Making sure the mouldering crash pad is thick enough to keep you safe from any type of fall or height can be life saving.
Portability
Of course, being able to transport your crash pad to the bouldering location is another thing to consider, and one that quite a few beginners tend to overlook. While the accordion or sandwich style of bouldering crash pad is often cited as offering the best portability due to their foldable nature, some find that the larger "taco" style is just as preferable. This is true especially when the location can easily be reached by car. Making sure you are able to carry it comfortable from your car is just as important as well. Some people still need their bouldering crash pad to be large for higher climbs so they make even come in one or two pieces which is easy to transport from climb to climb.
Subscribe to our Newsletter