Best Fleece Lined Jeans – 2023 List
In a Hurry? Editors choice: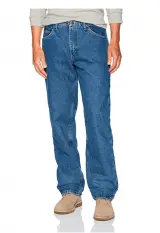 Test Winner: Wrangler Authentic

With the evenings drawing in and the morning frost becoming the norm, it may be a good time to treat yourself to some winter clothing. Whether it is a new coat,
winter gloves
, hat, or scarf, it is important to make sure that you are warm this winter. Unless you have an outdoor onesie, you may also find that your legs get a little chilly. That is why fleece-lined jeans are a great solution!
They keep your legs warm and they look and feel exactly like jeans. They are great because they do not make you feel overdressed, particularly if you're wearing them for work. To help you with the buying process, we have selected some of the of best fleece-lined jeans available for 2021.
Standout Picks
Criteria Used for Evaluation
Comfort
While style is important, it's really just a bonus feature.
First make sure the jeans are comfortable, especially if they are going to be your work jeans. You know you will likely have to wear them often and for long periods of time while remaining active.
In many ways, with fleece jeans, you often get what you pay for; however, there are still some budget-friendly options we've included in our list.
Making sure your jeans look great and feel good, usually means you'll need to stick with a reputable brand that has a tradition of making jeans that are both stylish and comfortable.
Fit
The fit is a very important factor to consider when you're buying a pair of jeans for work since a proper fit means better comfort and performance.
Although getting a pair of jeans with a good fit seems like it would be a fairly standard thing to do, many people prefer to wear jeans that are too baggy or too tight.
Another thing to remember about jeans fit is that there's no specific standard in sizing. Even if you know what size of jeans you usually wear, jeans can sometimes fit differently and run big or small.
Top 10 Picks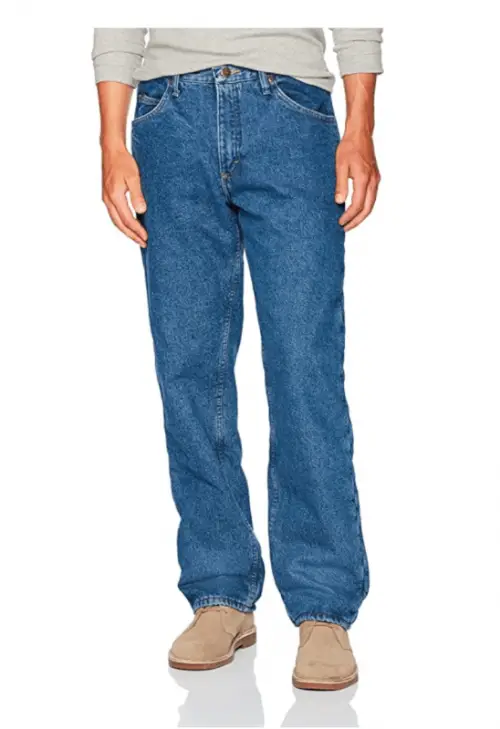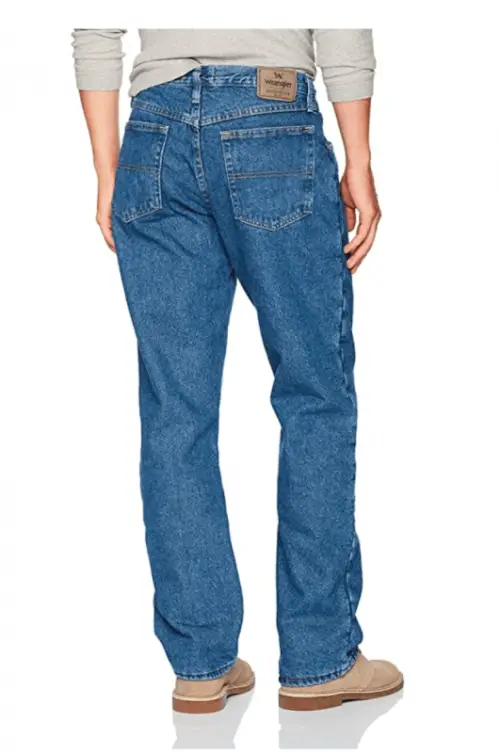 The Wrangler Authentics fleece lined 5 pocket jeans are the perfect pants to keep you warm this winter!
Read more
Comfort
These stonewash pants offer a relaxed style that sits at your waistline, making them great for chilling out in and super comfy around the stomach area. Designed so they are looser along the thighs, calves, and crotch, these provide more room and allow you to move more freely. 
Fit
The Wrangler jeans come in a range of waist sizes and leg lengths, so there will be a pair that will fit you. The pants have a zipper fly and button for extra closure protection. 
Durability 
Made from 100% cotton, these pants look like jeans on the outside but have a fleece lining on the inside. The pants are perfect to wear outside because the fleece lining is a great insulator and does not add bulk to the pants. They are exceptionally durable so can withstand a lot of wear.
They feature 5 pockets so they can hold a lot of personal items. The pants are machine washable and come in 3 colors including stonewash, black, and wheat.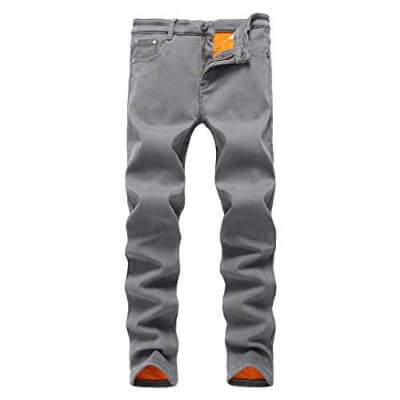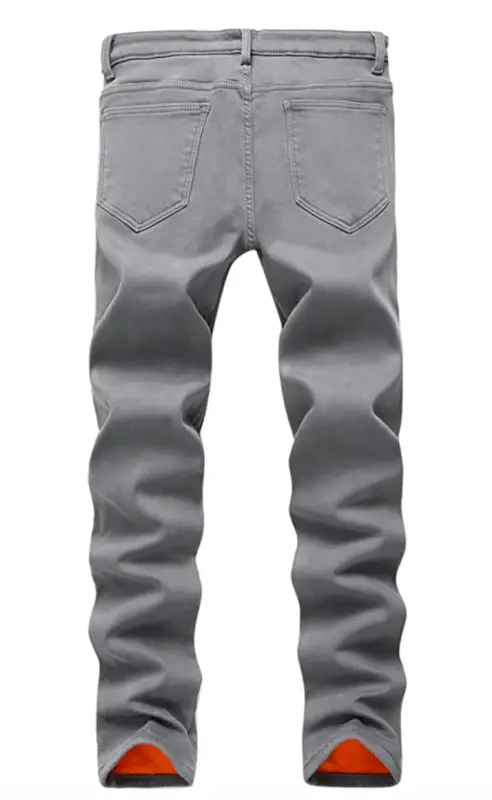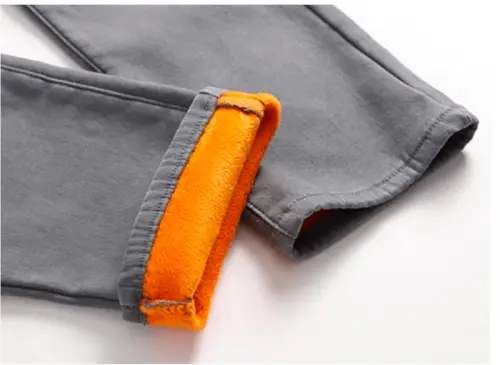 Fredd Marshall's fleece lined skinny jeans were designed with style, warmth, and comfort in mind, and can keep you warm any day you are outside in the winter weather.
Read more
Comfort
Made from a combination of cotton and polyester fabrics, these pants have thick, warm fleece built-into the interior so that you stay well insulated and cozy throughout the day. This option also comes with five fully functional pockets, so you can easily organize and bring your items along with you. These jeans are designed with zipper closure, and with their emphasis on warmth and style, you'll look great in them no matter where you go.
Fit
They are made with a straight leg design and are specially manufactured for those cold winter weather days.
Durability
The strong materials integrated into these jeans make them an incredibly durable option. Reviewers claim that they can stand up to the roughness of repeated washes.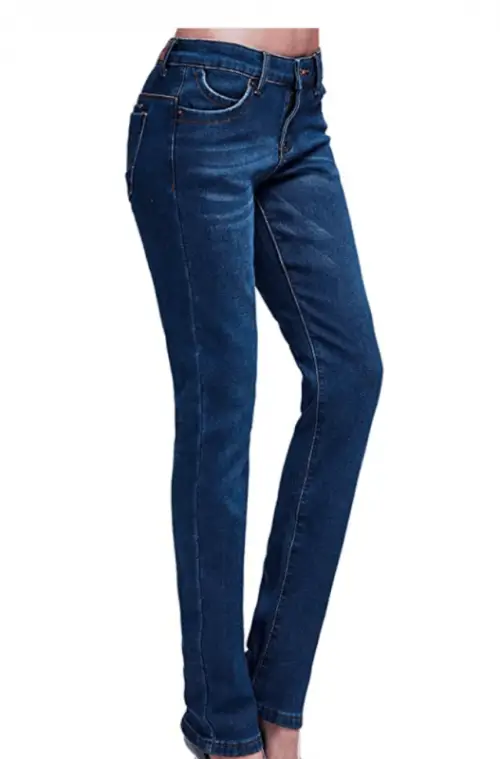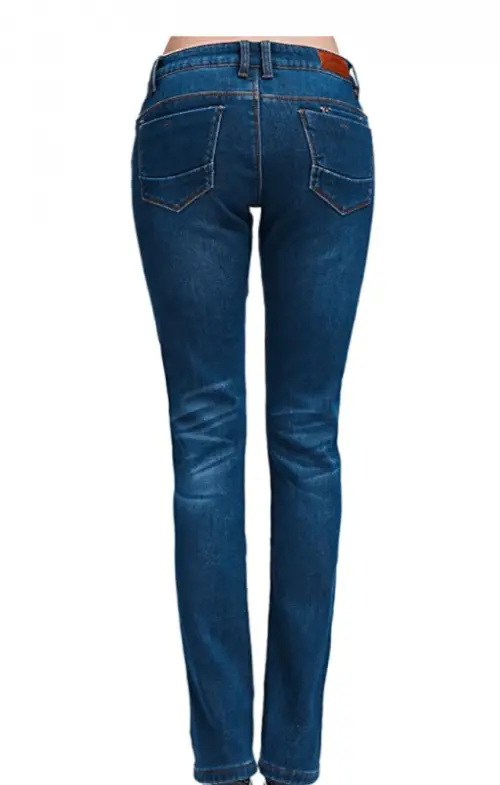 The blend of materials makes the jeans very flexible without compromising durability. They are available in gray, blue, or black, and the cut of the jeans works well with almost any shoe.
Read more
Comfort
All across the board, reviewers agree that these jeans are comfortable. The 2% of spandex that is integrated makes them very stretchy. Some even compared the flexibility of the jeans to yoga pants, but with the style and warmth of fleece-lined jeans.
Fit
This is where it gets tricky. Because of the thickness of the fleece, it is recommended to order a size up. The Camii Mia jeans offer a medium rise with a slim fit through the hips. This slim fit is very flattering and also provides a feminine, curvy, shape. The skinny leg of the jeans is fashionable and fitted without being too tight. The cut of the jeans works well with just about any shoe. The pants are closed with a zipper and button and have traditional 5-pocket styling.
Durability
You can count on these jeans to keep you warm for years to come. They are made from a blend of cotton, polyester, and spandex. You have the option to either hand or machine wash the jeans.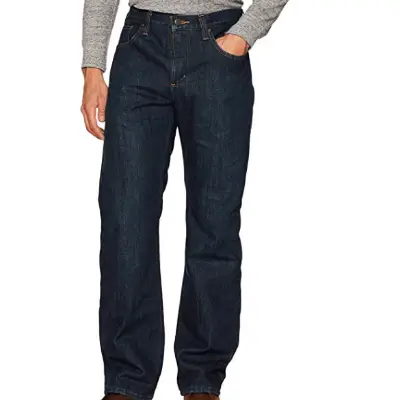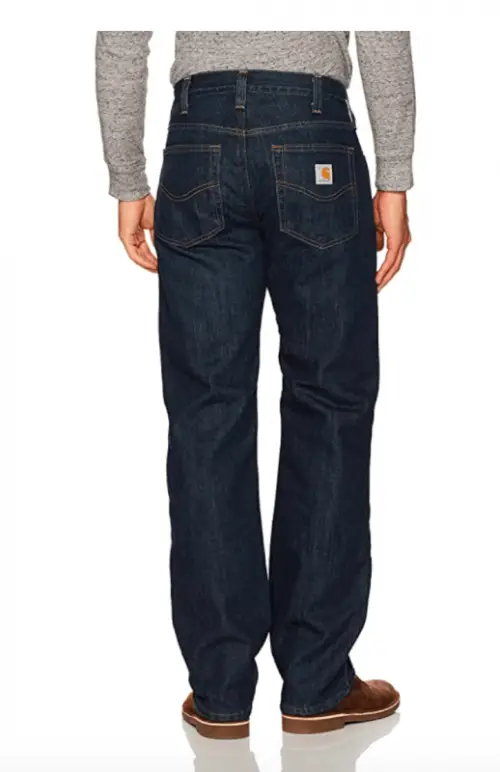 Carhartt's Holter fleece lined jeans provide outdoor enthusiasts with an affordable option. Carhartt's jeans are made from 86% cotton denim and 14% polyester. They also include a 100% polyester fleece lining for a boost in insulation and coziness.
Read more
Comfort
Designed as a straight-leg jean in 15-ounce denim, this option is also made to be lightweight, so if you plan to wear them when you're working outside, they won't slow you down. Carhartt's jeans are also stylish and fashionable and come garment-washed, which creates a soft look and finish on the exterior of the jeans.
Fit
The seat on these jeans is fully cut and the thighs are designed to create a relaxed fit. Also, these jeans include leg openings that fit easily over work boots and have two front scoop pockets, one coin pocket, and two reinforced back pockets.
Durability
These are easy to keep clean since they are machine washable. While Carhartt typically has a good reputation for durability, some reviewers have been somewhat disappointed with this pair of fleece-lined jeans. A few people have complained about the zipper and the denim itself, claiming that it is easily torn.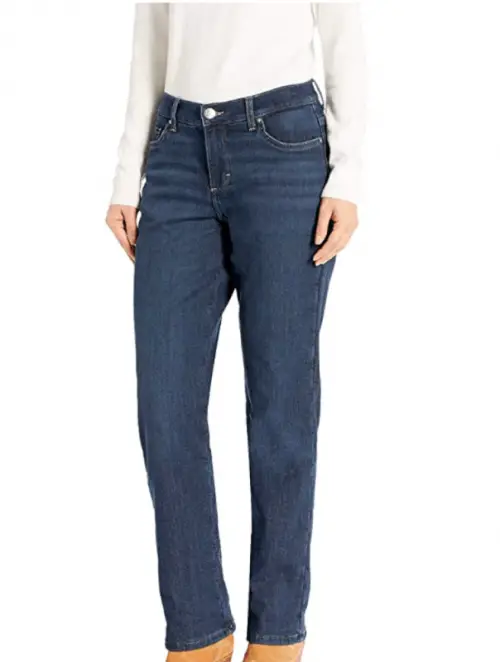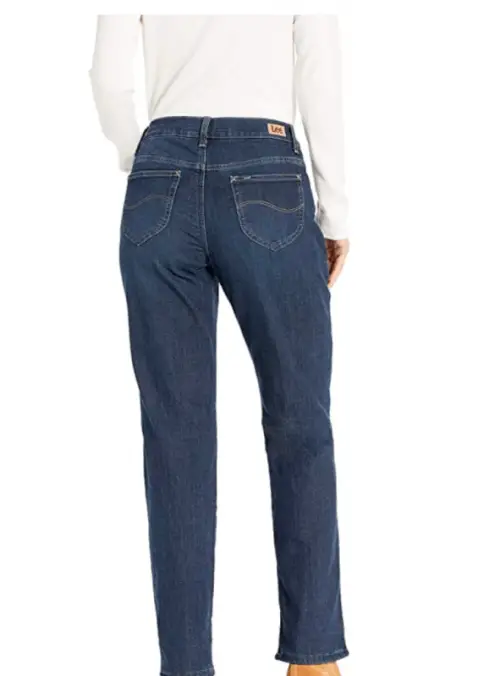 This straight-leg pair of jeans from Lee is another great option for women. The straight leg fit is flattering, with a close fit through the thighs and hips. While we would have liked to see more color options, these jeans are too comfortable to leave off of this list.
Read more
Comfort
The red fleece lining inside is warmer and softer than traditional jeans. The shape is relaxed and they move with you. They are not overly tight nor baggy.
Fit
As mentioned, these jeans offer a relaxed fit. They're tight in all of the right places and loose and comfortable in others. They feature a zipper and button closure and a traditional 5-pocket design. It is recommended to order one size larger than you normally would. The fleece is thick and makes your normal size feel a bit tighter.
Durability
The exterior of this pair is made from a blend of cotton, polyester, and spandex. As long as you follow the washing instructions on the tag, you're good.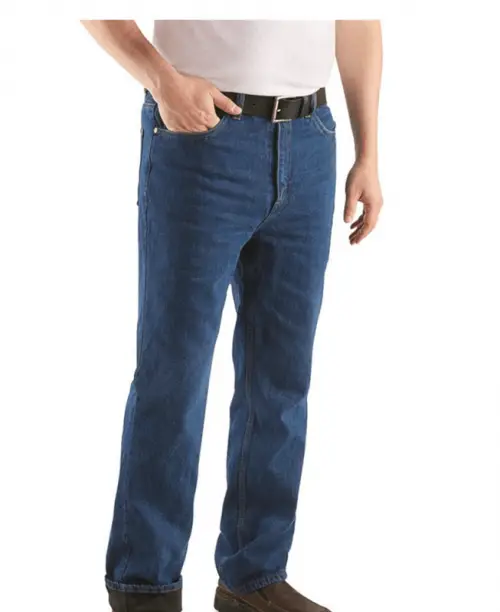 These exceptionally durable Fleece-Lined Jeans from Guide Gear Store are ideal for everyday wear when the temperature drops.
Read more
Comfort
This option offers a relaxed fit, giving you enough room to move but still look smart. The jeans are made from a 12.5 oz cotton denim that is soft and comfy against your legs. 
Fit
Guide Gear sell their jeans in a variety of sizes ranging from 30W x 29L to 48W x 32L. The jeans have a slightly tapered leg and offer a relaxed fit around the thigh. The jeans have a zipper closure, belt loops, and feature 5 pockets so you have plenty of storage. 
Durability 
Made from 100% cotton denim these are a long-lasting pair of durable jeans. Featuring a rugged 12.5 oz cotton denim exterior, the great thing about these jeans is that the outside will withstand a lot of wear. The pants have a 100% polyester fleece lining interior, ensuring your legs stay toasty and warm.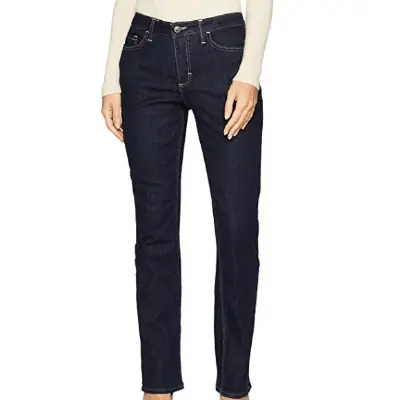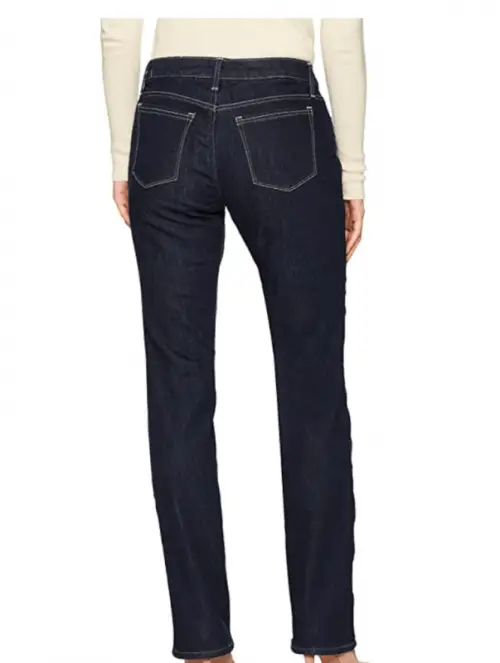 Another women's addition, the Lee Indigo is a great choice for the winter season. They are warm without being bulky, and look just like a regular pair of jeans. There is a bit of spandex included in the materials, providing you with great flexibility and comfort.
Read more
Comfort
No one would expect that these jeans are actually fleece lined. Reviewers are impressed with the overall comfort. The 1% of spandex provides just the right amount of flexibility. Besides spandex, the other materials include cotton, rayon, and polyester. Overall, they are soft and provide great warmth.
Fit
These jeans have a slim fit with a straight leg and mid-rise. The straight leg gives you a versatile style that can be worn with just about any type of shoe. These jeans have traditional five-pocket styling. When it comes to sizing things can get a little tricky. Whether you are layering or not, most reviewers recommend ordering a size larger than usual.
Durability
You can expect these jeans to last you. They are machine washable and easy to dry.

8

. Key Apparel Performance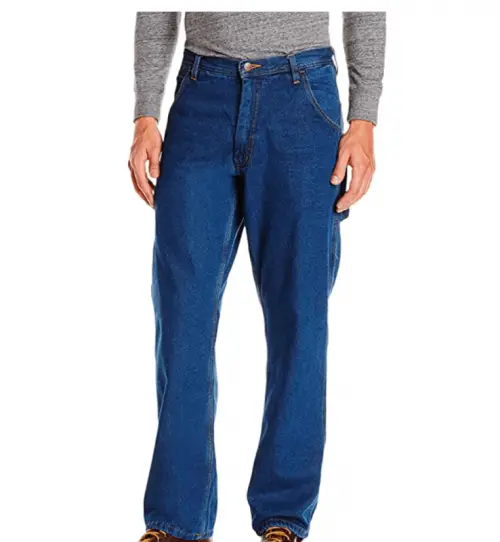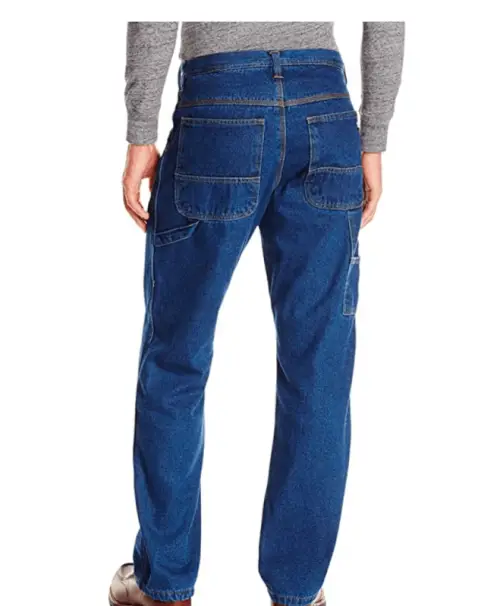 If you're looking for a more affordable option and still want warm winter weather jeans, Key Apparel's Performance offers a popular and less expensive option.These are made with Teflon over the exterior area, meaning the jeans are water-resistant.
Read more
Comfort
This option is made from 100% denim cotton on the exterior, with a Teflon treatment over the outside of the jeans, and a polyester fleece lining. Designed to be lightweight, the external materials of these jeans only weigh 8 ounces, while the internal fleece weighs five ounces, so you won't feel like your jeans are weighing you down.
Fit
These jeans are also designed with a loose, relaxed fit that never feels stiff and offers a lot of flexibility and freedom to move, so they make an excellent pair of work jeans for the outdoors. They also feature a loop for a tape measure, cell phone pockets on both sides of the jeans, double utility pockets, and are designed to hold all of your items as you work outside.
Durability
They are also machine washable, so you'll be able to easily clean them no matter how dirty they get. While the zipper nhas raised a few concerns, constant wearing and washing haven't proven to be a problem.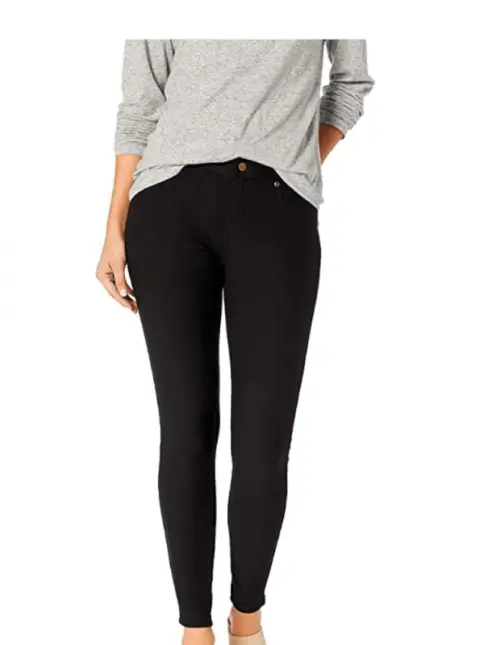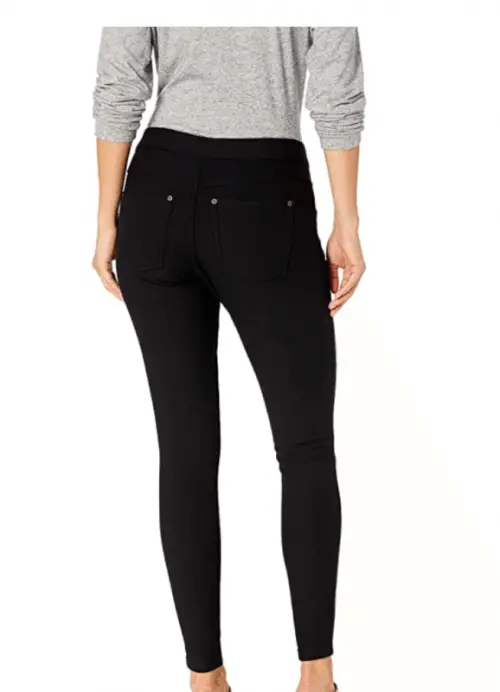 For over three decades Hue has been known for constructing innovative and fresh-looking fashion legwear. So, when it came to the Hue Women's Ultra Soft Fleece Lined Denim Leggings, you can expect great things!
Read more
Comfort
The leggings are made from a soft stretchy denim fabric that makes them comfy but snug fitting at the same time. These stylish denim leggings are great if you are a woman that is on the go a lot, as they are perfect to wear to work or on pretty any other occasion.
Fit
The HUE fleece lined leggings come in a variety of sizes ranging from X-Small to X-Large. Different from some of the other pants in our collection, these leggings offer a snug fit, so may not be suitable for some people. However, they are made from a stretchy material so are comfy. They also offer a pull-on closure so are super easy to get on and take off.  
Durability
These leggings are made from 58% Cotton, 34% Polyester, 6% Spandex, and 2% Rayon. They are fleece-lined so have a warm and cozy interior, making them perfect to wear over the winter months. They have faux front pockets and functional back pockets. Suitable to machine wash, they are available in two colors including ink wash and black.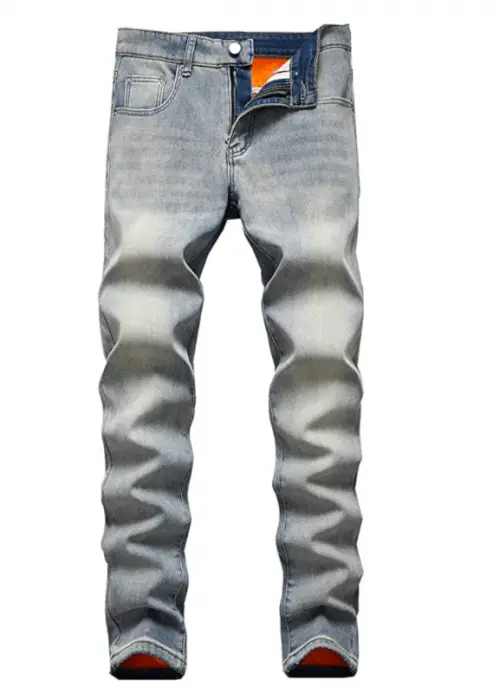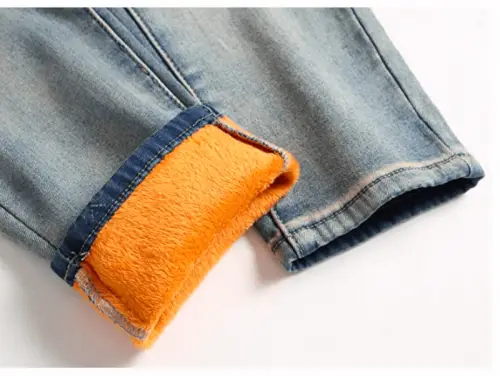 GUNLIRE is known for making jeans for winter or cold springs. Fashionable and warm, these stylish jeans will certainly grab everyone's attention!
Read more
Comfort
These soft and smooth jeans are super comfy against your skin. They are made from a stretchy material, allowing them to fit most body shapes.  
Fit
The denim pants from GUNLIRE offer a skinny fit, with a natural stretch. They come in a variety of waist sizes ranging from 30 to 38. The pants feature a zipper closure and a stainless-steel branded button for extra closure protection. 
Durability
Made from cotton and polyester these soft materials will keep you warm and comfy throughout the winter months. The pants feature a thermal fleece lining colored in orange. These stylish pair of pants are great for wearing on a night out. They feature five pockets, giving you plenty of space to store your items. Available in 10 different colors and designs, these pants come in lots of different styles to suit your wardrobe. 

Subscribe to our Newsletter