Best Muck Boots
In a
Hurry? Editors choice: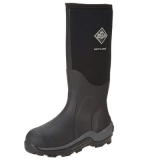 Test Winner: ARCTIC SPORT

The Original Muck Boot Company has made some absolutely stellar boots over the years and they have developed a reputation as one of the best in the business. The sheer fact a guide can be created focused primarily on their footwear should tell you all you need to know about their greatness. What is shocking, though, is that they have been able to design so many amazing models. Their line of Muck Boots, which do differ from one another, has provided countless users with waterproof, heavily-insulated, and comfortable footwear for the toughest of tasks. Down below, take a look at the absolute best.
Standout Picks
Criteria Used for Evaluation
Comfort
If there is one thing about these boots, it is that they are superbly comfortable.
There are a few staple features that most Muck Boots have and three of them can be addressed right away because they assist with the comfortability. The first is arguably what this footwear is best known for and that is the flexible neoprene. Among being beneficial for several other reasons, which will be addressed later in this guide, the neoprene enhances the comfort. The upper calf and topline areas are made of the soft and flexible material and this is going to add natural comfort on top of shock absorption.
But, it is not just the neoprene that makes these boots comfortable as it is also the fleece lining. This is another Muck Boot staple and fleece itself is a very soft fabric that also provides insulating properties. And, lastly, you are going to want to look for models that sport EVA midsoles. Thankfully, this is yet another staple and whenever you are looking to buy footwear of any kind, the midsole design will be essential. This is literally the section of the footwear that provides cushioning and rebound. And, EVA itself has tons of advantages and is one of the top-end foams out there.
Fit
Does anything more need to be said other than the fit will be everything?
When you are in the market for any type of footwear, you need to know that one of the most crucial aspects is going to be the sizing and the fitting. Yes, they pretty much reference the same concept but they are a little different. In terms of the sizing, you need to be sure that the model you want to purchase actually has the size you need. But, is this size going to be? If you want to measure your feet to be sure you get the right size, try this method out.
With a piece of paper on the ground, go ahead and stand on it and ensure that your foot is as flat as it can get. In that position, have someone draw a line behind your heel and then another line in front of your longest toe. To then get the length of your foot, measure the distance between the two lines. Getting this measurement is one thing, though, and this is where the fitting comes into play. Muck Boots are not offered in half-sizes but they will stretch to accommodate for them. The company recommends for men to order up if they are in-between sizes and for women to do the opposite.
Water Resistance
Among other things, the neoprene offers great waterproofness. But, look for other features, as well.
Yep, this is where the neoprene comes back into play. The reason why all Muck Boots make the claim of being 100 percent waterproof is due to the neoprene (outside of other factors). The waterproof, neoprene construction is exclusive and it is one of the main reasons why the boots are so popular. In addition to the neoprene construction, though, the best waterproof boots will be designed with a sealed rubber shell to provide an additional layer of waterproofness.
When you talk about water-resistance (or in this case waterproofness), though, you also have to make mention of the breathability. This is another area where this footwear shines because integrated into all of them is breathable air mesh lining. This lining is made up of thousands of vertical fibers and these allow air to circulate throughout the interior lining. Oh, and what also enhances the breathability is the aforementioned fleece lining. Fleece is a great insulator but it also wicks away moisture from your body.
Insulation
If you plan to work in the winter, you will need some adequate insulation and warmth.
As if the neoprene was not amazing enough, it also plays a serious role with the warmth. Due to the fact that the material is self-insulating, it effectively traps in the warmth to keep your feet warm in the coldest of climates. Gee, can you see why the company takes so much pride in their exclusive neoprene construction method? Now, it has not yet been documented but some Muck Boots will have thicker neoprene. Most will sport right around five millimeters, though, so you do not have to worry too much about this.
In addition to the neoprene, let's take another look at the fleece lining. This is yet another material that has been brought up a few times but its greatest benefit is its insulation capabilities. Fleece is an excellent material when it comes to insulating body heat and it is able to trap warm air. And, if the fleece lining and the neoprene were not already enough, you will often see these boots come with thermal foam that is designed underneath the footbed. You guessed it; this amplifies the warmth even more.
Traction
To aid in stability, you will need a strong and durable sole.
It is easy to become overwhelmed with the comfort, insulation, sizing and waterproofness that these models are so world-renowned for. During this feeling, though, you can't overlook the importance of the sole. The sole is the exterior portion of the shoe that, among other things, provides you with traction. It can almost be considered the foundation of the shoe if you will. While the durability of this particular portion is paramount, so is the provided traction. If you plan to use your new pair of Muck Boots on the job and during some rough climates, then you may need some extra grip and traction.
Here is the good news; there are heavy-duty models that are made by this company and they typically sport lug soles. A lug sole is one that is made of rubber and one that integrates deep grooves that provide exceptional grip. The rubber is nice as it adds slip-resistant properties and the deep indentations will then enhance the stability.
OUR TOP PICKS FOR THE BEST MUCK BOOTS
Subscribe to our Newsletter