Best Muck Boots
In a Hurry? Editors choice: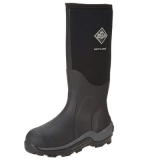 Test Winner: ARCTIC SPORT

The Original Muck Boot Company has made some absolutely stellar boots over the years and they have developed a reputation as one of the best in the business. The sheer fact a guide can be created focused primarily on their footwear should tell you all you need to know about their greatness. What is shocking, though, is that they have been able to design so many amazing models. Their line of Muck Boots, which do differ from one another, has provided countless users with waterproof, heavily-insulated, and comfortable footwear for the toughest of tasks. Down below, take a look at the absolute best.
Standout Picks
Criteria Used for Evaluation
Comfort
If there is one thing about these boots, it is that they are superbly comfortable.
There are a few staple features that most Muck Boots have and three of them can be addressed right away because they assist with the comfortability. The first is arguably what this footwear is best known for and that is the flexible neoprene. Among being beneficial for several other reasons, which will be addressed later in this guide, the neoprene enhances the comfort. The upper calf and topline areas are made of the soft and flexible material and this is going to add natural comfort on top of shock absorption.
But, it is not just the neoprene that makes these boots comfortable as it is also the fleece lining. This is another Muck Boot staple and fleece itself is a very soft fabric that also provides insulating properties. And, lastly, you are going to want to look for models that sport EVA midsoles. Thankfully, this is yet another staple and whenever you are looking to buy footwear of any kind, the midsole design will be essential. This is literally the section of the footwear that provides cushioning and rebound. And, EVA itself has tons of advantages and is one of the top-end foams out there.
Fit
Does anything more need to be said other than the fit will be everything?
When you are in the market for any type of footwear, you need to know that one of the most crucial aspects is going to be the sizing and the fitting. Yes, they pretty much reference the same concept but they are a little different. In terms of the sizing, you need to be sure that the model you want to purchase actually has the size you need. But, is this size going to be? If you want to measure your feet to be sure you get the right size, try this method out.
With a piece of paper on the ground, go ahead and stand on it and ensure that your foot is as flat as it can get. In that position, have someone draw a line behind your heel and then another line in front of your longest toe. To then get the length of your foot, measure the distance between the two lines. Getting this measurement is one thing, though, and this is where the fitting comes into play. Muck Boots are not offered in half-sizes but they will stretch to accommodate for them. The company recommends for men to order up if they are in-between sizes and for women to do the opposite.
Water Resistance
Among other things, the neoprene offers great waterproofness. But, look for other features, as well.
Yep, this is where the neoprene comes back into play. The reason why all Muck Boots make the claim of being 100 percent waterproof is due to the neoprene (outside of other factors). The waterproof, neoprene construction is exclusive and it is one of the main reasons why the boots are so popular. In addition to the neoprene construction, though, the best waterproof boots will be designed with a sealed rubber shell to provide an additional layer of waterproofness.
When you talk about water-resistance (or in this case waterproofness), though, you also have to make mention of the breathability. This is another area where this footwear shines because integrated into all of them is breathable air mesh lining. This lining is made up of thousands of vertical fibers and these allow air to circulate throughout the interior lining. Oh, and what also enhances the breathability is the aforementioned fleece lining. Fleece is a great insulator but it also wicks away moisture from your body.
Insulation
If you plan to work in the winter, you will need some adequate insulation and warmth.
As if the neoprene was not amazing enough, it also plays a serious role with the warmth. Due to the fact that the material is self-insulating, it effectively traps in the warmth to keep your feet warm in the coldest of climates. Gee, can you see why the company takes so much pride in their exclusive neoprene construction method? Now, it has not yet been documented but some Muck Boots will have thicker neoprene. Most will sport right around five millimeters, though, so you do not have to worry too much about this.
In addition to the neoprene, let's take another look at the fleece lining. This is yet another material that has been brought up a few times but its greatest benefit is its insulation capabilities. Fleece is an excellent material when it comes to insulating body heat and it is able to trap warm air. And, if the fleece lining and the neoprene were not already enough, you will often see these boots come with thermal foam that is designed underneath the footbed. You guessed it; this amplifies the warmth even more.
Traction
To aid in stability, you will need a strong and durable sole.
It is easy to become overwhelmed with the comfort, insulation, sizing and waterproofness that these models are so world-renowned for. During this feeling, though, you can't overlook the importance of the sole. The sole is the exterior portion of the shoe that, among other things, provides you with traction. It can almost be considered the foundation of the shoe if you will. While the durability of this particular portion is paramount, so is the provided traction. If you plan to use your new pair of Muck Boots on the job and during some rough climates, then you may need some extra grip and traction.
Here is the good news; there are heavy-duty models that are made by this company and they typically sport lug soles. A lug sole is one that is made of rubber and one that integrates deep grooves that provide exceptional grip. The rubber is nice as it adds slip-resistant properties and the deep indentations will then enhance the stability.
OUR TOP PICKS FOR THE BEST MUCK BOOTS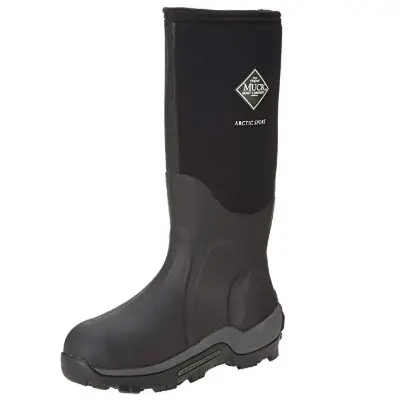 When you want to start talking about The Original Muck Boot Company, it would seem like a shame not to start with their Arctic Sport. It simply is the most complete design that they offer.
Read more
Comfort
The five-millimeter thick neoprene, which is a Muck Boot staple, provides excellent shock absorption and overall comfort. In addition, the fleece lining of the Arctic Sport is very soft and an EVA molded midsole is integrated for enhanced support.
Fitting
Overall, the consensus is that the Arctic Sport is both large and clunky. That is not exactly uncommon for a boot but just be aware that it is a beast.
Water-Resistance
Not only does the layer of neoprene provide excellent waterproofing but this model has also been designed with a completely sealed rubber shell that extends above the ankle area.
Warmth
There are a lot of factors that increase the comfort of the Arctic Sport. You have the neoprene that retains heat, fleece lining and two millimeters of thermal foam that is integrated under the footbed.
Traction
To increase the traction on uneven and slippery terrains, this has been outfitted with a rugged and durable outsole that sports molded lugs.
Overall
The epitome of why Muck Boots are so popular is the Arctic Sport. Many of the following models are quite similar but none of them can quite touch the magic of the Arctic Sport.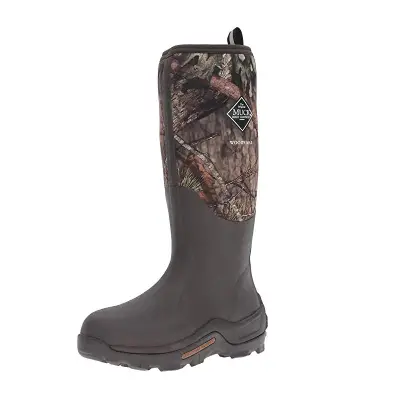 This model right here is very similar to the Arctic Sport as the Woody Max also sports five- millimeter thick neoprene. However, it is also designed with an MS-1 molded outsole that offers superb traction and control.
Read more
Comfort
The Woody Max is outfitted with many of the same comfort features as the previous model. This includes the neoprene, fleece lining, and molded and contoured EVA midsole.
Fitting
One nice aspect about the Woody Max, as with most Muck Boots, is that it adjusts to the shape of your foot. However, this seems to run large so you may want to order a size smaller than you normally would.
Water-Resistance
To provide an additional layer of waterproofness, the Woody Max has been designed with a high-grade extended rubber exterior. Oh yeah, and the neoprene also enhances the water-resistance.
Warmth
In addition to the neoprene, fleece lining, and two millimeters of thermal foam under the footbed, this boot also sports a stretch-fit comfort topline which manages to seal and trap the heat inside.
Traction
Specially engineered into the Woody Max is an MS-1 molded outsole. This is an extremely rugged and aggressive sole that delivers optimal protection and stability.
Overall
Is there any other word to say than wow? Even though there have been a couple of previous buyers who have had some bad experiences with the Woody Max, the majority concur that it is beyond stellar.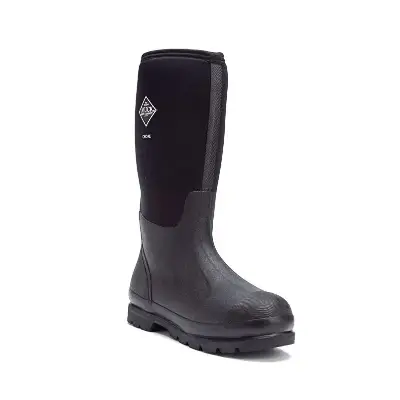 One of the stand-out features of the Chore Muck Boot is that it is designed with a wide heel. This comes into play not only for easier fitting but also for enhanced comfort and stability.
Read more
Comfort
A breathable and comfortable lining has been integrated here but the true wonder is with the wide heel. Due to this, the Adult Chore is much more comfortable and stable.
Fitting
The same wide heel also assists with the fitting, clearly. With that said, some users have pointed out that this seems to run large.
Water-Resistance
Yes, this is a 100 percent waterproof boot and is advertised that way. It sports a gathered collar and this prevents water, mud and even gravel from entering inside.
Warmth
To give you an idea of the warming capabilities of the Adult Chore, one reviewer noted that this was the only rubber boot they had ever used that did not leave their toes freezing cold.
Traction
Thanks to the blown rubber outsole, you have much more traction than you normally would on slippery and uneven terrains.
Overall
This is one of the best-rounded and most impressive designs that The Original Muck Boot Company has ever engineered.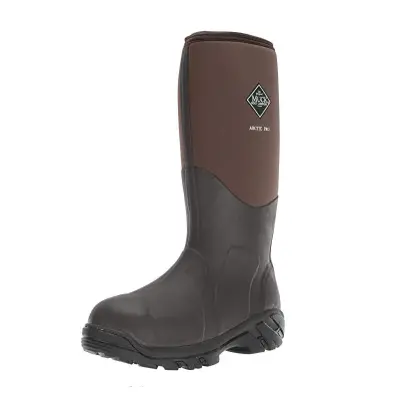 Here is what is interesting about the Arctic Pro. It is dubbed as the warmest boot from Muck Boots and it does implement the most neoprene. But, there have been buyers that have questioned the performance.
Read more
Comfort
The Arctic Pro actually includes eight-millimeter thick neoprene which makes it one of the thickest Muck Boots out there. This aids tremendously in shock absorption. Of course, the lightweight EVA midsole also helps.
Fitting
While some models tend to run large on this list, the Arctic Pro is one that actually has been known to run small. What is nice, though, is it is another one that will adjust to the shape of your foot.
Water-Resistance
In addition to the extra-thick neoprene, this boot also sports a high-grade rubber exterior that provides additional toughness and waterproofness.
Warmth
Here is what is interesting; this is dubbed Muck's warmest boot. And while the proof should be in the pudding, some users have questioned it and claimed that it is not that warm.
Traction
The super aggressive Bob-Tracker outsole that has been integrated here is one of the best that you are going to find for traction, period.
Overall
From an outsider's perspective, the Arctic Pro would appear to be the best of the best. Well, it probably should be but several buyers have complained about the warmth.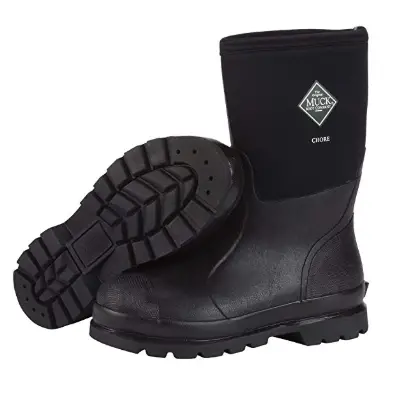 No, this is not the same model back to back. In fact, this is the original Chore Classic. However, with that said, there are definitely features that are similar and the design as a whole is not glaringly different.
Read more
Comfort
As with most models on this list, the Chore Classic is so comfortable because of its neoprene (five millimeters). This makes the uppers superbly comfortable and shock-absorbent, as well.
Fitting
This is another classic example of a Muck Boot that can adjust to the natural contours of your foot. However, a small annoyance is the lip on the back is too small to allow for one-foot removal.
Water-Resistance
Both the aforementioned neoprene and the gathered collar create a waterproof core. A bonus to this boot, though, is that it will wick away moisture from your skin.
Warmth
As you may have guessed based on other models, the neoprene is also a contributing factor to the warmth delivered from the Chore Classic. The neoprene is going to help to retain the heat and will act as insulation.
Traction
With a full-blown rubber outsole integrated on the exterior, you will have greater peace of mind when encountering rocky and slippery surfaces.
Overall
Whether you want to reference the actual characteristics of this model or simply look at the vast amount of positive feedback it has garnered, it is irrelevant and it proves you can't go wrong with the Chore Classic.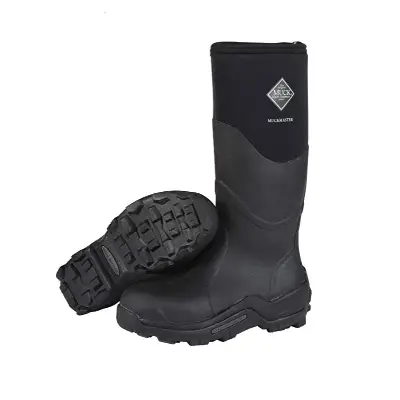 As with so many other Muck Boots, the MuckMaster is one that is designed with five-millimeter thick neoprene. In addition to this, it is equipped with a fully breathable air mesh lining to prevent overheating.
Read more
Comfort
Nothing out of the ordinary here as the MuckMaster is designed with an EVA contoured, molded midsole that provides fantastic support (in addition to the neoprene which adds shock absorption).
Fitting
Admittedly, the fit can be sloppy here. As many buyers have alluded to, the sizes run larger than normal. The good news, though, is this will contour to your foot shape.
Water-Resistance
The neoprene itself enhances the waterproofing but this is also equipped with a calf-high extended rubber overlay. In addition, a breathable air mesh lining is integrated and this will wick away moisture.
Warmth
Outside of the obvious neoprene, there are two other factors to point out here. Firstly, the stretch-fit comfort topline will seal in the warmth. Secondly, two millimeters of thermal foam have been integrated beneath the footbed to add even more warmth.
Traction
To ensure even the roughest and slickest of terrains will not be too much of an issue, this has been outfitted with a molded rubber outsole.
Overall
If you manage to buy a size that fits your foot properly and comfortably, then the rest will be history. Finding that correct fit, though, has left some consumers flustered.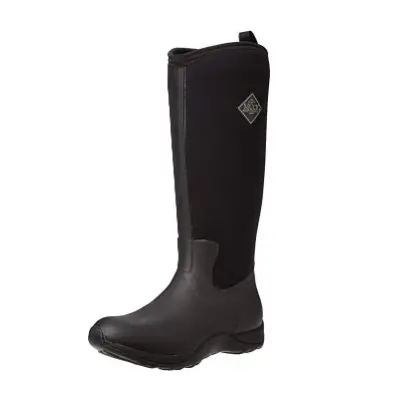 Now, this guide runs into an excellent choice for women. The Arctic Adventure is much like other models that have preceded it and it also sports a lightweight EVA midsole and a high-grade rubber exterior.
Read more
Comfort
The standard features that make most of these boots comfortable are included here (the neoprene, EVA midsole, and fleece lining). One user did note the Arctic Adventure dug into their Achilles.
Fitting
As opposed to the others, this seems to run true-to-size, which is really nice. Also, the standard implementation of being able to adjust to your foot is present here.
Water-Resistance
Both the high-grade rubber exterior and the five millimeters of neoprene are able to create a core that is 100 percent waterproof, no matter how you slice it.
Warmth
Interestingly enough, with the neoprene and fleece lining, this is rated from -20 degrees to 50 degrees. However, previous users have definitely questioned that claim.
Traction
Though not the most aggressive or rugged sole has been engineered onto this boot, a lightweight sole has been and this does provide suitable traction on slick terrain.
Overall
Without a moment's hesitation, it is easy to recommend this to all the women reading this today. Not only is it extremely high in quality but it is also stylish (with several color options available).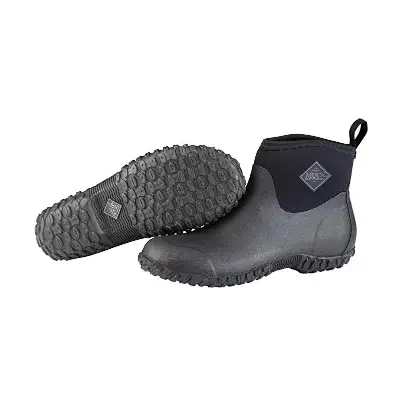 This model is moving in a different direction. The Muckster II is a boot that is designed with an easy on-and-off concept and it also only goes up to your ankles. Different indeed, right?
Read more
Comfort
Look, the Muckster II is not really optimized for walking. It sports four-millimeter thick neoprene which does provide comfort. But, there is virtually no arch support or cushioning integrated.
Fitting
There are multiples sizes available but there is no way to tighten the Muckster II. It is a pull-on boot and many users claim it moves around a lot while you walk (so you may want to order a size down).
Water-Resistance
Now, the ankle height does not mean this is not waterproof because it is. This is achieved with the high-grade rubber exterior and the four millimeters of neoprene.
Warmth
This is designed to be worn in the frigid cold and thanks to the aforementioned neoprene and the stretch-fit comfort topline that will seal in the warmth, it is safe to say this is accurate.
Traction
Even when walking through the mud, slush, or even the rain, the high-traction rubber outsole is going to pay dividends when you require traction.
Overall
While this one started out rough, you can see why it is so beloved. Then again, the issues with the fitting and the comfort are legitimate and can't be overlooked.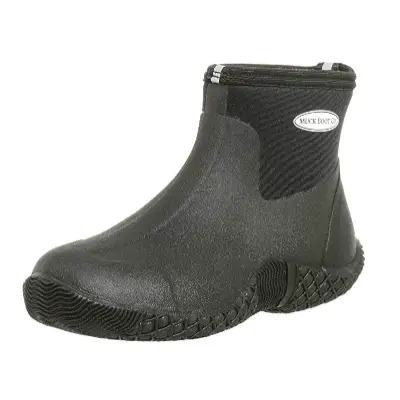 If you are experiencing déjà vu, you are certainly not alone. The Jobber is very similar to the last model that was just documented. However, it would have been even better if half-sizes were included.
Read more
Comfort
Thanks to the CR-foam bootie and the natural rubber uppers, the Adult Jobber is both comfortable and flexible while you are wearing it.
Fitting
This is yet another pull-on boot and it is yet another one that should have been made in half-sizes. Overall, this has been known to run large so you may, once again, want to order a size down.
Water-Resistance
Make no bones about it, this is advertised as being 100 percent waterproof and that means you can take it anywhere you need to go.
Warmth
Due to the superior insulation that has been integrated, the Adult Jobber is rated to keep you warm in sub-freezing climates.
Traction
The diamond-tread outsole is what delivers the traction and, overall, it seems to do a suitable job at doing just that.
Overall
If half-sizes were made for the Adult Jobber, it would make it a lot easier to find the right fit. As it sits, though, it is an extremely well-made model that can be difficult to size.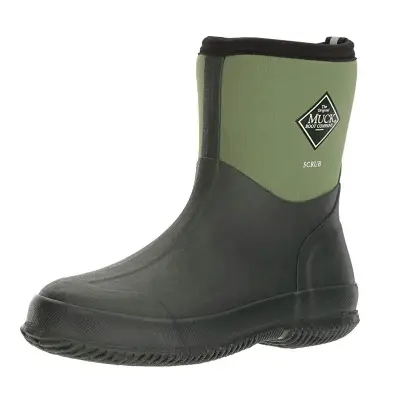 This list concludes with the Scrub Boot and while it may not be in The Original Muck Boots Company's personal hall of fame, it is a well-designed model that is worthy of recognition.
Read more
Comfort
If there is one thing you can say about the Scrub it is that it is comfortable. This can be attributed to the comfort stretch nylon shaft and the lower flexible shell.
Fitting
It is never a good sign when users are back-and-forth on the sizing. Some buyers have claimed the Scrub fits too tightly while others the contrary. Admittedly, this makes finding the right size very difficult.
Water-Resistance
Though this is not the most waterproof boot that this company has ever engineered, the Scrub still offers a rubber-reinforced foot for lightweight waterproof protection. You could also use waterproof spray for more protection.
Warmth
The added warmth comes from the snag-resistant nylon shaft as this is going to virtually hug your calf.
Traction
It is safe to say that the rubber sole on this boot is good but not great. On tile floor, it makes for a very slippery experience especially if the sole itself has moisture on it.
Overall
There will not be too many experts that will dub this the best in the business. Still, in spite of its shortcomings, the Scrub is a suitable mid-calf boot that can get down and dirty.

Subscribe to our Newsletter