Best Sneaker Cleaners
In a Hurry? Editors choice: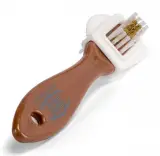 Test Winner: Shack Leather Brush Cleaner

Is there anything worse than wearing dirty and unpolished footwear? Sure, some of you could probably care less, but for those of you who take pride in their shoes, there are solutions out there. And, we are not talking about a washcloth and some dish soap as a solution.
Nope, we are referring to dedicated sneaker cleaners that are designed with your
walking shoes
in mind. What is important to realize, is that not all cleaners will work for you. Some will be designed to work for
leather shoes
, while others will only attack light stains and such. And, this is just scratching the surface.
As you can see, sneaker cleaners are not just something you can blindly buy. Hence, that is why you have stumbled across this guide today. In no time, you will find out what it takes to obtain precisely what you need.
Standout Picks
Criteria Used for Evaluation
Accessories
Without question, you need to look for options that come with the accessories you need.
What you need to ask yourself right away is what you need sneaker cleaners for. Do you need to whiten your white shoes, do you need to polish your leather shoes, do you need a general cleaning, etc.? Figuring this kind of stuff out will make it much easier for you to shop for what you need.
After all, various kits on the market will come with different cleaning solutions and other such products. Some will be more of a shoeshine kit rather than a full cleaning kit, and this is okay if that is what you need. But, if what you want is your shoes to be cleaned, then you need to be aware of the various types of cleansers out there.
The leading solution will typically either be in the form of foams, sprays, or wipes. Wipes are convenient as they already will be pre-moistened with the cleaning solution. But, foams and waterproof sprays may be preferred due to the simple fact that they provide you with ample coverage and control.
Of course, many sellers will also provide you with cleaning brushes and possibly even microfiber cloths. The most common type of brush you will see is known as a horsehair brush. With a brush of this nature, you will be able to both buff and shine various types of footwear. Meanwhile, the microfiber cloths can then be used to wrap the cleaning process up.
Effectiveness
At the end of the day, you need to buy an option that is actually going to work for your needs.
Not all sneaker cleaners will work in the same fashion. In other words, there will be superior formulas out there that clean your footwear with better efficiency. Some saddle soaps, sprays, wipes, etc., will be better for lighter stains and filth while others will be able to tackle some of the larger stuff.
Every manufacturer out there is going to be claiming that they have the best formula on the market. You can't believe everything you read. So, this makes it a little difficult to truly distinguish which cleaners are indeed the best.
While it is always nice when a manufacturer claims that their formula is free of any harmful chemicals, your best bet is to look through user feedback to determine how good the formula is. People with real-world experience with the product will be able to speak about it better than most.
Compatibility
Not all cleaners are going to work with all types of footwear. So, you need to buy based on the footwear you have.
Do not merely assume that the shoe cleaning kit you buy will work with the current footwear you have. Most of the options on the market should, but you can never assume.
It all depends on what footwear you need to be maintained, quite frankly. Most popular shoe fabrics, such as leather, rubber, nylon, canvas, and mesh, will be able to get wet, however. And, because most cleaning solutions will be free of harmful chemicals and such, most will be excellent for such fabrics.
But, there was one material in that list that deserves closer examination. Of course, this is alluding to leather. Leather is special and, for certain, you do not want to ruin your leather shoes. Again, most cleaning kits out there will be perfectly suitable for leather shoes. The same can't be said about suede.
Suede leather is not supposed to get wet and is going to be a bit more challenging to shop for (more on that later). Also, and this goes without saying, individual shoe polishes will only work with specific footwear. For example, use white shoe polish on white shoes, brown paste on brown shoes, etc.
Value
To get the best bang for your buck, you may want to look for options that will last for a good while.
It will probably be your instinct to judge this section on price. But, the reality of the situation is you should focus more of the attention on the quality of the cleaner and how long it is going to last. The formulas that do not require as much solution to clean your shoes will be preferred.
Indeed, some sprays and foams out there are incredibly concentrated and will only require a few drops or sprays to clean footwear properly. Such options can often clean up to 80 to 100 pairs of shoes. However, this varies tremendously on how you treat your sneakers. If you keep up with them, then you will often need a minimal solution to clean them.
As for whether or not these types of cleaners expire, typically, this is not something you will need to worry about. Even shoe polishes will not necessarily terminate (though you should avoid exposing them to drastic changes of temperature).
Oh, and as for some of the other accessories (such as brushes and cloths) that specific kits come with, they should last you a long time. Granted you treat them with proper care, they should last for several years.
Ease of Use
There are just a few subtle things that you will want to keep in mind with this section.
Alright, so here is the deal. Washing your footwear is not necessarily a difficult task. At the same time, while you can't necessarily ruin it entirely, there are some decently essential things that you need to keep in mind.
To begin, when you are washing your shoes with specific formulas, you do not want to use too much of it. While this may not ruin your sneakers, you will potentially be wasting some of the solutions by doing this. Abide by the directions of the manufacturer to avoid this.
Now, if you buy shoe polish, then you still need to clean your shoes beforehand at least lightly. Much like you would clean a surface before applying an adhesive to it, you need to clean the surface of your footwear before you polish them.
Most of the time, when you buy polish or wax, directions will be printed on the back of the tin or bottle. Or, sometimes you will be provided with a small instruction booklet. Either way, most manufacturers do not leave you to sink or swim on your own.
Our Top Picks for the Best Sneaker Cleaners
1

. Shack Leather Brush Cleaner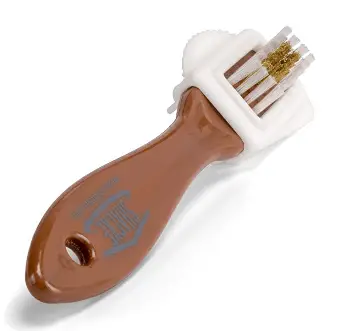 The best way to describe the top model on this list is it is the Swiss Army knife of leather brushes. It is a four-way brush that can be used in a plethora of different fashions.
Read more
Included Items
Indeed, all you get with your purchase is just a cleaning brush. But, because it has four different functions, it is more versatile than you will probably believe.
Effectiveness
The nylon bristles are used for gentler cleaning, the welt surface for heavier scuff marks, the arched half circle for cleaning rounded corners, and the protruding brush for crevices and groves.
Compatibility
In addition to the fact that this brush works with both boots and shoes, it can also be used for other items such as jackets, coats, and furniture.
Value
For the money, you can't go wrong with a brush such as this. It is so versatile that it is almost like you are getting four products for the price of just one.
Ease of Use
For the most part, this is not going to be challenging to use. This is assuming, however, that you use each section in the manner in which they were designed.
Overall
Is it not amazing how sometimes the simple things in life are the best? Indeed, this brush is simple in concept but oh so amazing and versatile that it makes it an absolute steal.

2

. Jason Markk Premium Cleaner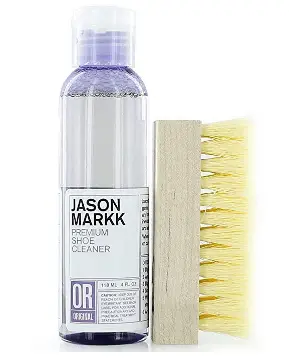 Literally, hundreds of former buyers have raved about Jason Markk as a shoe cleaning brand. In specific, this mini-kit provides you with their premium shoe cleaner and also a cleaner brush.
Read more
Included Items
This is not a full-fledged kit as it only comes with premium shoe cleaner and also a brush, as noted. The solution, for the record, is somewhat watered down.
Effectiveness
Speaking for the brush, it is excellent when you need to get the dirt off of your midsoles and soles. The solution, on the other hand, utilizes no harsh chemicals and will leave a subtle sheen thanks to the coconut oils.
Compatibility
Jason Markk notes that their premium shoe cleaning brush is ideal to be used for more delicate materials. It can be used for all types of materials such as leather, rubber, nylon, and canvas.
Value
The brush should last you for years granted you treat it with care and do not misuse it. As for the formula, it is marketed to clean up to 100 pairs of sneakers.
Ease of Use
When you are dripping the solution onto the brush, be careful as it is somewhat watered down. However, overall, this is as easy to use as it is ever going to get.
Overall
You can see why so many buyers have raved about Jason Markk. This combination cleaning solution and the brush is fantastic and is an excellent option for just about everyone out there.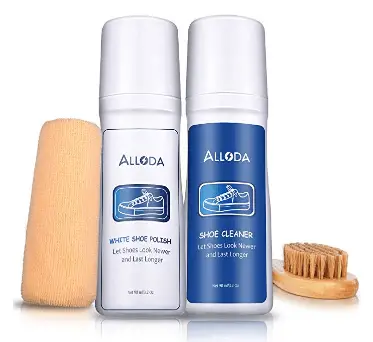 To clean white shoes, this option is an excellent choice. In addition to the actual sneaker cleaner solution, you are provided with white shoe polish to give a shining back to your dirty white footwear.
Read more
Included Items
As was just noted, this kit comes with both sneaker shoe cleaner and also white shoe polish. Additionally, you are also provided with a towel and a brush.
Effectiveness
Both the white shoe polish and the actual sneaker cleaner formula work very well. What is nice, also, is the fact that non-toxic and biodegradable materials were utilized.
Compatibility
The white shoe polish is going to be suitable for just about any white leather sneakers and products. The cleaner, on the other hand, can be used on a plethora of different fabrics.
Value
Noted by the seller is that both 90-milliliter bottles that you receive will perform their magic on 25 to 35 pairs of shoes. For the record, each bottle is advertised with this lifespan.
Ease of Use
With the included accessories, this kit is incredibly easy to use. All you need to do is apply the cleaner, clean your shoes with the brush and wipe them off with the towel.
Overall
For what you get, it is just hard to argue with the results here. Your old beaten up shoes will not be magically new again, but it is unrealistic to set forth those types of expectations.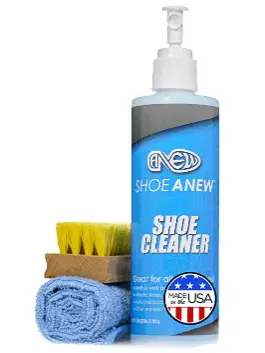 As is noted in the product description, this is not going to cure your old and worn-out shoes (as no sneaker cleaner will). What it is going to do, however, is both clean and disinfect footwear you have.
Read more
Included Items
Intentionally chosen for this kit were a nylon brush and microfiber cloth. Along with these accessories, you also get the actual shoe cleaner.
Effectiveness
In addition to cleaning your shoes, this formula is also designed to kill 99.9 percent of germs. Of course, for heavy and adamant stains, this will not work the greatest.
Compatibility
Granted you can get the fabric wet (suede will not work), you can use this with just about footwear out there.
Value
Thanks to the advanced formula, this is rated to clean up to 85 pairs of shoes. Of course, this is granted you do not over apply this solution to your shoes.
Ease of Use
Right after you clean your sneakers with this solution, you can use them as you do not need to wait for them to dry.
Overall
Bar none, this is one of the best sneaker cleaners out there. With the included accessories, you will be provided with a smooth and reliable means of cleaning your footwear.

5

. Rufus Styles Cleaning Kit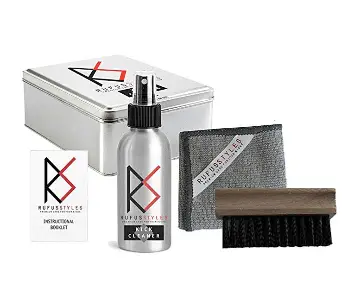 Now, this right here is a full-fledged shoe cleaning kit and it comes equipped with all the goodies. And, the superior formula that was used for the actual cleaning solution will be appreciated by several of you.
Read more
Included Items
As noted, this is a complete kit filled with all sorts of accessories. Past the solution, your purchase also comes with a bristle brush, cloth, instruction booklet, and case.
Effectiveness
In addition to the fact that no color dye is added to this formula, it has also been designed with a lasting signature scent. Overall, several users have noted that it is one of the best cleaners out there.
Compatibility
On all types of fabrics, such as mesh, plastic, vinyl, suede, and leather, this is going to work incredibly well.
Value
The bottle of solution does not last too long, but regarding everything else, the value is incredible. The brush, cloth, and case should all last you quite a long time.
Ease of Use
If you have any issues understanding anything, then you can reference the included instruction booklet. This is an excellent addition to the overall set.
Overall
Though the size of the bottle is on the small side, this kit provides you with several well-designed accessories. It does its job incredibly well too, so that always helps.

6

. Tight Wipes Cleaner Wipes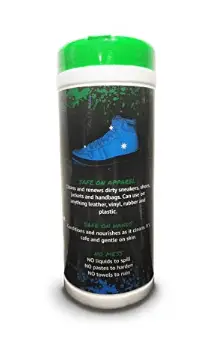 Now, unlike other sneaker cleaners on this list, these are actually wipes. They are a great choice if you really do not like messing with formulated cleaning solutions.
Read more
Included Items
As opposed to other cleaners out there, this is not a kit. All you receive is a container filled with wipes. But, these wipes were specially engineered to clean shoes and sneakers.
Effectiveness
Sure, these wipes are a bit soapy, but they perform pretty darn well. They work best if you keep up with your shoes and do not wait for them to be incredibly dirty and covered with stains.
Compatibility
Assuming the fabric in your shoes can handle getting wet, you will be able to use these wipes to clean them. This includes vinyl, mesh, rubber, leather, and plastic.
Value
For your purchase, you get 40 individual pre-moistened wipes. When you analyze the price, in comparison, you realize that the value here is quite good.
Ease of Use
It is going to be hard to screw these up that is for sure. Take a wipe and begin to clean the shoes that need to be cleaned. It is as simple as it sounds.
Overall
Some of you will not be interested in cleaning your shoes with wipes, but if you give these a shot, you will realize that they are worth the price of admission.

7

. Pink Miracle Cleaner Kit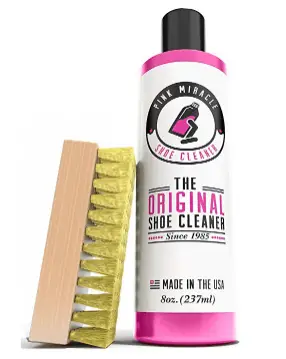 Past the actual cleaning solution, the free brush that comes with your purchase is an absolute steal. It makes this kit of sorts one of the best options out there.
Read more
Included Items
There have been some reviewers who have noted that they preferred the brush over the solution. This is such a great option because of the cleaning brush that you get.
Effectiveness
Those of you who are looking for a miracle should lower your expectations. As noted, the included brush is excellent, and the cleaning solution is reliable, as well.
Compatibility
Even if you are unsure if your current shoes will work with this, you can message the manufacturer, and they will tell you if they do or not. But, for the record, this solution will work for all washable fabrics.
Value
It is in your best interest to follow the directions to a T. The reason for this is a little will go a long way, and all you will need is just a few drops to clean your shoes.
Ease of Use
As with so many of the best sneaker cleaners on the market, both the brush and cleanser are easy to use. It is not rocket science, let's just put it that way.
Overall
The free brush that comes with your purchase puts this option over the top. The cleansing solution is pretty good, and all but the brush makes things so much easier for you.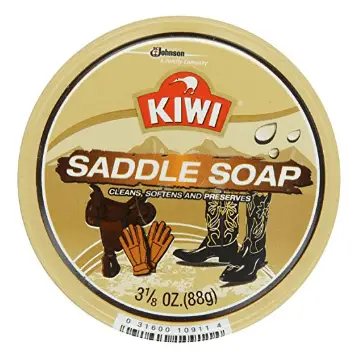 This saddle soap has been formulated with a traditional blend of ingredients. For smooth leather, this solution is going to both soften and preserve it.
Read more
Included Items
It is saddled is simply saddle soap and nothing else. It is not actually polish, though, so do be aware that it is merely just saddled soap.
Effectiveness
This has actually been formulated with high-quality wax and this is going to add protection to your leather shoes. Overall, this stuff will clean away grime, dirt, and salt stains on your leather footwear.
Compatibility
It is specifically noted that this is not to be used for suede leather. Instead, it is designed for smooth leather.
Value
The price for this saddle soap is not obnoxious or anything like that so that is good news. Additionally, you can buy this in a pack of two or three if you want to.
Ease of Use
Directly on the back of this tin are the directions you need to follow in order to use the solution correctly. Nothing taxing or anything like that is involved.
Overall
Clearly, this is only for those of you who need to properly clean your leather footwear. While this is not the most versatile option out there, it works very well.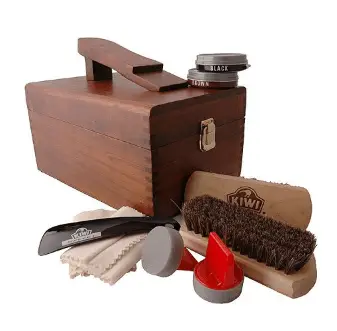 This is another sneaker cleaner kit but this one is just a little different. It includes two tins of paste polish that can be used to sharpen up some of your black and brown footwear.
Read more
Included Items
Overall, this is a 10-piece set and comes with plenty of accessories. This includes two tins of paste polish (brown and black), two shoe daubers, two soft shine cloths, two horsehair brushes, and a shoehorn.
Effectiveness
The paste polish itself does its job of polishing up your leather footwear. The two shoe daubers, also, make things easier for you when you need to apply it, additionally.
Compatibility
Technically speaking, granted you have black or brown shoes this kit is going to work for you. You could always use the cloths and brushes, also, for other purposes.
Value
The daubers and included box could have been designed with enhanced quality, admittedly. However, the value here is still good when you consider what you are getting.
Ease of Use
The actual paste polish is not hard to apply to shoes but you should also not use too much of it. Be subtle as you would be if you were painting.
Overall
Sure, the included box has been ridiculed for being cheaply made. However, the paste polish and the other accessories do make this a purchase worth your while.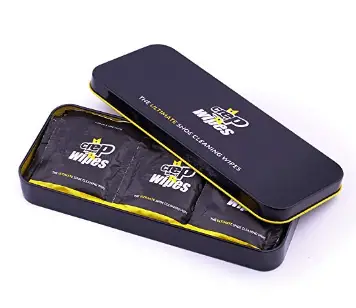 Though this option may not be what some of you are looking for, these double-sided wipes can get the job done quite well. Each side of the wipes has a purpose and makes a rather simple concept fairly versatile.
Read more
Included Items
As the title indicates, these are wipes. They come individually packaged and sealed. But, note that you only receive the wipes with your purchase.
Effectiveness
Now, these wipes are double-sided, as noted. The plain sides are ideal for general cleaning, and the textured sides are ideal for those tougher stains that you need to remove.
Compatibility
In addition to the fact that the wipes are double-sided, they can be used for a plethora of different fabrics (such as nylon, canvas, leather, and vinyl).
Value
You get 12 individually wrapped wipes with your purchase. For the price of admission, the value is decent overall.
Ease of Use
Pretty much everyone who has used these have claimed that they are easy to use. They are wipes, and they are pretty self-explanatory.
Overall
Though these wipes are not designed for anything too significant, they work incredibly well for minor cleanings and such. These are not for you if you do not have the discipline to keep up with your footwear.

Subscribe to our Newsletter