The Garmin 300C Waterproof FishFinder Review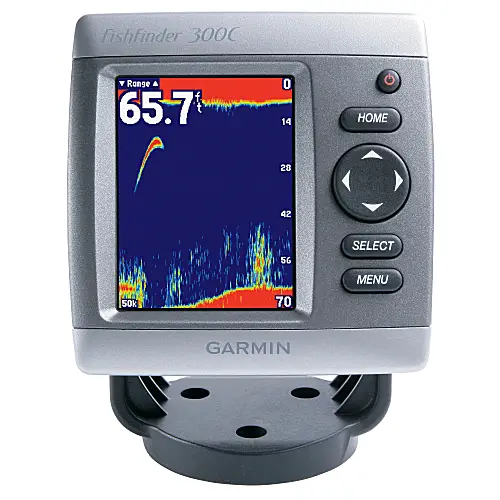 You've probably heard the name Garmin before, but you might have not ever thought about their fish finders, which are among the best in the business. Not only does this particular model offer a full color and versatile screen, but it is also one of the most portable that you will find. Let's dive in deeper to see exactly what you can expect from it, though.
While there is an endless list of reasons you should be interested in this Garmin model, I want to point out a few things in particular that will surely help you on any fishing expedition, no matter where you are headed. Once you take a look at what this fish finder has to offer, it is easy to see why you need to have it. There are very few that are capable of matching this kind of technology at function and price.
Features
With a fish finder, it is vital that you be able to see under the water. Otherwise, what's the point of even having one? This one does it easily, primarily through a few simple features:
The Display
The display featured here measures 3.5" in size. That compact size makes it one of the more portable options that you are going to find, but it doesn't make any sacrifices to do that. Even in direct sunlight, you will be able to see all of the fish that you are attempting to catch. There is nothing that will escape you when you have this great view of the water.
Sonar
Garmin has included a 300-watt sonar that offers a viewing angle of up to 120 degrees. With that power you'll be able to see down to almost 1,500 feet with ease, making this a great option for almost any place that you'll be fishing. Having a wide view sonar like this is especially vital for shallow water, but the more space you have, the larger the chances that you will be able to catch a big fish.
HD-ID
One of the things that stand out about this particular model is the inclusion of HD-ID technology. This target tracking technology gives you a view like nothing you've ever seen before. You'll be able to identify every fish that swims beneath you, and you'll never have to worry about trying to catch something that is anything other than the perfect capture.
Installation
Installation is easier than almost any other model you'll find. Their smooth Mount & Go system takes just a couple of minutes to install and with the quick release mount you'll be able to remove it even faster. An easily mounted transducer is also included so that you won't have to worry about permanently installing a transducer.
The Final Word
As far as budget fish finders go, there are a lot of places you can go wrong. Simply purchasing the cheapest model isn't going to do anyone much good, but in this case, there are affordable ones that will do exactly what they are meant to do. The Garmin 300c fish finder will certainly serve you well for years to come and help you have many more successful fishing outings. If you want to start having the best catches of your life, check one out today!