Garmin Echo 100 Fish Finder Review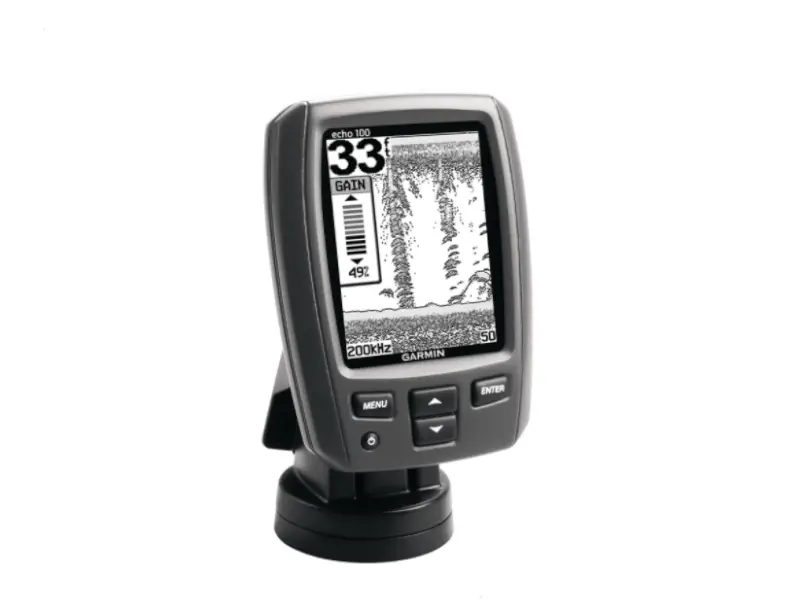 When cheap fish finders are concerned, there are a lot of things to be concerned about. The quality for one is typically lacking. That doesn't have to be the case, though, and Garmin proves that yet again with their latest offering, the Garmin 100c Echo Fishfinder. Usually, there are a lot of problems like a weak sonar, a less than the wide view of the water, and a lack of features that are essential to a successful fishing outing.
Why The Garmin 100c?
Garmin has created the 100 Echo model to be the absolute best option available for under $100, but that doesn't mean that they made a single sacrifice in producing it. Regardless of anything else, though, the price alone would make it tempting when it comes to such a major player in the game. Think about these if you are in the market and you might have a lot of success with your trips that you otherwise never would have found.
HD-ID Technology
If you are going to have any luck catching fish, you'll have to be able to see them on your fish finder. That is where the HD-ID target tracking technology comes into play and makes it easy to see what is going on and what you should be trying to catch. This makes sure that you have a great separation between images, which is handy due to the smaller screen and refreshes faster than ever.
With a single beam transducer, you'll have the ability to see down to 600 feet with ease, which is plenty for most freshwater lakes and rivers that you'll be fishing in. If you go into deeper lakes, this could be a problem, but it isn't likely. That beam is powered by 100 watts of power and a 200Khz signal, so you know you're in good hands and won't have anything to worry about. On top of that, the 60-degree viewing angle makes it even more useful and keeps you fishing.
4" Display
The 4" display size is respectable for a model of this price, but it works well nonetheless. One of the most important features of the screen is that it offers a water temperature readout, which is incredibly handy for when you are looking for fish that prefer to stay in certain temperatures, or when changing temperatures might lead to an increase in oxygen that attracts the fish you want so badly.
The screen remains easy to see in sunlight as well to help it remain useful no matter where you are. The black and white feature helps in this regard since there will be no color to bleed out in the light. For basic fishing outings, this is the best way to keep track of where you are and what fishes are available below you.
Easy Installation
Installation couldn't be easier as well. The portable size makes it easy to carry with you, but it also attaches to your boat quickly thanks to the Quick Release mount that makes it easy to take on and off. It also comes with a trolling motor clamp, making it great for medium-sized boats. Once it is attached, it is easy to use since the tilt and swivel features of the attachment make it possible to position it perfectly without every worrying about not being able to see it.
Save Space
It is easy to save space when you have a portable style model like this. In particular, it is beneficial to anyone who is on a kayak or other small boat and knows how valuable every space and ounce of weight is. This will let you never stress over the amount of weight that you are adding to your boat, but it also lets you save space for other things and never worry that you are going to take up too much room with a single product. Some other models take up a lot of room and make it hard to move once you have installed all of the wires and attachments in your boat, but that isn't the case here.
Is There Any Reason Not To Want One?
If this fits in your price range that you are looking to pay, absolutely not. There are plenty of reasons to want a model like this, but there are two things that might concern you if you are interested in a higher quality product. For most people, they won't be a problem, although some might find that they are cause for concern.
Black and White Screen
The black and white screen used here works great. That doesn't make it perfect, however, since some people would prefer a full-color option that comes with all of the features you could imagine. This one still does offer a lot and features most of the data that you'll need for fishing, but it does sometimes leave something to be desired. Look elsewhere if this is a deal breaker, but it shouldn't be.
Single Beam
The transducer that has been used is one of the tops in the business, although it is still only a single beam. The single beam signal makes it possible to find almost any fish, but it won't give you the kind of full range, wide view results that a dual beam signal can. A dual beam will give you the chance to narrow your view for fishes and keep it wide for the water floor, but that isn't available here.
The Final Word
When it comes right down to it, there are plenty of models out there that you could purchase instead. The Garmin 100c is, however, one of the cheaper models that you are going to find, without making any sacrifices when it comes to features. You'll be surprised to find that you start catching more fish than you ever could before once you have the right tools by your side, so don't hesitate and pick one up today! This is your best chance of increasing the kind of success that you have.