The Garmin Echo 550c Fish Finder Review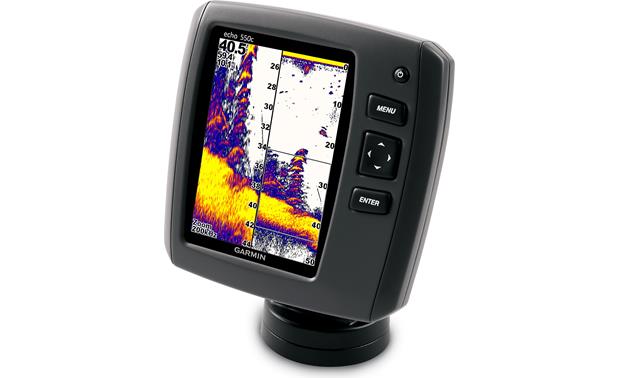 When it comes to the best fish finders, there are plenty of options that are out there on the market, but how can you know which one is going to serve you best? You can certainly go with a lot of the other products, but Garmin consistently produces some of the best that you will find anywhere, with the Echo 550c being no exception.
The Problems Fish Finders Face
There are typically a few problems that fish finders run into. They can easily be overcome by the right company, but you should know what to look for before you can understand why Garmin has made the best choice for you.
Separating Fish From Debris
It is easy to see something underneath the water. Once the sonar has sent a signal back, your unit will easily recognize that something is there. Identifying it as a fish can be an entirely different story, however. What you'll have to look at for the absolute best ability to tell the difference not only between fish and garbage, but between different fish. This will let you save your energy for the best catch.
Taking Up Too Much Space
Some fish finders suffer from a problem of taking up too much space. They are not only bulky on their own but require complicated installation to function properly. When it comes to saving space and weight on your boat, this is vital to your success and something that you should always make sure to take care of.
Limited Field Of View
Many fish finders don't have the ability to see either very far down or very wide. Some will only have an angle of 20 degrees that can be seen, which can be great in shallow waters, but you won't have much success when you are in deep water and attempting to find the best catch.
In a good fish finder, you should have the ability to aways see what you are looking for, including different kinds of fish, be able to see down at least 500 feet, have an easy to read screen that you can always see, and remain easy to use and easy to install, no matter what kind of boat you are going out on.
Enter The Garmin Echo 550c FishFinder
The Garmin Echo 550c FishFinder is meant to solve all of those problems and give you a one of a kind peek at what you can expect to catch and where. By combining a DualBeam transducer, Smooth Scaling technology, HD-ID targeting, Mount and Go functionality, and one of the clearest screens on the market, you will have confidence in your fishing abilities and rest easy knowing that there is no reason you won't have some of the best outings of your entire life.
Display
The display on the Echo 500c is one of the best in the world. The display measures 640 X 480 pixels and is capable of showing you every fish possible, making sure you never have to miss one. With the inclusion of the HD-ID target tracking, you'll always be able to track the precise target that you need and not have to worry about fishing for something that is anything other than the perfect catch.
The inclusion of Smooth Scaling is important here because you won't have to lose sight of anything, just because the depth changes dramatically. As you move, you'll be able to rewind back into your sonar history and double check areas that you have just passed through if you feel like you have missed something.
Sonar
The sonar on this model really stands out. With 500 watts of power running it, the 120 degree viewing angle is perfect and you will have a great view of everything that is going on, down to a maximum of an incredible 1,900 feet. That is all thanks to the DualBeam transducer that is used, which is one of the most powerful on the market. Taking something this powerful on the water means that you will never miss another catch again. You'll also be able to use that sonar to find the absolute best fishing spots in the water and save them so that you can come back time and time again. This is one of the most important features for serious fishermen.
Portability
This model from Garmin features an easy attachment system that makes it easy to attach it to your boat and start going. This is especially handy if you are someone who frequently uses a kayak or rented boat. It is also very simple to set up, requiring only a few button presses before it can take over and get everything ready to go.
This model might not be as portable as some of the others out there, but the ease of installation makes up for that in a huge way. If you need to save room and save time on installing your fish finder, this is one of the best choices for you.
Price
When it comes to fish finders, there is a huge range of price that may or may not suit what you had in mind. Garmin produces a wide range of them as well and this is out of the preferred price of some, but it goes to show that you do get what you pay for sometimes. With the amount that you will pay for this particular model, you'll have one of the best in the business. Doesn't that seem like something worth paying for?
The Verdict
At the end of the day, Garmin doesn't disappoint. The Garmin Echo 550c Fish Finder has everything that you could possibly need to get started catching more fish than you ever though possible and it will certainly continue to be one of the top models on the market, especially when it comes to portable ones. If you are in the market and need something that will work great every single time you use it, this is the one for you.