Geigerrig Rig 1600 Hydration Pack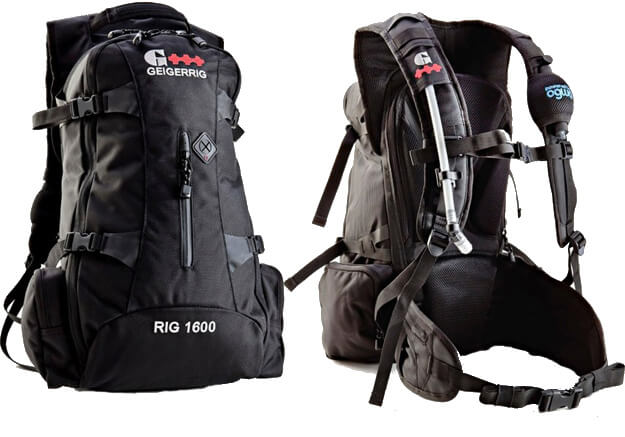 You've got to be careful with the Geigerrig Rig 1600 pack. It's so manly that, if you were to turn your back on it, it could well steal your wife, pee on your dog's bed and fertilise your morning eggs. It's the Chuck Norris of the daypack world and make no mistake.
[caption id="attachment_4656" align="aligncenter" width="600"]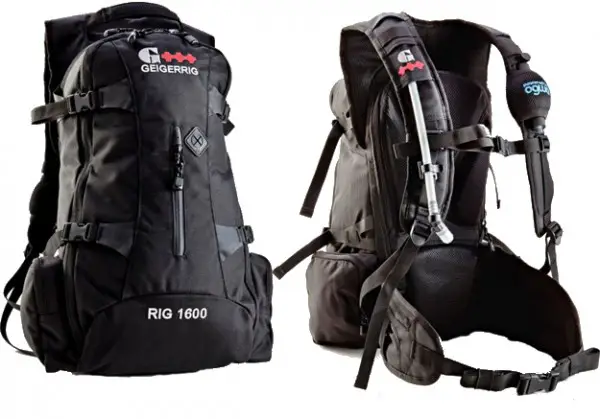 The Rig 1600. That's Mr. Rig to you...[/caption]
Built from a very heavy weight fabric called Ballistic Nylon, which was originally developed during WW2 to protect troops from flying debris, the Rig 1600 is my current choice for Search & Rescue training, which entails tramping through woodland and being poked, scraped and scratched by twigs and brambles for hours on end. The Rig hasn't suffered any damage whatsoever despite being used as a battering ram on many an occassion.
The chunky quality materials continue through size 10 zips (big buggers) and very positive buckles throughout. You feel less like you're putting the Rig on, and more like you're getting in to it.
I love the back support system, which is composed of massive soft foam pads with air channels between them. Geigerrig call it an air-drive system, and it seems to work OK in minimising the sweat patches (mind you, I haven't been running in it!). The support continues into a wide and comfortable waist strap which is adjustable and removable. The waiststrap has two stowage pockets which are perfect for a compass, keys or other small items, and feature a stretchy lycra outer so you can cram more than you'd think into them.
The bag is reported to have a 26L capacity, which makes it a pretty good size daypack. I happen to think that the usable size is a little less than this, mainly due to the sculpted shape of the main pockets. There are two side pouches which are perfect for holding first aid kit, notepad and pen, and I can access these without taking the bag off (note: not everyone could manage this feat).
[caption id="attachment_4658" align="alignleft" width="300"]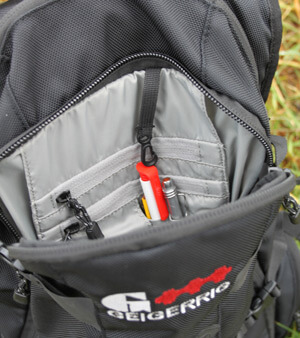 Divider pocket. OCDtastic![/caption]
A small front pocket is designed for an MP3 player and features a showerproof headphone outlet. I don't think I'd ever use this for a music player - it feels too exposed to nefarious tampering and damage from knocks. I keep 3 muesli bars in there instead!
The main section is divided into two. The larger, full-height pocket is OK for stuffing in a coat, overtrousers and camera. The slightly smaller middle pocket is good for flatter items, and has an organiser for pads and pens, phone and cash, which I love.
The Geigerrig's party-piece is its hydration system, which sits in a pocket nearest your back. It has a 3L bladder (good for a whole day's walking) and Geigerrig's patented drinking system. Unlike every other bladder, where you have to suck on a tube to get a drink, with Geigerrig you pressurise the bladder using a hand-pump and then water squirts out in a jet.
It's easy to dismiss this as a gimmick until you've tried it, but there are some clear advantages over a 'suck' type bladder. If you want to share water with your dubiously unhygienic friend, they don't need to make contact with anything in order to drink. You can use the jet of water to clean off things like wounds without touching them. And if you're out of breath after, or during, a steep climb then you don't have to summon up a suck in order to get a drink. A very neat idea!
[caption id="attachment_4657" align="alignright" width="300"]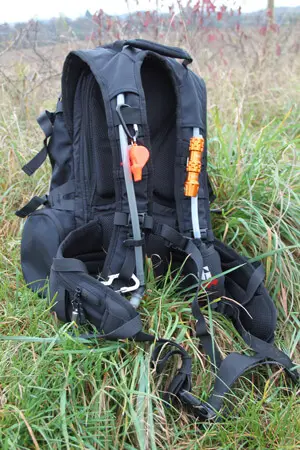 Chunkier than a chunky thing[/caption]
The shoulderstraps are where you'll find the inflation bladder (like an old blood-pressure pump) and the drinking tube. These are all housed securely so there are no flapping loose parts to whip you in the face. There are also a couple of gear loops which I carry the Icon Link torch and Lifesystems Survival Whistle on, so they're close to hand when I need them.
If you're in to the tactical-style or urban-warrior look then the Rig 1600 will probably appeal greatly. It feels bombproof, but the tradeoff is weight. Completely empty it weighs in at 1.5kg, which is immense. This is a pack for those of us who aren't conscious about carrying a lot of weight, or generally don't need much stuff - runners, forget it.
SUMMARY: The Geigerrig hydration system is a brilliant winner of an idea in many applications, with it's pressurised delivery of water. The Rig 1600 pack is a great bag to house it in, and has performed excellently so far. However, it has a few downsides in that it's not fully waterproof, it weighs a LOT and its capacity is severely limited when you have the bladder full of water. That said, it's my first choice for crashing through a remote woodland.

 Price: £115
 More: Geiggerig
Subscribe to our Newsletter