Humminbird 561 DI Fish Finder Review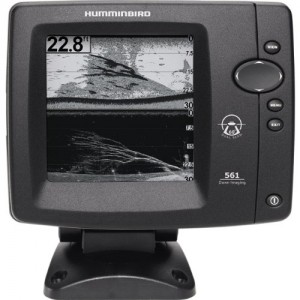 Humminbird fish finders are incredibly popular among anglers, and for good reason. The Humminbird 561 DI is just one of the many fish finders out there made by the Humminbird brand. Once you master this fish finder unit, it has the potential to greatly increase the success you experience during all of your future fishing trips.
Display
Measured diagonally, the size of the Humminbird 561 DI's display is 5 inches. In comparison to the displays of other fish finders on the market, the size of this fish finder's display is a little on the small side, yet it definitely isn't the smallest. The resolution of the screen is 320 x 320 pixels, which is fairly excellent when you consider the size of the display. Therefore, you can expect the images of this fish finder to be sharp and clear.
Unfortunately, the Humminbird 561 DI's display supports 12 level grayscale instead of color. This will likely make details harder to identify and distinguish for users.
A feature that is rather unique to this fish finder unit is that it offers users a split-screen view. One side enables users to see the Down Imaging while the other side allows you to see the image produced by traditional 2D sonar. Seeing both of these images side by side will give a whole understanding of everything below your boat.
SwitchFire Sonar
The Humminbird 561 DI utilizes the exclusive SwitchFire sonar, which allows you to decide how you want your sonar returns to look. This sonar allows you to change display modes quickly, as well as add or remove detail whenever you please. The sonar also enables the user to take turbulence, water depth, and temperature into account. Taking all of these factors into account will allow you to achieve a true understanding of what is occurring in the water below you.
The SwitchFire Sonar has two modes – the Clear Mode and the Max Mode. The Clear Mode is best if you're fishing in rough waters. This mode works by filtering out any noise produced in shallow, agitated waters, which will result in a clearer image of the structure and fish in the waters. The Max Mode provides users with detail that is no short of incredible. This mode allows you to see water currents, thermoclines, structure, and of course, fish. The Max Mode is best if you want to monitor your lures, as it allows you to keep a close view on your bait and jigging action, so you can perfect your lure presentation.
Down Imaging
Not only does this Humminbird fish finder utilize SwitchFire Sonar, but it also takes advantage of Down Imaging technology as well. The Humminbird 561 DI even has a Dual Beam Plus feature as well. This feature allows users to target fish and structures, which will improve your ability to differentiate between the two.
One advantage of Down Imaging is that it shows a more realistic view of the waters beneath you. On the other hand, traditional imaging tends to just show you blobs. Another advantage is that Down Imaging often produces beautiful, clear images.
If you're a beginner when it comes to fish finders, then the Down Imaging feature will likely be a godsend for you. Down Imaging will likely accelerate the learning curve for you, so you can move on to traditional sonar. With Down Imaging, it is very easy to tell whether something is a fish, tree, or bait.
Admittedly, once you learn how to use traditional sonar, you won't use Down Imaging as much as before, however, it will still have its time and place. For example, Down Imaging is useful when it comes to locating fish that happened to be suspended in debris or plant life.
The Humminbird 561 DI most certainly isn't perfect, but it may end up being the right fish finder unit for you. This Humminbird fish finder combines powerful technology into a compact unit and offers it to anglers for a relatively low price, especially when one considers what they're getting.
http://www.youtube.com/watch?v=E0_HibG3l6w