Okuma Tundra Surf Glass Spinning Rod Review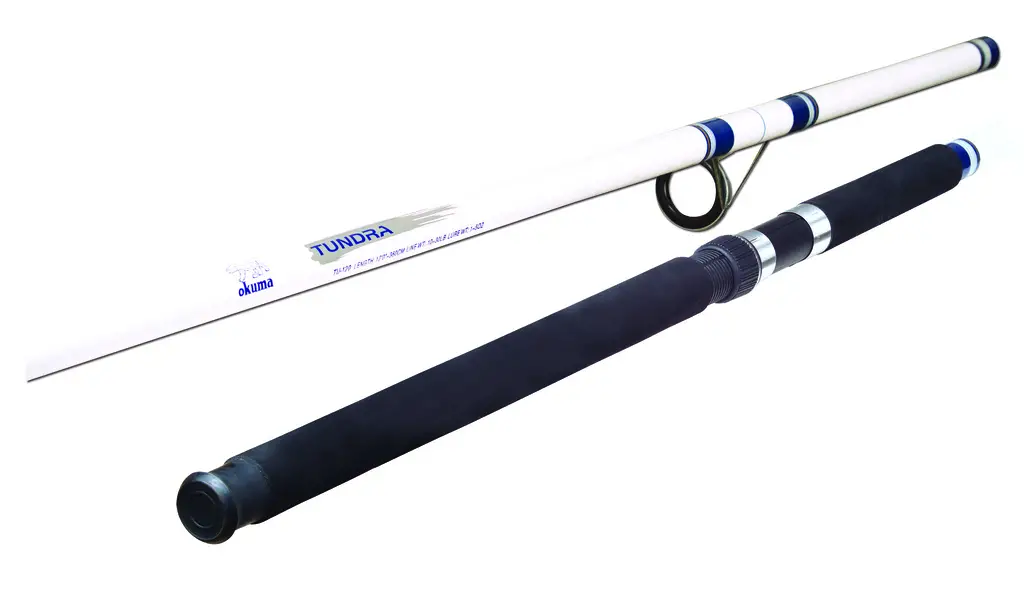 There is nothing that frustrates a surf fisherman more than when the surf is rolling and you can see where they are breaking. You know that there are big fish right at the edge of the break, but it's just out of casting range.
That's when you need the Okuma Tundra Surf Glass Spinning rod.  
At 15 feet long, it is a beast. It is rated for line up to 30 lb and lures up to 8 ounces. To handle the stress, the guides are double footed.
You won't be doing any plugging with this outfit, unless you are Hercules. If you are trying to throw chunks out past the breakers, then you need the rod that will get you there.
Okuma has used the latest technology to make this rod with glass fiber.  It's one of the strongest materials available for fishing rods.  For surf fishing with heavy lures and weights, that technology will not go unnoticed. A less sturdy material would never last long in those kind of conditions.
Not long ago, to get a rod made of the same material meant spending hundreds of dollars to get a custom built blank. That put it out of the reach of most anglers. Guys like me that had to watch with envy as others were able to launch their tackle into orbit.  
Thanks to Okuma, anybody can get in on the action. I almost feel bad for the fish!
Using the same glass fiber for the entire line-up, Okuma Tundra comes in different sizes and ratings. Starting at the 7 foot all the way up to the 15 foot.
The right one for you depends on what kind of fishing you plan to do.  Obviously, if you are just dropping a line off of a pier, the 15 foot rod might be overkill.  Just as the 7 footer won't get your bait out past the breakers if that is what you need to do.
Keep reading for all the details to make an informed decision. The right rod is out there, you just need to figure out what your needs are.
Our review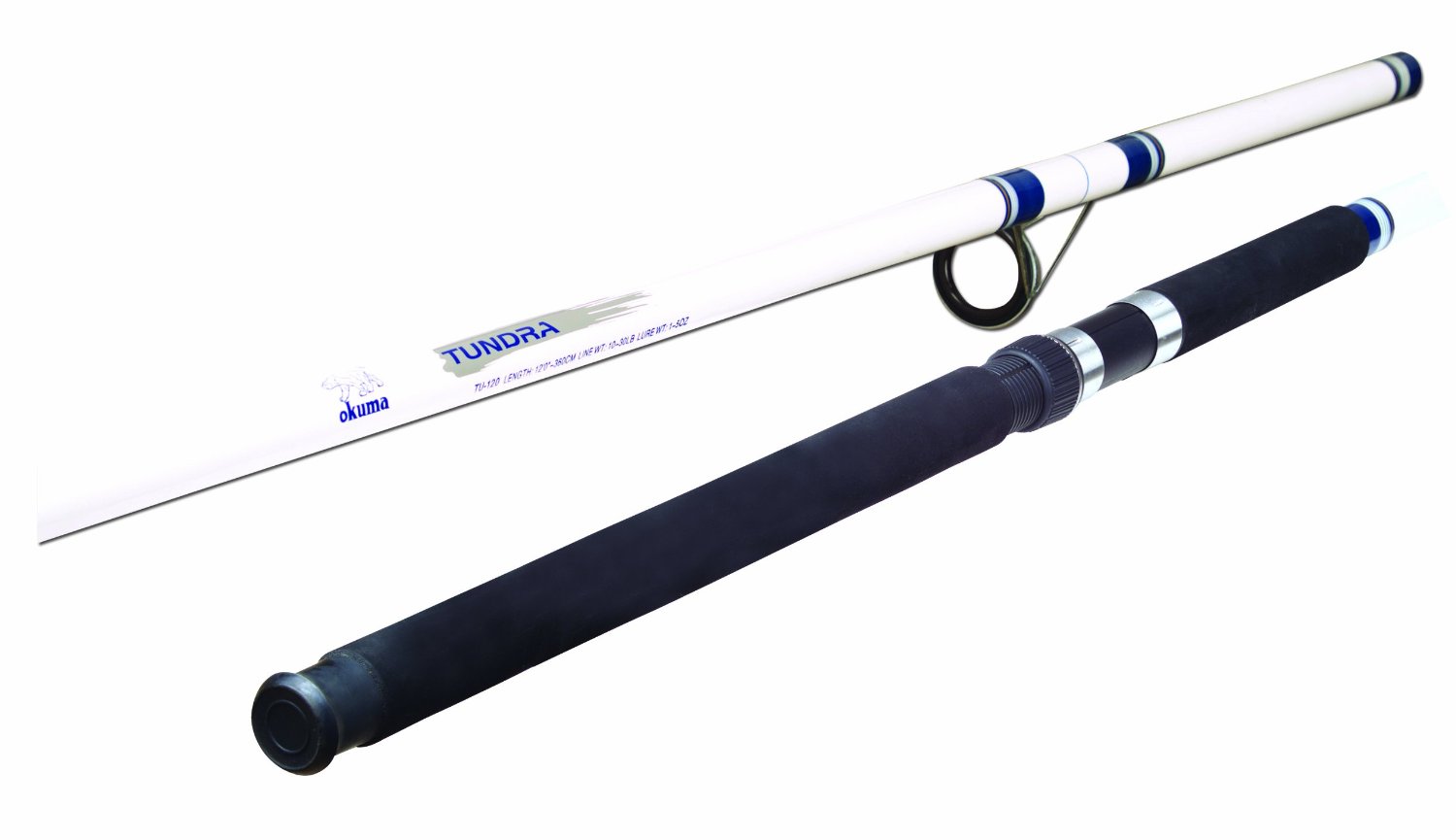 Before we get into all the things there are to love about the Okuma Tundra, let's address a couple of the cons.
One thing to do before hitting the surf with your new rod should be to lightly sand the connections of the sections. When you assemble the 3 pieces, they are hard to remove and you could damage your rod if you force it. So, getting a little bit of roughness to the spots where they connect will help in getting them apart without making them weak.
Another important task is to thoroughly wash your rod with fresh water after using it in the salt. And storing it in a dry area like a garage is always a good idea. Any rod should be maintained the same way, but with most rods, it isn't an issue if you forget once or twice.  Even though the Okuma is made with anti-corrosive materials, I'm not sure if they did a thorough enough job. It has been reported that it tends to rust after some time without the proper rinsing.
Neither of those things should deter you from getting yourself one of these rods, however.
If you are new to distance casting from the surf, expect to practice a little to get your form just right.  Once you have it mastered, you will be amazed at just how far you can launch.
The rod feeds the line well and the ceramic guides allow it to flow. It's a very smooth casting experience. Since the guides are asked to bear a heavy load with up to 8-ounce weights, they are double footed for added strength.
For a big rod and on the stiff side due to its length, the tip is surprisingly soft. If you have your drag set light or you are using a bait feeder, the tip won't resist causing the fish to spook when taking the hook.
The glass fiber gives the rod enough flexibility to really whip that bait or lure out. Usually, glass blanks lack sensitivity, but Okuma have found some way to mitigate that.
The Okuma Tundra line of glass fiber surf rods offer every angler a tool in his arsenal for any occasion.
The Okuma Tundra TU-150, the 15-foot surf casting rod, is built to get the bait out to where the fish are. It's a great rod for chunking bait and putting the rod in a holder.
While that bait is soaking out past the breakers, the smaller TU-100, a 10-foot rod, is great for long casts into the surf while still light enough to do some plugging. The glass fiber is still soft enough to give the tip of the rod some great action allowing for a realistic presentation of the lure.
If you just need to do some casting from a pier or boat, the TU-70 is the perfect size at 7 feet.
And, there is also the TU-80, TU-120 and TU-130.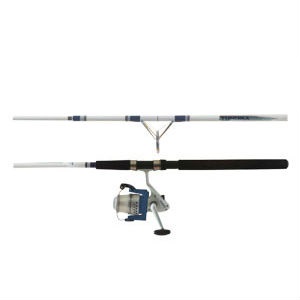 Decision time
When it comes down to return on investment, I don't think you can do better than the Okuma Tundra Surf glass spinning rod.
For the angler who is just getting into distance casting, there is no need to pay hundreds for a similar blank. The money saved on the blank will help pay for an excellent reel.
You won't catch many fish if you can't get the bait to them. With that in mind, the Okuma Tundra TU-150 is a must have rod in the serious angler's arsenal.