Patagonia Powder Bowl Jacket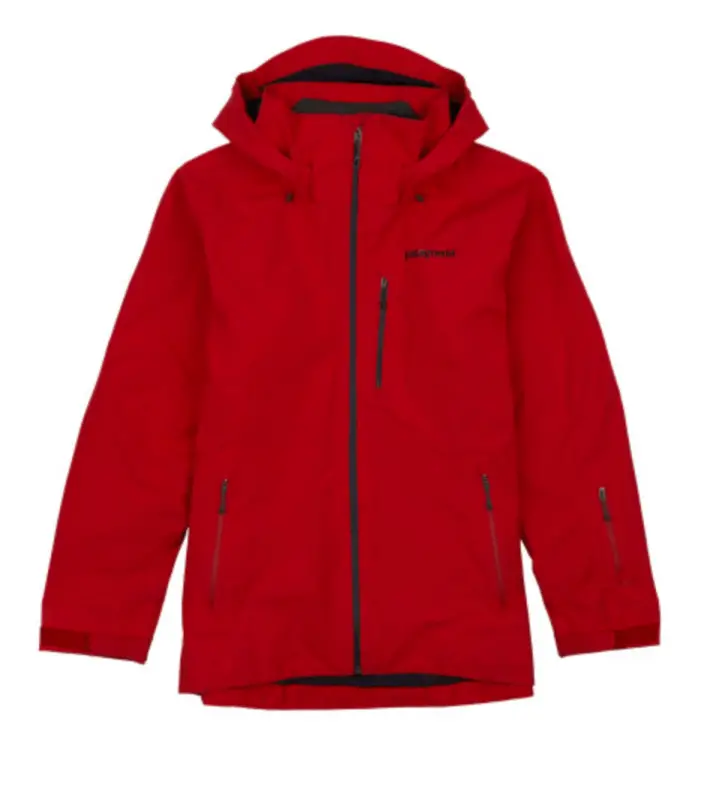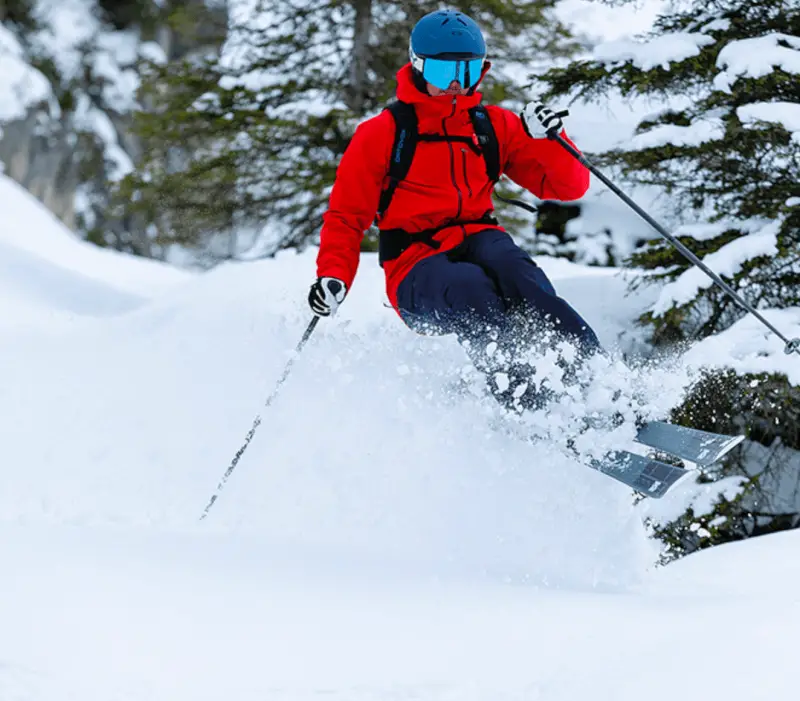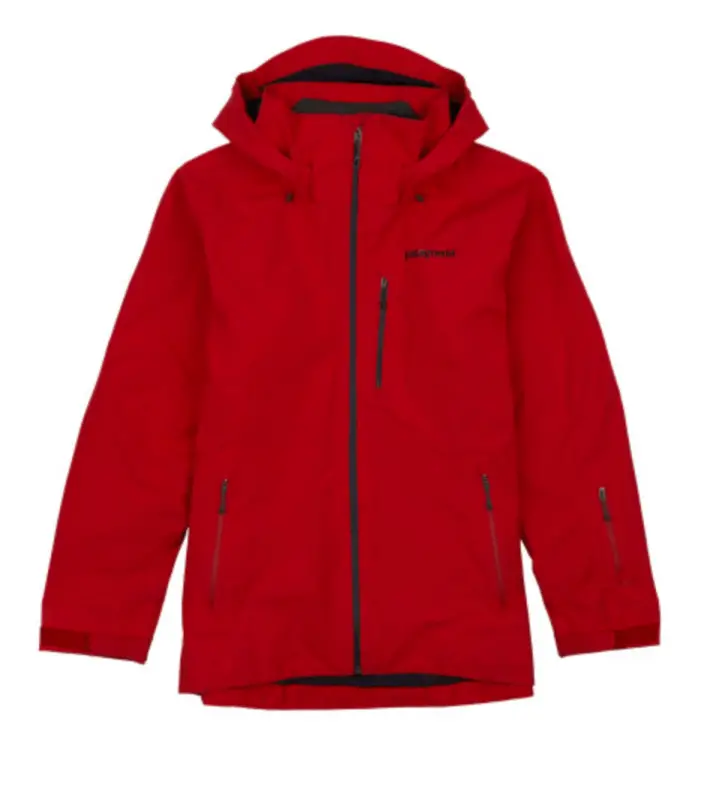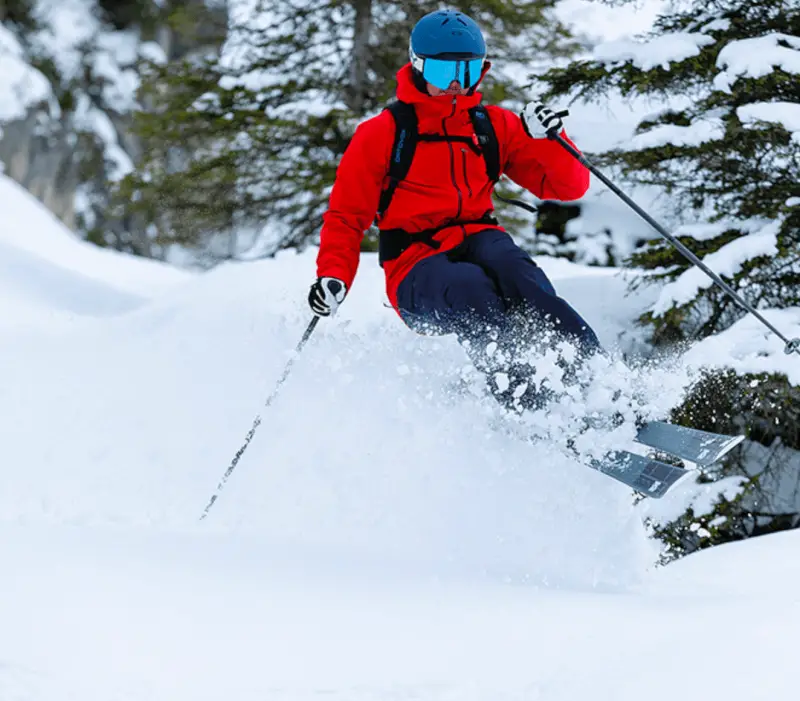 Our Conclusion
Finding a winter and ski jacket that perfectly combines protection from the elements, superb functionality, and breathability is not easy. But Patagonia has managed it with their Powder Bowl jacket.
Try it out for yourself, and you'll see this
ski jacket
is plenty warm, a good fit and comes out on top among the competition for snowboarding jackets. Although not the lightest winter coats, stopping the ice-cold rain from soaking through your skin makes this extra weight worth it.
Patagonia's outdoor wear is famous for several reasons, one of which includes its commitment to using recycled materials. Not to be left out, the Powder Bowl winter jacket is made up of 100% recycled polyester GORE-TEX membrane.
In addition, this GTX membrane is incredibly water-resistant, leaving you free to shred the slopes securely.
Key Features
Key Features
Ease of Use
Buying any expensive active gear is always a risk; you're never sure if it's going to do the job. But the Powder Bowl is efficient in pretty much any weather. The hood is easy to use and effective. Simply cinching the single drawcord at the back and using the dual adjustments at the front make keeping out the rain and cold easy.
Fitting the Powder Bowl oversized hood over medium
ski helmets
like Smith Level and POC Obex isn't tricky either. Although the hood does bunch slightly when turning to turn your head dramatically like any other jacket, the side-to-side movement is flexible, and there's no noticeable drag for snowboarders.
Pulling the jacket on over gloves and mittens is also easy due to the big adjustable wrist. The hood is also a little on the big size, but that makes zipping the jacket up over your chin easy, which you need on freezing days.
Comfort and Fit
Copying the ski jacket fit cleverly matches comfort with style, ensuring the Powder Bowl jacket is both loose and roomy without being excessively baggy. Adding extra layers in extra cold weather is easier with all this extra room. However, not everyone is a fan of this fit, and some users find the design and fit a bit boxy.
You'd think the Gore-Tex outer shell would make this Patagonia jacket stiff, but it starts soft and only gets more flexible with wear. You might also assume the non-removable powder skirt underneath would be bulky, but its size and comfort are spot on.
Although the small seems to be true to size, some reviewers have an issue with the larger sizes. It seems Patagonia is in the habit of increasing their sizes a bit drastically over the years.
Although many like the extra rooms this brings for extra comfort and layers, be sure not to take the tags off until you're sure the fit is right.
Weather Resistance
For those not perturbed by lousy or even risky weather, the Powder Bowl jacket is a perfect fit. The two layers of sturdy and exclusively designed polyester Gore-Tex fabric are unyielding in their defence against even the most adverse weather conditions.
Adding exposed, airtight zippers for the main zip, plus a water-resistant coating for some pockets, adds extra protection against moisture. Plus, the sizeable adjustable hood is more than adequate to fit over a helmet and further shields you from the elements.
Moisture also beads off the inside and outside due to the mesh wick lining, which keeps you cool and dry from both rain and sweat. So you'll likely see beads of water running off the front of the coat, but not the inside.
However, a non-insulated jacket might not suit anyone who needs a jacket with more warmth and insulation, although there is an insulated version available.
Even if warm enough for most weather, if you're skiing or planning on being in icy environments, you may want to use this jacket as your top layer and add a warm mid-layer.
Materials
Superior and recycled materials are what make this jacket simultaneously eco-conscious, durable, weather-resistant, and breathable. Quality is never an issue from Patagonia, and the Powder Bowl jacket is no different with a high-quality build.
Keeping dry from rain, snow, and the wind is easy with two layers of GTX waterproof membrane. The thick 150-denier shell and durable water repellent (DWR) coating also create extra durability and robustness.
Unfortunately, the mesh lining doesn't feel as high-quality as the rest of the jacket, but it keeps moisture out and avoids sweating, so I don't think this is a huge issue.
Durability
Given Patagonia's reputation, plus the quality build, quality materials and addition of an Ironclad guarantee, there are no worries about the longevity of this gear.
In addition, Patagonia guarantees everything they make for a repair, replacement, or refund. Given that, the Powder Bowl Jacket feels well made, and all the zippers, drawcords and hood functioning flawlessly.
Comparison to Similar Jackets
Although the hood for this Patagonia jacket is fantastic, it does leave the cheeks slightly exposed. If that's a big deal for you, then the
Arc'teryx's StormHood
found on ranges such as their Sabre AR covers the cheeks a little better, but the difference is probably minor.
Although quality and high-end materials make up this active gear, as mentioned, the mesh could be of slightly better quality. If you're looking for something luxurious inside and out, then the
Helly Hansen Alpha 3.0
is worth a go.
Although this Patagonia jacket brings value for money due to its high-end performance and quality materials, it's not the cheapest jacket. If you're looking for something more affordable, you could check out the
Columbia Wild Card jacket
. At about $100 less, it's inexpensive, warm, comfy and stylish.
Then you've got the
Columbia Whirlbird IV Interchange
, which is warm, comfortable, has three jackets in one and is even cheaper at $200 less than the Powder Bowl. However, without a doubt, neither jacket has the weather resistance, style, or functionality to beat this Patagonia range.
Verdict
As a high-quality brand, getting the best from Patagonia is expected. The Powder Bowl jacket doesn't break the pattern with warm, comfortable, highly functional, and weather-resistant features.

Helping you stay warm and protected from the elements is easy with this Patagonia range, whether you're planning a long day on the slopes or a winter's hike.

The watertight zipper, two layers of GTX material and mesh 'wick' lining mean you stay warm and dry from the cold without getting hot and sweaty. Why wouldn't you want to keep out that gnarly weather?