Best Badminton Sets
In a
Hurry? Editors choice: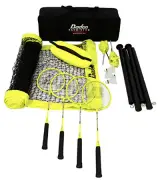 Test Winner: Baden Champions

Long before
tennis games
and volleyball, there was a game that we call badminton. Many believe that the game originated 2,000 years ago in ancient Greece, China, and India, and was called battledore or shuttlecock. In the 19th century, badminton picked up popularity in the town of Gloucestershire in southwest England. It gained up its name from the House of Badminton where it originated. Today, it has become one of the most popular
outdoor games
to play with your family on a hot summer day.
This game can be played by up to 4 player that work in teams of two hitting a birdie back and forth over a net, using a special racket that looks like a delicate tennis racket. Many companies offer them in complete sets that include the birdie, rackets, and even the mount for the nets, and they typically are not all that expensive.
Standout Picks
Criteria Used for Evaluation
Accessories
While conducting our badminton sets reviews, we wanted to make sure that every package came with everything that you would need to start a match right out of the box. You have to be careful with some of these brands - because not all of them come with everything included. Some offer just the rackets and the birdies, while others just supply the netting and anchors. We were drawn to companies that included more than just one birdie. If history tells us anything, it's that the odds of the very first birdie served will most likely end up on the roof of your house. Another important feature that we kept in mind was whether the package had all of the hardware that you would need to make sure that the net stays in place. That hardware includes things like stakes to help the pole stick to the ground, ropes to help adjust the tension of the net, and ground anchors to ensure that the net continues to stay taut throughout the game.
Ease of Use
No one likes dealing with complicated installation, including us. We made sure to really make sure that assembling each unit wouldn't want to make you pull out your hair. One of the ways the users become frustrated was when the netting was incredibly thin. The thinner and cheaper the netting was, the more prone it was to becoming tangled. No one wants to spend a beautiful summer afternoon sitting on the lawn trying to untangle netting. There were a few designs that were actually perfect for those that didn't want something awkward to mow around all summer, and that was the Zume and EastPoint Sports designs. These models didn't require any posts to be put into the ground. They are set up from a base stand that you affix the poles into. When you are done for the day, tearing it down takes minutes so that you won't have to contend with a net in your backyard all summer.
Durability
This was an important thing that we looked at because if it's not made from quality materials it isn't going to last very long. We made sure to select models that used steel or aluminum material for the poles as well as the rackets. Some companies make their poles and rackets from PVC. While PVC is an incredibly strong plastic, it just isn't ideal for these types of sets because it doesn't have the same weight as metal. You want a racket to have a little bit of weight to it to drive the birdie, and you want poles that have a certain amount of weight to keep the net in place if there is a bit of a breeze that day.
The general rule of thumb when it comes to these products is that the more money that you spend on them, the longer they are going to last. The units that fall on the low end of the price scale will function the way that you will want them to function- but you might run into some durability loss as the season progresses. You might notice that the padding on of the rackets is starting to come undone or that the netting is starting to fray at the edges. None of these things should affect your game, but it just means that it won't look as nice as time progresses. The higher prices designs will set you back a pretty penny, but they will last you a lot longer without suffering from durability loss as time goes one. One way to ensure that you get the most life out of your products is to be sure to store them away so they aren't subject to the harsh elements such as the hot summer sun or rain. When you are done using them, store them into the nice carrying case that is included to ensure that your set will last for many years of outdoor recreation.
Value
Unless you are looking to train for the Olympics, you are probably shopping for something casual and easy, so the professional badminton sets might not be worth the exorbitant price tag. While we still kept an eye on the materials used as well as what past users had to say, we also made sure that the price tag didn't get too high. We also made sure to select some of the more affordable options that wouldn't set you back much money at all. These products typically weren't made from the highest quality materials, but they work well enough to be functional.
Subscribe to our Newsletter