Best Bivy Sacks
In a
Hurry? Editors choice: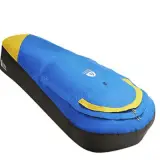 Test Winner: Sierra Designs Backcountry

So what exactly are these mysterious bivy sacks? Simply put, it's a shelter made for you to use for sleeping outdoors (much like a
sleeping bag
). But unlike a tent, these sacks are made to be big enough for you, your sleeping bag, and a small number of things. Bivy sacks are useful if you're gearing up to enjoy some outdoor adventures during the colder months, and you want something that's easier to pack and carry than a tent and still offers plenty of warmth and weather protection. If you are planning an outdoor adventure soon and think that a tent will be too heavy to carry and want to consider purchasing one of the best bivy bags for a lighter option, then you have come to the right place.
Standout Picks
Criteria Used for Evaluation
Weather Resistance
Since this type of bags is designed to be shelters that help protect you from the weather outdoors, and should also assist you with keeping bugs away from you like mosquito repellents, you'll want to make sure you select the one that's right for you so you experience plenty of fun each time you camp. You don't want a bag that won't meet your needs since you'll be miserable each time you venture outdoors to camp. To help you make sure you get the weather protection you need, you'll need to consider a few things about where you'll be going and what the weather will be like before you select your bivy bag.
If you know you're likely to experience cold weather conditions that can also include snow and rain, then you certainly need a bivy bag that has enough warmth and weather protection to keep you sleeping happily through cold winter nights. When we're analyzing weather protection with bivvy sacks, you'll need to take a look at the fabric that's designed into the bivy, because that will tell you a lot about the amount of warmth and weather protection you are likely to experience whenever you use your bivy bag.
Bivy bag manufacturers use a wide variety of fabrics on the exterior shell of their bags to help create levels of weather protection that work well in a variety of climates. Some bivy bag brands offer fully waterproof bivvy sacks that feature Gore-Tex materials designed into them. Gore-Tex brings you the best level of waterproof protection to handle all elements but isn't always as breathable as some other fabric choices. However, many bivy brand manufacturers that use Gore-Tex on the exterior shells of their bags also design good ventilation systems into the bags to help balance out the breathability of the fabric.
Some other bivy sacks are designed with other water-resistant fabrics that are more breathable, although not fully waterproof. However, these water-resistant bags still offer ample amounts of protection and are usually made out of ripstop nylon and a DWR (durable water repellant) coating sprayed over the exterior of the shell. You'll still get some protection from the rain from these bags, but they aren't fully waterproof, although they do breathe better. Plus, most bivy sacks on the market today also feature some type of protection from bugs, like a screen that you can roll up and pull down.
So, depending on where you'll be going and the weather conditions you are likely to encounter, you can decide if you need a fully waterproof bivy bag or one that offers a decent level of weather protection.
Comfort
Since you're going to sleeping outside, possibly for many nights, in the bivy bag you purchase, you want to make sure you buy one that gives you enough comfort to help you sleep soundly through the night each time you use it. You don't want to wind up with a small, non-flexible, uncomfortable bag you can't sleep well in, or you'll feel miserable each time you want to take an outdoor camping trip.
So, when you're analyzing how comfortable your bivy bag will be, you want to look at how well you are protected from bugs, how much room you have to move in the bag, how easy the bag is to use, and the quality of the interior fabrics that are used to create comfort in the bivy bag.
Since most people like some range of movement to find comfort as they sleep, you need a bivy bag that provides you with enough space to be able to achieve this while it's still lightweight and easy for you to carry. Bivy sacks won't give you as much space to sleep as a tent, since they are made to compress and pack down, but do need to be roomy and flexible enough so you can find your favorite way to sleep.
More lightweight bivy sacks tend to offer less freedom of movement inside the bag since they typically aren't as roomy to sleep in. Heavier models designed to hold up for all four seasons won't be as light to carry but will create more comfort each time you sleep.
Breathability
Depending on the waterproofing technology used on the bivy bag, and the fabrics made to create the product, ventilation can really vary from bivy bag to bivy bag. Typically, the more waterproof your bivy bag is, the less ventilation you'll get, and how much breathability you need from your bivy bag will depend on where you plan to take your outdoor adventures.
Some of the higher-quality, fully waterproof bivvy sacks don't offer as much breathability as their water-resistant counterparts, but still, several manufacturers design other features in their bivvy sacks to try and counterbalance this problem. If your bivy bag comes with zippers, you'll still be able to allow moisture and water to escape from your sweat easily as long as you can easily access them, allowing you to control the ventilation on your bag. Other bivy bag manufacturers make their bags with mesh vents and more breathable fabrics that are still water-resistant but not fully waterproof.
Since you don't want to experience any uncomfortable condensation build-up from perspiration on the interior area of your bag, you'll want to make sure that even if you purchase a highly waterproof bivy bag, you can still ventilate the bag well. Also, if your bivy bag comes with poles that help give you room around your head, you'll be able to benefit from the extra air ventilation provided by this, so consider looking for a bivy bag that gives you this option.
Weight
Since you'll be packing and carrying your bivy bag along with you on your camping adventures, you'll want to make sure you get a bivy bag that's easy for you to carry and still brings you all the features you need to stay protected while you are outside. Some of the more lightweight models won't offer you as much space and comfort, or as many features since their design is far more streamlined.
More lightweight bivy sacks are usually designed with bug nets, which help protects from bugs, but bug nets can still allow rain and snow in if the weather conditions get very cold and moist. However, other bivy bags feature an additional choice of poles so that you can use the extra netting as you need it.
When you're trying to decide how lightweight you need your bivy bag to be, just make sure you don't sacrifice other elements of comfort and protection, since most bivy sacks, even the heavier ones, are still made to be easy-to-pack and easy-to-use.
Packed size of your bivy bag selection is also an important factor to consider when you're trying to figure out the weight of the bivy bag you need. Depending on how much bulk you can handle, you'll want to make sure you get a bivy bag that easily fits your pack and doesn't create a lot of discomforts as you carry it. Since the amount of weight that can be carried by outdoor enthusiasts can vary from person to person, this is really a matter of personal preference. However, you want to make sure you select a bivy bag that's got everything you need while it is still light enough for you to compress and carry.
Subscribe to our Newsletter