Outdoor Research Helium Bivy
Setting the bar extremely high for outdoor bivy sacks, the Outdoor Research Helium Bivy wows adventurers with its comfort, lightweight and super-fast set-up. It ticks all the boxes for adventurers as their lightest, best-selling, and most awarded bivy sacks.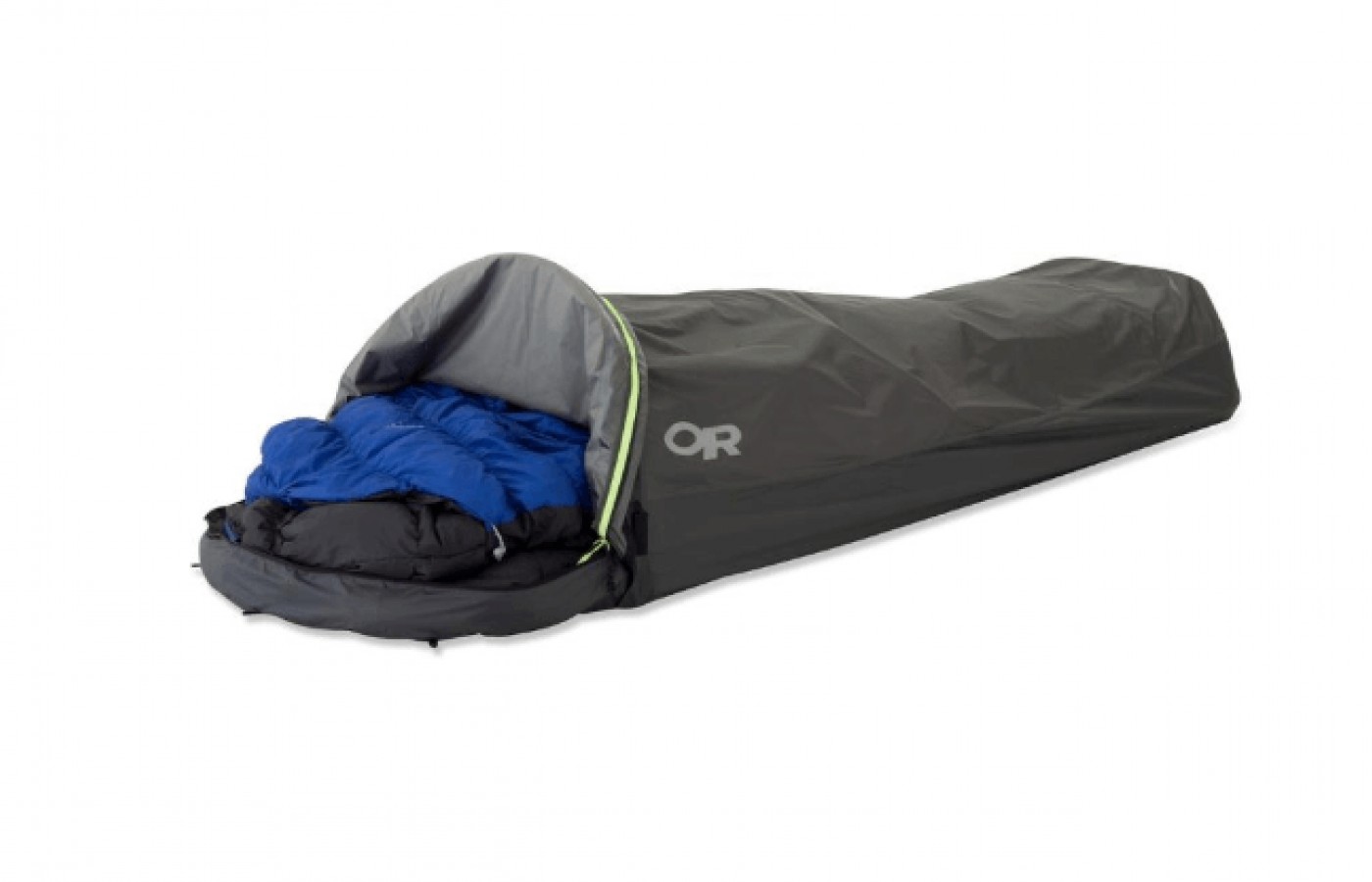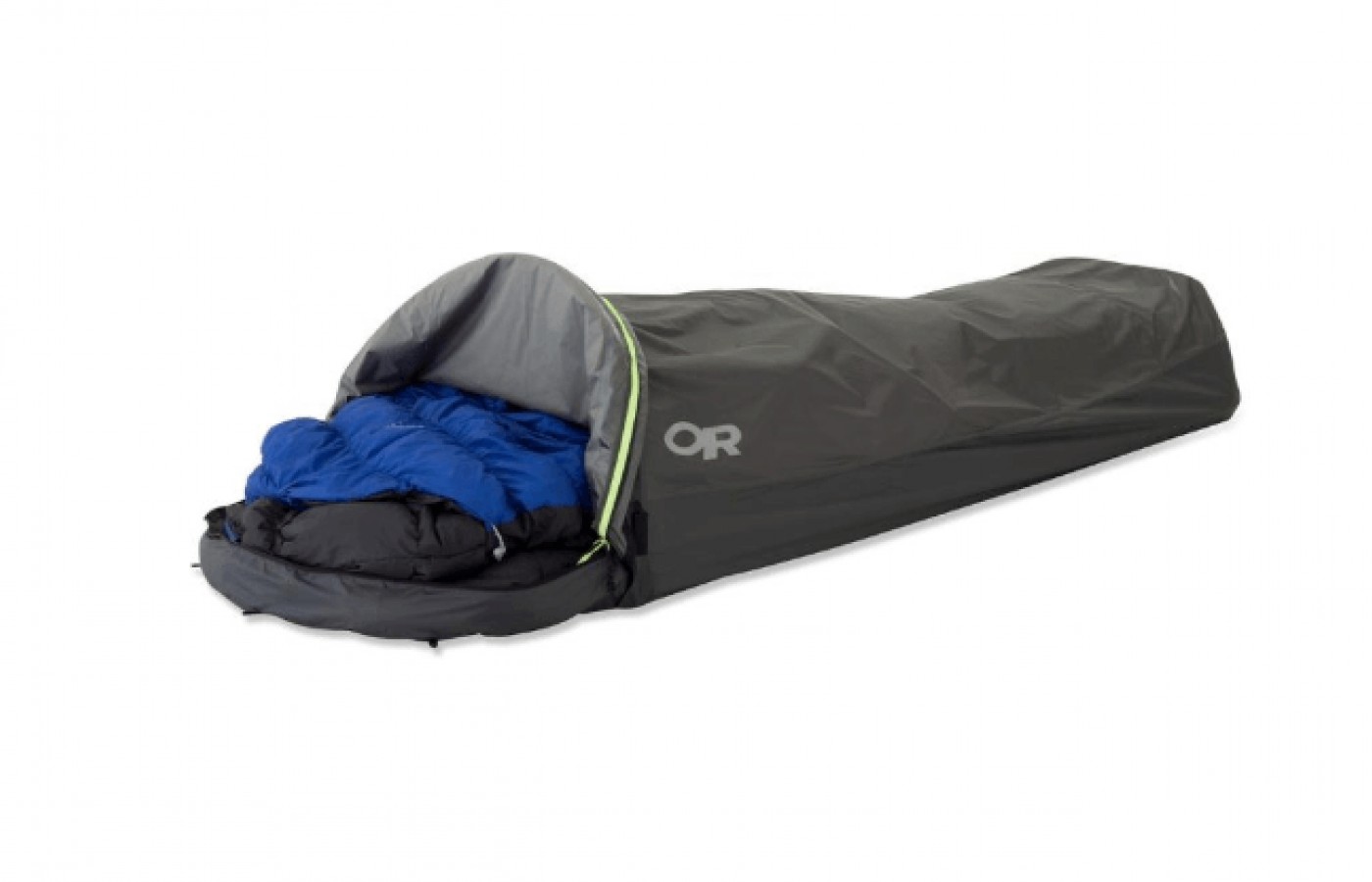 Our Conclusion
Providing weather protection, warmth, durability, and a lightweight carry, it's easy to see why this bivy has become the most popular option for hikers and campers. When feet are sore, legs ache and your back desperately need to stretch out after a long day's hike, and the OR Helium bivy has you covered with its easy set-up.
This minimalist
bivy sack
gives you everything you need, providing a super lightweight carry, plenty of room to move around and durable materials. Even at such an affordable price, no matter what the great outdoors throws at you, you'll be snug and cozy.
Pros & Cons
Issues with breathability
Not long enough for those over 6 feet tall
Key Features
Key Features
Design
The complete useability of the Outdoor Research Helium Bivy is what makes it stand out. It's hands down the ideal shelter for minimalists looking to save every ounce of weight in exchange for lightweight, speed, simplicity, and performance.
With set-up and break-down a breeze, you'll be relaxing after a long hike or off on your next adventure in no time. Simply unroll the bivy and insert one small pole near the head, using the two stake looks.
What's more, the no-nonsense clamshell opening is easy to use in any season, including freezing weather. Make sure to use the one guy line loop and two stake hooks to keep the structure best when you're sleeping and reduce condensation.
Generally, you can't complain about how easy using the OR Helium Bivy is to use, even when camping for several days.
Weather Resistance
Despite its lightweight nature, the OR Helium Bivy turns out to be an excellent shelter against the forces of nature. Some conflicting reviews online from reviewers who have got wet in heavy rain may lead you to believe this bivy sack is not waterproof. However, these reviewers probably didn't realize this issue was due to humidity and condensation.
Humidity is a common problem with bivy bags and something you will never get away from. It's very improbable that this bag would ever leak due to its Pertex Shield.
If you find any damp patches on your
sleeping mat
in the morning, it's simply down to sweating and breathing in a waterproof bag when the temperatures become too low outside.
Portability
The Outdoor Research Helium Bivy is incredibly easy to carry on long or short camping trips with its minimalist design. In addition, the Helium bivy comes in at only 476 grams with the pole or 417g without the pole, making it a dream to carry.
It's a breeze to break down and pack away in the morning, letting you go off on your next adventure without delay. However, the OR Helium stuff pouch is unnecessarily large. You could easily pack the bivy, sans pole, and bag into a pouch half the size, although this isn't a huge deal.
Comfort
Due to its lightweight and easily portable nature, the OR Helium Bivy may not be as comfortable as a tent, but sleeping bivy bags never are. However, you can get a restful night's sleep with a few tweaks, even in a raging storm. First, you're going to want to prop the head of the bivy up to keep it off your face.
Many don't do this to save on weight from the pole when saving every gram is essential. But for maximum comfort when sleeping, you'll want that pole.
The Outdoor Research Helium Bivy has a massive amount of space compared to the bivy market competition. With plenty of room above the head, a high volume toe end and enough room at the sides to sleep in your normal sleep position, most people are happy with the size.
However, if you are over six feet tall, there may not be enough room for you. Therefore, Outdoor Research may want to consider bringing out a more extended option.
Getting a good night's sleep can be difficult when you're faced with extreme humidity in a small space. When heavy rain is pelting your bivy from the heavens, you are going to find it quite humid and claustrophobic, no matter the brand. Unfortunately, there isn't a bivy out there not guilty of this.
You can counteract any condensation issues if you leave the screen open; however, that won't work in windy conditions. Your best is to check the forecast, and for any very humid or wet days, use a small tent. But dry, less humid, and slightly warmer days will see you most comfortable in this bivy sack.
Warmth
It's a pleasant surprise to see that the OR Helium Bivy bag has a noticeable amount of practical warmth for cold weather camping despite its lightweight nature.
This warmth allows you to bring a lighter sleeping bag for most non-freezing conditions to save on weight and space.
Material
Outdoor Research uses some innovative materials to make this pack lightweight, waterproof, and durable. Using Pertex Shield and 100% nylon fabric ensures this bivy bag is fully waterproof.
In addition, the top of the bag is made with a lightweight 30D (denier) ripstop fabric, while the floor is made with a more durable, 100% 40D nylon and TPU lamination floor.
Durability
The OR Helium Bivy does not disappoint in terms of quality and durability. Being made of superior quality and durable fabrics like the Pertex® Shield, nylon, and ripstop fabric ensures the longevity of this pack. In addition, the look and feel of this bivy alone inspire confidence.
Comparison to Similar Bivy Bags
As one of the most popular bivy bags on the market, you'll be hard pushed to find something better. But if you want to consider other options, the
MSR Pro Bivy
is an excellent option as an emergency or minimalist shelter. Like the OR Helium Bivy, it's incredibly lightweight, easy to pack, and provides extreme performance. However, it's a little more expensive than the Helium Bivy and doesn't have a zipper.
You shouldn't skimp on price when it comes to bivvies, or you might regret it in bad weather. But if you're on a budget, you can try out the
SOL Escape Bivy
. On the plus side, it's light, durable, warm, and affordable. Therefore, the Escape Bivy is an excellent choice for cold, dry climates or emergencies. However, it's not waterproof, and the fit is a little tight for taller individuals.
Verdict
There's no doubt that the OR Helium Bivy from Outdoor Research is a popular and top choice with many adventures, due to its good reputation, top-performance levels, and affordability.

You'll be hard pushed to find a more durable, lightweight, warm, and waterproof bivy on the market right now. With a quick set-up and break-down, and plenty of room to get comfortable, this is a relatively low-cost but premium option for campers and hikers alike.

Subscribe to our Newsletter