Best Climbing Shorts
In a Hurry? Editors choice: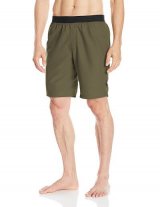 Test Winner: prAna Mojo

If you're thinking about getting out there to do some
climbing
, you are probably looking to get some new gear. While there are plenty of little things you need on your hiking adventures, one of the most overlooked pieces of gear are the clothes you're actually wearing, specifically your
shorts
. Maybe the shorts you have now are still good, but they are lacking a few features, and flexibility is the key to feeling comfortable and having a great climb. Below we have put together our picks for the top ten climbing
shorts
of 2019 - check it out as we are confident the perfect pair is waiting for you.
Standout Picks
Criteria Used for Evaluation
Top Ten Climbing Shorts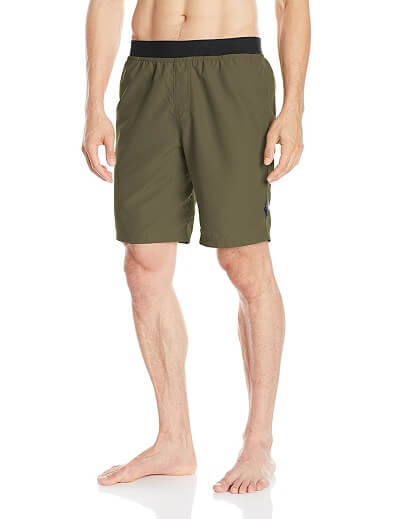 At first glance, these could be mistaken for lounging pants, as comfortable as they are they could be, but they are so versatile they can be worn for both strenuous and relaxing activities.
Read more
Features
Made of a lightweight, stretchy material these pants will give you all the flexibility you need to enjoy any activity set forth in front of you. Unlike some of the others, these do not have a drawstring, but they do have a high-quality elastic waist to keep them secure and in place. The pockets are exceptional for this style providing you with two front pockets and a back pocket with a Velcro flap to protect your keys and wallet. They provide the perfect length no matter how tall or short you are.
Durability
They are extremely well made with high-quality fabric that will hold up for a long time. You can wash them and dry them as often as you like, and they will always come out the same size and flawless.
Ease of Movement
The soft stretchy material makes these so easy to move you will wish you could wear them all the time. There is enough space in the knees to stretch and the waistband allows for plenty of mobility.
Comfort
These shorts provide the same kind of comfort that you would get from lounge pants, that's why they make the best climbing shorts. You will have the same comfort all day no matter what kind of mess you get into along the way. You will be so comfortable in these you will want to own a pair in every color.
Value
There is a lot of value in a pair of shorts this comfortable, not to mention the affordable price tag that is attached to them.

2

. Singbring Outdoor Quick Dry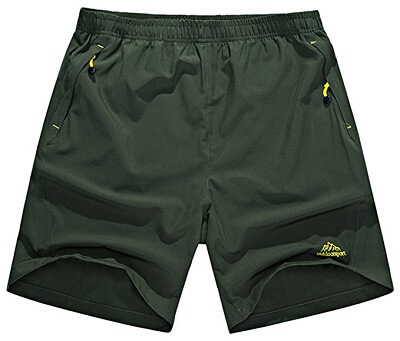 If you are one who enjoys packing light without having several changes of clothing, these would be perfect for you. They will last throughout your whole adventure without having to change.
Read more
Features
These lightweight shorts offer you all the comfort and flexibility you will need for all your adventures. They provide three zippered pockets, and although they are not as user-friendly as you would hope, they are very secure and will keep your belongings safe and dry for the entire time you are wearing them. They provide an elastic waist with an adjustable string on the inside, much like you would find inside a pair of swim trunks. They are perfect for packing lightly and can easily be rinsed and will try within a matter of minutes. Available in several colors, style, and sizes, so you can always find a pair or maybe two that you like.
Durability
Although they appear to be lightweight, they are durable enough to resist any snags or holes that could appear while exploring through various terrains. The pockets provide heavy-duty zippers, so you won't ever have the need to worry about them coming loose while you're climbing.
Ease of Movement
The material won't weigh you down, even when it's wet and the athletic design of the legs give them the perfect flexibility, allowing you to move freely without them riding up or rubbing against your skin.
Comfort
The lightweight design allows the material to breathe, so you won't get overheated when the humidity is more than tolerable. The elastic waist provides additional comfort and security, so you won't have to wear a bulky belt that can weigh you down and cause discomfort. They are so comfortable you can wear them as lounge pants in the house, and don't be surprised when you catch yourself sleeping in them too.
Value
Comfort and flexibility, along with a very reasonable price, explain the value of these sporty climbing shorts.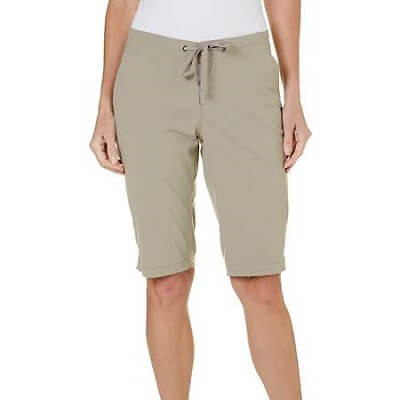 If you're looking for a pair of comfortable shorts that you can wear during any activity, look no further, these Columbia shorts have all that and then some.
Read more
Features
These are a stretchy nylon material that is so comfortable you might forget you're wearing them. The two front pockets are jersey lined, there is a small thin pocket on the back, and it features a drawstring that will help you adjust them to the perfect size. They are longer shorts, almost the length of a short Capri, but that's a good thing for the sake of blocking the sun. They are water repellent, so they will dry quickly if you sweat a lot or you get caught in a rainstorm. They are stylish and flattering with five different color choices and a variety of sizes to choose from.
Durability
These shorts are made to take a beating, no matter what the activity might be. Although they are thin, the nylon is of excellent quality. They can handle rain without a fight and the seams are strong and powerful.
Ease of Movement
The stretchy material moves with you and not against you. Even the longer legs won't interfere with your movement.
Comfort
Columbia always gets it right when it comes to comfort, and these shorts are no different. The breathable material allows you to stay cool even on the hottest of days. They won't weigh you down when they get wet, they won't take long to dry, and they might cool you off in the meantime. The pockets are soft and comfortable to touch from the inside and they can adjust to fit with the drawstring giving you the best comfort possible. These shorts are so comfortable you will want to wear them every day.
Value
The comfort and design make them worth the price, and with Columbia, you will have a pair of shorts that will last through the years.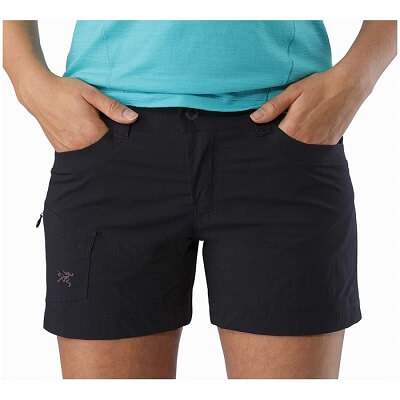 For a stylish design with a shorter cut, you might want to try these shorts. They are not just for climbing, they can be worn for many activities including the family picnic.
Read more
Features
These shorts are made of light breathable fabric designed to move when you do. They provide two hip pockets, stylish back pockets, and a zipper pocket on the leg for your phone or ID. They will knock off the water like it never existed and in no time, they will be dry again. They are available in a variety of colors and sizes, although you need to be aware that the sizes tend to run a bit large. They are shorter in length than the others, but that is welcomed on a hot day, and it makes for easier climbing.
Durability
Made with durability and endurance, these shorts will outlast some of the others, and even after several washes, they will hold their original shape and size.
Ease of Movement
These shorts feature exceptional breathing room and although there isn't a lot of stretch in the shorter legs, they will glide through each move with you. Perfect for climbing, these shorts will not restrict your movement.
Comfort
There is a lot to be said for the comfort of these shorts. The shorter length makes them even cooler than they already are and the soft light fabric makes them feel as though you're wearing nothing at all.
Value
There is a lot of comfort in value, and these shorts are packed with both. These shorts won't disappoint, and they are worth every penny spent.

5

. prAna Stretch Zion Convertible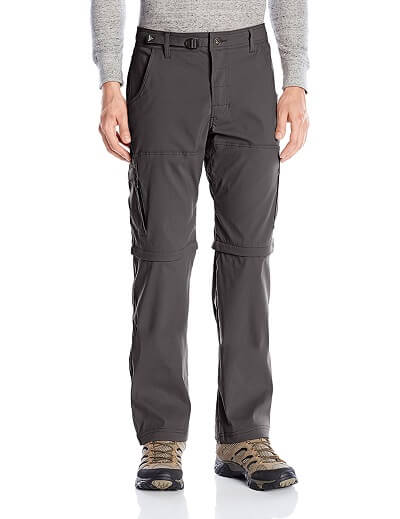 When it comes to the versatility it doesn't get any better than this. Start the cooler part of the day out in pants and end up in shorts in the middle of the day when the weather turns to warm.
Read more
Features
The selection of these convertible pants offers a color and size for everyone. With these cool pants, you won't have to carry a change of clothes because you have the option of two pairs in one when you unzip them at the knees to uncover the shorts. They feel good to the touch and the adjustable waistband gives you the secure fit you need without an additional belt. There are enough pockets in these pants to carry all your valuables with room to spare.
Durability
prAna didn't cut any corners when it comes to the durability of these pants. They will hold up to any obstacle they encounter without the worry of abrasions. They can go through the worst rainstorms, mud, and heat, and after they're washed, they will still come out looking brand new.
Ease of Movement
The fabric these are made of will allow for a lot of stretching room, so you can move, and the pants will go with you every time. They don't get bogged down when they're wet, and even when the pockets are full, you will be able to move with ease.
Comfort
A lot of thought was put into the comfort of these fine pants. The obvious is in the convertibility of them; keeping you warm when it's cold and cool when it's hot. They are soft and flexible with a comfortable waistband and ventilation holes on the inside for added breathability.
Value
With the ability to convert these from pants to shorts it's as though you are getting two pairs of pants for the price of one, now that's value.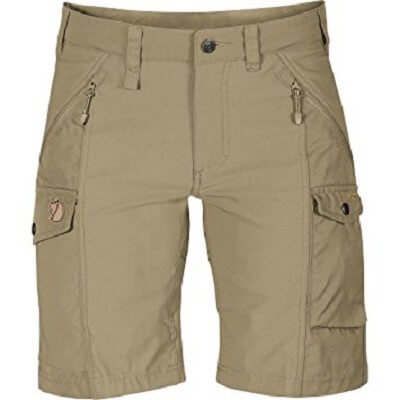 Finding the perfect pair of shorts that stretch in all the right places is not always an easy task, that's why you should consider these as your go-to pair of high end climbing shorts.
Read more
Features
Made of durable fabrics, these shorts are extremely flexible, quiet, cool, and comfortable. They fit just above the knees on the average female, the flat front closes with a button fly, and they are water resistant. The pockets are plentiful with a lot of functionality; a cargo pocket on each leg and a zipper pocket on each hip. They are roomy, so you can carry your cell phone, keys, ID, and even a snack. You could even carry a small flashlight because the cargo pockets are that deep. They fit well but you should be aware that size chart is in metrics, so measure correctly for your best fit.
Durability
These are a brilliantly constructed pair of shorts with solid, durable fabric. You can expect them to be reinforced in all the right places including the bottom.
Ease of Movement
The flexible material allows the movement to flow with you in every step. You will be surprised at how easy you will complete your tasks while wearing these shorts.
Comfort
Between the flexibility, the reinforcement, and the breathability, you will be so comfortable you will want to wear these shorts for every task you attempt.
Value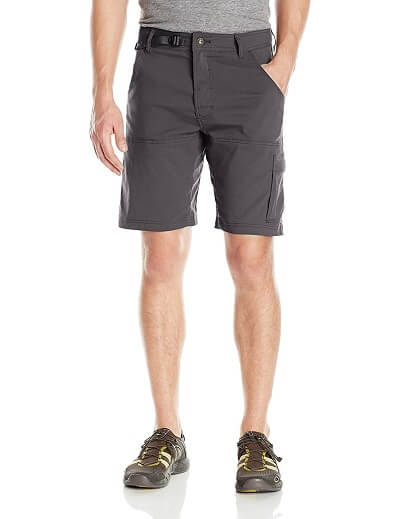 If you need something with versatility and comfort that can handle all the elements of heat, rain, and heavy terrain, these prAna shorts are recommended for you.
Read more
Features
These shorts have so much to offer there is too much to list. With a better design than the average pair of cargo shorts, these offer a great fit and a professional style. They are light and durable with enough deep pockets to accommodate for all your extras; two hip pockets, two back pockets, and a cargo, you couldn't ask for anything more. They will keep you cool in the heat, they will dry quickly after the rain, and the built-in waist belt will keep them snug in place without the need for an extra belt. They are offered in a variety of sizes, and you won't go wrong no matter what color you choose.
Durability
You can play hard in these shorts and rest assured they won't let you down. The stretchy fabric provides top of the line durability and won't snag or tear no matter what you encounter.
Ease of Movement
The spandex offers all the flexibility you need to smoothly conquer any obstacle you meet.
Comfort
Although they look professional, they are comfortable enough to be lounging shorts. From the size to the waistband, and everything in between, you will feel as though you are walking around in a cloud while wearing these shorts.
Value
There is a lot of value tied up in the comfort and versatility you get with these climbing shorts. Remember, there is no price too high when it comes to comfort.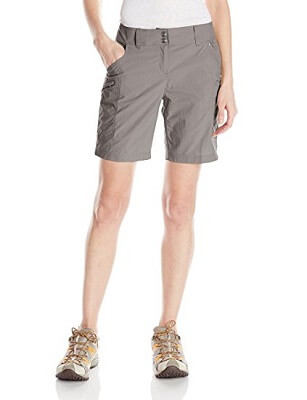 These practical shorts not only look nice, but they offer the functionality you need to complete all your tasks.
Read more
Features
If you are dealing with tropical temperatures, these shorts would be your best choice. They are lightweight, and although they are not as lightweight as others, they have an exceptional tolerance to the heat. They will dry fast when they get wet, and your comfort level won't decrease while you wait. The length offers a happy medium to those who don't want them too short or too long, and they have enough pockets to accommodate all your accessories. They do make a brushing sound when you walk, but they don't stick to you as some might expect.
Durability
Made of nylon, these shorts are tough enough to endure whatever tasks are put in front of them, and when they get dirty, they wash up just like new.
Ease of Movement
They offer the right amount of length for your legs to move freely, and the soft nylon moves when you do, so you won't have to worry about restrictions.
Comfort
The breathable material allows for relief from the extreme heat and the soft waistband will provide extra comfort and protection against skin irritation. They are lightweight, and even when the pockets are full you won't feel weighed down.
Value
These come with a reasonable price for the quality and functionality. You can wear these shorts for many occasions, so consider the savings when you only need to buy one pair.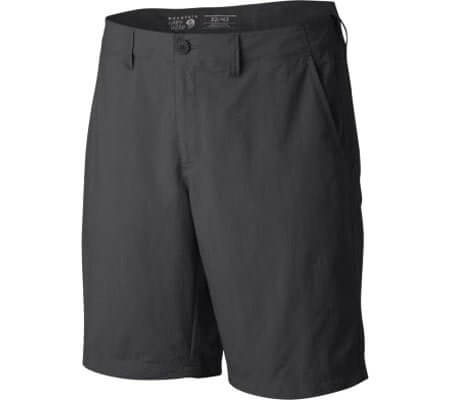 The versatility and comfort in these shorts make it possible for you to wear them while you climb, hike, camp, and go to dinner.
Read more
Features
These lightweight shorts feature 2 front and back pockets and a side leg zippered pocket, all big enough to hold your iPhone securely under the flaps. They provide a button fly and belt loops, so you can dress them up when you want to wear them out to dinner. They will provide you with the flexibility to climb over rocky terrain and if you get wet, they will dry quickly, so you won't have to change into other shorts. With the various sizes and color choices, you shouldn't have a problem finding a pair you like.
Durability
Designed with exceptional quality, these shorts are rock solid and ready to hit the trails with you. Wash them time and time again and they will come out like new every time.
Ease of Movement
These are lightweight shorts with plenty of breathing room. They will allow you all the flexibility you need to comfortably climb or go backpacking. You can take long walks through the park after having dinner and never worry about them getting tired and riding up your legs.
Comfort
The soft nylon stretches for added comfort, and even when the pockets are full, you will still move around comfortably as though you're not even wearing shorts. They are so comfortable you could sleep in them if you were on an overnight outing.
Value
These might be a bit more expensive than some, but the superior quality makes up for that in the end, bringing forth the true value in these shorts.

10

. Outdoor Research Ferrosi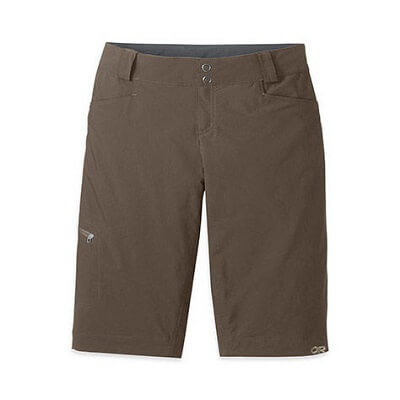 If you like shorts that will fit you comfortably for climbing and then dress them up for dinner, you should give these Outdoor Research shorts a try.
Read more
Features
These are the best shorts for climbing during hot temperatures. They are extremely lightweight and soft. The stretchy material is designed to move when you do with no restrictions. They provide two hip pockets, two back pockets, and a handy zipper pocket on the leg for your phone, ID, credit cards, or money. They wash easily and air dry in no time. Offered in seven color choices and various sizes, you're bound to find something that suits your taste.
Durability
These shorts are made of quality materials and are durable to withstand any adventure put in front of them from climbing to boating, and then to dinner. They hold their shape well even after they've been washed and will last for a long time.
Ease of Movement
The material moves with you, so you won't feel like you're going to bust a button every time you bend. The legs tend to be a bit baggier than some but that makes them perfect for climbing. You will have no problem with movement when they are wet, and they will dry before you know it.
Comfort
These provide outstanding comfort, especially for those who wear them climbing. They provide the same comfort wet or dry and the legs are just the right length and width to add to the comfort level. The waistband is soft and comfortable, so you won't have the discomfort from it rubbing against your skin while backpacking. The only discomfort in these shorts are the sizes; they run big, so be sure you get the right fit for your comfort.
Value
The features and comforts of these shorts sell themselves, and with that, you will find value.

Subscribe to our Newsletter