Best Ground Sheet
In a Hurry? Editors choice: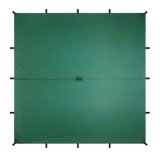 Test Winner: Aqua Quest

Probably the worst nightmare any
camper
or
hiker
can imagine is going to sleep in their tent and having the bottom puncture or experiencing water build up underneath. While most tents will already be
waterproof
and equipped with a footprint (or groundsheet), it never hurts to have a separate one. On top of adding an additional layer of waterproofing, it can also provide you with more insulation and will also allow for easier pitching of your
tent
. An extra groundsheet is simply something that many camping enthusiasts can't go without and because of this, it is important to understand how to buy one.
Standout Picks
Criteria Used for Evaluation
Water Resistance
Perhaps above all else, this is the most critical point of assessment when you are looking to invest in a groundsheet. There is nothing worse than waking up in a tent that is completely moist. To avoid this, the tent and all the materials need to be waterproof. Essentially, though, these types of tarps can add additional water protection. Two factors to assess to ensure that it is as waterproof as you need it to be are the durable water repellent coating and if the seams are taped. For the former, you will see a rating typically in millimeters. However, what should that number mean to you as if you do not know what it represents, it might as well be gibberish.
Well, each millimeter rating falls into a different class of waterproofness. For example, anything less than 5000 will only be suitable for light rainfall. Yet, get beyond 10,000 and the tarp can begin to repel water during moderate rainfalls. In regard to the seams, you ideally want them to be taped (which entails a machine melting tape over the seams) as this adds an additional layer of waterproofness.
Durability
Water protection is one thing but the actual build quality of the tarp is an entirely different beast. When it comes to groundsheets, you will typically see them designed of oxford fabric or sometimes ripstop nylon. Either one is great but the nice factor about the former is it is typically laminated with a polyurethane coating on the back for enhanced water protection. As for ripstop nylon, this type of technology uses a special reinforcing technique to provide substantial durability and prevent ripping and tearing.
Then again, you also need to pay attention to the denier of the fabric. Shortened to "D", this metric is used to measure the thickness of individual threads. Simply put, the higher the denier the thicker and sturdier the tarp will be. Of course, lower denier fabrics do tend to be softer and silkier. With thinner and less durable tarps, you need to be wary about where you lay it down.
Size
In a way, these next three sections play directly off of one another. You will begin to see why in a minute but what you need to know now is that the size you pick is going to be of the utmost importance. This is especially true if you want to use your tarp primarily as a tent footprint. So, what you will want to do is find the external dimensions of the tent you currently are using. More specifically, how far it measures from one side of the floor to the other. Basically, you want the footprint to cover the entire tent but also do not want it to overhang too much to pick up excess water.
However, the size can come into play even when you use it for other reasons. For example, as a rainfly, you still need it to be large enough to reach over your tent for adequate protection. This is why it is nice when manufacturers offer multiple size options for you to select from. Nothing is worse than finding a fantastic tarp only to realize it will not suit your needs due to the size.
Use
It really is quite astounding how many uses a normal groundsheet can have. Clearly, as has been alluded to several times, they are mainly designed to be used as a footprint for your tent. In this case, again, the sizing is essential. If you already have a suitable footprint, though, some models could also be used as a rainfly. They are designed to be waterproof, after all. Again, if used in this manner, it has to be able to fit over your tent or hammock. But, these do not even need to be used as protection when you are camping.
Heck, you could even use these types of sheets as mats for a family picnic or your pets. It could even make a good outdoor floor mat to wash your shoes and feet off before you enter your tent. Really, granted you have a large imagination, you could use one in several different manners.
Top 10 Picks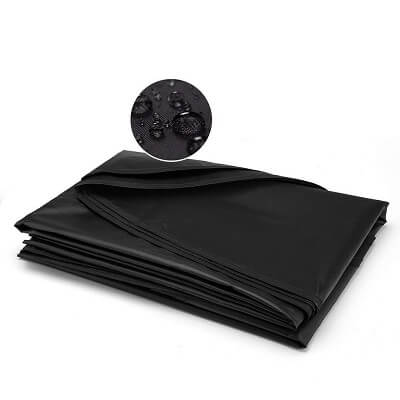 Due to the 210D fabric and the 10,000-millimeter waterproof coating, this tarp is ready to take some abuse. But, do note that, for backpackers, there are lighter options out there.
Read more
Weather Protection
As just mentioned, this tarp has a 10,000-millimeter coating. In addition to the taped seams, this basically means that it is going to repel water with little to no issues.
Build Quality
On the bag itself, the stitching is not the best. But, as for the tarp, it is designed with polyester oxford 210D fabric, which adds an ideal amount of durability.
Overall Size
There are two options at your disposal when it comes to the size of this tarp. You can go the smaller route (with a 98-inch by 59-inch model) or the larger route (with a 109-inch by 78.6-inch model).
Portability
As was mentioned, there will be smaller and lighter options out there. However, a carrying bag does come with your purchase which makes transport much easier.
Versatility
In addition to being able to function as a standard groundsheet, this can also work as a rainfly, portable shelter for camping, and even a picnic mat.
Overall
Simply put, this tarp's combination of waterproofness and durability is almost unmatched in the world of groundsheets. But, again, it is important to note that there are lighter options out there.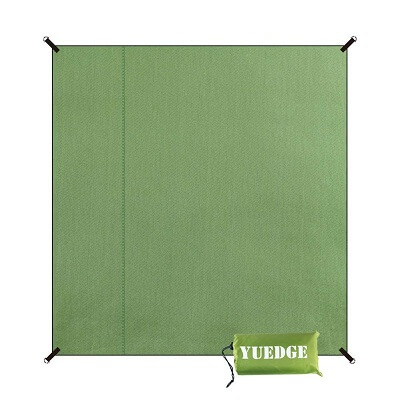 Even though the included stakes of this next tarp have quality control issues, the tarp itself is fantastic. Plus, with two size options available, there is a higher chance you will find the right size for you.
Read more
Weather Protection
This is advertised as a waterproof tarp and because of such, you will never need to worry about waking up to heavy counts of moisture. That is, granted your tent itself is waterproof.
Build Quality
Thanks to the premium oxford weave fabric and the ripstop technology that has been integrated, this will hold up well to tearing. Plus, the bottom layer of silver coating adds UV-resistance.
Overall Size
If you buy the larger version, which measures 82.7 inches by 78.7 inches, you can actually end up fitting up to six people on this. Then again, you could go smaller at 82.7 inches by 59.1 inches.
Portability
One of the benefits of the materials that were utilized is their lightweight nature. The medium version is only 12 ounces and the large model is just less than one pound (15.5 ounces).
Versatility
Whether you want to use this product like a camping cover, a pet met, a rain awning, or as a footprint, it really does not matter as the versatility here is golden.
Overall
The advice we can give you is to invest in superior stakes. That is the one area of concern here and given you can simply invest in higher quality stakes that is more than ideal.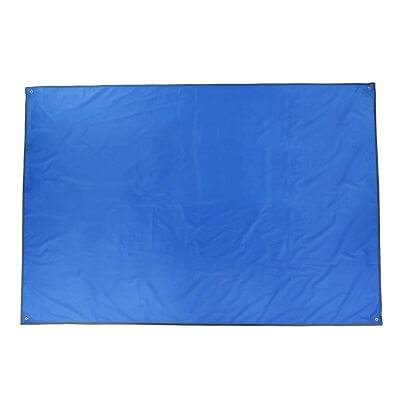 This is another footprint that is made out of 210D oxford fabric. Not only is this a highly durable groundsheet, but it is also fully waterproof and comes in three different sizes.
Read more
Weather Protection
Due to the oxford fabric and the construction of the seams, this happens to be a fully waterproof footprint.
Build Quality
Not only is this made of premium 210D high-density oxford fabric, but there are also reinforcements at each grommet and this adds even more durability to the footprint.
Overall Size
All in all, there are three size options available for you to choose from. You can go with a small (59 inches by 87 inches), medium (71 inches by 87 inches), or large (94 inches by 87 inches).
Portability
Thanks to the inclusion of the drawstring bag, this tarp can be folded up inside of it. No matter the size, all the tarps will fit securely inside the bag.
Versatility
As long as you are going camping, you will be able to find some use for this product. Even if not for use as a footprint, it can also be suitable as a picnic mat or even a rainfly.
Overall
In a world filled with loads of premier models, this stands up to all of them. If you do not believe us, simply reference the various amount of buyers who have raved about this model.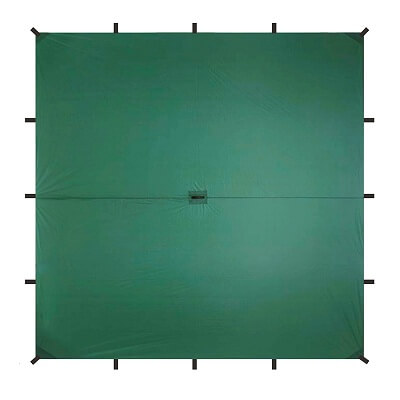 You see, this is technically a rainfly but due to the versatility of these types of products, it can also work terrifically as a groundsheet. Given its 20,000-millimeter waterproof coating, water does not stand a chance.
Read more
Weather Protection
This may just be the most waterproof model on this entire list with the aforementioned 20,000-millimeter coating. Not a single drop of water will penetrate through, count on it.
Build Quality
Thanks to the reinforced stitching, silicone and PU coating, and heat-taped seams (in addition to the 40D ripstop fabric) this is resilient to nature and highly durable.
Overall Size
Measuring 10 feet by 10 feet (which works out to 120 inches by 120 inches), this is one of the larger groundsheets that secured a spot in this list.
Portability
While a convenient stuff sack does come included with your purchase, at 1.5 pounds in total weight, this could be considered heavy. Not as if 1.5 pounds is an extensive amount of weight, but it is more than the typical tarp will be.
Versatility
Even though this works amazingly as a rainfly, being able to be mounted in different manners thanks to its 17 reinforced webbing loops, it can still function quite well for this purpose.
Overall
If you are looking for the most elite tarp when it comes to weather protection, this may be the ticket. With a 20,000-millimeter waterproof coating, water has virtually no chance of penetrating.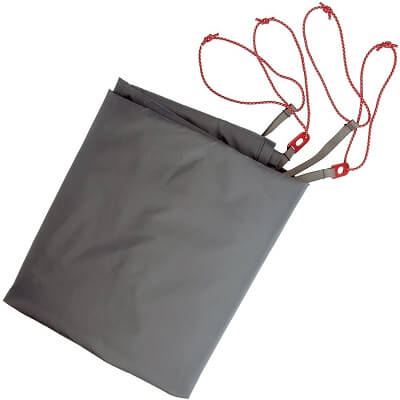 Even though this next model is made especially for the MSR Mutha Hubba Tent, it can be used as a standalone groundsheet, as well. But, be careful as you can overstretch this tarp.
Read more
Weather Protection
MSR designed their footprint, which again can be used by itself if need be, with water-resistant polyester-taffeta material to ensure that water will not be an issue.
Build Quality
When it comes to MSR, there really is never a concern about quality. However, one thing to note, do not overstretch the material as the edge stitching could end up tearing.
Overall Size
Be aware that for the Mutha Hubba HP, this may end up being slightly undersized. But, for the Mutha Hubba, it will fit like a charm.
Portability
Coming with your purchase is a lightweight and breathable MicroMesh storage bag. This makes portability a breeze.
Versatility
Look, this is designed for the Mutha Hubba Tent but it can work as a footprint for any tent that fits properly. Plus, it can be used as any sort of mat when you are camping.
Overall
With this type of technology, you can never go wrong with MSR. When the day comes where they engineer a straight-up disappointing product, give us a call.



If you take away the fact that this footprint is a bit thin, it is one of the better and more consistent models in the world. But, due to its thinness, be wary about where you lay it down.
Read more
Weather Protection
While other tarps on this list do offer superior water protection, the 2000-millimeter coating is enough to provide an ample amount of water-resistance.
Build Quality
Even though this is fire-retardant coating, some buyers have alluded to the fact that this tarp is a bit thin. Again, you need to be cautious about where you lay it.
Overall Size
This measures 52 inches by 88 inches and it is sized slightly smaller than the tent floor this is designed to resist water pooling.
Portability
As one buyer noted, they weighed the tarp and it came out to approximately 9.5 ounces. Another consumer claimed that the tarp felt like "nothing" when they were carrying it.
Versatility
This is technically specified as a tent footprint but the reality of the situation is just like the other models on this list, it can be used for a wide range of uses while camping.
Overall
In spite of the fact that some buyers have taken issue with the lack of thickness of this tarp, its waterproofness and lightweight nature make it worth an investment.

7

. Sierra Designs Flash 2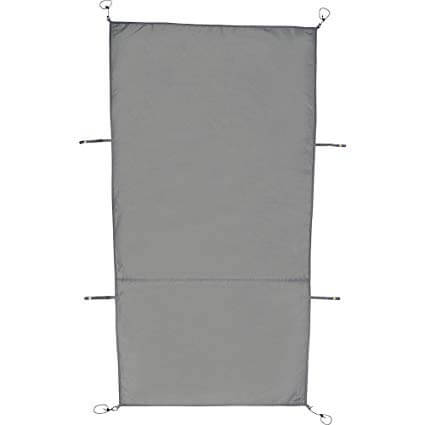 This is another footprint that is tailored to specifically fit a certain tent (the Flash 2/Flash 3 UL Tent). But, once again, its awesome build quality and portability make it ideal for just about anything.
Read more
Weather Protection
For advanced waterproofing, at least according to the product description, this has a durable water repellent (1800-millimeter coating). While not as high as others, it will still suffice.
Build Quality
With its 70D nylon fabric, this is going to hold up well to punctures. In fact, one buyer shared an experience where they lauded durability.
Overall Size
This measures 81 inches by 62.5 inches and it is actually designed, as previously mentioned, to properly fit the Flash 3 and Flash 3 UL Tents.
Portability
Having a lightweight tarp is essential for backpackers and at only 11 ounces, this footprint can easily classify as being lightweight and portable.
Versatility
Whether you want to use this as some sort of walking mat or even as its destined purpose as a tent footprint, the choice is really up to you.
Overall
Sierra Designs outfitted their product to specially fit their Flash 3 Tent but due to the versatility present, it can function perfectly without the aforementioned tent.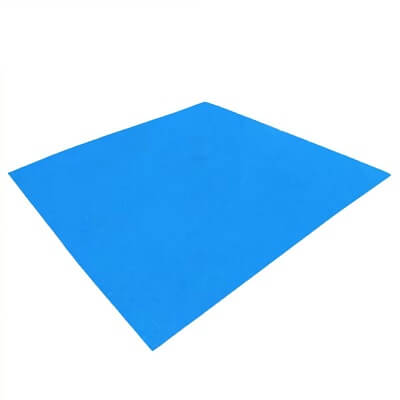 Up next is one of the most versatile entries on this entire list, in more ways than one. In addition to its wide range of color options, it can also be used in a plethora of different ways.
Read more
Weather Protection
Being waterproof by nature, this is going to protect you from both the rain and the sun (as it is also protective against UV rays).
Build Quality
Okay, so this is made of 190T polyester taffeta. While this does offer ample water-resistance and a suitable amount of anti-wear, it is a bit thin and could have been heavier grade.
Overall Size
All three size options available will account for a lot of buyers. With the largest option being 118 inches by 118 inches and the smallest being 98 inches by 58 inches, the versatility is nice.
Portability
Triwonder includes their drawstring carry sack with their footprint to give you the means to transport it. Plus, it's ultralight design also aids in portability.
Versatility
It is quite amazing how a sheet of fabric can be so versatile. After all, this can protect your tent floor from abrasions, or serve as a picnic mat, beach blanket, or even a car-seat protector.
Overall
Triwonder ensured that all their customers would have a tarp that accounted for them. They did so by designing their tarp in a multitude of different colors and sizes. On top of the quality, you should be left satisfied.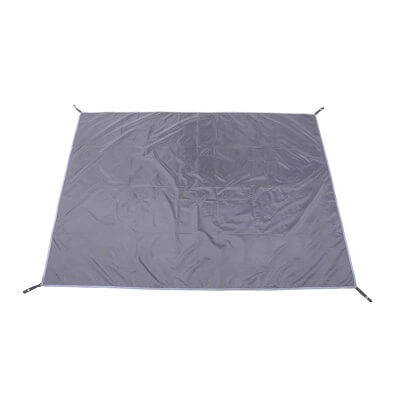 Perhaps if Hewolf had a chance to do it over, they would have engineered their oxford cloth to be a bit thicker. Still, its superb waterproofness and lightweight nature make it worth it.
Read more
Weather Protection
On top of protecting the bottom of your tent from damage, this oxford cloth also produces a "moisture barrier" to prevent any water from getting inside.
Build Quality
Again, this is another model that could be thicker. But, for what it is, this is made of 210D thickening oxford cloth. In addition, it has a PU coating for advanced protection.
Overall Size
As this oxford cloth measures 77 inches by 59 inches, this is not going to be suitable for everyone. The reason is there are much larger options available on this list.
Portability
One benefit of the smaller size is the smaller weight. After all, it sure is nice that this only weighs in at 8.8 ounces. It does not get much lighter than this, folks.
Versatility
When you go camping, you can really get creative with this tarp. Of course, it can be used as a groundsheet but it could also be used as a rainfly.
Overall
For some buyers, this will simply not be large enough to fulfill their desires. That is fair but do remember this, it only weighs 8.8 ounces as a result, which is ideal for backpackers.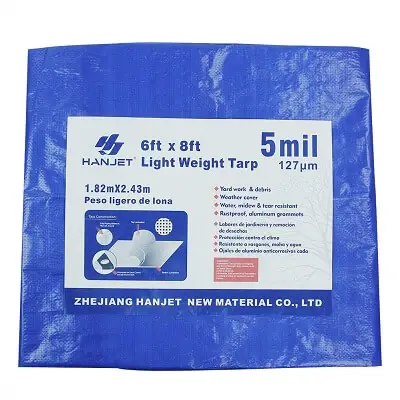 Our last pick on this list is actually made of a tight weave of polyethylene. Of course, at just over one pound, some buyers have been surprised that it was not thicker.
Read more
Weather Protection
On top of being waterproof, this will also resist rot and mildew. Given it is waterproof, moisture will not be allowed to play a factor in the mildew process, anyway.
Build Quality
Thanks to the tight polyethylene weave construction and the heat-sealed and reinforced polyethylene rope, this is pretty durable for the price point.
Overall Size
No other model on this list offers the size options that this one does. From eight feet by six feet all the way up to 16 feet by 20 feet, this tarp is offered in several sizes.
Portability
While the portability is going to differ based on the size that you pick, each size is not going to be too cumbersome. Then again, it may eclipse one pound (but that is all).
Versatility
Wow, your imagination is the only thing stopping you here. Hanjet engineered their tarp to be used as protection for your boats, as a shelter for camping, or even as a tent footprint.
Overall
At its price point, this could be considered a steal. With its fantastic amount of sizing options and stellar quality, it is an excellent way to close out this list.

Subscribe to our Newsletter