Best Ground Sheet
In a
Hurry? Editors choice: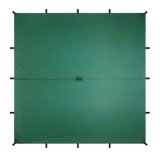 Test Winner: Aqua Quest

Probably the worst nightmare any
camper
or
hiker
can imagine is going to sleep in their tent and having the bottom puncture or experiencing water build up underneath. While most tents will already be
waterproof
and equipped with a footprint (or groundsheet), it never hurts to have a separate one. On top of adding an additional layer of waterproofing, it can also provide you with more insulation and will also allow for easier pitching of your
tent
. An extra groundsheet is simply something that many camping enthusiasts can't go without and because of this, it is important to understand how to buy one.
Standout Picks
Criteria Used for Evaluation
Water Resistance
Perhaps above all else, this is the most critical point of assessment when you are looking to invest in a groundsheet. There is nothing worse than waking up in a tent that is completely moist. To avoid this, the tent and all the materials need to be waterproof. Essentially, though, these types of tarps can add additional water protection. Two factors to assess to ensure that it is as waterproof as you need it to be are the durable water repellent coating and if the seams are taped. For the former, you will see a rating typically in millimeters. However, what should that number mean to you as if you do not know what it represents, it might as well be gibberish.
Well, each millimeter rating falls into a different class of waterproofness. For example, anything less than 5000 will only be suitable for light rainfall. Yet, get beyond 10,000 and the tarp can begin to repel water during moderate rainfalls. In regard to the seams, you ideally want them to be taped (which entails a machine melting tape over the seams) as this adds an additional layer of waterproofness.
Durability
Water protection is one thing but the actual build quality of the tarp is an entirely different beast. When it comes to groundsheets, you will typically see them designed of oxford fabric or sometimes ripstop nylon. Either one is great but the nice factor about the former is it is typically laminated with a polyurethane coating on the back for enhanced water protection. As for ripstop nylon, this type of technology uses a special reinforcing technique to provide substantial durability and prevent ripping and tearing.
Then again, you also need to pay attention to the denier of the fabric. Shortened to "D", this metric is used to measure the thickness of individual threads. Simply put, the higher the denier the thicker and sturdier the tarp will be. Of course, lower denier fabrics do tend to be softer and silkier. With thinner and less durable tarps, you need to be wary about where you lay it down.
Size
In a way, these next three sections play directly off of one another. You will begin to see why in a minute but what you need to know now is that the size you pick is going to be of the utmost importance. This is especially true if you want to use your tarp primarily as a tent footprint. So, what you will want to do is find the external dimensions of the tent you currently are using. More specifically, how far it measures from one side of the floor to the other. Basically, you want the footprint to cover the entire tent but also do not want it to overhang too much to pick up excess water.
However, the size can come into play even when you use it for other reasons. For example, as a rainfly, you still need it to be large enough to reach over your tent for adequate protection. This is why it is nice when manufacturers offer multiple size options for you to select from. Nothing is worse than finding a fantastic tarp only to realize it will not suit your needs due to the size.
Use
It really is quite astounding how many uses a normal groundsheet can have. Clearly, as has been alluded to several times, they are mainly designed to be used as a footprint for your tent. In this case, again, the sizing is essential. If you already have a suitable footprint, though, some models could also be used as a rainfly. They are designed to be waterproof, after all. Again, if used in this manner, it has to be able to fit over your tent or hammock. But, these do not even need to be used as protection when you are camping.
Heck, you could even use these types of sheets as mats for a family picnic or your pets. It could even make a good outdoor floor mat to wash your shoes and feet off before you enter your tent. Really, granted you have a large imagination, you could use one in several different manners.
Subscribe to our Newsletter