Best Hangboards
In a
Hurry? Editors choice: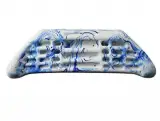 Test Winner: Metolius Contact

Many climbers utilize hangboards to help them train and make them stronger. These boards can help
build up arm and shoulder muscles
and simulates the feeling of hanging from a rock face. Most boards come in many shapes and sizes, which gives you a lot of opportunities to pick the one you'd like and experience different skill levels, so you are trained for anything when going
climbing outdoors
. As you get ready to jump, a hangboard can help you prepare, so you are as strong as you need to be in your forearms and shoulders. Depending on your skill level, you'll want to get one that meets your needs and will help you train to the best of your ability.
Climbers that are just starting
should consider getting a beginner model that is made to be easy to prepare on and are usually bigger in size, comfortable, and evenly spaced.
Standout Picks
Criteria Used for Evaluation
Features
Different styles of boards offer a host of different features. Some hangboards come pre-drilled and are very easy to hang, offering you a kit and all the tools you will need to put the hangboard on your wall. Others, however, don't come with everything you need to hang the board up. So, you need to pay attention to any tools you might need, just in case your hang-board doesn't have everything you need to install it.
Also, most boards feature detailed instructions that help guide you through the installation process, making things very easy for you. Some also come with training guides that give you various exercise ideas to help you improve your strength. Make sure you buy a hangboard that comes with everything you need. If you are a beginner, you'll want a hangboard that comes with a full set of instructions and a training guide to help you get started.
Also, in this section, we covered the descriptions of the various hangboards on our list and mentioned the hangboards overall design. Some hangboards feature a curve, others come in two pieces, some are wood, and some are plastic. The products on our list vary quite widely and offer a wide variety of opportunities from which you can choose from. Also, when we covered the descriptions on our hang-boards, we mentioned the skill level of the hangboard. You do want to match your skill level to the hangboard you purchase.
Materials
You typically get three material choices when you purchase a hangboard. Hangboards are usually comprised out of wood, polyurethane, or polyester resin. Wood is a nice material for a board since you get less friction and it makes the hangboard a bit more challenging to work out with. However, wood boards are still made to be skin-friendly. Wood can be limited with how it is shaped, and you don't typically get as much variety in workouts with a wooden board.
Boards that are made out of polyester resin offer a very durable and lightweight board option. It is also easy to shape and can offer a wide variety of holds and work out positions. However, it is not as easy on the skin as wood tends to be.
Polyurethane is the last type of material you'll find in a hangboard. This material is lightweight and won't chip. It also allows for a lot of holds, but it tends to have more texture than wood, which can make the workouts too easy for some.
Value
Value is always important when you are looking around to purchase a great hangboard. On our product list, we analyzed all of the hangboards above for their value and affordability. Many of the hangboards on our list are quite affordable, so you have several options and choices if you are shopping on a budget. Strength is incredibly important before a big climb. This is the best way to train your muscles for this specific sport, making these hangboards more or less priceless.
Also read about best budget backpack
Subscribe to our Newsletter