Best Pizza Pans
In a Hurry? Editors choice:
Test Winner: Lodge Pro-Logic

Everybody loves
pizza
. Some people consider pizza as a snack while others categorize it as a meal on its own. You can easily make it in the comfort of your home despite the delicacy tracing its origin back to Italy. There are so many tutorials online that teach people how to cook pizza, so you don't have to keep ordering for one when munchies kick in. Just get a good internet connection, and you'll have your own little pizzeria at home. Making pizza is so easy that once you're used to it, you can have one ready in half an hour. The trick is finding the right pan to help you make the perfect pizza. The best pizza pan will have features that suit your needs and simplify the entire cooking process. Here is a list of highly recommended brands that every pizza lover should have at home.
Standout Picks
Criteria Used for Evaluation
Size
You can only have as much pizza as the pizza pan can make
When purchasing a pizza pan, you have to get one that fits all your cooking needs. Size is one aspect you should specify before you start shopping. You don't want to end up with a pan that's either too big or too small. Since inches are the units of measurements commonly for pans, you can check such specifications when buying to identify the size of the pan.
Buying the wrong pan size might end up ruining your cooking experience. This is because the wrong size can frustrate you, especially in cases where you have dough spilling all over. It's not fun having to clean up unnecessary messes whenever you cook.
Choosing the correct pizza pan size is dependent on several factors. The main things you should look at include:
1. The number of people you are cooking for:
Large families will tend to buy large pans while small pans fit people living alone. Medium pizza pans are also convenient for both types of households.
2. The type of pizza you want to prepare:
For instance, if you are following specific recipes like that of the Chicago-style deep dish pizza. As the name suggests, you will need a pan with a certain amount of depth. Additionally, if you'd want to prepare pizza with your kids, a small pan would be the ideal choice for teaching them how to cook.
These are just a few examples of the purchasing trends when it comes to pizza pans. The good news is that the product description has pan measurements. So, if you're keen enough, you'll not end up with the wrong size.
Materials
Quality pizza pans make quality pizza
Pizza pan materials range from cast iron, aluminum steel, heavy-duty steel, steel stone, carbon steel, and ceramic. If you have used different types of pans before you must have noticed they have varying traits.
The metals and ceramic have different properties, some of which are beneficial while others are not. For example, steel is known to conduct heat well. However, cast iron retains heat for a longer duration, keeping your pizza warm on the pan as you cut the pieces and prepare to serve.
The material of the pan determines how well cooked and crispy your pizza crust will become. Some pans will burn the pizza when the heat is too high, while others will give you the perfect pizza. There are also pizza pans which may also unevenly cook your pizza at the same temperature setting. Having insight on how the different materials behave, makes up for one's lack of experience in dealing with pizza pans.
Ease of Use
Cooking pizza is fun with a pan that's easy to use.
Cooking should be fun, and that's why the cookware in your kitchen should give you an easy time. The best pizza pans are those that cook well without you having to monitor the meal continuously. You won't need to worry and watch out for a smoke whenever you cook. Good pans also don't require you to keep supervising the temperature. There are pans which result in soggy and under cooked pizza when the heat isn't constantly tended to.
Some pizza pans have temperature limits that are already set; hence you do not have to gamble while cooking. All you need to do is to set the required heat level. Such pans simplify your work and guarantee a well-cooked meal.
There are also pans that have insulation on the surface. The insulation materials used often range between silicone and Teflon. Coated pans give you a stress-free time during cleaning as well as when removing the pizza from the pan. Handles are also a useful feature. They make the pan safe for use since you can secure it in your hand. Handles also make it easy to move the pizza pan from one point to another comfortably.
Features
The best pizza pans have a lot to offer
All manufacturers want to be unique, so they build their pans with special features to increase their marketability. They do this by adding even the slightest detail to the products. The most common design in pizza pans is the nonstick feature. Nonstick pans are fantastic and most people like them. They are easy to clean and do not need much scrapping to remove food stuck on the pan. Some pizza pans are also pre-seasoned with flaxseed oil. However, the seasoning tends to wear off after a few uses, and you have to season it again.
Another feature is perforation on the surface. Pans with holes are mostly used for crispy and brown crusts since they allow heat to penetrate directly to the dough. The perforations allow hot air to circulate in the mixture leading to faster cooking. On the other hand, pans with no holes take a longer time to cook. Reason being, the pan material is thick and ends up slowing down the rate of the heat transfer. Pizza made using such pans are often softer and more chew-able compared to those of the perforated pizza pan.
There are also pizza pans with that have lids. You will love their multi-functional use since they can also serve as packaging equipment. Some have a hook to help with storage. Such pans can be hung on the wall when not in use. Other pans also have handles to help you carry the pizza pans safely and to prevent any slipping.
Versatility
The versatile the pizza pan, the more meal options you have
Some pans are restricted to making pizza while others are not. Versatile pizza pans are highly ranked because they can be used for different types of cooking. Such pizza pans are helpful in barbecuing, grilling, baking croissants, cookies, biscuits, cakes, and roasting vegetables, as well as making brownies. There are alternatives which are also handy for making casserole dishes.
With versatile pans, you don't have to go through the trouble of buying different kitchen equipment. You stand to gain more when you purchase these kinds of cookware. Overall, you will end up spending less in your kitchen while gaining a lot more simultaneously. It beats having a pan which spends most of the time in storage and gets taken out only when cooking pizza.
Best Pizza Pans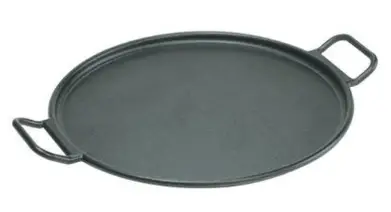 This lodge pan is useful for both outdoor and indoor activities. Reason being, it has excellent performance and compatibility with different sources of heat. Unlike average pizza pans, this particular one is optimized for efficiency.
Read more
Size:
You will be able to make restaurant level pizza with this 14-inch surface pan. It comes with a recipe card, which will help you make some outstanding medium-sized pizza.
Material:
It is a cast iron pizza pan. Such material accommodates the use of the pan on many different surfaces. You can cook with it using a campfire, gas, and electric stoves. That's part of what makes it a versatile pizza pan.
Ease of use:
The pan doesn't need deep cleaning; it only needs mild soap. Users can even forego the use of any solvents. For proper maintenance, the company advised buyers to hand wash it.
Features:
To get the most out of the pan, you need to set the heat on medium. What also makes it unique is that it's sterile. The pan's sterile nature also eliminates the need for using soap while cleaning.
Versatility:
Other than making pizza, this incredible piece of cookware is useful when it comes to baking cookies and biscuits. You can also roast your greens on this pan.
Advanced Features:
The pan warranty is limited. However, this shouldn't deter you. It's worth your money and guarantees great cooking experiences for several occasions.
Overall:
You won't replace this pan for a long time because of its durability. It's the kind of pan that won't let you down. All its unique features place it at the top of the best pizza pan ranking.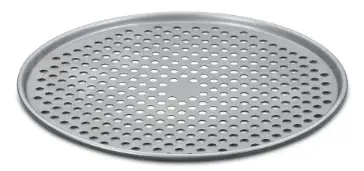 Cuisinart pizza pan perforations help distribute heat evenly to the mixture. By the time you're done, you'll get an evenly baked pizza with a crust that has the right amount of crispiness. The benefit of such designs is that they reduce the amount of time you take to cook. You'll realize that you'll also take fewer minutes to warm some pizza up.
Read more
Size:
If you often make medium sized pizza, this 14-inch pan is a great fit. However, you will be surprised at the dramatic difference in pizza quality.
Material:
The reason why this Pizza Pan has such excellent heat distribution is because of the pan material. The company used aluminized steel to bring about the uniform heat distribution qualities of the pizza pan.
Ease of use:
It's easy to get the misconception of that the holes on the pan will make it difficult to clean. On the contrary, the holes have no effect whatsoever. You'll be able to clean this pan as you would any other kitchenware. The advantage is that it has a non-stick feature, which makes the process effortless.
Features:
One of the features that make this pan worth having is the design of its edge. The pan has a curved border; you could say that the sides are rolled up. As a result, it will not warp or bend with time as you keep on using it.
Versatility:
You can use the pan for roasting and warming other food such as fried chicken, chicken nuggets and French fries. It also comes in handy when making pizza rolls and snacks like biscuits.
Additional features:
The pan is heavy; thus it is strong and will not distort when subjected to heat. It will stand the test of time even when handled roughly. Also, the thick material ensures the pizza will get enough time to bake, giving you a savory delicacy as a result.
Overall
This high-quality pan will give you an easy time in the kitchen due to the combination of its great features. You won't need to order pizza anymore when you can quickly bake some great quality pizza at home.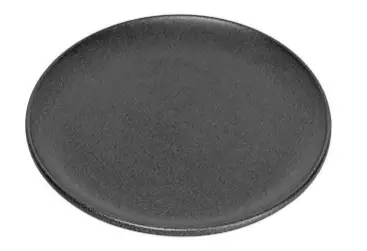 ProBake has one of the largest pizza pans in this list. The company prides itself in the fact that all their pans are American made and up to the highest industry standards. Since 1949, they have continuously produced kitchenware with great designs. Once you use this ProBake pizza pan, it's highly likely that you're going to seek out other bake-ware products by this brand.
Read more
Size:
If you've been on a continuous search for a large pizza pan, then you will love this ProBake alternative. The pizza pan is 16inch in size and will be an excellent asset for large households.
Material:
The pan consists of professional steel that is of industry-recommended weight. It's reliable and resistant to corrosion.
Ease of use:
The company describes the pan's finish as Teflon "Xtra." With this kind of coating, you'll find it very convenient to clean.
Features:
One of the pan's beneficial features is its surface. The surface design is such that it doesn't get scratched, allowing you to use utensils made out of metal.
Versatility:
This pizza pan is also as versatile as they come. Aside from pizza, you could also use it to make scones and other varieties of baked goodies.
Other features:
Since the pan has a non-stick coating, you won't feel the need to spray it. The pizza will slide off the pan smoothly.
Overall
The pan comes at a friendly price and performs better than other expensive alternatives. It also doesn't have any traces of PTFE or PFOA.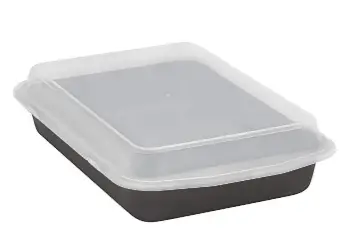 You can't go wrong by buying a pan that doubles as packaging kitchenware. The pan also has numerous features that are sure to turn cooking into an exciting activity. It also makes for a tremendous bake-ware gift that can be continuously useful in the kitchen.
Read more
Size:
The length of the pan is 17 inches while the width is 11 inches. It's a large pizza pan, which makes it convenient to entertain guests.
Material:
It consists of heavy-duty steel. The steel has an advanced coating, which makes the pan easy to maintain and cook with.
Ease of use:
The pizza pan is durable and accommodates the use of a wood or metal spatula. The design ensures the tools won't scrape the insulation off. Its cover is also a plus for storage purposes.
Features:
It has side handles to help you move the pot around conveniently, and the plastic covers keep the food safe from contamination. You can travel with the food knowing that the contents are safe.
Versatility:
The pizza pan accommodates baking of cakes, brownies as well as casseroles. You can count on it for a number of your cooking needs.
Other features:
The curved edges of the pan prevent bending of the metal; thus the cookware becomes durable regardless of the amount of heat.
Overall
It's nice to have bake-ware which is conveniently multi-functional in the kitchen.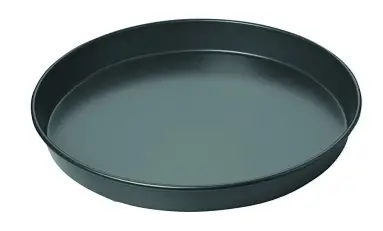 Baking can be messy. However, there's cookware and appliances that help make the process less messy. If you're looking for such an option, then this pan fits that description. It has a good depth level, enough to let your dough settle in without spilling over.
Read more
Size:
The pizza pan can comfortably make enough for three to four individuals. You can even use it to make a double-sized batch of dinner or cinnamon rolls.
Material:
Chicago Metallic pans are the kind of bake-ware that you end up passing on to your children. They are that durable because of their aluminized construction and wire rod reinforcements.
Ease of use:
Users find the pan friendly because it has a coating. The pizza pan coating is silicone meaning that it has non-stick properties. All you have to do is to make sure you don't use high temperatures. Try to make sure you use it at 400F to be safe.
Features:
The pan has a deep-dish design, suitable for making stuffed pizza due to its depth. It has a harmless coating, and it's PFOA free. PFOA is a compound that is associated with adverse effects on people's well-being.
Versatility:
You'll have a pan which you can use to make a ton of your favorite baked goods. The pizza pan is also great for making brownies, and other types of bread and cakes.
Other features:
The pan is thick, giving you a thin crispy crust. It is also useful for professional and commercial purposes.
Overall
This kind of pan is an asset in the kitchen. You'll find it highly convenient because it comes in handy when you want to prepare different menus.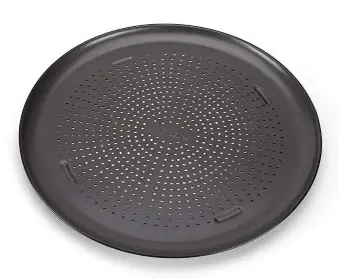 Having a pizza pan you can easily handle is always a plus. What more can you want from a pan that guarantees you quality crusted pizza! You won't regret buying a pan which ensures that every inch of your pizza is worth the time you put into it.
Read more
Size:
The pan has a diameter of 15.75 inches. If you have a large family, you can make enough pizza to satisfy everyone.
Material:
Airbake pizza pans are sturdy and made out of quality steel. The company uses top materials to make the pans, yet prices them at affordable prices.
Ease of use:
Washing the pan is not problematic thanks to the surface coating. The coating inhibits any food from getting stuck on the pan.
Features:
The pan has a pre-heat requirement. You should condition the pan with vegetable oil and remove excess fat before exposing to heat.
Versatility:
AirBake pizza pans are incredibly versatile. You'll be able to enjoy bread, meat, appetizers, and other types of baked food.
Other features:
This pan's non-stick coating protects it from scrapping with metal objects. It will retain its appeal for quite some time.
Overall
The pan comes with a ten-year warranty offer, portraying the manufacturer's confidence in the durability of their product.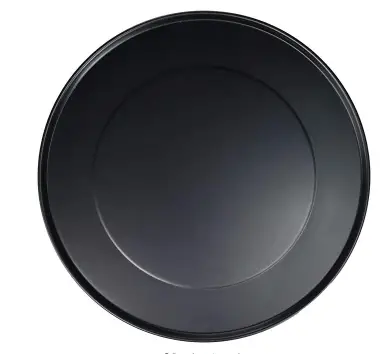 Breville offers an ideal pizza pan option for smaller households. This little pan is also perfect for people who don't like waiting for their pizza to get done. It's light in weight, such that it allows faster heat conduction to the dough.
Read more
Size:
If you have a small oven, you are in the right place. Instead of struggling to find pizza pans that fit. You should just get this 11" pizza pan, guaranteed to give you some great tasting pizza.
Material:
This Breville alternative is made of aluminum steel. Your food will turn out well cooked due to the pan's great heat conductivity.
Ease of use:
The pan is lightweight and easy to manage particularly when hot. You'll notice this difference if you've ever carried a very heavy pizza pan, heated to 212 F.
Features:
This pizza pan has a coating to enhance easy cleaning and removing food particles. It also has a baking sheet feature, which will get your pizza crust crispy in a matter of seconds.
Versatility:
The pan material allows for use in an oven broiler. As a result, you can also use the pizza pan to make sandwiches, for roasting purposes, baking bread, chicken and vegetables.
Other features:
For maintenance, you need to wash the pan by hand. Cleaning it using a dishwasher is not advisable.
Overall
The Breville pan is especially convenient for people with the Breville mini oven. Either way, the pizza pan also fits in many ovens and gets you a well-cooked pizza.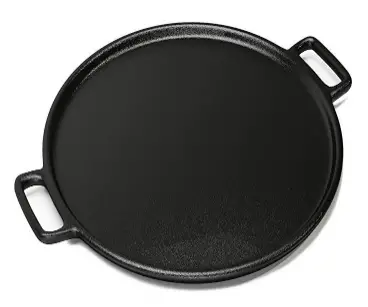 Home-Complete offers another excellent gift option when it comes to pizza pans. It's a great gesture for foodies all over and is appropriate for several occasions. You could also buy it for yourself, as a gift for wanting to master the art of making quality pizza. All in all, cookware of this caliber are not easy to come by.
Read more
Size:
You will be able to make enough food to feed three people. The pan has a reasonable size, and you can even use it to make some large steak.
Material:
The Home-Complete pizza pan consists of cast-iron material. Cast iron is associated with high quality because of its durable nature and resilience.
Ease of use:
As long as the Home-Complete pizza pan you buy is genuine, it won't frustrate you. You will love how tough it is, and won't have to continuously worry about it getting damaged.
Features:
The pizza pan is quite heavy, but that is part of what makes it durable. It also has a reasonable depth, which you will find advantageous.
Versatility:
You will be spoilt for choice at the number of items you can prepare with the pan. It can be of use when preparing fajitas, bacon, and other types of food as well.
Other features:
Another thing that makes the pan a good buy is its handles. They are strong and comfortable to use. The pan also has to be prepared before it's first used.
Overall
This Home-Complete pan is a good investment and bake-ware that every kitchen needs to have.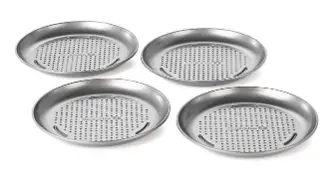 Buying a pack of four pizza pans can be an excellent way to shorten your cooking time by cooking four pizzas at a go. The design allows even distribution of heat to all areas of the pan, ensuring that no pizza sections go uncooked. You should get this value pack if you long for some perfectly browned pizzas.
Read more
Size:
The pans are of equal capacity. Each one of them is 7inches in size and makes pizza for a single serving.
Material:
Each pan is made of sturdy steel that's heavy-gauge quality. The company claims that the pans have double the high-performance of its Classic series bake-ware.
Ease of use:
The pans are small and appropriate enough for teaching kids how to cook. What better to teach a kid how to bake than by starting small, with pans that they can handle.
Features:
The pizza pans have holes on the surface to increase the circulation of air and heat. Each hole enhances vapor release. As a result, your crusts don't come out soggy when the pizza is done.
Versatility:
Users also find the pizza pan useful for preparing toasts, and croissants as well as pies. The pizza pans are also available in 5inch sizes.
Other features:
The pans come with a lifelong warranty; thus you can use them keeping in mind that the company's got you covered.
Overall
These four pans also guarantee the quick release of food from the pan surface. You can be sure that nothing will interfere with the outcome of your pizza.

10

. California Home Goods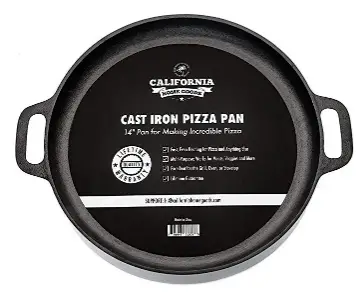 Accidents occur in the kitchen too many times, and sometimes they are fatal. California home goods try to eliminate the risk through providing user-friendly pizza pans, which you can firmly manage. So, you won't get frustrated even when you are having a hectic day in the kitchen.
Read more
Size:
It measures 14inches, making a good choice for a medium and small pizza. Both large and small households can use it.
Material:
The material of the pan is cast iron, one of the best metals for induction cooking.
Ease of use:
You only have to pour hot water on the pan after cooking, and it will be ready for another round of use. Unlike other pizza pans, you can use this particular one under high temperatures.
Features:
Other than ensuring the pizza is well cooked, crispy and the crust golden, the pan retains heat. By doing so, the pizza stays warm for a while when you cut it into pieces.
Versatility:
If you like to try out different cooking methods, this pizza pan will be a great addition to your kitchen. You can use it for frying, grilling, barbecuing, and baking other kinds of food.
Other features:
California's home pans are also coated with a nonstick layer. It has everything you would need in order to complete your kitchen collection.
Overall
This is another pizza pan alternative that eliminates the need for buying different products, for each meal you prepare.

Subscribe to our Newsletter