Best Saltwater Spinning Reels Reviewed & Compared
In a Hurry? Editors choice: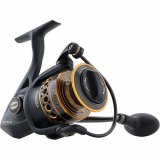 Test Winner: Penn Battle II

As an
aid
for users, this is a buyers comparison
tool
. The following information uses a standardized product review structure consisting of an introduction and quick summary, a discussion of pros and cons, a summary of key specifications, a review, and a brief conclusion. The introduction describes the product in broad terms and points to highlights. The pros and cons bring out the strengths and limits of the product based on manufacturer's information. The manufacturers and sellers information inform the summary of details and specifications, and the overall product research guides the review and conclusion sections.
Standout Picks
Criteria Used for Evaluation
Style
Spinning reels come in two basic types: freshwater and saltwater spinning reels.
One can honestly ask why there are freshwater reels when saltwater reels are so much more resilient and able to handle the demands of fishing. Price and value come into play. Manufacturers make freshwater reels with smaller line capacities and from materials that are not hardened against the corrosive effects of salt, wind, and salty air.
Saltwater reels hold more line, have superior drag controls, handle shocks better, and are far stronger in construction and in materials. If one had to buy one spinning reel, it should be a saltwater spinning reel.
Saltwater fishing involves many conditions and large aggressive species. The manufacturers must anticipate and design their products mindful of the extreme stresses that saltwater rated reels must handle. Wind, sun, and brackish air form part of the difficulty. The salt air seeps into the gearing and machinery of the saltwater spinning reel.
Over the course of seasons, the reel must perform reliably despite the wearing effects of salty air. Maintenance and cleaning are important routines, and anglers need them to keep saltwater reels in top condition. Oiling keeps friction under control in the moving parts of the reel.
Saltwater spinning reels include a wide variety of sizes and shapes. Manufacturers design them for deep water fishing, trolling, and shallow areas or flats. All must do the same basic functions: they must let the heavy line flow easily off the spool for long and effective casting.
Durability
Saltwater is corrosive and it attacks the delicate metal parts of fishing reels. Every part of the saltwater spinning reel must resist saltwater corrosion. Designers must seal the housing against leakage and shield the delicate parts of the interior such as the drag disks Corrosion sets in after long periods of usage when the fishing equipment may not get a thorough cleaning.
The better approach to handling saltwater effects uses advanced corrosion resistant materials and designs that protect the vulnerable parts of the reel such as the gears, housing, and rotor.
Capacity
Line capacity is critical in saltwater environments. Because of the need for tough line to handle large fish and many sharp edges in the saltwater environments, the line for saltwater fishing is heavier and thicker than freshwater lines. Large fish exert powerful and sudden forces on the tackle, rod, and reel. Line must remain flexible but not stretch and weaken from the sudden impacts and powerful stresses. Setting a hook involves tight timing. Force must be transmitted along a significant length of the line. A split second timing spells the difference between a successful hook and a near miss. The anti-reverse function stops the motion of the line when pulled and then the line releases under force and only as allowed by the drag settings.
Support
The leading manufacturers of Saltwater spinning reels use advanced metal alloys and composite materials to ensure strength, durability, and the minimum amount of weight. They must treat metals with corrosion resistant layers that will stand up to the effects of the saltwater year after year.
Ball Bearings are a key element of strength and durability.
When selecting or comparing saltwater spinning reels one should look for those with large numbers of ball bearings. The top models may range from six to 11 ball bearings. Well- made saltwater spinning reels have six or more sets of ball bearings. The number of bearings alone is not the test, but as part of the overall design ball bearings make the reel operate noticeably smoother. When simply picking up a reel and spinning the handle, one can see how long those with high numbers of ball bearings go on spinning.
The ball bearings play the enormously important role of reducing friction between the large moving parts of the reel. In fishing situations, the reel must perform for long periods of time and over the course of several seasons, the saltwater spinning reel can log many months of heavy usage.
Top 10 Picks
1

. Daiwa ISLA Saltwater Series 5000H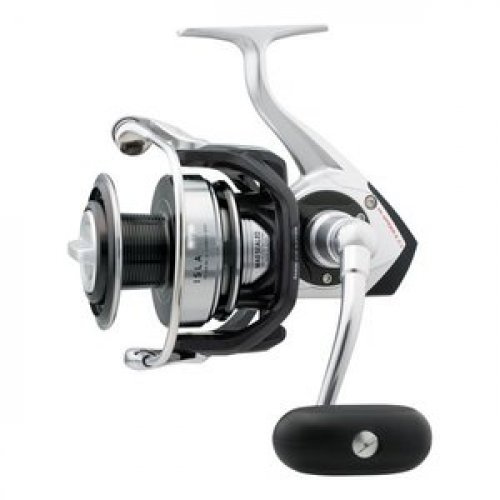 Daiwa ISLA Saltwater Series 5000H Spinning Reels rank among the Best saltwater spinning reel combinations of design, innovation, materials, and toughness. It has advanced features that make it sturdy and dependable.
Read more
It has a tough metal arbor for stability, an air rotor design for lightweight strength, and a ten bearing system. The tough tournament grade front drag system. The Magna Seal body uses advanced mag oil that changes contours with magnetic changes.
Daiwa ISLA Saltwater Series 5000H
Product details
The Daiwa ISLA Saltwater Series 5000H Spinning Reels are at the cutting edge of innovation, design, and advanced materials. It is an ideal saltwater spinning reel for a wide range of medium to large species in the range of 20 to 50 pounds.
Review
One can pair it with an advanced fishing line that offers toughness for impact and resistance to abrasions.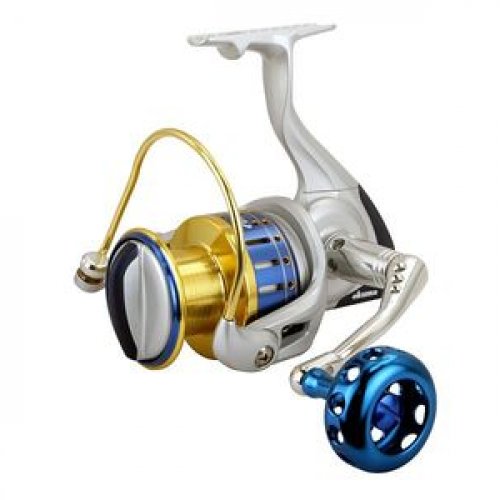 Okuma CJ-55S Cedros Spinning Reel is among the most impressive jigging reels and has received high grades for technical innovation among saltwater spinning reels reviews. The manufacturer made the reel from sturdy, anodized aluminum; the body and rotor provide a strong, stable base for the customized jigging handle.
Read more
The high-speed gear ratio allows for flexible retrieve speeds and maximum jig movement. It has a dual force drag system for just the right stopping power and a durable high-density gearing system with salt-resistant coatings. The designers have molded and shaped this unit for saltwater use, and it offers many years of hard wear and high-impact action.
Product Details
The drag system is Precision Dual Force Drag, with an aluminum die-cast frame, a quick-set roller bearing anti-reverse, and an aluminum anodized aluminum spool.
Review
The Okuma CJ-55S Cedros Spinning Reel is a marvel of solid construction and long lasting aluminum alloys. It is well-conceived for the demands of saltwater fishing. It fills a niche in the angler's arsenal for a jigging reel combo. The retrieval speed and handle design are ideal for swimming baits with attractive motion.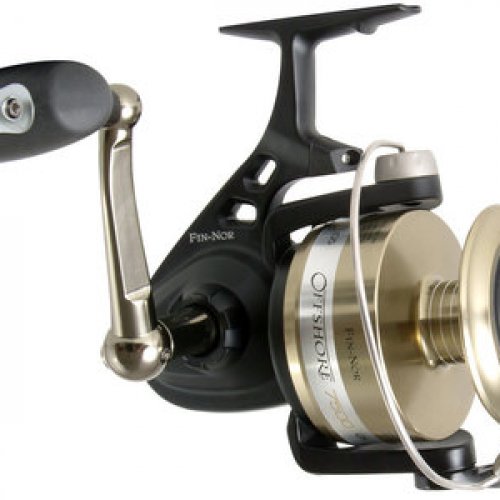 The manufacturer designed this series of saltwater spinning reels with the idea of fighting large fish and game fish clearly in focus. An impressive large dual drag system provides up to 60 pounds of drag pressure, and the system dissipates heat during the long open water contests to land large fish.
Read more
Built for high-level of performance and for durable, reliable operation, this is an excellent tool for large fish and versatile addition to the angler's offshore fishing tool chest.
Product Details
The reel has a strong aluminum throughout including the body, rotor and side plate. The drive gear is stainless steel as are the pinion gear and the center drive shaft. The friction reduction system uses four stainless steel ball bearings, and the bearings have double shielding. The powerful line control system has an oversized multi-stack offshore drag system and a 4.4:1 gear ratio.
Review
Fin-Nor has been a leader since 1933 in making the best reels for handling large fish species like tuna. The keys are the dedication to strong metal parts in the gearing and shafts. The heavy-duty shaft will handle pressure and maintain a solid feel during the stress of landing large fish. It is the only system with an oversized bearing on the shaft and a second bearing on the pinion gear. The 4.4:1 retrieval ratio also has a power base in the strong shaft and gearing that provides a smooth and controlled feel during the fight. The advanced drag system manages heat and dissipates it during the fight so that the performance is smooth, consistent and powerful.

4

. Shimano Stella STL 20000 SWB PG Reel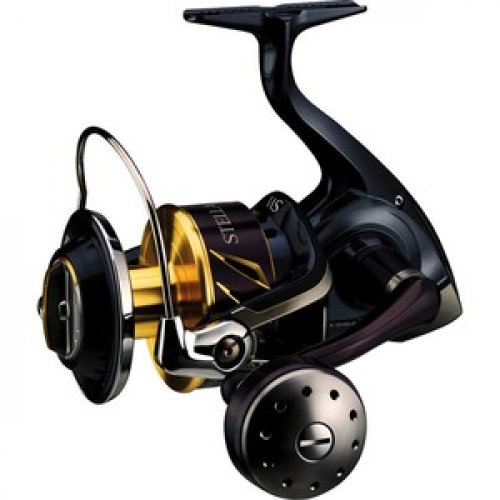 The X-Tough Drag, offers dramatic smoothness, enhanced control, and large saltwater species toughness. This model predicts the movement and speed of fish such as bluefin and tuna.
Read more
The X-SHIP gearing system promotes powerful transmission, and it provides increased cranking leverage and a smooth, powerful feel. The X-Shield and X-Protect features assure resistance in the water in the toughest saltwater.
Strong rigidity is provided by the x-rigid motor, handle, and aluminum body. It eliminates power loss caused by too much reel flex under load.
Smooth line layers are assured by the bail-trip and s-arm cam. The reel features a Direct Drive Mechanism. Shimano has approved the Stella STL20000 SWB PG Reel for saltwater use and rated it for PowerPro use, Mono and Fluorocarbon line.
Product Details
The reel weighs 31.2oz.and has a gear ratio of 4.4:1. It retrieves 41 inches of line per turn. The monofilament line capacities are 460 yards of 20-pound test, 380 yards of 25-pound test, and 320 yards of 30-pound test. The braided line capacities are 525 yards of 65-pound test,445 yards of 80-pound test, and 305 yards of 100-pound test. The maximum drag is 55.1 pounds, and it has a 14+1 ball bearing set.
Review
The technological advances in the Shimano are impressive and they enhance all of the essential functions. The advances cover casting, the power shaft, retrieves, line management, and drag control. The advanced materials complete the remarkable values in this state of the art spinning reel.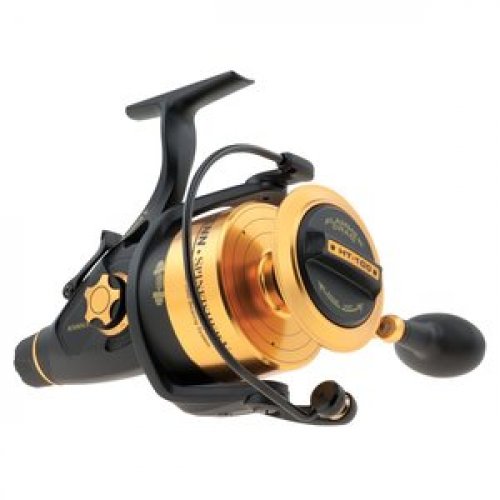 The Penn SpinfisherV, named because it is the fifth generation of this distinguished line of equipment, has some added features that will make this reel a favorite for all-around saltwater fishing action.
Read more
The first feature to consider is the way it maintains its peak operating condition in saltwater fishing environments.
The Spinfisher V has a watertight design. It resists direct and indirect contact with saltwater. Using six seals, the case blocks liquids when immersed in water. The seals resist spray and mist and make a barrier protecting the gears and drag systems.
The full metal body and metal side plate provide a tight container to keep gears in the precise alignment needed for its smooth operation. Whether spinning the handle or handling heavy loads and sudden forces, the body keeps the gears meshed and in the right positions.
Product Details
The reel has a five shielded ball bearing system plus one. It has an infinite anti-reverse, and a new thick bail design with an anti-trip system to prevent accidental closing. The gearing has a stainless steel shaft; the main gear is an advanced metal alloy. Monofilament line capacity is 440yds of 15-pound test, 300 yards of 20-pound test, and 210 yards of 30-pound test. The braided line capacities are 430 yards of 40-pound test, 360 yards of 50-pound test, and 320 yards of 65-pound test. The maximum drag is 35 pounds. The gear ratio is 4.7:1 with a line retrieve of 36" per turn. The reel weighs 6 pounds,9oz.
Review
The reel is built to last and to perform consistently over a long period of heavy usage. The design does not excel at any particular phase of fishing, and it does not have an outstanding gear ratio and retrieval speed. It does offer features that make it useful for a wide variety of environments, species, and conditions. That is the strength of this saltwater spinning reel; it is a great all-around tool.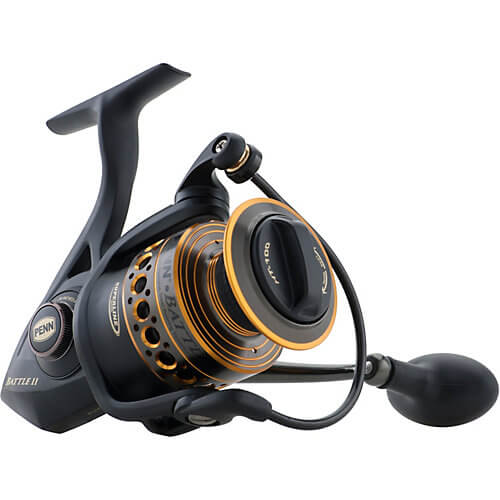 This Penn Battle II Spinning Fishing Reel is known for being very durable and is great for conquering big saltwater gamefish.
Read more
This Penn Battle II Spinning Fishing Reel comes in several reel sizes including 2000, 2500, 3000 4000, 6000, and 8000
Product Details:
This spinning reel has a full metal body and includes side plates and heavy-duty aluminum bail wire which offers high-quality durability. This Penn Battle II Spinning Fishing Reel features an instant anti-reverse bearing with 6 sealed stainless steel ball bearings.
Full metal body, side plate, and rotor and heavy-duty aluminum bail wire offer exceptional durability. Fluid cranking with 5 sealed stainless steel ball bearings and instant anti-reverse bearing
Review:
Some wonderful reviews on this spinning reel and is known for its line capacity rings that are marked at 1/3, 2/3 and have full capacity.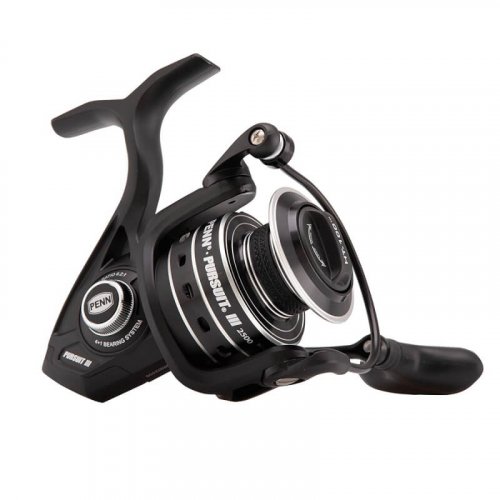 This saltwater spinning rod the Penn Pursuit II & III is known for having great value for the money for saltwater anglers.
Read more
The Penn Pursuit is known for its durability as well as its dependability. It is one of the lighter options on the list and will resist corrosion. The drag system on this one will leave you speechless.
Product Details:
This Penn Pursuit is available in different sizes which is great to know it comes in many different size options. It also has technology which aids in landing that fish every time.
Reviews:
The Penn Pursuit II & III holds up wonderful for a good durable saltwater spinning reel.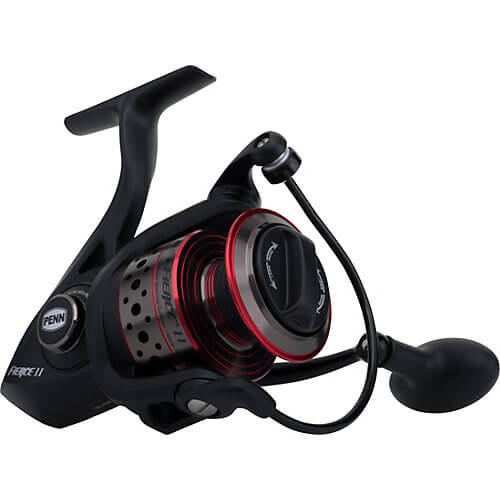 The Penn Fierce II Spinning Fishing Reel is known for being a durable and good valued spinning reel.
Read more
The Penn Fierce II is known for being made from aluminum and comes with instant anti-reverse features.
Production Details:
The sizes: 4BB + 1RB, 5.2: 1 ratio and Braid 6/160, 8/130, 10/110.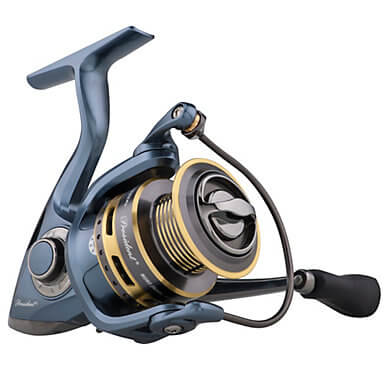 The Pflueger President is a good spinning reel that has great performance reviews and will impress you over and over again. It is also at a great value!
Read more
The Pflueger President has a 10 bearing System and is known for its corrosion resistant stainless steel ball bearings. It is a well constructed lightweight graphite reel.
Product Details:
This spinning reel allows Braid to be tied directly to the spool and has a Sealed Drag System. The Pflueger President improves line lay and it minimizes line twists.
The size options for the Pflueger President include: 20 25 30 35 40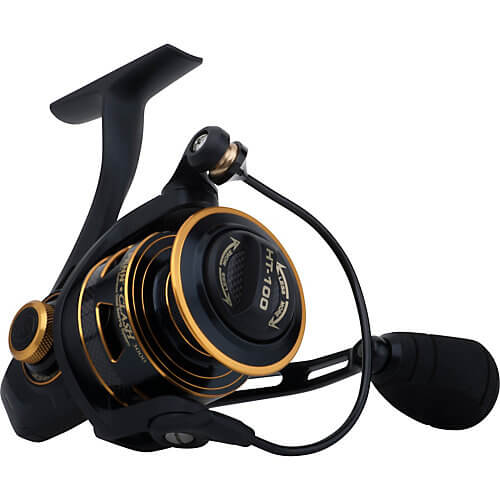 The Penn Clash is known for its great price value and full metal body.
Read more
The Penn Clash saltwater spinning reel features a Leveline oscillation system and CNC gear technology.
Product Details:
The weight options for the Penn Clash include: 8.2 oz 10.2 oz 10.7 oz 16.9 oz 20.7 oz 27.2 oz
The Max Drag options include: 10lb 15lb 15lb 20lb 25lb 30lb
The size options for the Penn Clash include: 2000-8000 2000-8000 2000-8000 2000-8000 2000-8000 2000-8000