Best Wakeboards
In a Hurry? Editors choice: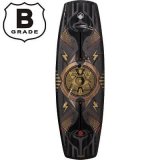 Test Winner: Liquid Force Shane Dose

If you are a
fan
of
snowboarding
, surfing, or
water
skiing, there is a strong chance that you will fall in love with wakeboarding. In fact, you are either here today to learn more about wakeboards or because you are in the market for a new model. Thankfully, no matter your reasoning for being here, your time will be well spent. Of course, you need to pay close attention as several factors come into play when you are looking for the right wakeboard for you. Breaking each section
down
and doing so in a way that everyone can understand is the intent of this guide. So, without further ado, are you ready?
Standout Picks
Criteria Used for Evaluation
Materials
Let's start with the physical materials that comprise the wakeboard. For the most part, you are going to see most wakeboards crafted of fiberglass wrapped around either a wood or foam core. Before the fiberglass method is discussed, there are different advantages to foam and wood. As for wood, they are generally going to flex and pop better than foam. However, foam holds advantages when it comes to weight, cost, and durability.
But, even more important may be the manner in which the fiberglass is integrated on the board. To enhance the durability, you may see what a layered glass construction method utilized. Basically, this method is used to mold together both the top glass and the bottom glass into one. The result is a much more durable exterior as two pieces are combined into one.
Features
There are several different areas that you need to assess in regards to the performance of a wakeboard. Let's start out by discussing the edges. If you are an advanced level rider, you will probably be looking for a sharper edge. The reason for this is they allow for a more aggressive approach and can aid in serious speed and acceleration. One downside to this, though, is it is less forgiving and easier to catch an edge. If you want to take a more conservative approach, consider a rounded edge.
Also, there are also variable edged boards which are really just a combination of the previous two. In different areas, there are different levels of sharpness and thicknesses to offer a wide blend of performance benefits. Outside of the edge design, there are several other features to look out for. For example, the concaves and channels of a wakeboard as these can create enhanced lift and break the surface tension before the rest of the wakeboard hits, respectively. Then again, there are also featureless wakeboards that merely depend on the performance of the shape alone.
Style
Wakeboards are classified into three different areas of skill levels and you need to be aware of your own skill level. Some will be designed for beginners and intermediate riders, some for intermediate and advanced riders, and others for advanced and expert riders. Now, beginner riders can still ride on an advanced model and vice versa but you may want to stick with the board that matches your skill set for the best results.
What makes them different, though? Well, first off, it is the size of the board. For instance, shorter boards can be harder to learn on as they are more unstable. On the contrary, though, longer boards may not provide the response that advanced riders crave. Each wakeboard will be advertised with a certain skill level rating so you are never left in the dark. But, just know that the more aggressive wakeboards are tailored toward elite-level riders. Of course, this means that novices will perform better with mellow wakeboards that place an emphasis on stability. If you land somewhere in the middle, though, there are intermediate boards that will accommodate you.
Speed
First things first, what is the rocker on a wakeboard? It is simply the difference of shape between the tail and the tip and also the center of the bottom of the board. All you need to know, really, is the different types, though. The two most common rocker types are continuous rockers and 3-stage rockers. The former is actually one smooth and fluid shape that happens to be curved. What is nice about this rocker type is you can generate a great amount of speed while also enjoying a smooth ride as you can cut corners easily.
On the other hand, 3-stage rocker profiles actually have three distinct planes located on the bottom of the board. When you hit the wake with a 3-stage rocker wakeboard, you will receive more height than you would with a continuous rocker. However, this also means that the landings are more intense. Additionally, these types of rockers plow through the water which results in less speed.
Of course, sometimes you will see a hybrid rocker. As you may have guessed, this type of a rocker is a blend of the previous two. But, each hybrid rocker may be different depending on the brand.
Top 10 Picks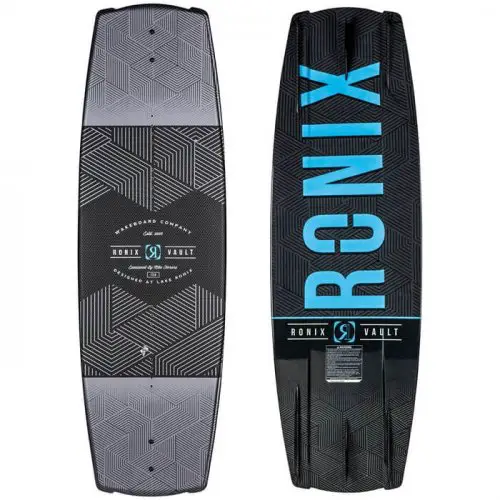 The Ronix Vault is actually marketed as a wakeboard that is excellent for beginner and intermediate riders. However, for novices, there is a bit of a learning curve with the Vault but once you get accustomed to it, you will be gushing every time you use it.
Read more
Rocker Design
To provide a more explosive and straight up pop, the Vault has been engineered with a 3-stage rocker. Off the wake, you will be thrilled with the enhanced explosion of this board.
Skill Level
As the rail design is asymmetrical, curving and cutting have been simplified for the novice rider. Again, though, beginner riders will still notice a steep learning curve. But, it can develop your skills like no other.
Performance
What is nice about the grip and release channels of the Vault is it provides you with the traction you need without adding unnecessary resistance to the water. Outside of this, the profile of this board has been made thinner for more contact on the water.
Materials
Durability is at the forefront here and that is evident when you assess the glass design. The glass is molded from the bottom to the top to eliminate the flash line being the weak point.
Fin Design
Equipped with this wakeboard are two fiberglass hook fins and four molded asymmetric fins. This keeps users guessing about what the wakeboard is truly capable of.
Overall
Ronix was able to manufacture a wakeboard that is ideal for a wide level of skill levels. Widening their demographic was a tremendous decision and it leads to one of the best wakeboards out there, period.

2

. Liquid Force Shane Dose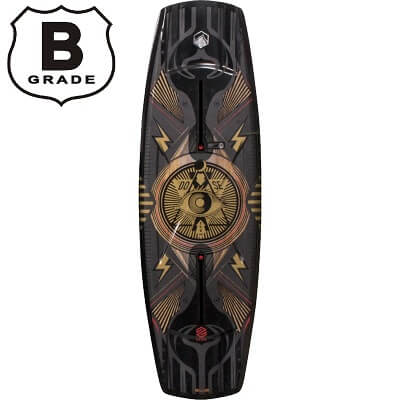 When you claim that anything is perfect, you tend to do so reluctantly. It is not as if you do not believe your claim it is just you understand that a perfect product means there is literally nothing wrong with it. Well, this wakeboard pretty much exemplifies that.
Read more
Rocker Design
Liquid Force designed the Shane Dose Wakeboard with a 3-stage rocker. The center curve is flatter for enhanced speed and rail control, while the break-in rocker curve allows for more aggressive riding.
Skill Level
This board was designed for a professional (Shane Bonifay). Basically, the point of this wakeboard was to create a board that did it all.
Performance
Designed with concave beveled edges, this wakeboard is able to achieve excellent bite and hold on the water. Also, the elastomeric sidewalls deliver superb strength and move with your board as it flexes.
Materials
Thanks to the grind base which contours to the molds of this wakeboard, your board is protected all season long. Oh yeah, and the wood core also gives you enhanced flex with rebound. Lastly, the Vector Net also adds strength as it is a unique carbon weave.
Fin Design
With the slider quad fin setup, which sports a flattened top, you are delivered with the bite you need around corners while also allowing you to hit the kickers at your cable park. Also, the quad fins are removable.
Overall
If you feel confident in your wakeboarding prowess and feel you are ready for a wakeboard that requires superb skill, then you are ready for the Shane Dose Wakeboard. It simply is as flawless as a design gets.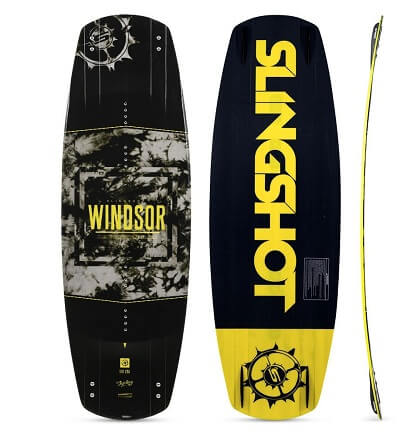 Next up, we have the Windsor Wakeboard and it has an appropriate name as it is perfect for those who love air tricks and performing at a cable park. The protection that the Ballistic park base delivers makes this a highly versatile wakeboard.
Read more
Rocker Design
The last two had 3-stage rocker designs but the Windsor has what is known as a hybrid rocker. Essentially, this is a blend of a continuous and 3-stage rocker. If you can't decide between the two types of rockers, this is almost too good to be true.
Skill Level
For any beginners out there, this is probably not the board for you. It is an all-around park board but the skill level needed to perform admirably with it is intermediate at worst.
Performance
First off, this is engineered with a stiff center which allows it to maintain excellent pop off the water. In addition to this, the soft tip and tail allow you to lock into presses with decreased resistance.
Materials
The Windsor sports a vertically laminated all-wood core and this uses the collective strength of the wood's end to deliver surreal flex characteristics. Also, the aforementioned Ballistic park base protects the board from all surfaces (such as metal, wood, plastic and grass).
Fin Design
Slingshot Sports went with four six-inch by 0.75-inch wake fins for the Windsor.
Overall
If you are planning to wakeboard at a cable park, this may be your best choice. It is designed specifically to accommodate riders who love performing air tricks and the like. Then again, it is fantastic otherwise, even if you do not use it in this manner.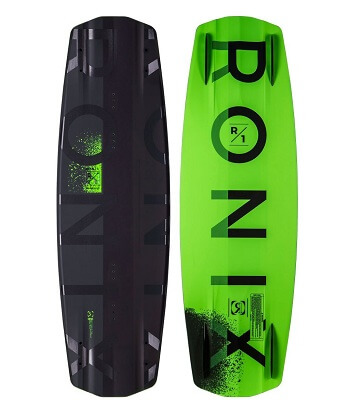 Let's just get this out of the way right away; the One I-Beam is an elite-level wakeboard that requires expert skills and knowledge. When you are able to achieve these levels of expertise, then you need to welcome the I-Beam into your life.
Read more
Rocker Design
Once again, this wakeboard implements a 3-stage rocker design making it the third on this list to do so. Again, this will create more of an instant explosive buck off the wake.
Skill Level
The reason the I-Beam is ideal for advanced riders is its aggressive nature and insanely high speeds. For new riders, this type of handling is going to prove too difficult; unless you pick up on the sport right away.
Performance
Thanks to the deeper side vents of this model, it has 20 percent more glide speed than the previous model. Also, the One I-Beam has more contact and feel on the water than older models.
Materials
Ronix will go to their grave raving about their mod pour foam core. They have great reason to as it is comprised of an exclusive blend of atoms and sports the highest strength-to-weight ratio ever tested by them.
Fin Design
Fiberglass is the way to go in Ronix's eyes as they have integrated four fiberglass ramp fins and four fiberglass free agent fins on their I-Beam Wakeboard.
Overall
It is tough to put into words how spectacular and advanced the I-Beam Wakeboard truly is. In fact, this board gives young riders motivation to hone their craft and this could be their reward.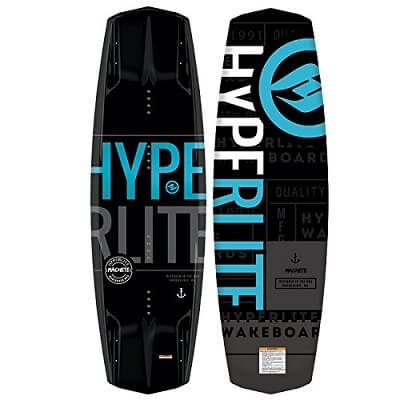 Pro riders Shaun Murray and Rusty Malinoski inspired this next wakeboard and in fact, it is actually a combo of their professional models. Right off the bat, you know a wakeboard is worth looking into if it is a blend of other professional models.
Read more
Rocker Design
Hyperlite also designed their Machete with a 3-stage rocker. Because of this, the Machete provides a stable platform for riders while also offering them a flatter center for enhanced explosion off the wake.
Skill Level
Even though the Machete is inspired by professional riders, it is actually a great choice for recreational use and advanced riding. Of course, it is better tailored towards experienced riders.
Performance
Probably the most noteworthy performance feature of this board is the tip and the tail as they provide catch free riding in the flats. Oh yeah, they also do so while delivering an aggressive edge hold when you turn.
Materials
With the implementation of M6 hardware throughout the board, it has been outfitted with a reduction of width and subsequently weight. However, durability is not an issue as the layered glass construction is less prone to separated glass fibers.
Fin Design
The four P-Wing fins are removable and deliver sensational control Also, they can account for tremendous speed due to the true step-down edges.
Overall
What is nice is Hyperlite was able to engineer a wakeboard that has reduced weight while also having enhanced durability because of the layered glass construction. In short, pick this one up.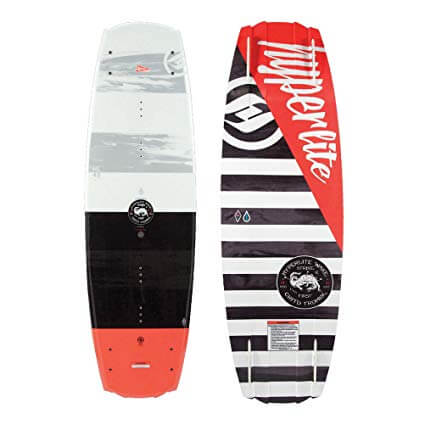 Hyperlite with yet another wakeboard and this time, their Franchise is going to be brought to the spotlight. Due to its design, for starters, it is an adaptable model for novices as well as the professionals.
Read more
Rocker Design
The Franchise introduces a new rocker design on this list and it is known as a continuous rocker. This started it all and the speed and fluidity of this rocker prevent it from becoming outdated.
Skill Level
In conjunction with the continuous rocker is the variable edge design. These two factors primarily allow this to be ideal for both novice riders and advanced riders alike.
Performance
So, what exactly is a variable edge design? Well, it basically integrates a thicker edge between the thinner and the inserts on the outside. The end result is a board that holds a strong edge during turns.
Materials
Outside of molding both the top glass and the bottom glass into one for enhanced durability, Hyperlite implements their Bio 3 Core technology. This is used throughout Hyperlite's lineup of wakeboards and is the gold standard.
Fin Design
Four 0.8-inch P-Wing tapered fins have been included with this wakeboard.
Overall
Pop quiz, what is the best feature of the Franchise? Could it be the insane durability due to the molded glass construction? Or, is it the fact that it can be used for beginners and experts alike? No matter, it is amongst the cream of the crop.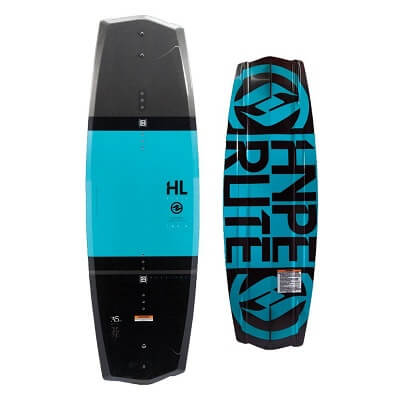 If you know how advanced you are as a wakeboarder and understand you are elite, you may want to pass on the State 2.0. On the contrary, for beginner and intermediate riders, Hyperlite presents yet another outstanding wakeboard.
Read more
Rocker Design
Instead of a normal continuous rocker, the State 2.0 is designed with an abrupt continuous rocker. Without sacrificing any speed whatsoever, the slightly exaggerated tip and tail create added pop.
Skill Level
In order to make harder to learn wake jumps easier for newer riders, the State 2.0 is designed with a shorter edge on the rider's toe-side. As such, intermediate and beginner riders will feel right at home on this wakeboard.
Performance
The biggest performance edge that this board has is the aforementioned shorter edge. As there is less rail to initiate when you apply toe-side pressure, wake jumps will become much simpler.
Materials
Two of Hyperlite's most infamous design elements are integrated into their State 2.0, as well. Of course, this is alluding to the Bio 3 Core technology and the monocoque construction method that molds the top glass and the bottom glass into one.
Fin Design
What is special about the molded-in fins of this wakeboard is that ABS has been introduced into these areas. Because of this, the reinforcement is higher and these areas become less prone to wear.
Overall
Hyperlite has proven time and time again why so many riders fall in love with their wakeboards. Their State 2.0 is right up there with some of their other models and implements all the bells and whistles they are known for.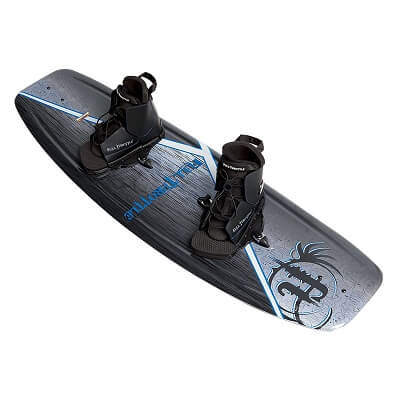 Everyone has to start somewhere, right? No one can master something on their first attempt and with something as intense as wakeboarding, it can take several hours of practice. Well, for those who have never even touched a wakeboard before, feast your eyes on this one.
Read more
Rocker Design
The Full Throttle Aqua Extreme has a continuous rocker and it sticks to the overall theme of this wakeboard. This allows you to effortlessly lift off the wake and will also provide less aggressive turns.
Skill Level
While this is marketed as being a great wakeboard for all levels of skills, it is more suitable for beginner riders. It does not sport the performance advancements that superior riders will be looking for.
Performance
From the tip of the nose, there are a plethora of defined channels that run through and they increase your edge control and also overall stability. Plus, the feather core technology implemented adds strength.
Materials
The lightest bottoms are available for this wakeboard, along with superior molding ABS retention strips. To top it off, literally, the top sheet is comprised of layered glass.
Fin Design
Along with the continuous rocker are two molded-in fins. For added strength and to ensure the fin attachments are secured, a reinforced ABS fin block is also incorporated.
Overall
It probably will not get much better for newer riders. Professionals and experts would probably deem this too conservative but that is okay as that is the point. Consider this a perfect starting model.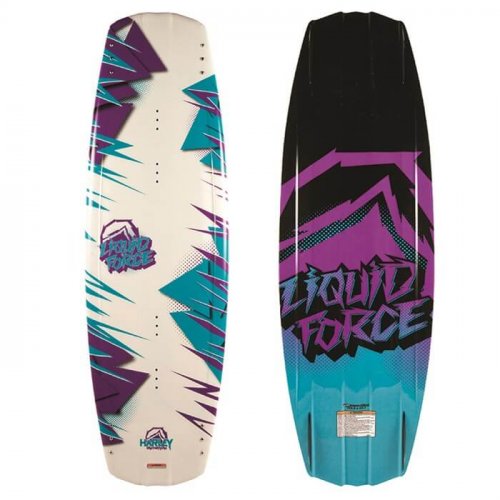 Even though the Harley Wakeboard is yet another that is ideal for beginner riders, it does sport a hybrid 3-stage rocker along with a triple concave hull and quad V channels for amazing performance.
Read more
Rocker Design
Indeed, the rocker of the Harley is a hybrid 3-stage rocker. Basically, two curves are blended together and it improves the overall performance. Also, the increased curve through the ends creates a much higher arc in the air.
Skill Level
Not all boards will be good for your entire family; unless you are all expert wakeboarders. As such, the intermediate and beginner status of this board should make it suitable for nearly everyone in the family.
Performance
Everything works together, including the RX quad fin setup, triple concave hull, and quad V channels, to allow you to carve like a butcher. Plus, the low-volume rails aid with speed and holding power.
Materials
Due to the custom blend of materials used throughout this wakeboard, the strength, flex, and weight are all improved. In specific, the polyurethane core and the special fiberglass increase performance and longevity.
Fin Design
In order to achieve a sharp and aggressive bite, Liquid Force decided to go with an RX quad fin setup for their Harley.
Overall
Probably the only way you will not enjoy this wakeboard is if you are too skilled for it. All the design features and components blend together admirably to produce a remarkable wakeboard.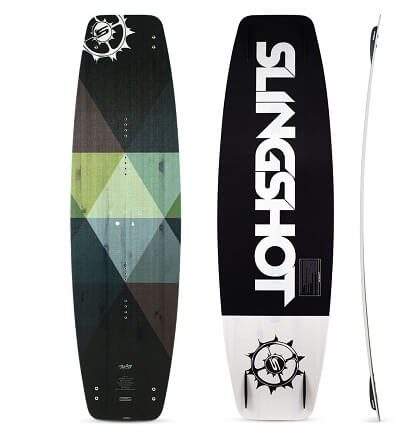 The Nomad Wakeboard was engineered by Slingshot Sports to be more user-friendly and one of the primary ways they were able to achieve this was they designed it to be greater in size.
Read more
Rocker Design
Due to the shape of the wakeboard, as it sports a continuous rocker, you will have less water resistance to deal with and the ride will be much smoother as a result.
Skill Level
Accommodating for stance widths up to 25.25 inches, it is clear that this wakeboard is specially designed for beginner riders. This enhanced base size provides extra stability to the board.
Performance
Just because this is a beginner level board does not mean it can't perform with great efficiency. Because of the NACA tech channels, the pop, speed, and traction are all increased while also allowing for a smoother ride.
Materials
Much like with their other wakeboards, Slingshot Sports built their Nomad with a vertically laminated all-wood core. As with before, this creates superior flex characteristics. Additionally, the fusion sidewalls are brighter than ever.
Fin Design
In addition to everything else, the Nomad sports four wake fins that measure six inches by 0.75 inches in size.
Overall
With what Slingshot Sports set out to do, they did with flying colors. Their goal was not to engineer the most advanced wakeboard on the planet with their Nomad. Instead, they created a more user-friendly base to adapt to a younger and less experienced demographic.

Subscribe to our Newsletter