Marmot Halo 6 Tent
Yes. Invite them. Invite the whole family, perhaps the neighbors, allow your child to bring a friend… The Marmot Halo 6 is a spacious and comfortable tent for up to six people.
However, make sure that you are comfortable enough to sleep near the people you invite because there are no room dividers.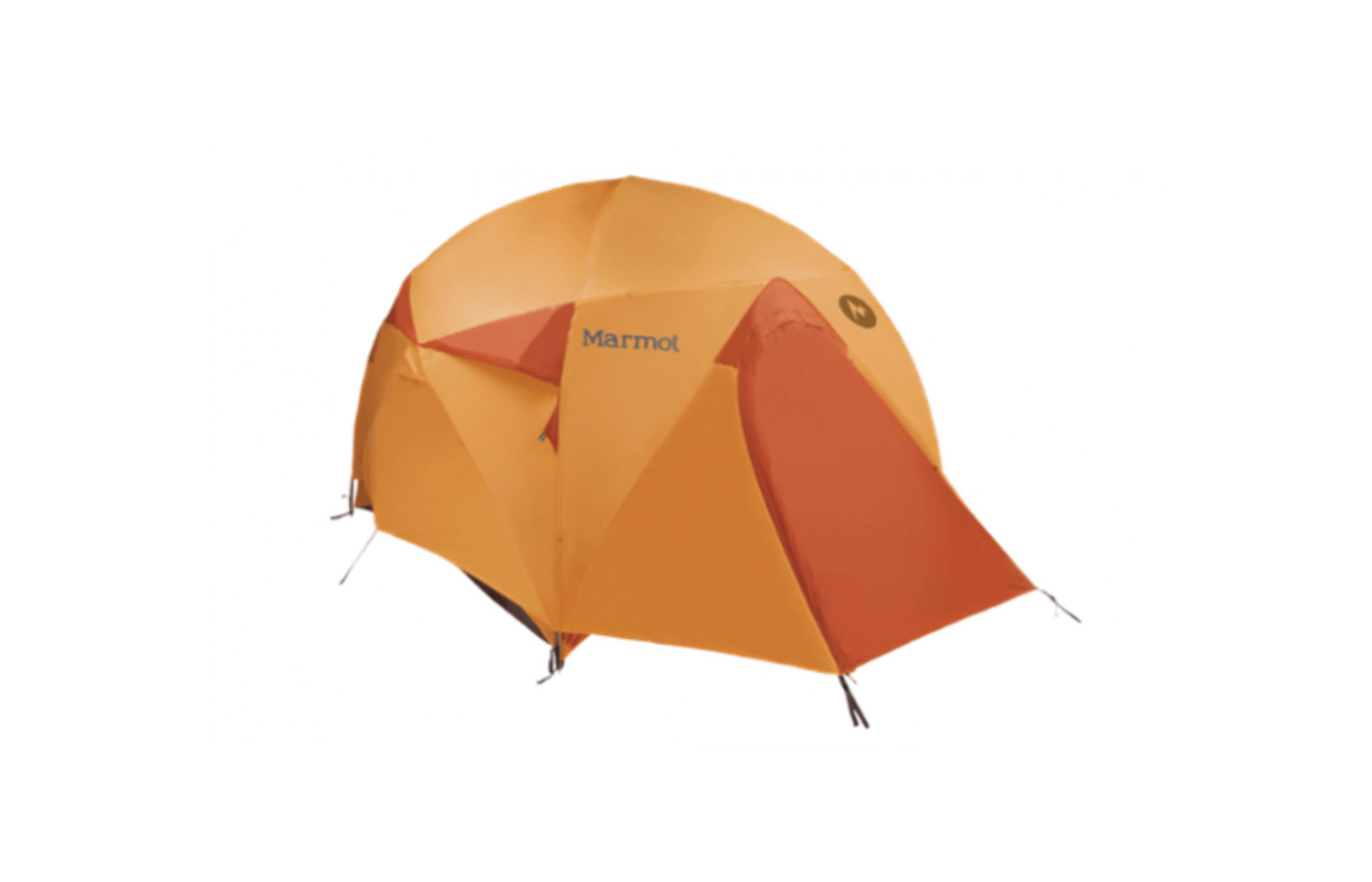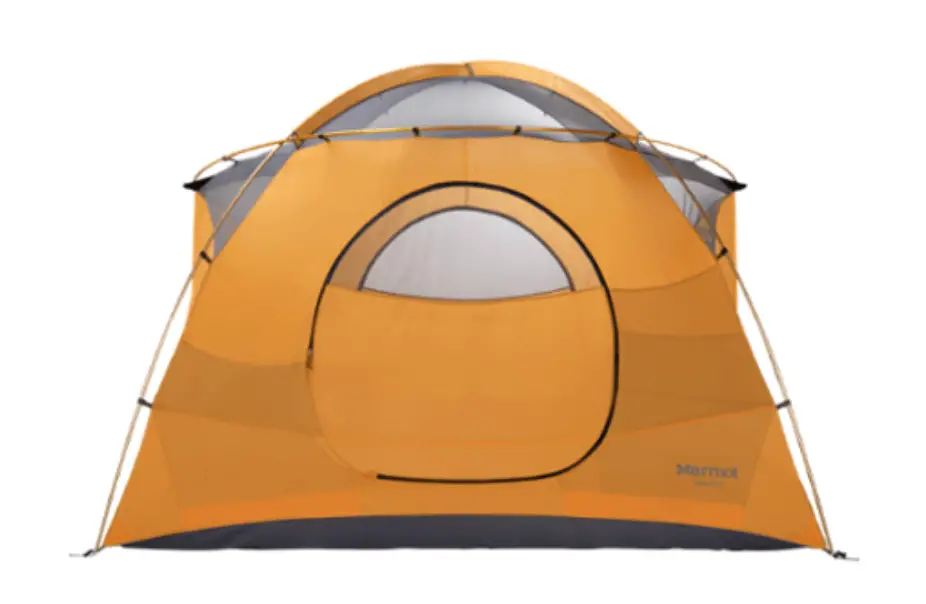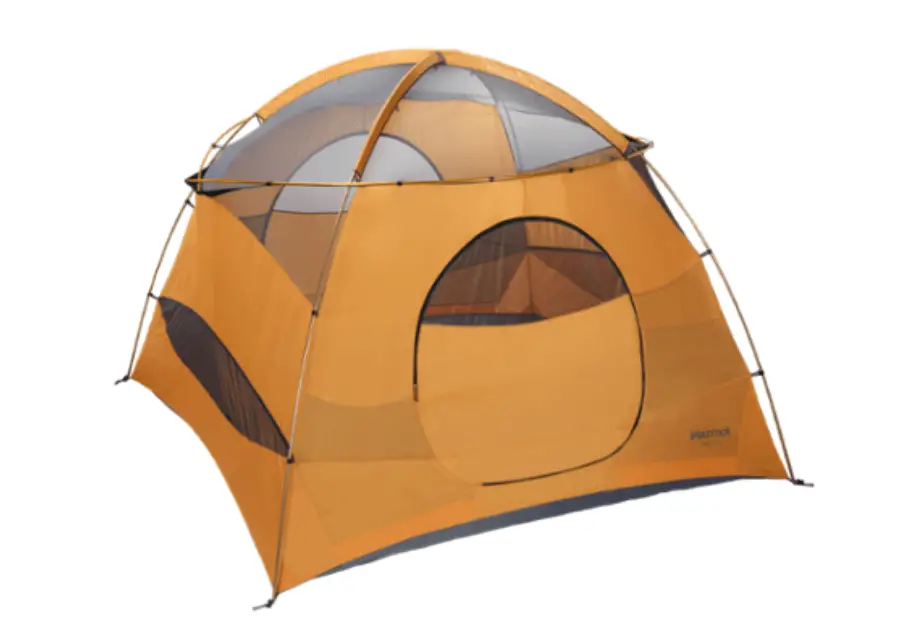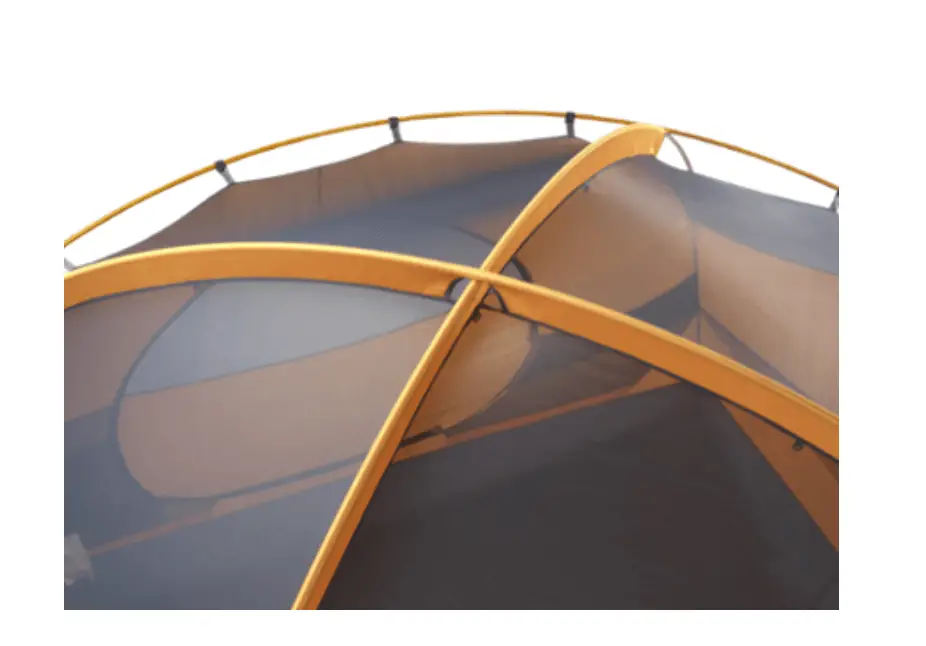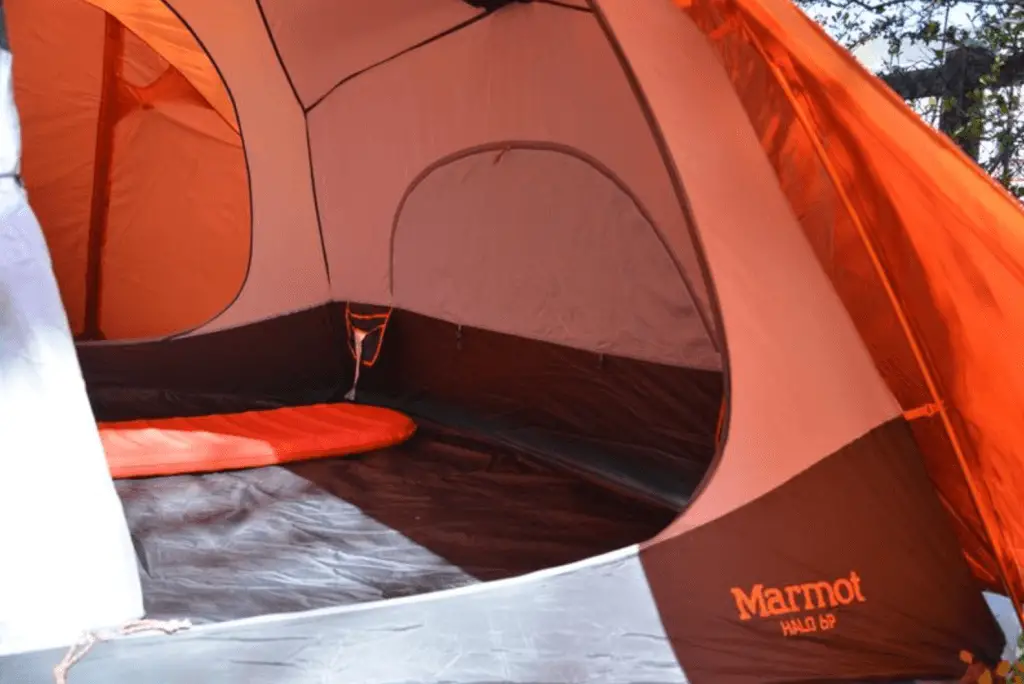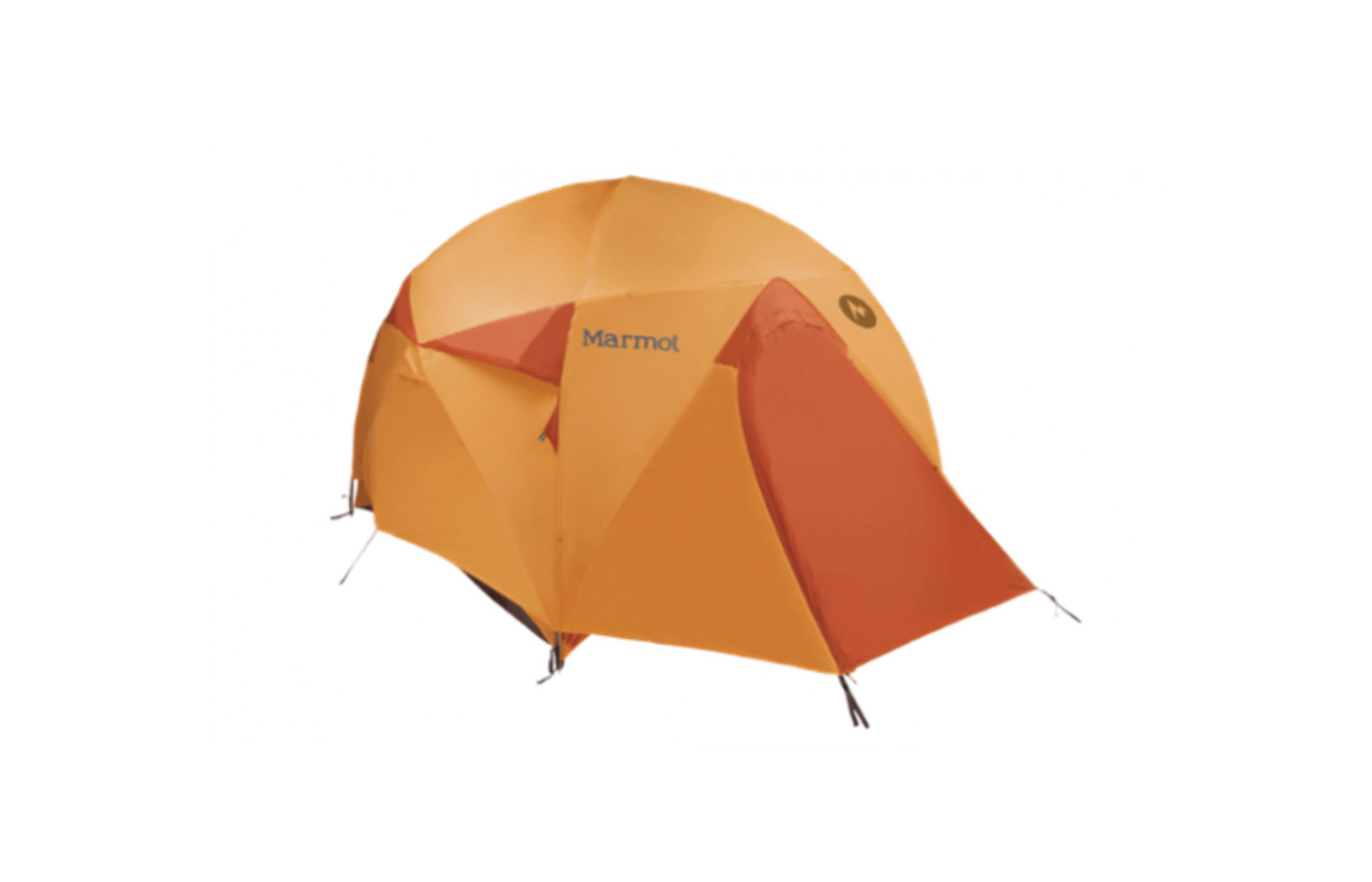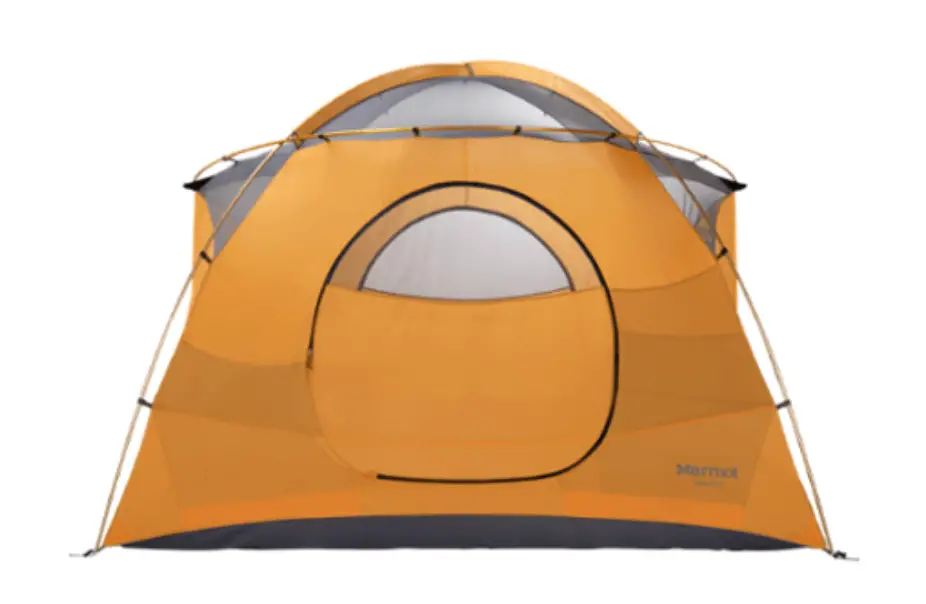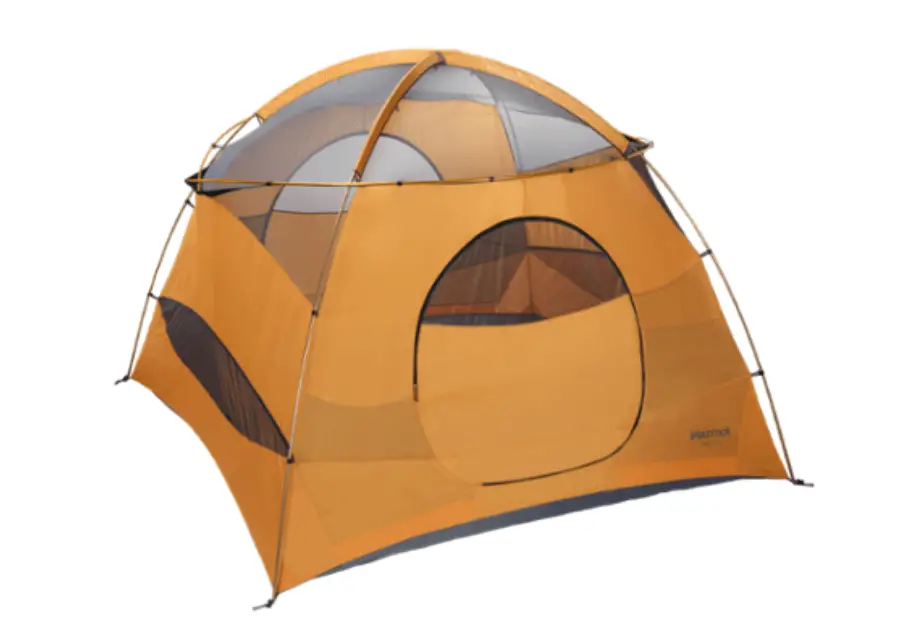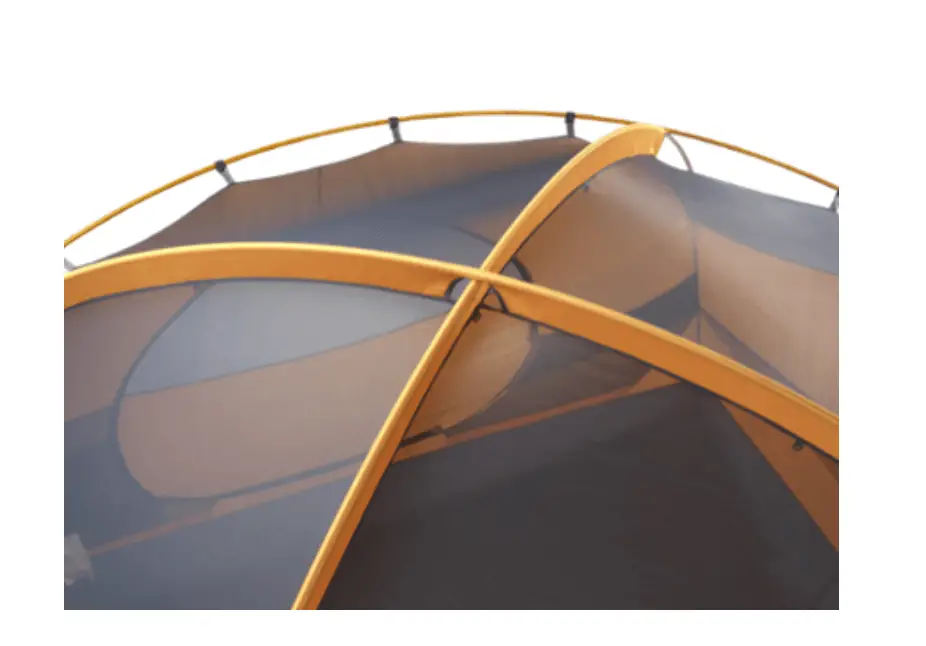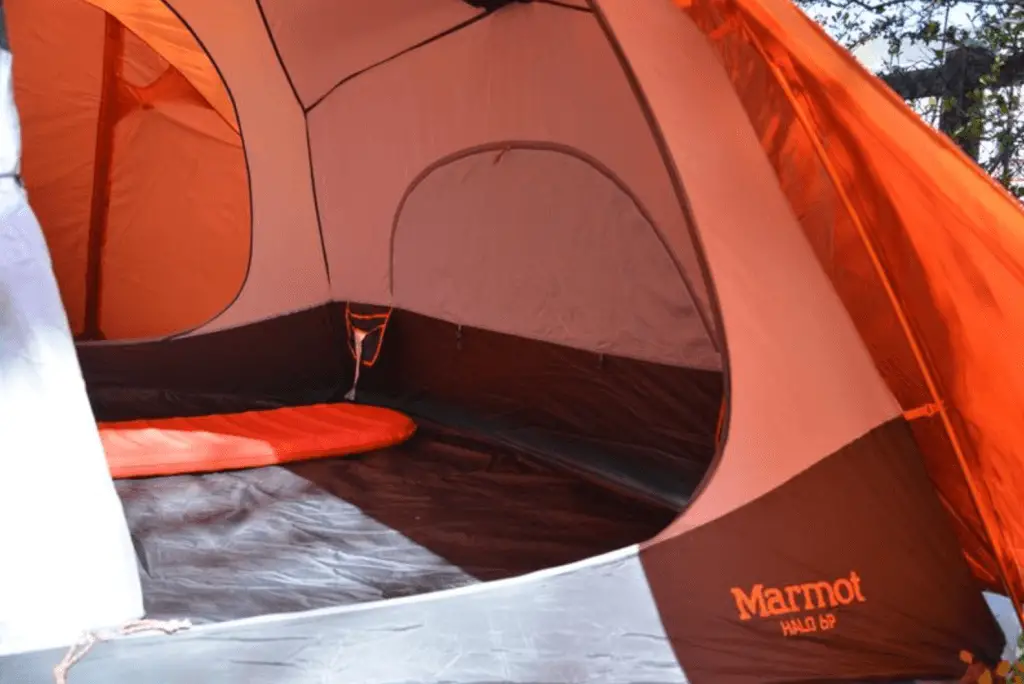 Our Conclusion
The peak height of this tent is about six feet and three inches, making it tall enough for most people to walk around in. There is also plenty of floor space and two vestibules- one of which is big enough for a small table and two chairs.

This is a durable tent with just enough features to keep you comfortable. Continue reading to decide if it is worth the investment for you and your family.
Pros & Cons
Included rainfly has ventilation
Privacy covers for windows
Key Features
Key Features
Materials
Starting from the bottom, the floor of this
6-men tent
is made from 3,000mm 150 denier polyester oxford. It has taped seams and dirt is easily shaken off of it. While this is a strong denier, it is still a good idea to use a footprint underneath. Unfortunately, the footprint is not included with the tent, but Marmot does make one that fits this tent perfectly.
The main canopy is made from 40 denier polyester with no see um mesh lining and 68 denier polyester taffeta. The nylon zipper pulls slide smoothly and doesn't jingle. There are five poles included to set up the tent.
The included rainfly is made from 1,800mm 68 denier polyester ripstop and provides great weather protection. Overall, this is a sturdy tent with strong materials.
Weather Protection
The aforementioned rainfly provides full coverage. The Halo 6 has taped seams and good ventilation. There are four upper vents and two side vents. This means that it will not get steamy and sticky inside the tent when it rains. One thing to note, even though it has not been an issue, is that the floor is not tub-style.
Without the rainfly, you can invite a great breeze in by leaving the windows and doors "open." The windows and doors have covers that allow for privacy or wind-blocking. At the top of the tent, you can enjoy stargazing through the mesh ceiling.
Because of the strong materials used to build this tent, it holds up well in windy conditions also.
Ease of Use
For two people to set this tent up, it takes under ten minutes. However, because it is built for up to six people, you will likely be able to cut that time in half. Even setting it up alone isn't too difficult, just slightly more time-consuming.
The clips and poles are color-coded and pre-curved. Additionally, the main guy lines are pre-attached. A few extra stakes would be useful, but you can manage without them. One thing to note is that the rainfly is not color-coded. It will take you an extra twenty seconds to study it and make sure you put it on the correct way.
To break down the tent is even more simple than setting it up. It easily fits into its included bag that cinches to make the load slightly smaller.
Portability
There is no denying that the Halo 6 is heavy. It weighs just over 20 pounds or 9,110 grams. Considering the size of the tent and the strength of the fabric, this comes as no surprise.
The included storage bag is not particularly comfortable to carry, but it is not likely that you will be carrying it for a long distance anyways. Because of the weight of this tent, it's a better option for destinations that you can drive to.
Comfort
You can fit six people in this tent, but of course, it is more comfortable and spacious with fewer people. At its highest point, it is 75.5 inches high. It has a floor area of 96.7 square feet. The "halo" design holds the walls out and makes the interior feel even larger than it is. If you are having trouble picturing this, think of a rounded shower curtain rod.
There are two doors, one large double and one D-shaped, that make getting in and out of the tent without disturbing everyone around you easier. The doors zip all the way down to the floor. There is also a small stuff pocket beside the door to stuff the fabric into so that you don't step on it.
Avoid clutter by taking advantage of the two vestibules. The front vestibule is 32 square feet and is large enough for a couple of chairs and a small table. You can even cook safely in there during bad weather. The other, smaller, vestibule can also be used as luggage storage, a place to leave dirty shoes, or anything else.
Features
For those items that you want to keep inside the tent, but not on the floor, there are eight organizational pockets. However, two of these are oddly placed near the ceiling. There are also sufficient hooks and clips, including a lantern hanger in the dome of the tent.
If you leave the tent in the middle of the night, you will appreciate the light-reflective points that will lead you back to the tent without getting lost in the wilderness.
The warranty period is not listed for Marmot. If you have a manufacturing defect, you can file a claim and send it to Marmot for repairs or replacement.
This entire process takes up to about three months and may include a fee. Additionally, Marmot sells replacement parts.
Comparison to Similar Tents
Another popular six-person tent option is
The North Face Wawona
. It is mainly made from nylon and has double-walled construction, making it quite durable. Its color-coded poles make it easy to set up. It has an 80-inch peak height, 4.5 inches higher than the Halo. However, the total square footage is slightly less at 86.11.
It weighs just about the same as the Halo and is more affordable. However, there are a few setbacks. The large mesh front door has no covering. If you do not attach the vestibule, you will not have any privacy. Also, the included carrying bag is flimsy and allows for pieces of the tent to easily fall out.
Switching brands, the
Nemo Wagontop
has a unique shape and design that comfortably fits up to six people. It has slightly more floor space than the Halo, at 97.3 square feet. At its highest point, it is 80 inches tall.
What's even better is that because this tent is not dome-shaped, the entire ceiling is more or less 80 inches high, making walking around in the tent very comfortable.
It has panoramic windows that provide great views and ventilation and can be easily closed from the inside of the tent. Setting up the Wagontop is more difficult than the other options because the poles are not color-coded. Additionally, this tent weighs 27 pounds and tends to collect condensation when it rains.
Verdict
The Marmot Halo 6 does not have many downfalls. It is definitely an expensive tent, but you get what you pay for. It is durable, spacious, and comfortable. The rainfly functions well without leaving you feeling like you are in a sauna. The majority of features are in the craftsmanship and design, but we do appreciate the pockets and reflective points.

This is a great option for large families, friends, or just simply those who enjoy spreading out while camping. Even if it rains, you'll be able to comfortably enjoy your trip and cook a nice dinner without worry. Try it out for yourself.

Subscribe to our Newsletter