The best picnic carrier: Sistema Klip-It expanding lunch box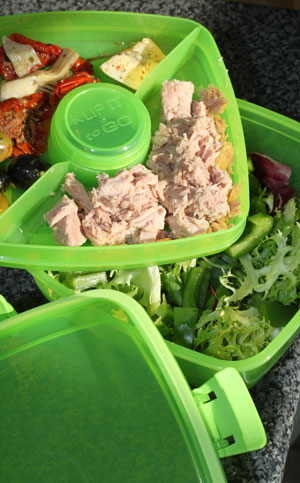 [caption id="attachment_3058" align="alignleft" width="300"]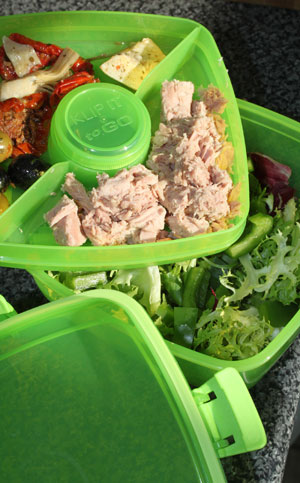 A picnic box for those with OCD tendencies[/caption]
The husband might be happy disappearing up a trail with a Mars Bar sandwich sweating in cling film in his pocket, but I'm a bit more sophisticated and thus am slightly more demanding when it comes to storing my lunch.
Over the years I've owned various brands and styles of plastic storage device and I've become a bit of a fan of the ones that use clips - I find them to be more secure.
On a recent shopping expedition  my eye was drawn to the brightly coloured Sistema Klip-It To Go selection. This was somewhat unavoidable as they are super bright; The range I'm reviewing here is available in pink, green and blue – perhaps not great if your lunch is of the shy and retiring type!
The next thing I noticed is that cost wise they are a few pounds more than their more basic competitors. However, after dismantling the box in-store I felt the couple of extra pounds was worth the punt and duly trotted up to the till to make my purchase.
What you get for your money is a lid closure with the aforementioned clips, a removable tray divided into two compartments, a small pot for dressings and a main compartment. Underneath the removable tray is a two-part knife and fork set built-in.
First impressions were of a sturdy, well made product in a crisp, clear plastic – rather than the slightly weird rubbery texture that you sometimes get. I duly loaded up the main compartment with salad leaves, cucumber and sliced
peppers. The top I divided into tuna on one side and in the interests of extreme testing some oily olives and roasted artichokes on the other. The little pot was filled with balsamic vinegar. The whole thing was then dumped into my
backpack and stored on my motorbike and sloshed about for 30 minutes on my daily commute.
A quick peak through the plastic before putting it in the fridge at work and everything seemed to be in place – there was certainly no external leakage which was amazing.
As I set to assembling my salad at lunchtime, the container received some admiring glances from my colleagues. Being a bit of a pessimist (and knowing what my riding is like!) I was expecting the inside to be oily from the olives etc
and for them to have got smooshed up with the tuna. Imagine my surprise when upon opening the lid I found everything was still exactly as I had left it. Impressive!
I did get wet fingers removing the cutlery from the bottom of the tray as the salad had made that area damp but that is not surprising . The cutlery was easy to slot together and the paddle like design makes it easy to grip. The fork tines are a tad chunky/squared off so spearing olives was a bit of challenge but it worked fine in the main. Later in the week I tried the knife on cheese and crackers and that too performed satisfactorily.
Now I'm sure some of you will be going 'yeah that's lovely but what's the point – it's just totally over-engineered when you can just chuck all your stuff in a one container version' and I would have been tempted to agree as that is what I've been doing for years. However, having now used the Sistema I can honestly say that the one pot salad is a bit soggy in comparison and generally ends up all tasting the same – I don't think I'll be going back.
[caption id="attachment_3059" align="aligncenter" width="500"]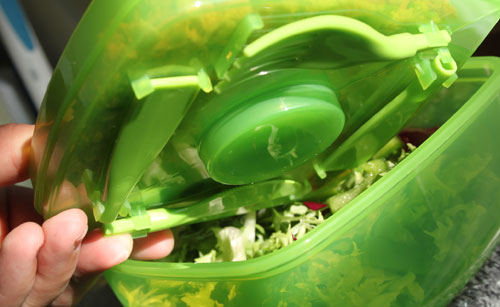 Peek-a-boo cutlery[/caption]
Also you might ask what sane person would take a salad on trail? Well I told you I had delusions of sophistication... so if you are more a Mars bar sarnie type of walker like 'im indoors they also do a sandwich sized box!
SUMMARY:
Brilliant bit of design – whole range has been well thought about by those who clearly use lunch boxes, the inclusion of cutlery is really useful. I love the bright colours – it makes it easier to spot in the bottom of a bag and will also appeal to children and finding any excuse to get kids walking and enjoying the outdoors is always good.
More info https://www.sistema.co.nz
Subscribe to our Newsletter