Best Ab Rollers
In a
Hurry? Editors choice: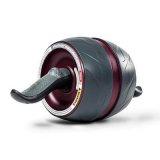 Test Winner: PERFECT FITNESS

It really is amazing how effective simple devices can really be. In this modern age of technology, designers and engineers are aiming for bigger products that offer complex features and advanced functionality. So, it would seem that a simple device such as an ab roller would get left out in the cold, so to speak. Yet, that could not be farther from the truth because although the typical model will not be extremely advanced, it should still be effective. Of course, there are specific ab rollers on the market that set themselves apart with key features and implementations. And, it may be in your best interest to focus primarily on these types of options. But, with all that being said, how do you determine if a specific model is "elite"? Well, let's take a closer look at that.
Standout Picks
Criteria Used for Evaluation
Stability
For the best experience possible, you may want to look for models that offer optimal stabilization.
When you talk about ab rollers, it always seems like the term stability gets brought up on several occasions. As expected, this is not merely a coincidence as this is the number one factor of any specific model on the market. At the end of the day, determining the stability of one specific model really comes down to the width of the wheels and how many wheels are integrated. Even though all the entries on this list were dual ab wheels, there are single-wheeled versions out there. However, to say they are difficult to use is an understatement. Due to the fact that all of your weight is going to be pressed down on the handles, it is going to take a lot of effort to keep the wheels straight. In essence, the wider the wheels the easier this process is going to be.
This does not insinuate, however, the dual-wheeled models are only for beginners. No matter your skill level, you can achieve an extremely challenging workout regardless. Oh yeah, and not all models will be ideal for all types of floors. Ideally, look for wheels that feature rubber as these are much more likely to run smoothly on a variety of floor types.
Comfort
This all comes down to the handles as they need to be well-designed and optimized for comfort.
If stabilization is the bread of an ab roller then the handling is the butter. In other words, it is just as important if not more. And, in a way, the handling can even enhance the stabilization of any one model. When you go to assess the handling, though, there are several factors that you will want to look at. First and foremost, the grips need to fit your hands correctly. Do note that if you have larger mitts, smaller handles will not give your hands much breathing room. Additionally, you will want to look for handles that are ergonomically designed. Essentially, if anything is ergonomically designed it means that it is optimized for comfort. For ab rollers, take what Perfect Fitness does as a great example. They integrate angled handles and these place your hands in ideal positions when you slide up and down.
Now, all this is great, but you also do not want your hands to wear out quickly or even end up slipping while you slide down or return up. To avoid this, look for handles that either implement textured grips or foam padding. This is only going to benefit you in the long run.
Portability
Most models will be portable, admittedly, but some will be more so than others.
Perhaps you only have interest in using an ab roller at home. But, what if you intend to take this device to the gym with you? In this situation, it sure would make it easier if the model you pick is portable, right? Indeed, this is an accurate statement and it brings us to this next section. Here is the good news; nearly every ab roller on the market is going to be easy to transport. So, why even make this a criterion if this is true, you may be thinking? You know as well as everyone else that there is always an exception to the rule. In addition, specific models will allow you to separate the handles from the main shaft in the instance you need to save a little space in your duffle bag.
Of course, this leads to a potential counter-intuitive criterion, if you think about it. Earlier, it was documented that wider wheels will enhance the stabilization. Yet, would this not, in turn, diminish the portability? Due to the fact that even ultra-wide models are still not that cumbersome to transport, it is really not too big if a deal.
Durability
Depending on your weight, it may be in your best interest to look for models that are made of superior materials.
With some products on the market, the build quality is the one true area where you can see a massive increase or decrease in the price. In many ways, you really do get what you pay for in regard to the quality. Yet, with ab rollers, even top-end models will not break your bank. In spite of this, there are extremely affordable options and simply those that are affordable. The reality is you need to buy what you feel comfortable with (and your weight is going to come into play, as well). If you are a heavier individual and do not want to mess around with a model that is consisted of plastic, then search the market for models that are made out of high-quality materials such as polymers and rubber (along with metal).
Now, this is not to say that plastic is a poor material (as many options on this list utilize it). All you really need to ensure is that the model you buy can withstand your weight. No matter how you slice it, your weight will be a factor as heavier loads will put increased pressure on the internal components of ab rollers.
Accessories
Some sellers will include extra accessories with their model, such as kneepads.
For this type of product, the included accessories are not going to be a deal-breaker. With that being said, they can certainly be a game-changer. Ironically, the term "accessories" was used but the reality is there is really only an accessory that you should look out for. While additional perks such as free workout plans and online tutorial videos can often be included with your purchase, the one that gets the most attention is a knee pad. Now, you can always buy knee pads (whether you want to go with a mat or an actual pad that fits on your knee) separately. However, if a seller is going to go out of their way to provide you with a free knee pad, why should you not oblige?
And, if a seller does indeed include a knee mat for you it is ideal if it is made out of high-density EVA foam. What this will do is provide your knees with a comfortable base to rest on. After a while, your knees will surely be in pain if you are resting on them without any padding.
OUR TOP PICKS FOR THE BEST AB ROLLERS
Subscribe to our Newsletter