Best Ab Rollers
In a Hurry? Editors choice: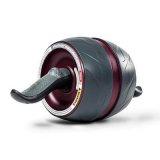 Test Winner: PERFECT FITNESS

It really is amazing how effective simple devices can really be. In this modern age of technology, designers and engineers are aiming for bigger products that offer complex features and advanced functionality. So, it would seem that a simple device such as an ab roller would get left out in the cold, so to speak. Yet, that could not be farther from the truth because although the typical model will not be extremely advanced, it should still be effective. Of course, there are specific ab rollers on the market that set themselves apart with key features and implementations. And, it may be in your best interest to focus primarily on these types of options. But, with all that being said, how do you determine if a specific model is "elite"? Well, let's take a closer look at that.
Standout Picks
Criteria Used for Evaluation
Stability
For the best experience possible, you may want to look for models that offer optimal stabilization.
When you talk about ab rollers, it always seems like the term stability gets brought up on several occasions. As expected, this is not merely a coincidence as this is the number one factor of any specific model on the market. At the end of the day, determining the stability of one specific model really comes down to the width of the wheels and how many wheels are integrated. Even though all the entries on this list were dual ab wheels, there are single-wheeled versions out there. However, to say they are difficult to use is an understatement. Due to the fact that all of your weight is going to be pressed down on the handles, it is going to take a lot of effort to keep the wheels straight. In essence, the wider the wheels the easier this process is going to be.
This does not insinuate, however, the dual-wheeled models are only for beginners. No matter your skill level, you can achieve an extremely challenging workout regardless. Oh yeah, and not all models will be ideal for all types of floors. Ideally, look for wheels that feature rubber as these are much more likely to run smoothly on a variety of floor types.
Comfort
This all comes down to the handles as they need to be well-designed and optimized for comfort.
If stabilization is the bread of an ab roller then the handling is the butter. In other words, it is just as important if not more. And, in a way, the handling can even enhance the stabilization of any one model. When you go to assess the handling, though, there are several factors that you will want to look at. First and foremost, the grips need to fit your hands correctly. Do note that if you have larger mitts, smaller handles will not give your hands much breathing room. Additionally, you will want to look for handles that are ergonomically designed. Essentially, if anything is ergonomically designed it means that it is optimized for comfort. For ab rollers, take what Perfect Fitness does as a great example. They integrate angled handles and these place your hands in ideal positions when you slide up and down.
Now, all this is great, but you also do not want your hands to wear out quickly or even end up slipping while you slide down or return up. To avoid this, look for handles that either implement textured grips or foam padding. This is only going to benefit you in the long run.
Portability
Most models will be portable, admittedly, but some will be more so than others.
Perhaps you only have interest in using an ab roller at home. But, what if you intend to take this device to the gym with you? In this situation, it sure would make it easier if the model you pick is portable, right? Indeed, this is an accurate statement and it brings us to this next section. Here is the good news; nearly every ab roller on the market is going to be easy to transport. So, why even make this a criterion if this is true, you may be thinking? You know as well as everyone else that there is always an exception to the rule. In addition, specific models will allow you to separate the handles from the main shaft in the instance you need to save a little space in your duffle bag.
Of course, this leads to a potential counter-intuitive criterion, if you think about it. Earlier, it was documented that wider wheels will enhance the stabilization. Yet, would this not, in turn, diminish the portability? Due to the fact that even ultra-wide models are still not that cumbersome to transport, it is really not too big if a deal.
Durability
Depending on your weight, it may be in your best interest to look for models that are made of superior materials.
With some products on the market, the build quality is the one true area where you can see a massive increase or decrease in the price. In many ways, you really do get what you pay for in regard to the quality. Yet, with ab rollers, even top-end models will not break your bank. In spite of this, there are extremely affordable options and simply those that are affordable. The reality is you need to buy what you feel comfortable with (and your weight is going to come into play, as well). If you are a heavier individual and do not want to mess around with a model that is consisted of plastic, then search the market for models that are made out of high-quality materials such as polymers and rubber (along with metal).
Now, this is not to say that plastic is a poor material (as many options on this list utilize it). All you really need to ensure is that the model you buy can withstand your weight. No matter how you slice it, your weight will be a factor as heavier loads will put increased pressure on the internal components of ab rollers.
Accessories
Some sellers will include extra accessories with their model, such as kneepads.
For this type of product, the included accessories are not going to be a deal-breaker. With that being said, they can certainly be a game-changer. Ironically, the term "accessories" was used but the reality is there is really only an accessory that you should look out for. While additional perks such as free workout plans and online tutorial videos can often be included with your purchase, the one that gets the most attention is a knee pad. Now, you can always buy knee pads (whether you want to go with a mat or an actual pad that fits on your knee) separately. However, if a seller is going to go out of their way to provide you with a free knee pad, why should you not oblige?
And, if a seller does indeed include a knee mat for you it is ideal if it is made out of high-density EVA foam. What this will do is provide your knees with a comfortable base to rest on. After a while, your knees will surely be in pain if you are resting on them without any padding.
OUR TOP PICKS FOR THE BEST AB ROLLERS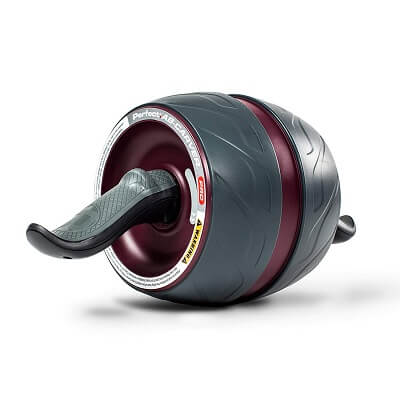 There is a reason why this right here is the standard-bearer. In addition to the ultra-wide wheel that enhances the stabilization, Perfect Fitness utilized an interior kinetic engine for optimal performance.
Read more
Stability
No matter which direction you want to carve, the ultra-wide wheelbase is going to make it easier and much more stable. This increased width is something other models sorely lack.
Handling
Not only are the handles padded for your comfort but they are also ergonomically designed. You see, they are angled and this allows for an optimal grip and even better control.
Portability
When you want to transport this to the gym or any other area, the handles can easily be removed. This way, it will save a little space (length-wise, anyway).
Build Quality
It can't be spoken of highly enough; this is exceptionally built. In addition to the high-quality materials, this is also powered via the integrated kinetic engine (and this utilizes a carbon steel spring to provide resistance).
Accessories
Perfect Fitness includes a few accessories with your purchase. Firstly, you receive a high-density foam kneepad. But, you also gain access to a downloadable 21-day workout plan.
Overall
Do yourself a favor and believe the hype here. Some products simply receive unwarranted praise but this is not the case with this model (not even close). If you want the best, here it is.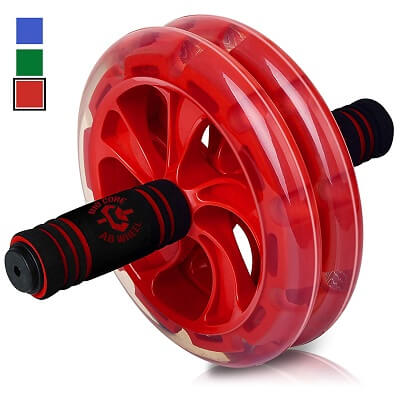 What sets this next model apart is its innovation and uniqueness. It is one of the few options on the market that is designed with rubber wheels and this offers optimal stability on all surfaces.
Read more
Stability
Adding on to the fact that this sports rubber wheels, there are two of them included. Be aware, though, that the two wheels are extremely close together so working out with this can prove to be quite the challenge.
Handling
The handling is superb here for two reasons. Firstly, thick memory foam is present and this adds sufficient padding. Secondly, the same foam provides slip resistance to ensure you achieve a stable grip.
Portability
Due to the fact that you can slide the handles off, you can easily pack them and the wheels in a carrying bag.
Build Quality
If you are not a fan of plastic ab rollers, then this model is for you. As mentioned, it sports high-grade rubber wheels but it is also made of industrial strength polymers and a stainless steel axle.
Accessories
Included with your purchase is a high-quality knee mat that can be used with this roller. It is made from high-density EVA foam and provides sufficient padding and protection for your knees.
Overall
An absolutely astronomical credit needs to be given to the engineers of this model. Not only did they construct something completely different but they also optimized their design to benefit the user.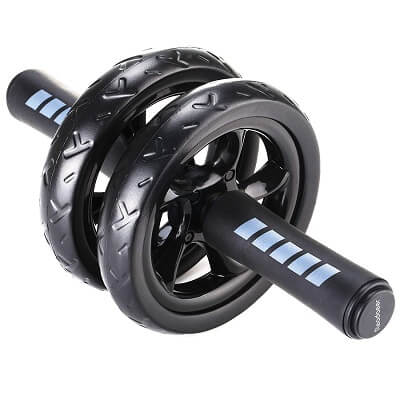 The price and the quality do drop off a bit here but this remains a fan favorite for certain reasons. One of those reasons is the double wheel functionality, for example.
Read more
Stability
Initially, if you try this model, you will notice how small it is. There are two wheels integrated, for the record, but the small width can make achieving optimal stabilization a bit trickier.
Handling
Though the small width can affect the stability, the non-slip hand grips enhance it. As opposed to other inferior handles, the ones provided here are very good.
Portability
Weighing in at less than one-pound and sporting a quick snap installation system, it is safe to say that you will have little trouble transporting this.
Build Quality
This is the first entry on this list that has been criticized for its "cheap-feeling plastic". This is not uncommon for most ab rollers on the market, however.
Accessories
As a bonus, Readaeer does include foam knee pads with your purchase. For the price of admission, the fact that they do include these is utterly fantastic.
Overall
All you need to know is this; Readaeer's model is going to provide you with an excellent workout. It sports great handling but, admittedly, it's probably better for those of you with narrower bodies.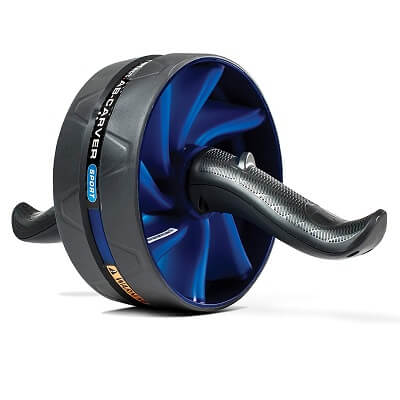 Perfect Fitness's Pro Roller is the best in the world but their Sport Roller is not far from it. At the end of the day, it is tough for other designers to match the design, durability, and affordability of the Sport Roller.
Read more
Stability
As with their Pro Roller, Perfect Fitness equipped their Sport Roller with an extra-wide wheelbase. This and the rubber tread combines for optimal stability.
Handling
The grips that are integrated here are virtually identical to those of the Pro Rollers. They are angled for enhanced ergonomics and are also naturally comfortable to grip.
Portability
Overall, this is a sleek design that is not going to be too cumbersome to transport. Perfect Fitness went for a design that was not overly-bulky that is for sure.
Build Quality
The Sport Roller is built to last, let's just say that. It sports a superior design that has been crafted of high-quality materials; could you really ask for much more?
Accessories
It does not appear that Perfect Fitness includes any additional accessories with their Sport Roller, for the record.
Overall
Truthfully, this is an excellent alternative to the Pro Roller as it is a little bit cheaper. However, this is just in regard to the price because it does not dip in quality much at all.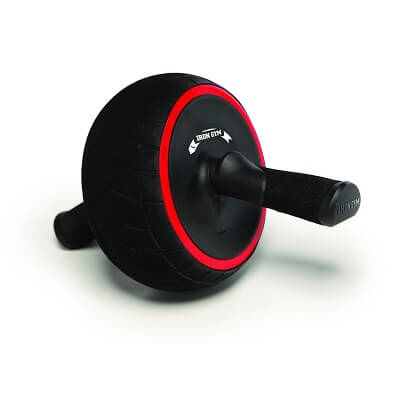 With the ergonomic and rubberized handles and the non-rotating center piece, this ab wheel is one of the best on the market. It may not be as well-known as the Perfect Fitness models but it should be.
Read more
Stability
The ultra-wide wheelbase of this model is only one aspect that enhances stabilization. The other is the non-rotating centerpiece.
Handling
The rubber and silicone covers offer comfort for the handles while the angled design enhances the ergonomics. For handling, this is a fantastic combination.
Portability
Though it may seem trivial, the handles can be detached. This becomes important if you need to save a little space in your gym bag (if you plan to transport this to the gym).
Build Quality
Now, the rubber that is utilized is high in quality and the internal assist system is also very nice. However, this can only safely hold about 300 pounds (which may not work for some of you).
Accessories
Iron Gym provides you with their fantastic ab roller but it appears that they do not include any other accessories (such as a kneepad).
Overall
At the end of the day, you really have to admire the design that was put forth by Iron Gym. Their model is not as recognized or as celebrated as others but that does not mean a darn thing.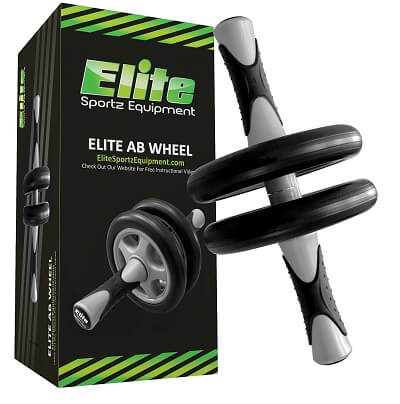 Even though it is a small nuance, what is unique about this model is Elite Sportz Equipment ships it fully assembled. Do not worry, though, transporting it will still not be difficult at all.
Read more
Stability
Some users have noted that this can feel unstable at times. However, the double wheel design is ideal and will enhance the overall stability.
Handling
As you can see from the photos, textured grips have been integrated onto the handles for enhanced comfort and grip. This will prevent your hands from slipping while also keeping them comfortable.
Portability
Right from the box, this actually comes fully assembled, as mentioned. Do not worry; this still remains portable due to its sleek nature and low weight.
Build Quality
The feel is hollow plastic, admittedly. There have been a few buyers who have pointed this out so if you are a heavier user, you may want to look for a different option.
Accessories
Whether you want to consider this an accessory or not is up to you but you can access convenient video instructions on the designer's website.
Overall
Much like with the previous model, this has been raved about from various buyers all over the world. The plastic construction is not the best but the provided workout is worth it.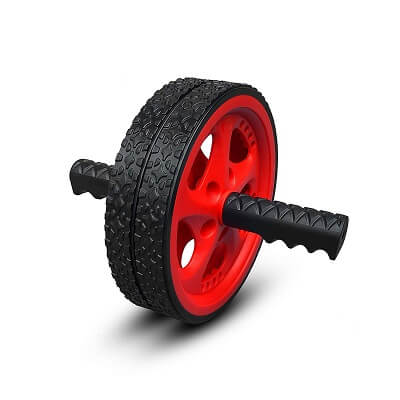 Speaking of fan favorites, this remains one of the most popular models in the world. It combines affordability with stability for an effective product. It is not flawless but it gets the job done for sure.
Read more
Stability
As with most models on the market, Valeo designed theirs with two non-skid wheels. It may seem subtle but the addition of another wheel makes all the difference in the world.
Handling
Admittedly, the handles themselves are small and do not allow for much breathing room. One nice aspect, however, is they are optimized to prevent slipping during intense workouts.
Portability
Now, this is a rare model that actually does not disassemble for portability purposes. In spite of this, yet, you can take the rubber grips off and slide the rod out.
Build Quality
It is not as if this is cheap but there are other options on the market that offer superior quality. Still, granted you do not handle this poorly, it should last for quite some time.
Accessories
Valeo includes their superb ab roller but it does not appear as if they include anything else, which may be disappointing for some of you.
Overall
Without question, this is worthy of the high praise that it is garnered from previous consumers. It is also one of the more affordable options out there, which is nice.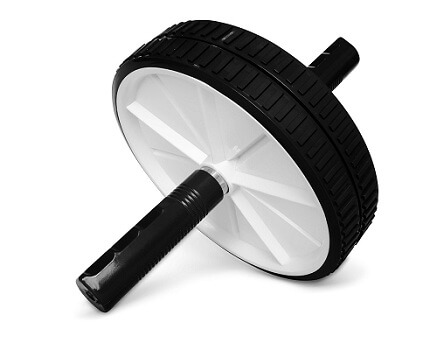 This is a perfect example of an ab roller that is very effective, yet one that is not overly impressive. Admittedly, the price does warrant this so it is not much of a surprise.
Read more
Stability
Due to the integration of the double non-skid wheels (which is a staple of this type of product), this offers a smooth and skid-free performance that you will love.
Handling
Each one of the handles is contoured and in addition to this, they are textured for enhanced comfort. This combination makes for a much more enjoyable experience for sure.
Portability
For easy carry and travel, this comes in a full set that can be assembled in under a minute and disassembled just as quickly.
Build Quality
It is noted that the core that is made up of a steel bar and plastic wheels will last a long time. Yet, in spite of this, various buyers have complained about the cheap feel of this model.
Accessories
According to one previous user, no instructions are included with your purchase. If you need to, however, you can access tutorial videos online.
Overall
For the price, very few users are going to complain too much about the quality. Do not think that this is just on here for the cheaper price, though, as this can deliver the goods.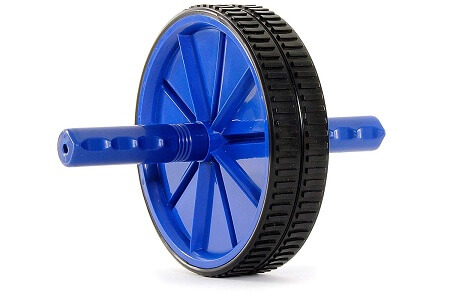 On the surface, it would appear that this next option is simply another ordinary model. However, it sports handles that have integrated slots for your fingers which is quite unique.
Read more
Stability
The dual wheels are definitely nice and do improve the stability. Still, they are not incredibly steady and may end up wobbling a bit during use (though nothing too extreme).
Handling
As was mentioned, slots have been integrated into the handles and they are designed to provide you with a location for your fingers. This is great but the comfort is still lacking due to the lack of padding.
Portability
In reality, for most of you, disassembly will not be necessary. The reason is, as is, this is incredibly easy to store and carry with you to desired locations.
Build Quality
Granted you do not expect superb quality from this, you will be satisfied. It has a cheap plastic feel to it, according to various users.
Accessories
What you see is what you get here. Although, as a minor nuance, you can choose between two different colors (blue and white).
Overall
Some of you may be scratching your head to why a model such as this would be on a list of this magnitude. But, there are many models out there designed of plastic and this is one of the better ones.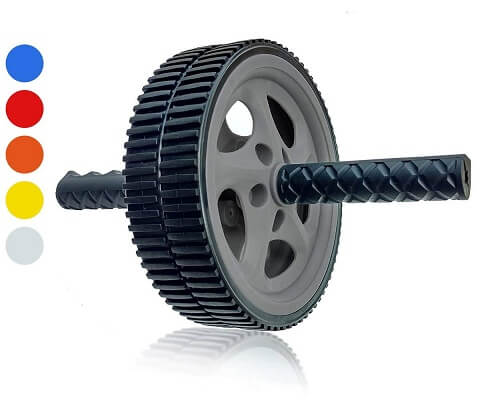 Any product that has garnered as many five-star reviews as this one deserves some recognition. Yet, with that said, this will not hold up as well as top-end models on the market.
Read more
Stability
It is worth noting that on hardwood surfaces, the integrated wheels here are not going to provide much stabilization. So, stick to carpets.
Handling
The handles may not be sufficiently padded but they are contoured and do sport textured rubber grips. So, you will not need to worry about your hands slipping off.
Portability
Though it can be assembled and subsequently disassembled, there will really be no reason to as this ab roller is extremely portable as is.
Build Quality
With a combination of stainless steel, PVC, and non-slip rubber, Wacces was able to engineer a very impressive model. With that said, one heavier user did question the durability and sturdiness.
Accessories
As with the last entry, there are no accessories included but additional color options are available. While nothing major, this is a nice bonus.
Overall
This is yet another option that falls under the affordable and effective tagline. It is more than worth the price of admission and that is the main thing.

Subscribe to our Newsletter