Best Bushcraft Knives
In a Hurry? Editors choice: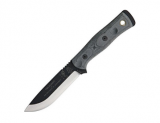 Test Winner: Tops Brothers of Bushcraft Knife

Every single survivalist out there understands and appreciates the importance of
survival tools
among which high-quality bushcraft knives. Just any
ordinary knife
is not going to get the job done when you factor in all the situations that will present themselves in the wilderness.
And, no matter if you find yourself in an emergency situation or merely want to use them for their practicality, bushcraft knives can be an excellent investment. But, where do you start and how do you know what to look for in the best ones? Thankfully, those questions will be answered.
But, first, why don't you check out some of the best options that you currently can get your hands on? It will behoove you to do so as, for most people, the below knives will be just what the doctor ordered.
Standout Picks
Criteria Used for Evaluation
Materials
For this section, the focus is going to be primarily on the blade.
When it comes to knives of any kind, the blades are probably going to be made out of steel. But, as you saw on this list, the type of steel can vary quite a bit. However, typically, you will see bushcraft knives made out of some grade of either stainless steel or high carbon steel.
Regarding which type is superior, that is almost impossible to answer as everyone will have a differing opinion. What you can definitively say, however, is that stainless steel and high carbon steel do have some differences. Out of the two, for example, stainless steel is more resistant to rust and corrosion.
This is thanks to the fact that stainless steel includes high levels of chromium (as this is what provides rust protection). At the same time, however, chromium also makes stainless steel softer than high carbon steel. So, blades with high carbon steel are going to be harder and sharper. But, they will also be more prone to rust.
Also, keep in mind that you will probably want to stick with knives that are full tang. What this means is the blade will run the length of the entire knife. Oh yeah, and to note, knives used for bushcraft will not need to be serrated.
Ease of Use
The design of the handle is going to dictate how easy it is going to be to use.
To assess the handling of any knife, clearly, you will need to determine the design of the handle itself. This is no different from a bushcraft knife. First off, be aware that knife handles can be made out of several different types of materials. Arguably the most common is wood. While wood is subject to moisture, it is a go-to handle material for its traction and overall feel.
Of course, you can also opt for different materials. Another common one is known as Micarta. In the easiest of explanations, this is just a brand name that indicates some fabric that has been layered in a thermosetting plastic. Micarta can be molded in several different ways which makes it incredibly versatile.
You also have G10, and this is super fiberglass. While not the best-looking handle material, its durability is exceptional. But, past the primary material, you also need to assess some different features.
For example, ergonomic designs are always welcomed (as they will feel more natural in your hands). Additionally, any handle that will maintain its grip even when exposed to sweat or rain is a plus.
Size
The size of the blade you pick is going to be very important.
Do not make the mistake of overlooking the size of your bushcraft knife as it will be essential. In general, you probably want to avoid getting one that is super long. This is going to be a disservice as a larger knife is going to make some of the more straightforward tasks more complicated than they need to be.
At the same time, one or two extra inches can make a huge difference when you are tackling something a little larger out in the wilderness. What you also need to realize is bushcraft knives will have two measurements. Of course, you have the length of the entire knife, but the length of the blade is also essential.
And, just for the record, the blade will be measured from the tip to where the handle ends. If a knife has a full tang blade, only the exposed portion will be used for the measurements.
What most people will shoot for is a blade that is anywhere from 3.5 to 6 inches in length and a total length anywhere from 9 to 12 inches. You can go outside the numbers a little bit, however.
Portability
As these types of knives should be fixed, most of them are going to come with a sheath.
For the record, a sheath is used to cover the blade when it is not in use. Most bushcraft knives are going to come with one, so it would behoove you to know a little bit more about them. One of the main ways to educate yourself about them is to understand the different materials that they can be made of.
One of the most common is leather. In addition to being incredibly rugged and robust, leather sheaths also look the part too. That is the natural beauty of leather. With that said, leather sheaths are not perfect. The most common issue is that they are not waterproof so you should keep them out of the rain.
Nylon is another popular material of choice and is also brilliant for sheaths. And, in addition to being durable and robust, nylon sheaths will also be resistant to both mold and rot (both caused by moisture). For pure longevity, however, leather sheaths tend to last longer than nylon ones.
You also have plastic sheaths, but you should know that generic plastic ones are the cheapest you can find. While they can still be suitable, you may want to upgrade with either a nylon or leather sheath.
Advanced Features
Bushcraft knives are going to be quite versatile so you will want to keep an eye out for some extra features.
As many wilderness aficionados are fully aware of, the best tools in the wilderness will be those that are highly versatile. This is why so many bushcraft knives will be designed to perform different types of tasks. Also, this is why most of them will be designed with long flat blades.
With a flat blade, it is going to be quite easy to perform different types of cuts such as batoning and chopping. Of course, the best models will also come with some sort of way to strike fires. A common design you will see is a bushcraft knife with an exposed pommel (which is at the butt of the knife).
This exposed pommel will then be great for striking Ferro rods. This will then produce the sparks you need to quickly and easily start a fire. Additionally, most options will come with lanyard holes at the end of the handle. These can add security, so you do not end up losing your knife.
Our Top Picks for the Best Bushcraft Knives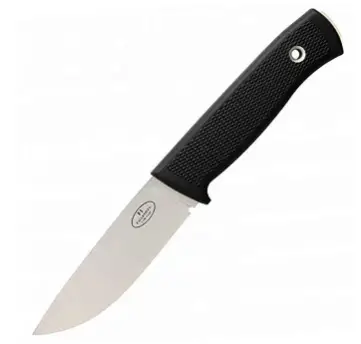 There really are a ton of fantastic bushcraft knives on the market so narrowing down the top choice was not exactly easy. But, it is hard to bet against a knife that is carried by the Swedish National Defense, right?
Read more
Blade Material
The F1 is equipped with a VG-10 blade. VG-10 stainless steel also contains a mixture of carbon too. So, this makes it somewhat of a hybrid between stainless steel and high carbon steel blade.
Handling
Though the handle is hard plastic, it maintains the texture of soft rubber. It is quite fantastic, and it also sports checkering to provide enhanced grip and control. The finger groove, though, is a bit small.
Physical Size
The blade itself measures 3.75 inches in size, and the entire knife is just over eight inches (8.25 inches to be exact). This is quite the adequate size for a bushcraft knife.
Sheath Design
Coming with your purchase is a black Zytel sheath. This is going to provide you with protection, and it has not received too many complaints which is always a plus.
Additional Features
In addition to the fact that the sheath is equipped with a drain hole for washing and drying, the handle sports a visible tang end and also a lanyard hole.
Overall
This is just a workhorse blade, and it is locked and loaded for all your survival needs. It does not get much better than this, ladies and gentlemen.

2

. Tops Brothers of Bushcraft Knife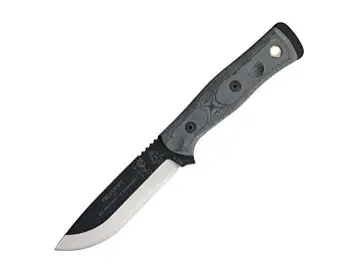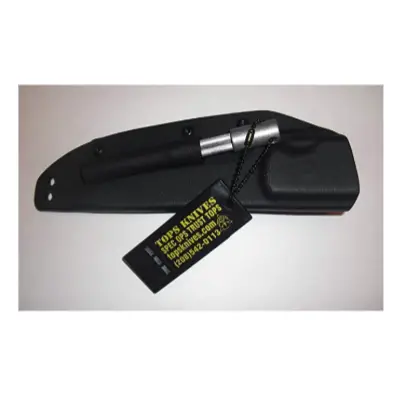 If you want a survival knife that is going to withstand one heck of a beating then you should take a closer look at this sucker. It has been forged from high carbon steel and has been tested rigorously.
Read more
Blade Material
Yeah, let's say this blade is ready to handle some abuse. It has been made of 1095 high carbon steel and has been tested in the wilderness of Canada.
Handling
Without question, this is one of the better handles you will find on a bushcraft knife. In addition to its ergonomic design, it also retains its grip even when your hands are covered in sweat.
Physical Size
At 10 inches in total length, this is a bit longer than other options. The actual blade, for the record, measures 4.5 inches in total length.
Sheath Design
While you may need both of your hands to draw this knife with the included sheath, it holds the blade incredibly securely which is all you can ask for.
Additional Features
First off, there is a scraper on the exposed pommel, and this is nice for striking Ferro rods. Additionally, the handle works great for starting fires.
Overall
Sure, this does not come with the most practical sheath, but the knife itself is another story. The fantastic combination of the blade and handle make this one for the ages.

3

. Benchmade Bushcrafter 162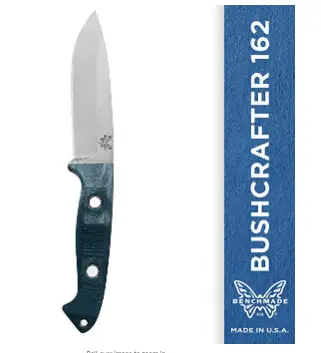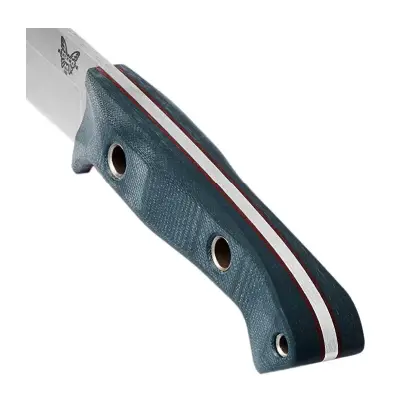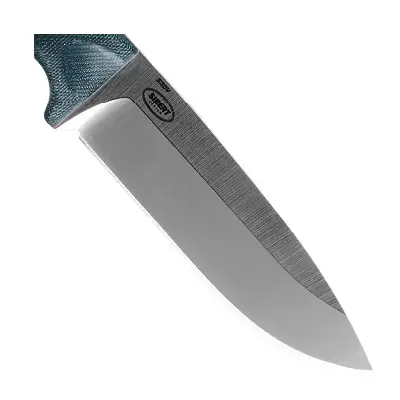 What makes this a premium option is the unbelievable design of the blade. But, just as a warning, this seems to be better suited to users with smaller hands. It is a fantastic design regardless.
Read more
Blade Material
This is not made with any old ordinary stainless steel as the blade sports CPM S30V steel. This is a hardened and powder-made stainless steel that is incredibly resistant to corrosion.
Handling
Alright, so this handle should have been a little bigger, and this can be an issue for some of you. But, the resin-soaked, fiberglass body of the handle is incredible.
Physical Size
The blade is 4.4 inches in length, and the overall length is 9.15 inches. As for the weight, this clocks in at just less than eight ounces. That is not too shabby at all.
Sheath Design
While the leather sheath is not quite as premium as the blade, it is nice to have. It is also leather, and it is tough to go wrong with that.
Additional Features
On the leather sheath is a belt loop for quick and easy access. Also, it comes equipped with a D-ring for even easier access.
Overall
While it is unfortunate that this knife is not suitable to more users, its rugged and robust nature is a sight to behold. For the right people, this will be one of the best knives money can buy.

4

. Buck Knives Selkirk Blade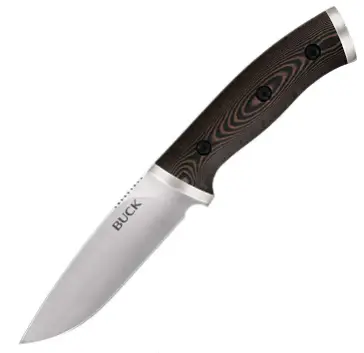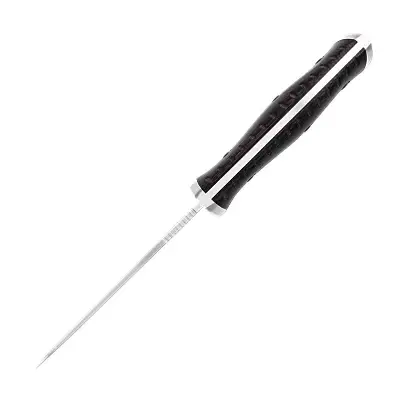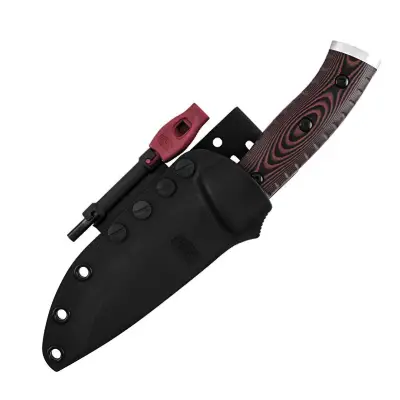 Truthfully, this is simply a gorgeous and beautiful bushcraft knife. The contoured Micarta handle couples with the steel blade to create a practical and visually stunning work of art.
Read more
Blade Material
Buck Knives designed this knife with a blade made out of 420HC steel. This is a higher carbon content of 420 stainless. It is harder than traditional 420C steel and is quite tremendous overall.
Handling
To provide a safe and secure grip time and time again, this has been designed with a contoured Micarta handle.
Physical Size
With a body of 9.5 inches and a blade length of just over 4.5 inches, this is sized quite well. The carrying weight is also 10.7 ounces, which is not incredibly lightweight.
Sheath Design
One nice aspect of the injection-molded nylon sheath is the fact that it can be configured into both a horizontal and vertical position. This makes it suitable for different preferences, which is nice.
Additional Features
Not only does this sport a fire striker but it also has an integrated whistle in the grip. Also, the steel bolster can be utilized as somewhat of an improvised hammer.
Overall
A lot of users have called this knife bulky. With the combination of the knife and sheath, this is a fair assessment. However, you would also have to call this knife insanely practical.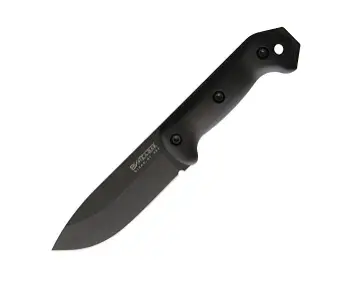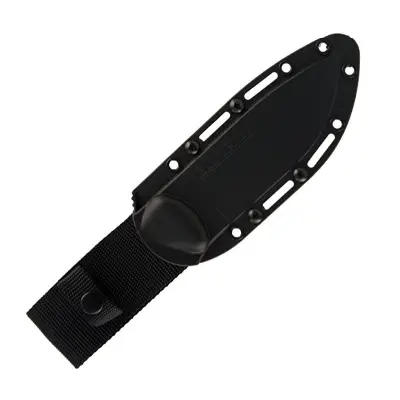 Even though this is not the most versatile option that you will find on the market, it still remains one of the best. It all comes down to its virtually unbreakable cro-van steel blade.
Read more
Blade Material
As several users have mentioned, this blade is a brute, and it really should not break. It is made of 1095 cro-van steel, and this is just a type of high-quality carbon steel.
Handling
The handle of the BK2 is a bit different as it has been made from Grivory. Grivory merely references a group of technical thermoplastics, and they provide excellent grip when used for handles.
Physical Size
For some of you, this is going to be a bit too long for your preferences. It clocks in at 10.5 inches and the blade, to note, is 5.5 inches.
Sheath Design
The included sheath is intelligently designed. With the knife inserted, you will need to apply pressure to a specific spot on the back with your thumb to release it. This keeps it from accidentally coming out.
Additional Features
At the butt of this knife, you will find a lanyard hole, and this can be used for your convenience.
Overall
On a long-list of them, this is just another truly fantastic bushcraft knife. It's brute force alone makes it quite the companion knife for survival situations.

6

. Ontario Black Bird SK-5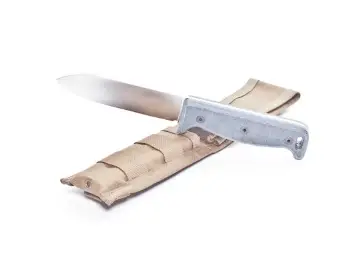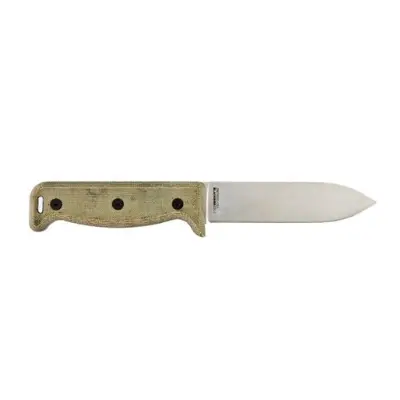 Several of you will be looking for a low-maintenance blade and that is what the SK-5 delivers. It comes with a stainless steel blade and while not as hard as high carbon steel, it will better resist rust and corrosion.
Read more
Blade Material
As noted, the SK-5 is equipped with a stainless steel blade for improved corrosion resistance. Additionally, this same blade has been coated with a mirror finish. However, a few reviewers have made mention of the fact that the blade may need to be sharpened when you get it.
Handling
Thanks to the perimeter of the Micarta handle, which has been rounded to provide a more ergonomic feel, it provides a secure and comfortable grip.
Physical Size
At five inches in length, this is one of the longer blades on this list. The full knife measures 10 inches, for the record, which is also quite long.
Sheath Design
On top of the fact that the included sheath is made out of durable nylon, it is also MOLLE compatible. The belt loop that is integrated also features a protective insert.
Additional Features
As noted, this is MOLLE compatible. This is going to allow you to attach all different types of accessories and such to the sheath.
Overall
Granted you do not have any issues with sharpening the blade when you get it, most of you will be quite fond of the SK-5. It should not be delivered in this fashion but it is not the end of the world.

7

. Condor Tool & Knife Camp Knife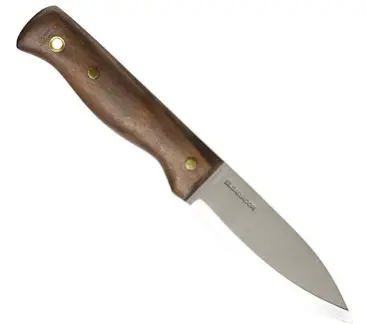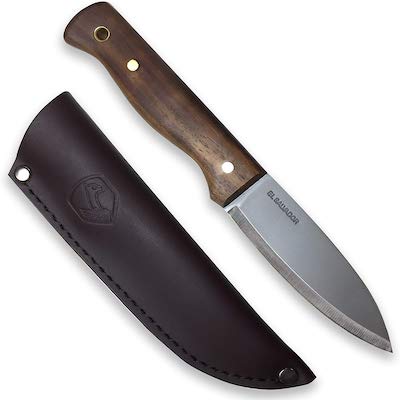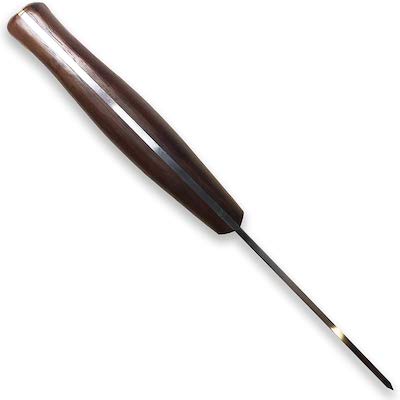 Being made with high carbon steel and a walnut handle, this is one of the best affordable bushcraft knives that you are going to find. The 90-degree spine is also ideal for striker fires.
Read more
Blade Material
Indeed, this comes with a high carbon steel (1075-grade) blade. This same blade has been finished with blasted satin. With that said, there have been some complaints that this can't hold an edge for too long.
Handling
Under standard use, you will love the grip provided by this handle. Aesthetically, it also holds up quite well with its walnut construction.
Physical Size
This will be more in the ballpark of what several of you will be looking for. At 9.25 inches in total length (with a 4.25-inch blade), this will fit right for many.
Sheath Design
The included sheath is of excellent quality, so there is little to worry about there. It is also made of black leather, for those who are curious.
Additional Features
What many users love most about this knife is its ability to easily strike fires. This is thanks to its 90-degree spine. However, at the same time, this can also become a hot spot if you are not wearing a glove.
Overall
For heavy uses, you will probably need to sharpen this quite a bit. As such, it may be better suited for casual wilderness survivalists. From top to bottom, though, it is quite brilliant.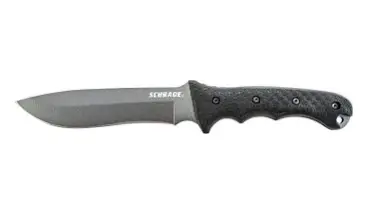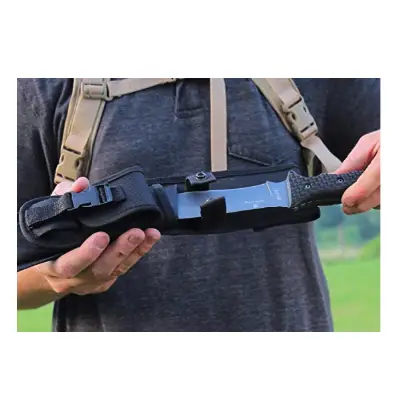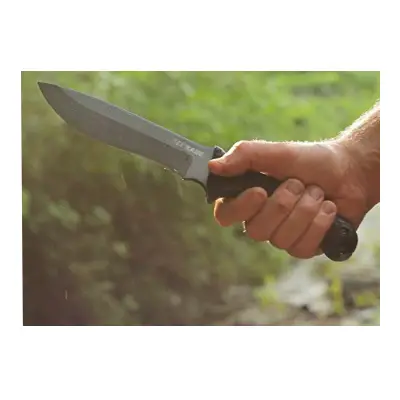 Schrade has a plethora of different models and their SCHF9 is one of their most popular and best. This is especially true for outdoor situations and survival needs.
Read more
Blade Material
If one thing is for sure, you can take comfort in the design of this blade. It sports a 1095 high carbon steel construction, and yes, it is also full tang.
Handling
The ergonomic nature of the handle makes it quite comfortable to hold. With that being said, the tang does slightly protrude, which can lead to some mild discomfort.
Physical Size
There is no question about it; this thing is a beast. The blade itself is 6.4 inches in length and, along with the entire body which is 12.1 inches, weighs 15.7 ounces. Yeah, it weighs nearly a pound.
Sheath Design
For everyday carry, this comes equipped with a ballistic nylon belt sheath. It provides you with a convenient and secure place to keep the knife.
Additional Features
As with virtually every other bushcraft knife out there, this has been designed with a lanyard hole for your convenience.
Overall
The sheer size of this knife is probably the most common talking point of it. It will make or break your decision that much is for sure.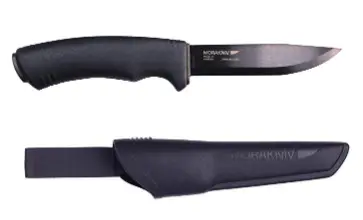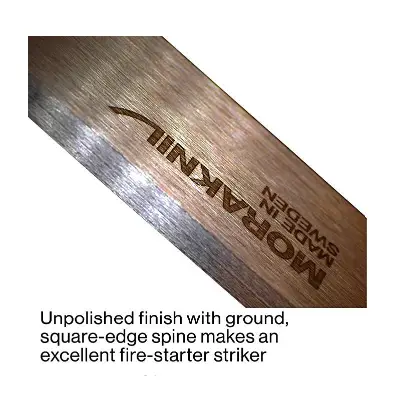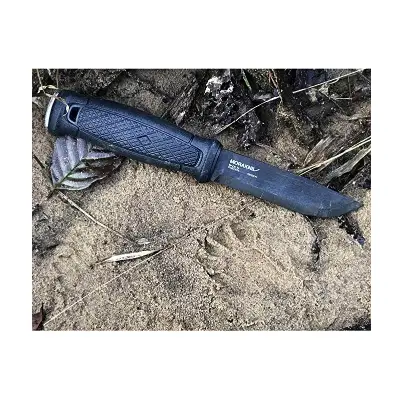 The bushcraft knife itself is incredible but just be warned that the sheath you get is not the best. It may be worth investing in a separate sheath as the knife you get is well worth the money alone.
Read more
Blade Material
In addition to the thick carbon steel that comprises the blade, it also sports a tungsten DLC black coating. This adds a much-needed layer of corrosion resistance to the metal.
Handling
To provide both a comfortable hold and anti-slip performance, this has been engineered with an over-molded rubber grip that is high in friction.
Physical Size
When compared to others, this is a bit smaller and that will be just perfect for some of you. With the sheath, it only weighs 5.7 ounces and also only measures 9.1 inches in length.
Sheath Design
It is not as if the included black plastic sheath is of bad quality, it is just that it is a bit too large. Due to the wide opening, the knife is not as secure as it probably could be.
Additional Features
While this does not come with a fire starter, the spine of the blade is equipped to be used with one.
Overall
You can see why this is brilliant in spite of the issues with the sheath. While the sheath is no doubt important, you can always buy a different one separately if you prefer.

10

. Morakniv Companion Knife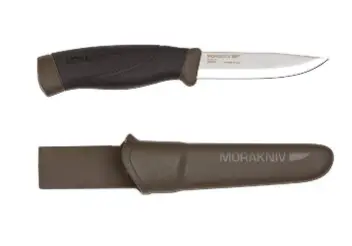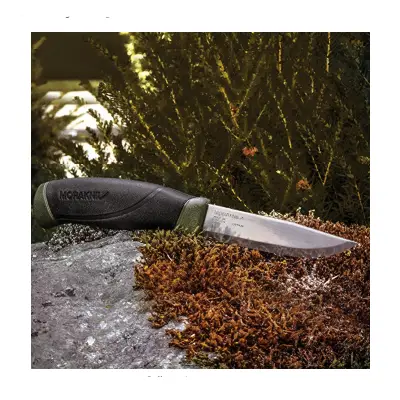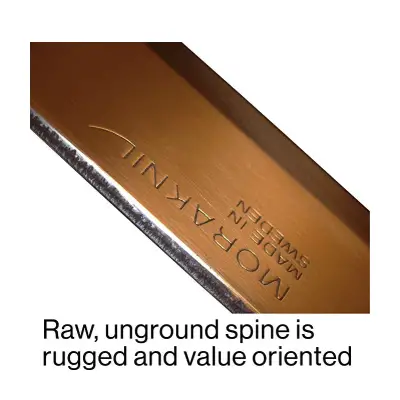 Some of you will be on a tighter budget but that does not mean that there are still not high-quality options out there. Take this bushcraft knife, for example, as it is incredible for the price.
Read more
Blade Material
As this is a high carbon steel blade, rust is going to be a possibility. But, with this blade, it seems to be more so. While it is wicked strong and sharp, take note of that.
Handling
This knife is going to sit comfortably in your hands, and it is due to the design of the ergonomic handle. It has been outfitted with a high-friction grip for improved usability.
Physical Size
Yeah, this is not a large bushcraft knife. At 8.8 inches in total length, though, it is far from pathetically small or anything like that.
Sheath Design
As great as this knife is for the price, Morakniv could have put more thought into their sheath. It is far from cheap, but it is simply too large for the knife to rest securely.
Additional Features
One nice thing about the sheath it is designed with both a belt clip and a drain hole.
Overall
Do not be mistaken; this deserves a spot on this list for its value alone. Again, you can always buy a different sheath. The handle and blade make this worth it.

Subscribe to our Newsletter