Best Boning Knives
In a Hurry? Editors choice: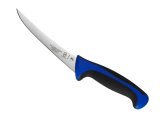 Test Winner: Mercer Culinary M23820BL

Whether you are a chef, a hunter, or a
fishing enthusiast
, if you're looking for a tool that will gracefully slice the meat away from the bone, instead of tearing it as other tools can, a boning knife is what you are after. When searching for the best option, you will want to find the right one for your needs.
The long thin blade and extra sharp point make this tool
perfect for its designed purpose
of deboning meat. Like knives, not all meat is the same and you'll enjoy different knives for different cuts. A stiff blade is great for cutting beef, pork, and other larger animals. You'll want a more flexible blade for fish, poultry, and more delicate cuts. Many users also have preferences in material, length, and design.
Standout Picks
Criteria Used for Evaluation
Effectiveness
A sharp knife is an effective knife
Most knives need to be sharp, but a boning knife really needs a high level of sharpness given its intended purpose. We looked at sharpness that would be more than adequate for expertly slicing through meat, poultry, and fish. We also know that a good product will slice meat away from the bone without tearing as duller kitchen knives will do.
Materials
Materials make the knife. Literally.
The material is important for a lot of reasons and this section can cover a lot of ground. Some users simply have preferences and loyalty to types of metal. German, Swedish, Japanese, and USA sourced steel was popular in our search. Stainless-steel is important for rust-proof and stain-free cutlery, while high-carbon counts create a strong blade for long-lasting durability. The forging process can also change the look of the product. For instance, the layering of metal can create the sought-after wavy, Damascus look.
The handle is extremely important and can often be overlooked in a buying guide when the focus is pointed more toward blade sharpness. You need good control, comfort, and grip in your handle. While hands come in all shapes and sizes, there are certain aspects of a handle that seem to cover more users' needs. Handle construction can also determine the durability and longevity of the knife. We really liked the knives that were resistant to damage from ordinary cooking ingredients like oils and spices.
Dependent on the materials used, durability is also an important factor to consider. These products can vary greatly in price, so knowing that your investment will not be wasted is important. If you're putting down a sizeable amount of money on a piece of cutlery, you want it to last. Durability is also really important for safety. A blade that can break off easily or a handle that detaches from the blade can cause serious injuries to the user.
Comfort
A comfortable knife keeps your hands happy
Chefs, butchers and other enthusiasts find the feel of a knife very important. This makes sense given that you want to not think about each movement every time you slice. If there is a section of the handle that rubs your hand dry, causes blisters, or is just plain out uncomfortable, chances are that you will find a new way to hold the tool. The dangerous part about that is that your new-found hold may be protecting that one sensitive spot, but putting the rest of your fingers in danger. Some people prefer a certain material for the handle and others prefer to have hand-grooves. Feel can be subjective so we made sure to cover as much about the feel as possible so you will be better informed when you make your choice.
Ease of Use
An easy to use knife is one you'll always grab
A good cutting tool will take more care and upkeep than an ordinary kitchen tool or piece of cutlery that you throw in a drawer and run through the dishwasher. You'll also want to keep in mind how often the blade will need to be sharpened. Some of the items included on our list are sold with a sharpener. If you do not already own a sharpener, investing in a high-quality sharpener is a must. We chose products that didn't need an extraordinary amount of special care compared to other similar tools.
Value
Get the best value for your money
As we've shown, a boning knife can vary quite a bit in price. It's important to look not just at the price, but also at the value you're obtaining for that amount. For instance, will investing a bit more get you a knife that costs you less in sharpening and lasts longer? Or does a product at a lesser price point have the right amount of benefits and features for what you need? Many of the products listed here include a warranty. We see this as a very valuable feature. It not only shows that the company believes in its product, but it also provides peace of mind for the buyer. We took all of these into consideration when declaring our perceived value of each product.
Top 10 Picks
1

. Mercer Culinary M23820BL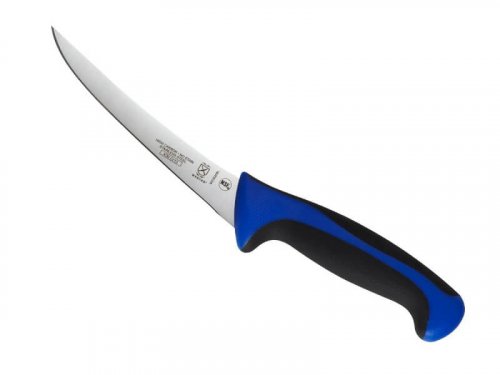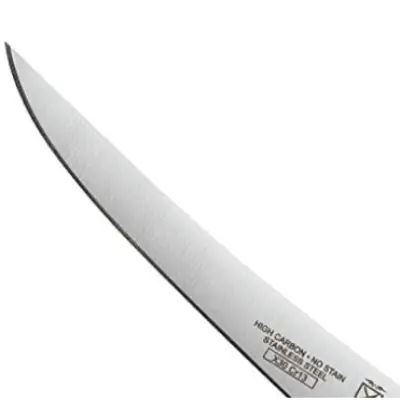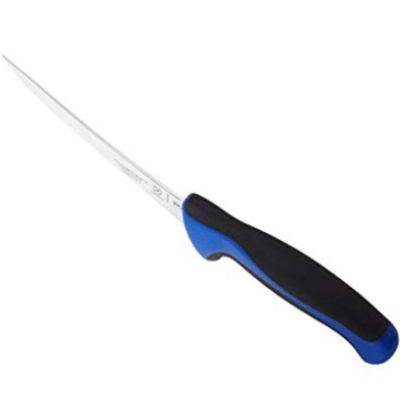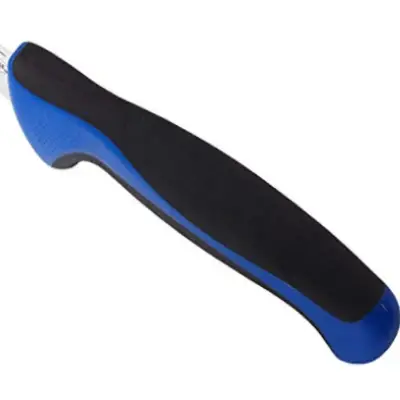 The Millennia is made of a single piece of high-carbon Japanese stainless-steel. The curved shape of the blade gives you a great angle for masterful close-to-the-bone cuts. The textured polypropylene handle provides a safe, comfortable grip. For a really sharp, easy-to-maintain product, the Millennia 6-inch is a solid choice and a great value. This selection makes the top of our list for a variety of reasons.
Read more
Materials
The blade is made of a single piece of high-carbon Japanese stainless-steel. The handle is Santoprene and polypropylene. The construction provides a very sturdy, long-lasting tool. The addition of polypropylene to the Santoprene handle adds a lot of durabilities. Mercer stands behind the longevity of their products.
Effectiveness
The Millennia has a very, very sharp blade. So sharp that beginners especially need to be very cautious of use and storage. But that same sharpness makes effortless work of delicate cutting tasks and slices meat cleanly away from the bone.
Comfort
The Santoprene handle is ergonomically engineered and the grip is comfortable and slip-resistant. The curved blade makes it easy to get a good angle when cutting which helps reduce hand fatigue.
Ease of Use
The high-quality steel is easy to sharpen and maintain. It's important that you only hand wash this blade with soap and water as it should not be put into a dishwasher or left to soak.
Value
This product is our number one choice but the price range is much lower than other knives in its league. It's even lower than most inferior boning knives. The comfortability, sharpness, and price range make this a great overall value.

2

. Victorinox 6 Fibrox Pro


The Fibrox Pro handle is known for providing a safe, steady grip for any size of hands, even when wet. The ergonomic engineering will allow you to cut without suffering the wrist fatigue other less comfortable knives can cause. The 6-inch European steel blade is curved and flexible for a good angle and intricate cutting.
Read more
Materials
The blade is made of European steel with a high-carbon count. The handle really makes this product stand out! The patented Fibrox handle is designed for secure gripping and extreme ergonomic comfort. This is a Swiss-made product so you can expect it to be of high standards! Ever hear of Swiss Army Knives?
Effectiveness
The blade is sharp and can handle a wide variety of cutting and deboning. This is a favorite for working with whole chickens but it is also great for intricate work with fish and small poultry.
Comfort
The feel of the Victorinox is one of its best features. The Fibrox Pro handle is a favorite for comfort and it's designed to be comfortable in hands of any size. The grip is secure, even when wet or greasy.
Ease of Use
It's technically dishwasher safe but hand-washing is definitely recommended so the blade doesn't get clinked around against other dishes and silverware. The blade sharpens up easily but frequent honing is needed.
Value
If you're looking for a curved blade with swiss army knife standards and an impressive grip, you can't go wrong with this one. It's definitely a good value given its comfort and durability. It falls in a fairly low price range as well so you're not really risking as much as you could on more expensive options. We think this one is well worth the price.

3

. Mercer Culinary Genesis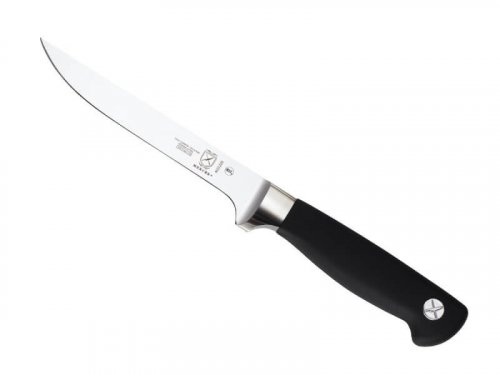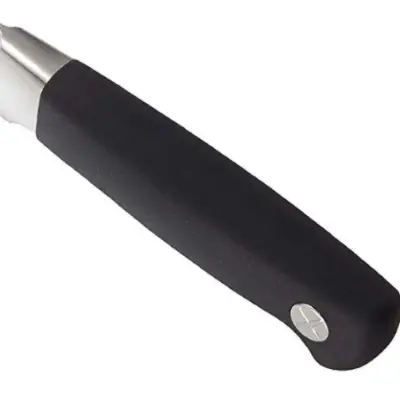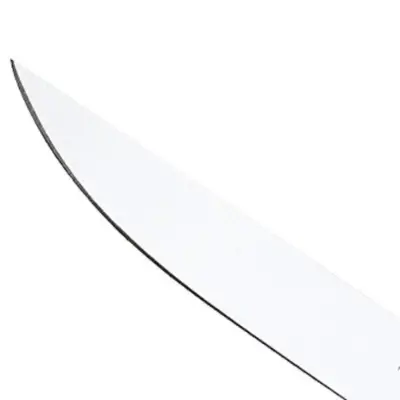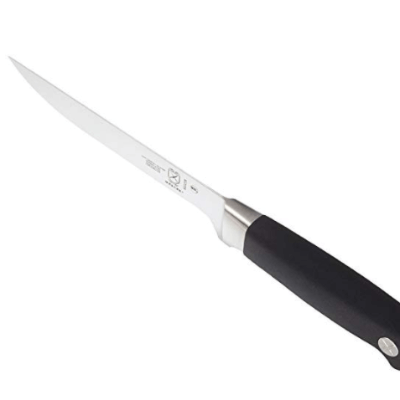 Another Mercer Culinary tool made our list. The Genesis Flexible 6-inch is made of high-carbon German stainless steel. The ergonomic, non-slip Santoprene handle is temperature-resistant and stands up to all of the oils and ingredients from your hands for a long-lasting piece of cutlery.
Read more
Materials
This blade is made of German high-carbon, stainless steel. The handle is Santoprene. The Santoprene handle lends a lot to the durability of this tool. When you prep and cut, you're often going to have a lot of oils, liquids, or grease on your hands. The unique property of the Santoprene won't break down over time due to the ingredients it comes in contact with.
Effectiveness
This is a really sharp blade that can handle a wide variety of cutting tasks. Fans of this product use it for everything from slicing ridiculously thin tomato slices to perfectly filleting a fish.
Comfort
We're going to talk about that Santoprene handle again! It's one of the most comfortable grips you can find for a tool in this value range. A better grip gives you better control, which is hugely important when working with such sharp knives.
Ease of Use
Hand wash only! Don't let this one soak, especially in metal sinks. This is a pretty sharp piece of cutlery, so leaving it in a sink unattended isn't safe anyhow. Speaking of, keep this one in a block. It's too sharp to be left lying around on counters or easy-to-access drawers if children are around.
Value
This is another relatively low-priced choice. For the sharpness, durability, and the oil-resistant Santoprene handle, we think the Genesis could easily be worth it at twice the price.

4

. Dexter-Russell S131F-6PCP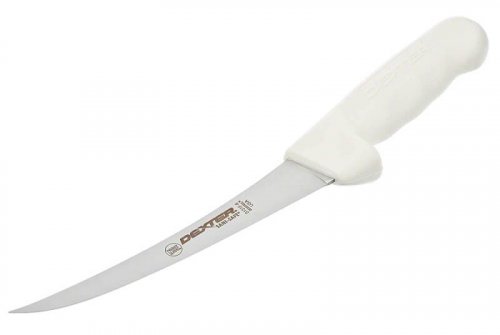 This 6-inch curved, flexible knife is good for all-around deboning but is especially well-suited for fish and poultry. A great selling point for the Dexter-Russell is its handle, which is not only ergonomic and slip-resistant but also sealed for extra sanitary food prep.
Read more
Materials
The 6-inch blade is made of USA stainless steel. The handle is polypropylene. The grip-tex handle is not only easy to hold, but it's also temperature resistant and more sanitary than other materials so it won't break down as quickly over time. It might not be as luxurious looking as other options, but that white handle is easily recognized and used by a lot of cooking professionals.
Effectiveness
The blade is really, really sharp right out of the package. It does tend to need honing more often than some other options on our list but sharpens back up quite easily. Our favorite thing about this one is the seal between blade and handle that keeps bacteria from seeping into the handle when cutting messy meats.
Comfort
This knife has a very, very comfortable handle for most hands and is well-weighted with just the right amount of flexibility.
Ease of Use
Again, this blade needs more frequent sharpening as it tends to dull faster than other favorites. With this in mind, like other blades, hand-wash only and store in a block.
Value
This is an all-around good choice but what really makes it worth the very low price point is that seal between the handle and blade so you don't have to worry about blood and other juices seeping into the handle where bacteria can grow.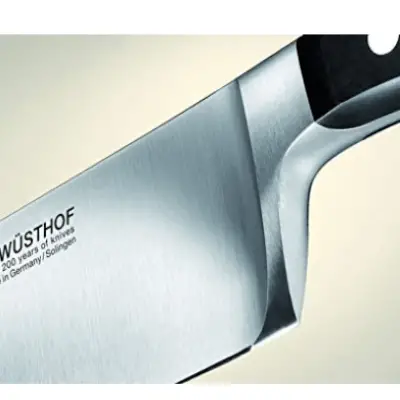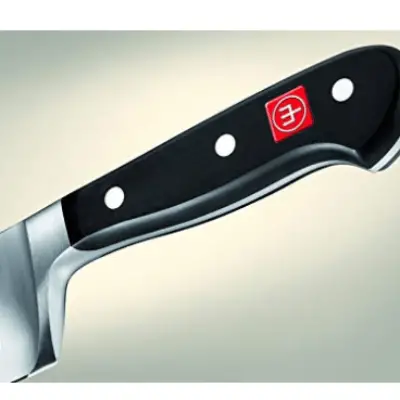 The Wusthof 4603 is a thin, flexible blade that will make quick work of most prep work and will make skinning fish a breeze. This product is great for removing silverskin, which can be an annoyance when preparing pork or beef roasts or ribs.
Read more
Materials
The Wusthof blade is made from a single piece of German stainless steel. The stylish black handle is made of polyoxymethylene. The triple-riveted design makes this a fairly durable price. It's pricier than other knives on this list but it's a great investment that seems to last most users a long time.
Effectiveness
Wusthof claims that this blade is 20% sharper due to the technology used in its forging. This claim seems to ring pretty true. Users like that it's sharp enough to easily remove silverskin, the pesky membrane that covers pork and beef.
Comfort
Well-balanced, fairly light-weight, and comfortable, this tool is functional and easy to use.
Ease of Use
It doesn't need to be sharpened as often as lesser knives and holds its edge well. The one complaint is that the logo can rub off over time and purchasers of higher-end knives see this is a downfall.
Value
This Wusthof is among the pricier options on our list, but it's still on the low end of the middle price range. You could easily spend twice as much for lesser quality. This one doesn't need to be sharpened as often as other blades so it's a good investment that should last you quite a while.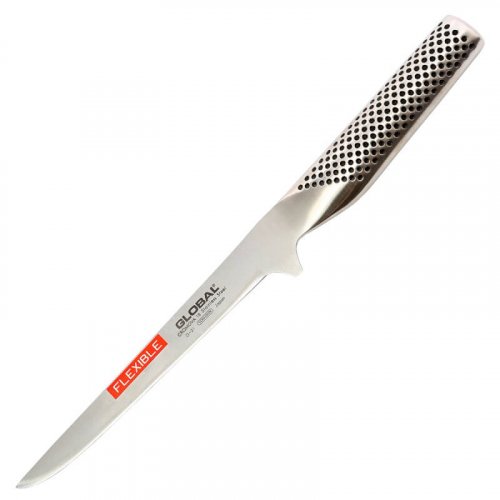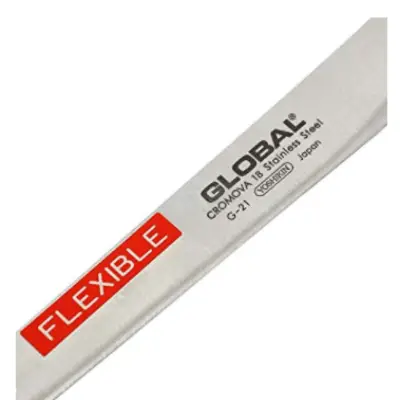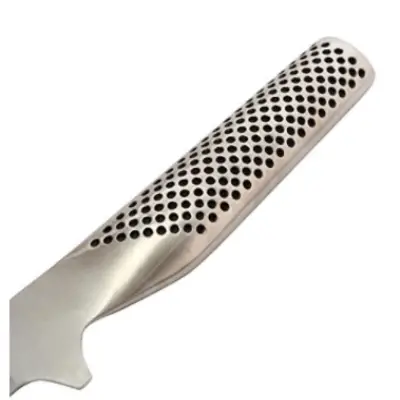 Global is a well-loved brand and this product is no outlier. We love the sharpness of the Japanese steel and the unique dimpled handle for good gripping and cool aesthetic.
Read more
Materials
From blade to handle, this entire piece is made of Japanese stainless steel. As you can guess, this steel construction results in an incredibly durable product.
Effectiveness
The blade is really sharp and narrow. A narrow blade is a plus, but it comes with the need for more frequent sharpening.
Comfort
The dimpled steel handle is not only unique looking but makes for a great grip with extra control. Plus, it looks really nice sticking out of your block.
Ease of Use
Hand-wash only and be prepared for extra sharpening to keep the blade from dulling.
Value
Around the same price range as the Wusthoff in the #5 spot, this is still affordable for a good investment and longevity. We can't get over the unique look of this one, which would make it a great housewarming or wedding gift!

7

. DALSTRONG - Gladiator Series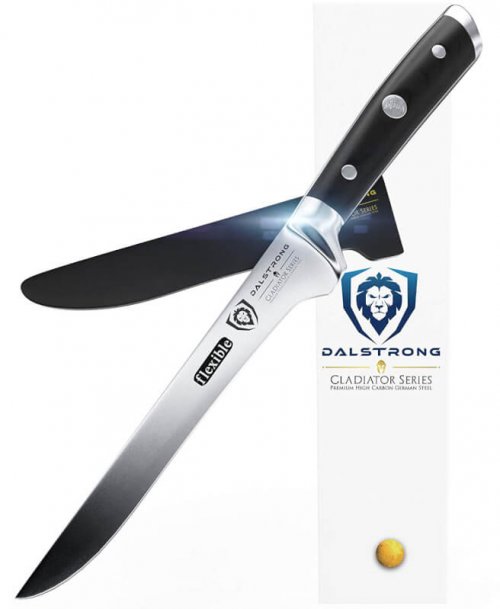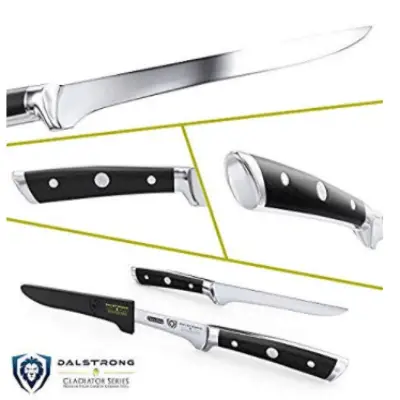 The Dalstrong Gladiator series is very popular among chefs and competitive cooks who value its sharpness, durability, and sleek look. This is a flexible knife with just enough flexibility to make it good for all cuts of meat.
Read more
Materials
The blade is made of a single block of high-carbon German steel. The sleek black handle is made of polished pakkawood, imported from Spain. This is a nice, strong piece of cutlery that is engineered to withstand a lot of use. It's a favorite among professional chefs and butchers.
Effectiveness
This Dalstrong Gladiator has a really sharp blade. It's sharp enough that you need to be extremely cautious when using and storing it. This is great for its intended use, though! It's flexible enough to easily move cut around bones and the point is skillful at getting into hard to reach parts of the meat.
Comfort
The weight is slightly heftier than others, for those who like a heavier feel in their hand when cutting. It is well-balanced and just flexible enough to be versatile.
Ease of Use
This is a high-quality piece of cutlery that should last even a high-usage cook for a long time. Hand-wash only. It comes with a sheath for extra protection and longevity.
Value
If you don't need a very flexible blade and want to spend a little more than the lower-priced knives on this list, this is a good choice. It's also a good price point for gifting.

8

. DALSTRONG Phantom Series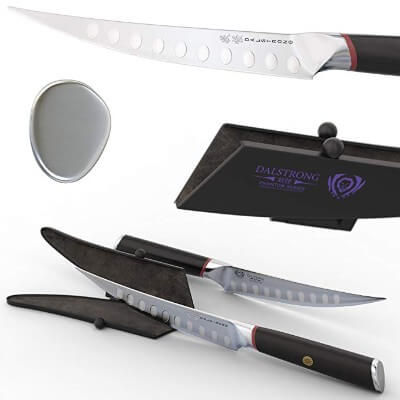 The Dalstrong Phantom series knives are sleek, beautiful Japanese-style works of art. The tapered narrow blade is designed for extreme sharpness for swift and clean cutting through fat and sinew. The look of this knife really lets it stand out among others of the same price range. If you're looking for a piece of cutlery that will impress guests visually, this is a solid choice. It will make you feel like a fancy professional, even if you're just cooking for your family at home.
Read more
Materials
The Phantom Series is crafted gorgeously from a single piece of high-carbon Japanese steel. The handle is laminated pakkawood. The beautiful pakkawood handle is very durable. Dalstrong claims the blade itself is extraordinarily durable but there are mixed reviews on this point.
Effectiveness
This is a razor-sharp blade, right out of the package. It makes light work of deboning and filleting fish.
Comfort
This is a very lightweight tool and is designed to make you feel like you're slicing through the air at lightning speed. This can be a pro or a con, depending on what's comfortable for you and what you're used to. Some people like a lightweight feel, others prefer a little more heft.
Ease of Use
The Phantom Series, like other Dalstrong products, is a well-made piece of cutlery that should last a long time if properly cared for. There have been some issues with cleaning it due to the shape of the hilt and the copper engraving.
Value
The Phantom series is usually a bit pricier than the Gladiator but a lot of knife enthusiasts find the stylish appearance alone enough to justify the extra cost. Even if it wasn't so sleek and attractive, it would still be a good value for the features.

9

. J.A. Henckels International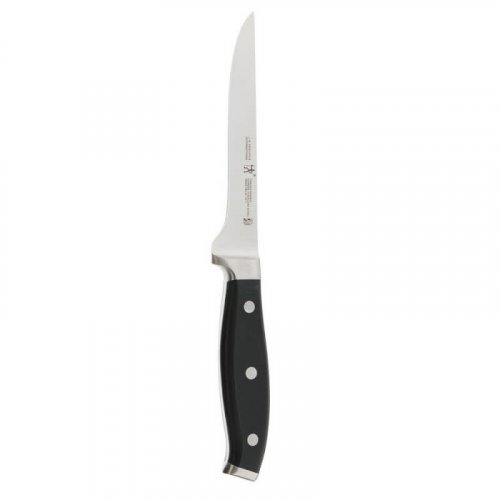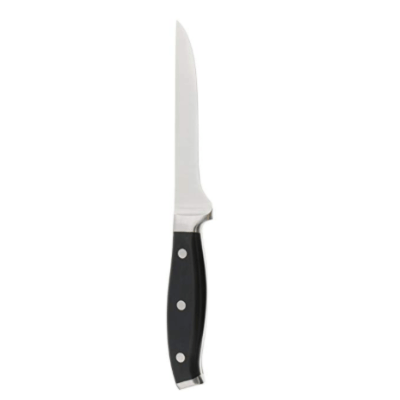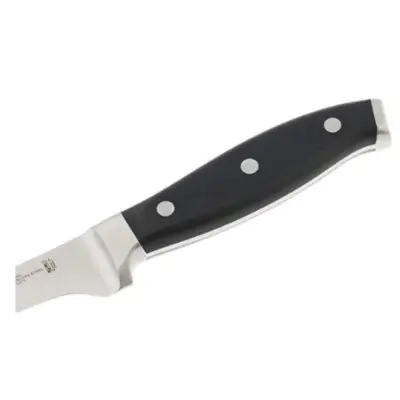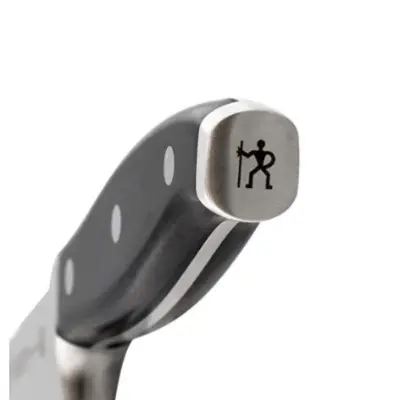 This is a well-balanced, lightweight Germain stainless steel blade with a stylish capped handle. The semi-flexible blade is great for a variety of cutting needs and the curved handle is designed to comfortably fit in your hand.
Read more
Materials
The blade is made from high-quality stainless steel from Germany. There is an attractive stainless-steel end-cap on the triple-riveted handle. The rivets provide extra durability and long-lasting enjoyment. With proper care, this knife should give you a lot of use.
Effectiveness
The blade is out-of-the-box sharp and semi-flexible which makes it great for larger cuts of meat like pork and beef roasts and even turkeys.
Comfort
The handle feels solid and sturdy in your hand for ultimate control and comfort with just the right amount of weight for most users.
Ease of Use
Hand wash only and dry it with a soft towel or cloth for long-lasting quality. This blade can be easily sharpened with most any kind of sharpener and will need to be sharpened every 5-7 times according to most users. This will obviously depend on the type of work you use it for.
Value
If you don't need a flexible blade, you're not sure which you prefer, or you want to have both on hand, this semi-flexible option is at the right price range to try it out without too much risk. We think you'll like it for larger, less delicate cuts so you can spare your flexible blades for fish and poultry.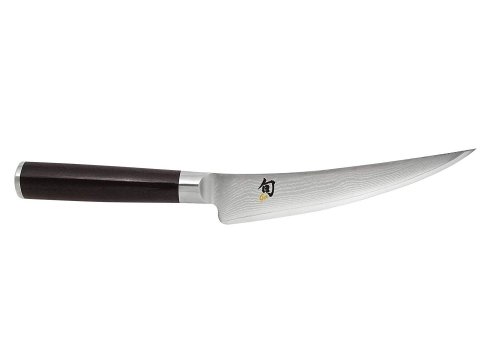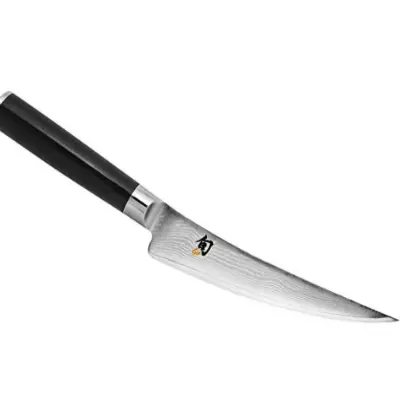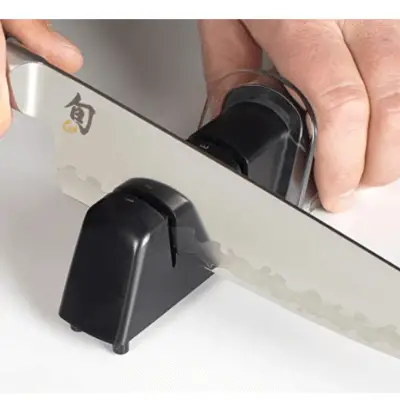 The Japanese blade on the Shun Classic is made with 33 layers of Japanese stainless steel with an upward curve and sharp point that make it great for sushi and any other type of meat.
Read more
Materials
This blade is 33 layers of Japanese steel, forged together to provide excellent strength and a sought-after Damascus appearance. The sleek black handle is made of resin-filled pakkawood and is capped with a stainless steel end. The pakkawood handle feels secure and the blade is forged for strength. The edge requires careful attention as it can be more brittle than other types of non-Japanese steel.
Effectiveness
The blade is sharp and non-flexible. The point, however, has a tiny bit of flex so be mindful of that. It's sharp enough to easily cut through salmon bones and makes a popular sushi knife.
Comfort
The pakkawood handle is D-shape for extra comfort in your hand and great control when you're cutting.
Ease of Use
Hand wash only and be mindful of the narrow point which if bent too far can break off.
Value
This is around the same price range as the other mid-range knives on our list. If you like Damascus blades, you might find this choice worth it for that alone. The 33 layers of steel create a beautiful wavy Damascus pattern.

Subscribe to our Newsletter