Best Boning Knives
last updated:
Feb 07, 2020
Whether you are a chef, a hunter, or a fishing enthusiast, if you're looking for a tool that will gracefully slice the meat away from the bone, instead of tearing it as other tools can, a boning knife is what you are after. When searching for the best option, you will want to find the right one for your needs.
The long thin blade and extra sharp point make this tool perfect for its designed purpose of deboning meat. Like knives, not all meat is the same and you'll enjoy different knives for different cuts. A stiff blade is great for cutting beef, pork, and other larger animals. You'll want a more flexible blade for fish, poultry, and more delicate cuts. Many users also have preferences in material, length, and design.
In a Hurry? The test winner after 15 hrs of research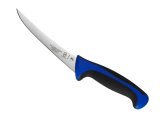 Mercer Culinary M23820BL
Why is it better?
Easy upkeep
Comfortable Santoprene handle
A really, really sharp blade
In a
Hurry? Editors choice: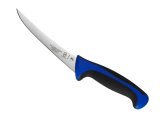 Test Winner: Mercer Culinary M23820BL

14
Researched Sources
80
Reviews Considered
15
Hours Researching
14
Products Evaluated
Materials
Effectiveness
Comfort
Ease of Use
Value
By Default
Criteria Used for Evaluation


Effectiveness
A sharp knife is an effective knife
Most knives need to be sharp, but a boning knife really needs a high level of sharpness given its intended purpose. We looked at sharpness that would be more than adequate for expertly slicing through meat, poultry, and fish. We also know that a good product will slice meat away from the bone without tearing as duller kitchen knives will do.


Materials
Materials make the knife. Literally.
The material is important for a lot of reasons and this section can cover a lot of ground. Some users simply have preferences and loyalty to types of metal. German, Swedish, Japanese, and USA sourced steel was popular in our search. Stainless-steel is important for rust-proof and stain-free cutlery, while high-carbon counts create a strong blade for long-lasting durability. The forging process can also change the look of the product. For instance, the layering of metal can create the sought-after wavy, Damascus look.
The handle is extremely important and can often be overlooked in a buying guide when the focus is pointed more toward blade sharpness. You need good control, comfort, and grip in your handle. While hands come in all shapes and sizes, there are certain aspects of a handle that seem to cover more users' needs. Handle construction can also determine the durability and longevity of the knife. We really liked the knives that were resistant to damage from ordinary cooking ingredients like oils and spices.
Dependent on the materials used, durability is also an important factor to consider. These products can vary greatly in price, so knowing that your investment will not be wasted is important. If you're putting down a sizeable amount of money on a piece of cutlery, you want it to last. Durability is also really important for safety. A blade that can break off easily or a handle that detaches from the blade can cause serious injuries to the user.


Comfort
A comfortable knife keeps your hands happy
Chefs, butchers and other enthusiasts find the feel of a knife very important. This makes sense given that you want to not think about each movement every time you slice. If there is a section of the handle that rubs your hand dry, causes blisters, or is just plain out uncomfortable, chances are that you will find a new way to hold the tool. The dangerous part about that is that your new-found hold may be protecting that one sensitive spot, but putting the rest of your fingers in danger. Some people prefer a certain material for the handle and others prefer to have hand-grooves. Feel can be subjective so we made sure to cover as much about the feel as possible so you will be better informed when you make your choice.


Ease of Use
An easy to use knife is one you'll always grab
A good cutting tool will take more care and upkeep than an ordinary kitchen tool or piece of cutlery that you throw in a drawer and run through the dishwasher. You'll also want to keep in mind how often the blade will need to be sharpened. Some of the items included on our list are sold with a sharpener. If you do not already own a sharpener, investing in a high-quality sharpener is a must. We chose products that didn't need an extraordinary amount of special care compared to other similar tools.


Value
Get the best value for your money
As we've shown, a boning knife can vary quite a bit in price. It's important to look not just at the price, but also at the value you're obtaining for that amount. For instance, will investing a bit more get you a knife that costs you less in sharpening and lasts longer? Or does a product at a lesser price point have the right amount of benefits and features for what you need? Many of the products listed here include a warranty. We see this as a very valuable feature. It not only shows that the company believes in its product, but it also provides peace of mind for the buyer. We took all of these into consideration when declaring our perceived value of each product.
Expert Interviews & Opinions
Most Important Criteria
(According to our experts opinion)
Experts Opinion
Editors Opinion
Users Opinion
By Default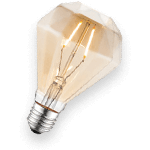 Flexibility
Choose the right flexibility or stiffness for your planned usage. A stiff blade is great for cutting deer, beef, and pork. A more flexible blade will suit you well if you need it for fish and poultry and more delicate work. There are also middle ground choices of semi-stiff or semi-flexible.
Durability
Don't choose a product simply because it says it is dishwasher safe. While the knife might technically be able to withstand the spray from a dishwasher, it can still become damaged if when the hard spray moves it around, jostling it against other dishes or cutlery in the machine. This can damage knives making them less effective and unsafe.
Keep It Clean
Cleaning your knife immediately after each use is important. Not only can remnants of food harden, making it more difficult to clean, but small pieces of meat can get lost in the crevices, especially where the blade meets the handle. This is unhygienic and can lead to smelly problems in the future. Most of these tools are also finished with an anti-corrosion treatment that can be affected by the blood and flesh of animals if left to sit for too long. Even if you prefer to put it through the dishwasher, it is important to at least thoroughly rinse it off after each use.
Other Factors to Consider


Safety Hazards
It's important to properly store any sharp kitchen tool. If you're taking the time to choose a good product and put down a reasonable amount of money on one, you'll want it to last. Storing it properly will help ensure its longevity.
You'll also want to make sure that you're storing your sharp cutlery away from hands that could hurt themselves. This obviously means children but it could also mean anyone who doesn't realize how sharp the knife is. If other kitchen users are used to ordinary kitchen knives, they could underestimate the sharpness. You don't want your sharp product in a drawer with other pieces where you might accidentally bump it with your hand while searching for another tool. You also want it kept safe from the damage that being bumped up against by other tools can cause. Your purchase might come with a sheath. A good sheath can be useful for travel but often they're just not enough for safety and protection. We recommend a professional-style cutlery roll for use when traveling with your knives.
When your knife is being stored at home, a block is a common choice. They come in many sizes and shapes and can fit nicely in most kitchens. Some people really enjoy blocks for those knives that have stylish handles or handle end-caps. You should still make sure that your block is away from the edge of the counter or shelf and ensure that other members of your household know that those knives are off-bounds because they're very sharp. Besides safety, you don't want visiting cooks to use your knives improperly and ruin their effectiveness. Another popular choice for storage is a magnetic strip holder. These are mounted on the wall above your kitchen counter. Your knives simple stick to the magnetic strip. Users like these because they make it easy to see and grab knives as needed. This is especially popular for knife-enthusiasts who collect a certain style or brand or just want to show off their collection.


Accessories
Regardless of the price point, knives can be a long-lasting investment that makes your culinary experience much more efficient and enjoyable. An important accessory you'll want to have on hand is a good, proper sharpener. There are different types to consider.
A sharpening rod (sometimes referred to as a diamond rod) is good because it sits at an angle. These are for maintaining the sharpness of your blade's edge, but not for resharpening or making it sharp, to begin with.
A whetstone is a block of ceramic compounds, each side of varying grit. There is a coarse side and a fine side. The coarse side is used to smooth out the blade and get rid of any nicks or rough spots. The fine grit side is for giving your knife a fine, sharp point and edge. Look for grit made for specific types of steel. For instance, the difference in Japanese and European steel requires and benefits from different grit.
There also other sharpening tools like strops, belts, and slide-through devices. A strop is a long piece of material, usually leather, that you slide your blade back and forth over. A strop can be coated or sprayed with compounds for extra grit and sharpening. Users have mixed feelings about strops, though and many do not feel they are enough to use alone or even worth having at all. A slide-through sharpener is a small tool where you slide your knife back and forth in a slit within the piece. These are common tools in kitchens but should probably not be used for boning knives. Rods and whetstones are the preferred choices of most users and manufacturers. A belt is similar to a belt sander you might use when working with wood. The belt, covered in various types of grit, will move at various speeds while you hold your blade up to it, letting the belt do most of the work.
You can also have your knives professionally sharpened. This will most likely be a pricier option, but good professional service will ensure that your knives are properly sharpened and honed based on their specific makeup and use.


Weight
Unless you are highly experienced with kitchen tools, the thought of the weight of these products may not have crossed your mind. However, it is not just the weight that comes into factor here, perhaps even more important is the balance. Preferences differ from person to person, but finding that sweet spot will not only make using your tool more enjoyable but much easier as well. While we are de-boning or chopping items, we naturally hold the tool differently and apply pressure in different ways to produce the balance that we think is best. In tools of this quality, they are designed with a specific balance that takes the guesswork out of it for you.
A lightweight knife does not always provide enough control. It can be easily moved out of place by a flick of the wrist. A lightweight tool is best suited for someone with finesse and superior stability. However, a heavy knife is not always an ideal choice either. A heavy tool can fall onto whatever you are chopping with more force, and possibly making the wrong cut if you do not have control over it. Finding the right balance for you requires some trial and error. If the weight is concentrated in the front of the tool, it will be ideal for mincing and small work on a cutting board. Weight towards the back of the tool provides you with extra force and is great for cutting thicker food items. You should also pay attention to the side to side balance of the tool. When you cut straight down, do you feel like the tool is leaning towards a certain side?
As mentioned, the preferred weight and balance differ from person to person. While you will get a great idea of the hand-feel from reading customer reviews, it's not the same as trying it out yourself. Many of the products on this list come with a warranty or a return period, so it may be worth it to invest in a few to test out before making the decision of which will permanently join your collection.
Frequently Asked Questions
q:

What is the difference between this product and a filet knife?

a:

A boning knife is long and pointy so it can pierce meat easily. It is designed to cut meat away from the bone. A fillet knife is meant for deboning fish with ease. Many people do use one or the other for both, but it's good to have one of each in your arsenal if you spend much time cutting meat and poultry and filleting delicate fish. A flexible blade can be used to fillet a fish but a stiff blade is not recommended for the delicate skin, flesh, and bones of fish.
q:

Will a honing rod also sharpen my blade?

a:

No, a honing rod is actually not a sharpener at all. A lot of people confuse honing knives for sharpeners because honing knives are often included in sets. You've probably seen celebrity chefs use one as well. It definitely looks like they're sharpening their blade, but they're not.

Whereas a sharpener actually removes pieces of steel to sharpen a blade, a honing tool actually straightens your blade without removing any pieces of steel. Your knife will probably cut better afterward though, making it seem as if it has actually been sharpened. For best use, you will probably want a sharpener and a honing rod, especially for higher-end knives that cost more money upfront.
q:

Should I avoid "cheap plastic" handles?

a:

While plastic can be synonymous with cheap, especially when shopping for fancy new knives that are mostly made of steel, all of the knives we chose have high-quality handles. Yes, some of them are made of plastic or rubber materials instead of steel, but they're not what you think of when you think of cheap plastic. Some people prefer the non-metal handles for a variety of reasons. They are warm to the touch for comfort, they're often more sanitary, and they can provide better grip.

So, yes, you should avoid handles that are cheaply made but there are cheaply made wooden or metal handles out there as well. A handle made of synthetic materials can be quite strong, long-lasting, functional, and even beautiful. You definitely want a good handle on your knife, regardless of the material, though. Not only is this important for durability and longevity, but it's also necessary for safety. A handle that breaks or slips can seriously injure the user.
q:

Why do I keep seeing a Rockwell number or a hardness scale number?

a:

You're probably referring to the Rockwell Scale of Hardness, or the RHC, or RC. The "C" stands for "part C" which refers to knives specifically. This rating is all about the hardness of the steel in the blade. You might think that the harder the better when it comes to a kitchen tool, right?

Not necessarily! The harder a blade is the more brittle it becomes. A really brittle blade edge can break more easily than a softer rated steel blade. That being said, a harder steel blade can hold an edge longer than a softer steel blade. Holding the edge simply means that it stays sharper longer before going dull. This is important because you will not have to sharpen your blade as often. Every time you sharpen your blade, you remove part of the steel. So it's easy to see how constant sharpening is not great for a blade's use, safety, or longevity. You're going to have to sharpen any knife you use, but a good product will hold an edge longer than others.

So what number should you look for when the Rockwell Scale of Hardness is mentioned? The test consists of applying great pressure to the heat-treated steel blade, often with a diamond-tipped tool. After testing twice with different amounts of pressure a number range is assigned. There is a range of numbers instead of a single number simply because different points of the blade might be slightly different under pressure. While there is room for some variation, the consensus seems to be that a Rockwell Hardness Scale rating of around 58 is what you want to shoot for when choosing a good product.
q:

What is the ideal blade length?

a:

You may have noticed that six-inches is quite a popular length on our list. Six-inches is a versatile length with varying levels of flexibility. However, these tools are also commonly available in lengths of five to nine inches.

The shorter the blade, the more flexibility you will find. As you can also assume, a short blade is meant for smaller game and precision. If you are using a five-inch blade on a wild boar, it will function well but things are bound to get messy.

Larger cuts of meat are better paired with a longer blade, from seven to nine inches. This length may provide you with slightly less control, but the meats you will be dealing with are much less delicate. Many professional butchers prefer to have both on hand and sometimes use both on the same cut of meat.