Best Car Alarms
In a
Hurry? Editors choice: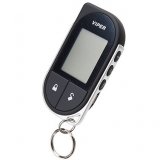 Test Winner: Viper 5706V

Your car is a huge investment that like any other belongings needs to be protected. While there is insurance against
accidents
, another important protection that you should spend on your car is getting it the best car alarms. Installing this type of protection to your vehicle will protect it from burglars and thieves. With the best car alarms, your car will be much tougher to steal while offering many conveniences. This includes unlocking and locking your vehicle using a remote control. There are several models that even enable you to control your car alarm through the use of a smartphone.
Standout Picks
Criteria Used for Evaluation
Features
When it comes to features, carjack protection, shock sensors, mobile apps, and encrypted transmission are just the tip of the iceberg.
It is quick to be intimidated by all of these technical terms. To make the selection process more informative, we have simplified the most common security features so you could find the best car alarms that meet your preferences.
Carjack Protection
This feature is the favorite of those who are want to have anti-theft protection on their vehicles. To some system, this could be an additional alternative. This type of protection integrates chirping alarms, lights, and ignition kill switches. Several alarm systems target catching the carjacker with high pitched and an extra loud siren that could push them to just leave the car.
Keyless Entry
This type of feature enables you to open the doors of the vehicle by pushing the remote's button. The remote is linked to the alarm system of the vehicle to lock or unlock the doors of the vehicle without using any key.
Shock Sensors
Security systems that are quite advanced offer motion sensors. Every time your vehicle is hit or jolsted, the shock sensors sense the impact and release a notification. It the system comes with a siren, the alert that goes off activates the alarm. Security systems that are equipped with mobile notifications will give you the details of what exactly is going on in real-time. the best system is loaded with various sensors programmed to sense theft while it is in progress.
Trunk Release
This type of security feature is a type of keyless entry that is detailed to open the trunk of your vehicle remotely. It allows you to open your trunk without having to unlock the door using the remote. There are several instances when you just want to open your vehicle's trunk without opening up all the doors of your car. This feature allows this.
Two-Way Remote
This type of feature enables you to manipulate your vehicle and get input on the condition of your vehicle. The most standard alarms system only involves a one-way remote that enables you to unlock and lock the doors. It also allows you to arm and disarm your vehicle's alarm. With a two-way remote, you will receive notifications is someone tries to break in or start the engine of your vehicle.
Remote Starting
This type of security features provides many conveniences. You can turn the ignition on as you come near it so that it is already waiting and ready to go. You can also use this feature to warm up your car especially during winter. You can also do it to cool down your car during summer days.
Car Location
The car location is a type of a panic button that provides you with the ability to monitor your vehicle in case you do not exactly know where it is located. For instance, you went to a concert or a basketball game and could not exactly remember the exact location where you parked. This feature will enable the alarm noisemaker so that you can hear and head the noise coming from your vehicle.
Mobile Apps
Nowadays, numerous companies are offering mobile apps feature in their security system. This feature enables you to control your vehicle and even receive notifications from your smartphone. Giant vehicle security companies are utilizing cloud technology to assist monitoring and remote control for you vehicle in your hand. Mobile apps allows you to check your vehicle and receive text alerts and emails. Most importantly, you do not have to carry extra key fob and extra remote.
Brand
Passive or Active
There are two major types of vehicle alarm system.
These are the passive type and the active type. The passive type is instantly set when the engine of the vehicle is turned off and the doors are all locked. This type is the most preferred alternative of most car owners since it has lesser tendency that you forget to switch the alarm on and the process is really very few.
On the other hand, the active type entail that you manually activate the alarm. This basic style of switching your vehicle's alarm is utilizing the key fob.
Sound Quality
Sensors
One of the most important factors that must be taken into consideration when choosing the best car alarms is the sensors.
Ideally, the sensors must work without failing. Some of the systems involve numerous sensors that identify a wide variety of variables. It is important to note that a system that offers more sensors is more ideal since it ensure that your vehicle is more protected.
There are many types of sensors that are available in most systems today. they are the following:
Microphone
This sensor detects noise like broken windows.
Shock
This type of sensor detects any type of impact to the vehicle.
Glass break
This type senses the movement in the windows of the car
Motion
This type of sensor senses the movements or motions surrounding the vehicle.
Door and Trunk
This type senses the movement of the trunk or of the door.
Bonnet Switch
This type of sensor senses the movement of the bonnet
Tilt
This type of sensor detects if the vehicle is being lifted or towed.
There are several other sensors that you can found in different models of car security system. There are even some car owners that disable some of these sensors. Some people do not like installing the shock sensor since it has the tendency to activate numerous false alarms.
Accessories
Lights and Sirens
Other important criteria that you have to consider in selecting the best car alarms are the lights and sirens.
These two are very important if you want to ward off the criminal and alert people nearby. The sirens must be at least louder than 100 decibels. However, you can also improvise and wire it to its horn to maximize the noise. You can go beyond and install a loud horn that will definitely scare the criminal away.
You can further increase your security system by installing a system that comes with lightings. There are some models that activate the lighting inside the vehicle. This is a great backup in case the criminal is equipped to deactivate the siren and the horn. Some systems have a device that automatically flashes when it is locked. This is to serve as a warning to criminals passing by. Having lighting is a great feature that is very effective in fighting crimes related to car theft and burglary.
Advanced Features
The best alarms are one of the best preventive measures to protect your car from theft and break-in.
However, over the years, the sound of blaring sirens across the street or in the parking area has made us a little immune to the sound. This is one of the many reasons why you have to install a good car security system that will give you more than a sonic sound.
To many car owners, the best car alarms are essential to secure that your car is properly protected 24/7. Whether you have costly electronics or equipment left in your car, a lucrative stereo, or just worried that your vehicle could be stolen anytime, you need the best car alarms to protect your vehicle as well as the valuables inside it and to notify you instantly if something is happening with your vehicle.
Nowadays, vehicle alarms have greatly evolved since it was first introduced as door lock alarms and early motion detection system. You can find alarms loaded with sensors positioned all over the vehicle to track and control many things. This ranges from opening the door, breaking the window to causing damage to the paint and carjacking. A great vehicle system will alert you in detail of what exactly is going on with your car.
It is worth noting that the more advanced quality alarms will integrate several satellite features that will not only protect your vehicle from theft and damage but will also send you notifications of what is going on in real-time. One of the features could include applications in your smartphone that links you directly to your car and enables you to start your vehicle before you leave it in a hot or cold weather.
To find the best, we used several criteria to the popular and most reviewed models. Here are some of the criteria, features, and factors we used in evaluating the models we included in the product review above.
Subscribe to our Newsletter