Best Car Window Shades
In a Hurry? Editors choice: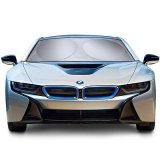 Test Winner: AutoFXProducts

Whether you are constantly commuting in blazing
hot
weather with the sun beating
down
all afternoon long or are sick and tired of coming back to a scorching hot vehicle, you may need to look into car window shades. They are designed to do exactly what you would think; block the ultraviolet rays and the brightness from the sun. Not only can these be ideal to
cool
your car down, they can also protect your little ones (and babies) from overexposure to the
sun
. But, as the buyer, you have some critical decisions to make. Well, it is our task to break those decisions down for you to simplify the process.
Standout Picks
Criteria Used for Evaluation
Protection
No matter how you slice it, these types of protectors live and die with their ability to block the sun. While some can be more convenient than others in certain areas, they all need to share this distinction. But, the reality is not all models will be as efficient as others. It really comes down to the percentage of ultraviolet (UV) rays that the material can block. The reason why this number is so critical is that, above all else, that is the light that can damage both your car and yourself.
While we will get into the damage that UV rays can deal out to the interior of your car in a little bit, did you know that they can damage your eyes and vision? That is right, more than 99 percent of UV radiation is going to be absorbed by your eyes. While you are driving with the sun, exposed in the sky, you risk damage if you are not protected. Not only for your sake, but for your children's as well and that can be a deal breaker.
Durability
This section ties into the first one quite a bit. After all, the materials that are utilized in a car window shade will have direct implications on their performance. As you have seen throughout this guide thus far, arguably the three most prominent materials are nylon, polyester, and mesh. Perhaps none of which are more durable than nylon, with a lot riding on its threading and strength, though. Then again, polyester can be just as effective as nylon and also is lightweight and long-lasting. Not bad features to possess, all things considered.
But, what about mesh fabric? You may recognize this material in the world of clothing as it is oftentimes used in running shoes and sportswear. It typically reduces weight and creates a more breathable core. For window shades, it provides the benefits of blocking the sun while also being fairly transparent. All these materials are great as besides being durable, you also want the shades to be somewhat stretchy (which actually comes more into play for storing them).
Fit
The moniker that size does matter has always been a controversial one. However, the reality of the situation is it all depends on the context that you are using the phrase for. For example, when addressing car window shades, size really is everything. If the options you choose are too large to optimally fir on your windows, what good will they do you? Per the same token, what good is a shade that only covers 50 percent of the intended area you need to be covered?
Because of this, you need to pay close attention to the size. Now, there are also special models available that are specifically optimized for your windshield. In this case, all you need to do is ensure your windshield is large enough for the product. So, take some accurate measurements of your vehicle before you even think about purchasing. Then again, some other models will actually be one-size-fits-all. In this case, while you could still measure to be safe, they should fit your windows with little hassle.
UV Protection
Now, it is finally time to discuss the damage that can persist if UV rays are allowed to enter inside the interior of your vehicle. Clearly, the exterior of your car can also receive damage but let's focus on the interior as that is what you are trying to protect against these products. According to a test conducted by State Farm, a car's interior can reach up to 145 degrees in temperature with the dash getting close to 200 degrees.
This type of heat can damage your interior upholstery and also your engine. But, the light rays themselves can weaken and fade your interior fabrics and surfaces.
Top 10 Picks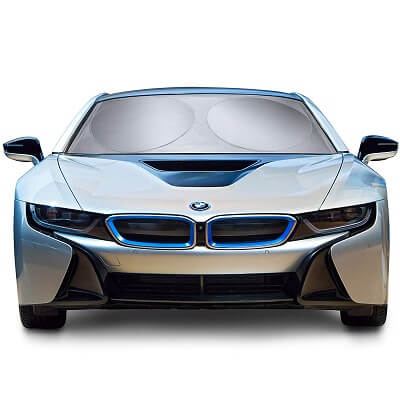 It is a close call but in the end, no other model better personifies what makes these products great than this one. Plus, they are made of one of the strongest materials available.
Read more
Protection Provided
The outside of this shade is made of a silver-coated radiant barrier system and it effectively blocks up to 95 percent of the sunlight. Due to its made-to-fit design, though, it will provide full protection.
Simplicity
As soon as you are ready to use this, it will actually pop out much like a parachute. However, as some buyers have alluded to, the addition of suction cups may have made things a bit easier.
Build Quality
Because this is made 100 percent of nylon, it is one of the more durable versions out there. Also, the 210T threading is stronger than most other competitors and it is also double-stitched.
Versatility
Instead of developing a one-size-fits-all model, which has its drawbacks, Shade-It decided to design their product in a variety of measurements. Naturally, this allows you to choose based on your specific vehicle.
Storage
Even when this is not in use, its design is brilliant. This is due to the spring mechanism that allows this to fold right down into a compact size.
Overall
See why this is the epitome of an excellent sun shade. What is even better is that this will not even come close to breaking your bank. Can you really ask for anything more?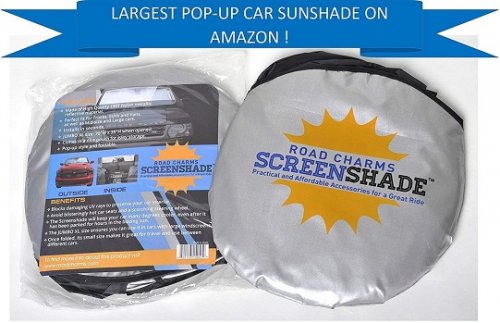 Road Charms did everything they could to design a top-of-the-line model that would appeal to consumers. The end result is very impressive with a highly flexible design that can easily adjust to most windshields.
Read more
Protection Provided
Not only is this going to keep your car cooler in the middle of the summer, but it is also going to prevent your car's interior from cracking or fading due to overexposure from the sun.
Simplicity
While this is designed to install in just mere seconds, it is much easier to do so with more than one people. This is actually a rare model where it is hard to install with one person, though.
Build Quality
Even though there were a few consumers who were disappointed in the flimsiness of this model, it is made of a 190T nylon reflective material.
Versatility
It is promoted that this shade will flexibility adjust to nearly and windshield out there. But, it is just that, a model specifically for your windshield.
Storage
Believe it or not, this actually folds to 1/16th of its original size. In addition, a convenient pouch is included and it allows you a location to store the shade.
Overall
When it comes down to it, there is a lot to admire here. Whether you want to talk about the flexible design or its compact nature, words do not quite do this one justice.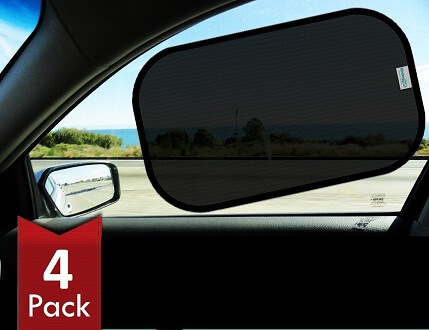 Perhaps this next sun protector works too well, in a way. Due to the semi-transparent material used, your overall vision can be impaired a bit. But, the quality is there, let's just say that.
Read more
Protection Provided
It was advertised, at the time this was released, that this was the only brand with semi-transparent sun shaded. As such, they will offer the highest sun protection possible.
Simplicity
There are no suction cups or adhesives necessary for installation here. Instead, the shades are merely designed to install to your window in mere seconds.
Build Quality
What is astounding about this is it combines a 15S static protective field with a protective 80 GSM mesh material. This combination offers some of the highest quality that you will ever find within this technology.
Versatility
This is adaptable to a wide range of vehicles and windows. Plus, it is ideal for larger windows that you would find on larger vehicles such as SUVs and minivans.
Storage
On one hand, the lightweight wire that is integrated into these shades allows them to fold into a small circle. However, on the other hand, the included pouch has received some criticism as being more difficult than it should be.
Overall
For what they were designed to do, these do so well with flying colors. However, a few caveats here and there can come into play if you want to look at the glass half-empty.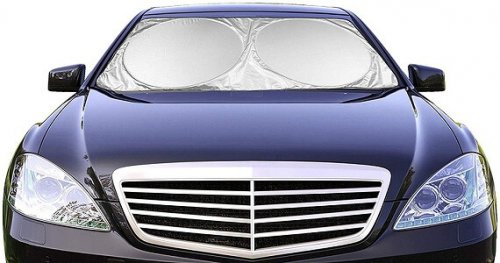 While the last model may actually hamper your visibility a bit, this next model could have been more reflective, admittedly. Still, its vast array of size options and extreme simplicity make it a fan-favorite.
Read more
Protection Provided
As with most models on this list, this is going to perform two critical actions. Firstly, it will keep your vehicle cooler and secondly, it will prevent sun damage to the interior components in your car.
Simplicity
If you did happen to have any troubles with the installation, there is an online tutorial video that will walk you through it. But, it really is not rocket science.
Build Quality
According to some perspectives, the build quality of this model is suspect. If it were made a little thicker, perhaps it could have been a touch more reflective.
Versatility
There are three different size options that you can select from. In other words, you are all but guaranteed to find the correct size for your vehicle.
Storage
Included with your investment is a storage pouch. Given the fact that the shade can fold away nicely and easily inside, this allows you to tuck it away in a variety of places.
Overall
This is one of the better windshield shades available on the market. In fact, they are pretty much perfect when you know your car will be baking in the hot sun all day long.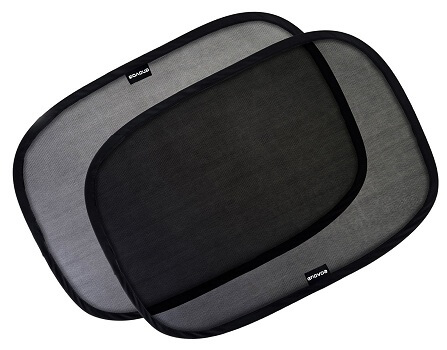 Speaking of fan favorites, how about this car window shade from Enovoe? On top of blocking over 97 percent of harmful ultraviolet rays from the sun, it can easily be installed thanks to its static cling back.
Read more
Protection Provided
Thanks to the fact that this car window shade is designed with the ability to block over 97 percent of the harmful ultraviolet rays that are emitted from the big ball of fire in the sky, it is quite useful.
Simplicity
Would you believe that the installation is as simple as placing the shade on your window and running your hand across it? Well, due to the static cling back, it is as easy as it sounds.
Build Quality
Along with the realm of a vast majority of car window shades, this is comprised primarily of mesh fabric. At the end of the day, it is hard to go wrong with mesh.
Versatility
Although these are supposed to fit larger windows, some users have still complained about the size. According to some, they could stand to be a bit larger.
Storage
Twisting and folding these pieces of fabric is as easy as it gets. In addition, a storage pouch is included and can be used to store them.
Overall
Again, perhaps these could have been designed a little larger. Then again, for the right people, this dual-layer design will work as an efficient means of repelling the sunlight.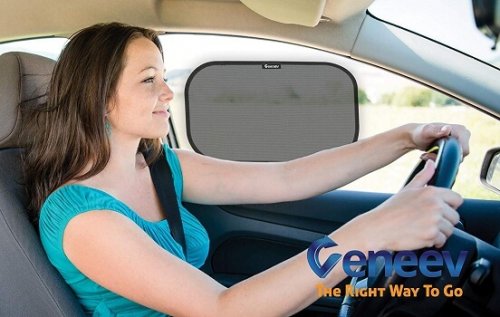 This is the 3rd straight model on this list to achieve a 9.4 rating. One of the main reasons why is due to the 80 GSM protective mesh makeup. Of course, the painless installation is also a nice feature.
Read more
Protection Provided
Veneev designed their model to provide SPF 30+ protection to protect both you and your kids. Overall, these shades can repel 98 percent of harmful UV rays from the sun.
Simplicity
As no adhesive tape is required for installation, you do not need to worry about fumbling around with it. Nope, just a simple quick-place install is going to do the trick.
Build Quality
Being made up of 80 GSM, which indicates the fabric's weight, protective mesh, this is crafted of one of the most premium materials within this technology.
Versatility
As a bonus, you receive two sets of two differently sized models. So, you receive two that are 20 by 12 and two that are 17 by 19 (inches).
Storage
With their twist to fold design, these shades could not be more user-friendly when it comes to storing them away. Plus, they come with a convenient storage pouch.
Overall
There is a reason why thousands of buyers have been satisfied with this product. At its core, it performs exactly how it is advertised.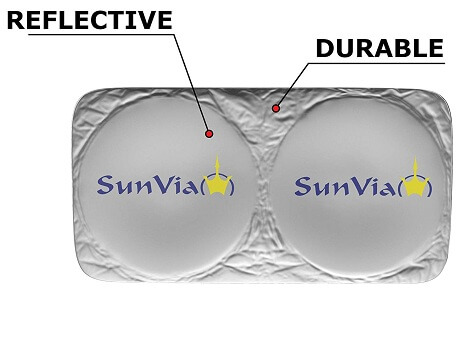 When it comes to blocking the sunlight from entering your vehicle, this is a highly efficient product. Yet, looking at the glass half-empty, it can struggle to actually prevent your car from heating up.
Read more
Protection Provided
Again, while this does a marvelous job when it comes to blocking the sunlight, some buyers have alluded to the fact that it can struggle to actually keep the interior of your vehicle cooler.
Simplicity
These UV Protectors are actually designed to be secured underneath your visors. All in all, it should take you around 30 seconds to properly secure them.
Build Quality
Part of the reason why this model is so effective at blocking the sun is its material makeup. After all, it is comprised of polyester nylon that has been metallic coated for reflection.
Versatility
Granted your window measures 34 inches by 64 inches or smaller, this should be an adequate fit. After all, this measures 34 inches by 63 inches.
Storage
Along the same line as nearly every other model in the world, this protector comes with a carrying case and can easily be folded up inside of it when not in use.
Overall
As a windshield shade, this is admittedly not without its flaws. Then again, what product is? For the money, it really is difficult to argue with the results here.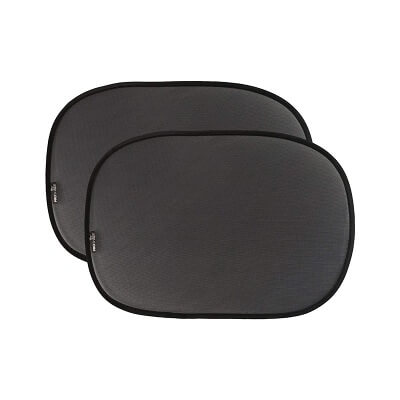 The smaller size of these sun shades may not appeal to consumers with larger vehicles. Still, they are offered in a pack of four. As such, this is an excellent bang for your buck.
Read more
Protection Provided
Special UV-resistant technology has been integrated into this sun shade and the result could not be sweeter. Besides the obvious protection against the sun, this will also further preserve your car's interior.
Simplicity
The decision to opt for static cling technology was an ideal one by the manufacturer. After all, this allows you to merely press the shade onto your window.
Build Quality
While the interior side is made of plastic, the other side is made up of a shade cloth fabric. This combination is ideal for blocking out the sun.
Versatility
It is strongly advised by the manufacturer that you measure your windows before purchasing. That said, this is designed to fit well in most vans, trucks, SUVs, and cars.
Storage
Buyers around the globe have seemed to appreciate the fact that this product will fold up easily and compactly for storage purposes.
Overall
While the areas these shades cover may not prevent you from squinting, they will at least minimize the severity of the sun. Plus, with static cling technology, installing them is a breeze.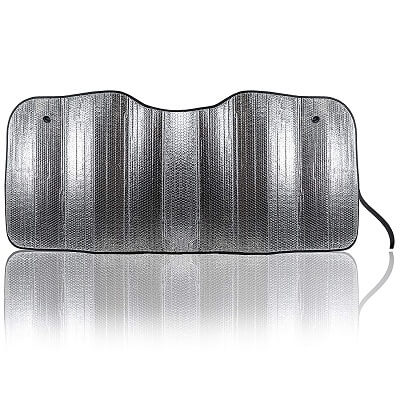 This could have easily been the best sun shade on this list. However, the manufacturer decided to skimp on the suction cups and it really hurts the end result. Everything else, though, is top-notch.
Read more
Protection Provided
As with most models on this list, reflective material has been implemented and it effectively blocks the sunlight from the sun. Subsequently, this should also cool the interior down.
Simplicity
It is a general consensus amongst the consumer base that the suction cups included with this model are weak. This makes securing them much more of a hassle than it should be.
Build Quality
Outside of everything else, the build quality of the suction cups is not good. If you can, it may be a good idea to replace them as they are just not designed to last.
Versatility
Being dubbed with a perfect fit and universal fit, this should be able to expand to fit a plethora of differently sized windows in all car models.
Storage
While you may need to use storage straps to keep it from expanding, you can fold this up into the space-saving storage pouch.
Overall
It truly is a shame that the suction cup back of this model was not engineered more efficiently. If OxGord had another chance, they would surely fix the one and only issue with their sun shade.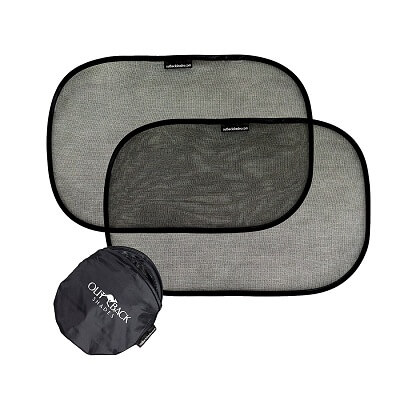 Outback Shades ensured that there would be no issues with their suction cups as they designed their shades do not need them. That is right; these bad boys magically cling onto your windows.
Read more
Protection Provided
It is advertised that these shades offer 50 percent more blockage and overall, their UPF 50+ protection will stop 97 percent of UV rays from the sun.
Simplicity
Indeed, there is no hassle with suction cups for this model. As mentioned, instead, they will cling to your window with little to no hassle.
Build Quality
Outback Shades went with mesh for their sun shades. Now that you have seen a strong amount of selections, this should not be much of a surprise.
Versatility
With dimensions of 21 inches by 14 inches, you will need to do some pre-measuring to ensure these will fit on your windows. But, they should.
Storage
Overall, the mesh is an easy material to fold down and that is apparent here. When you need to store them away, you are not likely to run into any speedbumps.
Overall
To be honest, these may not be suitable for anyone who lives in areas that experience torturous amounts of heavy sun. Others will offer superior protection, so keep that in mind.

Subscribe to our Newsletter