Best Car Refrigerators
In a Hurry? Editors choice: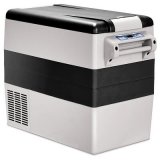 Test Winner: Costway 54

A car refrigerator is a very handy tool to use whether you are on a long road trip or going
camping
. It is very useful in a
vehicle
especially if you have kids or a family as you want to make sure they stay hydrated and their bellies full. Why not just use a standard cooler? The answer is that a cooler cannot keep drinks or food nearly as cold and for as long when it comes to long
road
trips. If you want your food and drinks to stay cold and refreshing all trip long then a car refrigerator is what you are after.
Standout Picks
Criteria Used for Evaluation
Use
In the modern world, it is all about performance, is it not? Can you think of anything you would invest in that is not judged highly on its performance? While there may be some exceptions to this rule, a car refrigerator is certainly not one of them. When assessing their performance, though, there are a number of critical points to focus on. Of course, the first is being their main design and how expertly they can keep your food items cold. There are a few different types, such as compressor models and thermoelectric models, but the most critical aspect is that the fridge is actually cooling its contents.
Of course, what happens when they are unplugged? Well, depending on the level of insulation inside, it can either last a few hours or only several minutes without being powered. Plus, on a different note, some models will come equipped with a battery protection system that will prevent the refrigerator from sucking all the juice from your vehicle's battery.
Capacity
The old adage that reads size is everything is certainly apropos in this situation. Before you begin your search, it is important to determine a rough estimate of the size you are looking for. To do so, answer this question for yourself. How many people will be relying on this unit to feed them? If it is just you nine times out of ten, you could probably get away with a smaller unit. Yet, if you are going on a family vacation and intend to use this at all times (which would require a different power source), you may want to shoot for something bigger.
There are two main specifications to assess to determine the size and capacity of a car refrigerator. Firstly, it is the physical internal dimensions of the electric cooler. This will be provided to you, typically, in height, width, and length. But, you can also look for the liter or quart capacity. There are around 1.05 quarts in a liter so the difference is very minimal. For reference, though, most manufacturers will provide you with an example of what their unit can hold.
Adjustability
As you saw with some of the units on this list, some of them can function as more than just a standard refrigerator. With some of them, you can also utilize it as a freezer or even a warmer. For the former, you can typically get them down to zero degrees and with the latter, sometimes over 140 degrees. But, at their core, they function as electric coolers and will either have a temperature adjustment, fixed minimum temperature, or an algorithm to set the minimum temperature x degrees below the ambient temperature.
Most freezer and cooler combos will have the ability to adjust the temperature but with others, it may be set to cool down anywhere from 48 degrees to 40 degrees. If you are looking for extremely cold drinks, then, a minimum temperature of 48 degrees is probably not going to cut it. Then, there is the issue with the last type. Designing an electric cooler to be approximately 35 or 40 degrees colder than the ambient temperature will be efficient in most scenarios. Yet, what if your car does not have air conditioning and the cooler is resting in a hot and humid car? With some foods, this can lead to spoiling.
Power Source
Every single one of the units displayed on this list will function in your vehicle. That is, granted you have a 12-volt (nine times out of ten) DC receptacle in your car (which would be your cigarette lighter). While you can gauge their power consumption and the previously alluded to battery protection, you will not have to worry about this too much. What you may want to assess, though, is the length of the power cord. Say you wanted the unit to sit in the back seat; how long of a cord would you need for this to possible? Do not forget about the tiny features as these can end up biting you in the backside.
Top Ten Car Refrigerators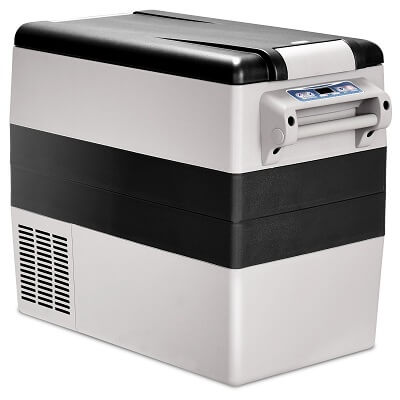 Because this fridge tends to go under the radar a bit, consider it a hidden gem. And with ultra-fast cooling and an adjustable digitized temperature read-out, what a gem it truly is.
Read more
Performance
Above all else, consumers around the world seem to be in awe at this fridge's capability of cooling your items quickly and efficiently. Oh yeah, the integrated battery protection is also nice.
Size and Capacity
Whether you want this to hold a few drinks for the afternoon or food for a camping trip, its 52-liter capacity could accomplish just that.
Temperature Settings
Believe it or not, this bad boy can cool from 90 degrees to 32 degrees in less than 30 minutes. Also, with the LCD display and digitized temperature adjustment, it feels modern.
Power Source
In situations where you wanted to continue to cool the contents inside of this unit, you could use the 110-volt home adapter to hook up to an external power source.
Portability
Due to the fact that the handles are rubberized, they feel nice and comfortable in your hands when you are transporting this unit.
Overall
It is hard to argue against a car refrigerator that is able to cool itself down over 50 degrees in less than 30 minutes. Plus, with a durable construction and integrated protection technology, it is a total package.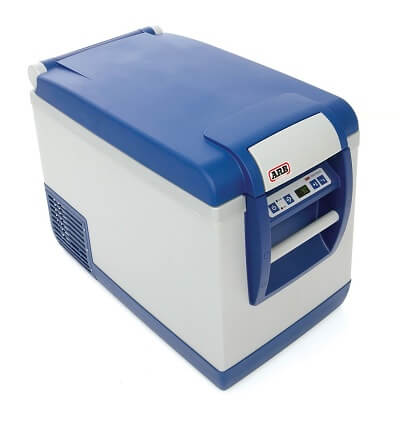 When talking about the best of the best, you would be a fool not to at least consider this model. In terms of pure performance, it is one of the best models in the world and acts as a fridge and freezer.
Read more
Performance
Thanks to the robust Danfoss compressor, this fridge and freezer combo is able to actually cool your foods down and keep them that way. Plus, even while the vehicle is off this can continue to keep your foods chill.
Size and Capacity
There is a main compartment and a dairy compartment. All in all, to put in perspective, this could essentially hold 72, 12-ounce cans with a bottle of two-liter pop to boot.
Temperature Settings
Even if you want to freeze some of your contents, this unit can chill down all the way to zero degrees. Of course, this can be increased, as well.
Power Source
In addition to the DC power cable that comes with this unit (which connects to your vehicle's power outlet), this also comes with an AC power cable.
Portability
On top of the fact that this can easily be mounted at different angles, it comes equipped with a durable patented hinge system.
Overall
Very few car refrigerators on the market can compete with this model in terms of pure performance. Then again, the massive 50-quart size is also nice.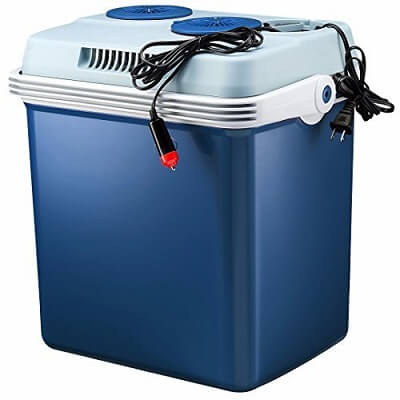 Some units can still keep your contents cold even while not powered but with the standard insulation of this electric cooler, that is not the case here. Yet, while powered, this is quite the efficient machine.
Read more
Performance
When this is powered, it does a pretty sufficient job at either cooling its contents down or heating them up. Yet, due to the average insulation, it will only hold this temperature for up to an hour when unplugged.
Size and Capacity
With its 27-quart capacity that measures 12.5 inches by 12 inches by 8.5 inches internally, this can hold plenty of food items and beverages for the whole family.
Temperature Settings
You can either cool your items down to a chilled 40 degrees or heat them up to 130 degrees. Past that, though, this is not capable of freezing items.
Power Source
Coming with this unit is a 5.5-foot long 12-volt DC car adapter cable. Though it is smartly designed to be tucked away when not in use, it is pretty short, to begin with.
Portability
While you are carrying this around, the system will lock itself to prevent the lid from accidentally opening. Plus, there is an integrated carrying handle.
Overall
This is the epitome of a car fridge that absolutely needs to be powered on because when it is not, it does not sport the insulation to keep itself cold. However, keep it powered and you will be golden.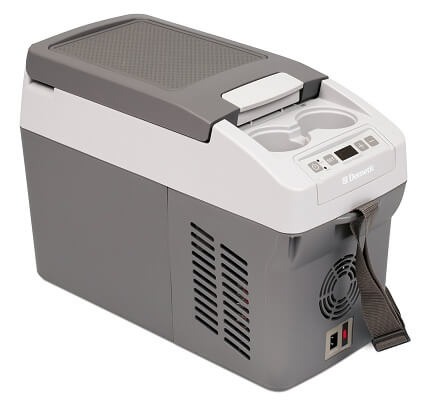 This is nearly as good as the top model and to be perfectly honest, it is more a case of the sheer brilliance of the previous model more so than any issues with this one. Take a gander for yourself if you have any doubts.
Read more
Performance
The CDF-11 is most notable because of its performance and very few people will have anything bad to say in regard to it. In addition, the dynamic battery protection system will prevent your vehicle battery from dying.
Size and Capacity
It is advertised that this has 60 percent more capacity than units with the same exterior space. All in all, it will fit 10.5 liters of foods and beverages.
Temperature Settings
Even though there are no separate compartments inside of this fridge, it can be chilled down to zero degrees at will. But, the temperature can also be raised if needed.
Power Source
The choice is yours when it comes to powering the CDF-11 as it comes with a 110-volt AC and 12/24-volt DC power supply.
Portability
As Dometic explains, the CDF-11 is one of the most compact compressor coolers that they engineer. It can fit in confined spaces and can be easily transported thereafter.
Overall
No one is going to blame you if this is your early favorite as it possesses the goods to be just that. As a bonus, this version is slightly cheaper than the previous for what it is worth.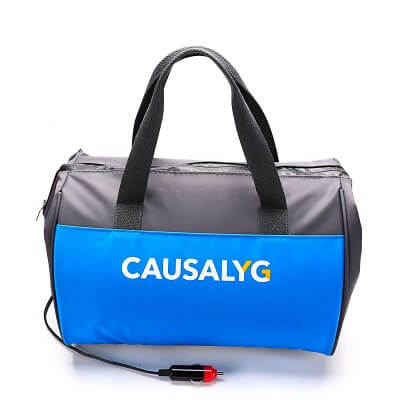 Unlike all of the other entries on this list, this is a refrigerator bag. It may seem impossible to be true but Argus Le proves that not all refrigerators need to be made from ABS or other solid materials.
Read more
Performance
With the premium food-grade aluminum foil lining that has been integrated into this cooler bag, it can keep your contents cool for up to four hours even without a power supply.
Size and Capacity
Argus Le rates their cooler bag to hold 18 liters of liquids and for a reference, you could fit around 20 cans of soda inside.
Temperature Settings
Given the fact that this can only cool your food down to 48 degrees, it will not be optimal for everyone. But, its 140-degree temperature for heating should be.
Power Source
The 74-inch (right above six feet) power cord that this comes with will plug into any 12-volt DC receptacle.
Portability
As this is a handbag design, it is naturally made to be more portable. Also, this weighs 3.9 pounds (which will vary depending on what you have inside).
Overall
Above all else, this is arguably the most unique model on this entire list. While it will not make your contents cold, it will keep them chill enough to consume.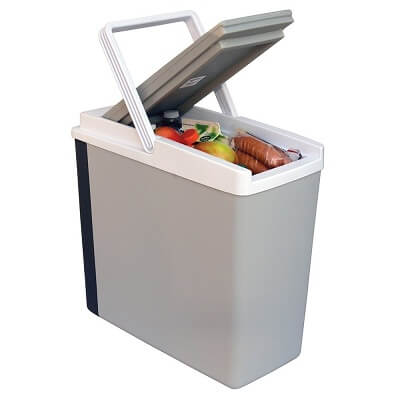 Koolatron is a name brand when it comes to these types of refrigerators and their 18-quart P20 Compact Cooler could just be their best. While it will not cool your foods as well as the previous three, it still delivers.
Read more
Performance
Thanks to the state-of-the-art thermoelectric cooling system of this unit, it is able to circulate the air evenly whether heating or cooling. Yet, some buyers note that it does not cool as well as other models.
Size and Capacity
This Compact Cooler is rated to hold up to 23, 12-ounce cans. In terms of the actual internal dimensions, it measures 16.25 inches by 17.5 inches by 8.5 inches.
Temperature Settings
At its lowest, this can cool down to 40 degrees and when you want to heat contents up, this can go up to 135 degrees. With a simple flip of the switch, this is possible.
Power Source
From the box, you can plug this directly into your vehicle's cigarette lighter. But, to use it outside of your car, you will need to invest in the separately-sold AC wall outlet.
Portability
Because of the combination of the folding handle and the naturally slim and compact design of the refrigerator, this is a very portable unit that can fit nearly anywhere in your vehicle.
Overall
Overall, this is a very efficient machine for its design. Some people may prefer colder foods and beverages, but for the right people, this will be just what the doctor ordered.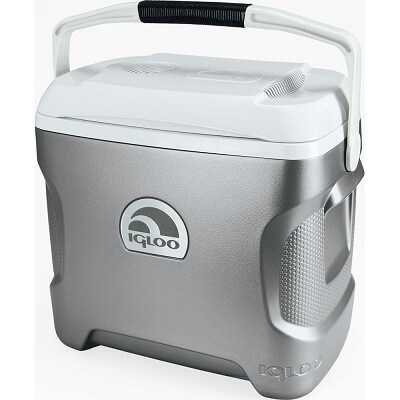 Last up on this list is the Iceless Thermoelectric Cooler from Igloo and much like the others that are a bit lower on this list, it will struggle in extreme temperatures.
Read more
Performance
Once again, as with others of its kind, you really need an air-conditioned vehicle with this thermoelectric cooler. If not, hotter days could spoil some food.
Size and Capacity
There are options for either a 26-quart size or a 28-quart size but no matter, both will hold a suitable amount of foods and liquids.
Temperature Settings
Everything inside will be kept under 36 degrees of the ambient temperature. This is possible because of the convection cooling technology that has been implemented.
Power Source
If need be, you can invest in an additional adapter that will allow you to use this at home or in other locations. As it sits, the included eight-foot cord will plug into your cigarette lighter.
Portability
Igloo designed this with ergonomics in mind as when you are carrying it, its curved back will comfortably hug against your side.
Overall
While not without its flaws and limited performance, few can argue with the design that Igloo has manifested here.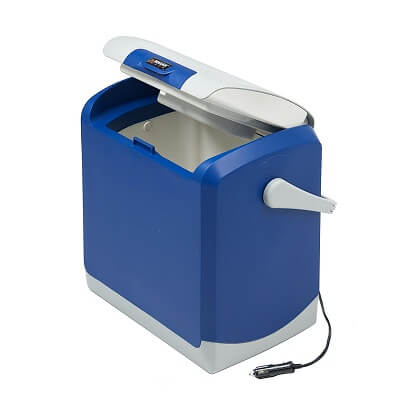 On average days, this is one of the better car refrigerators out there. Yet, in extreme weathers, its main design becomes flawed as it will freeze your liquids in the winter and spoil them in the summer.
Read more
Performance
Wagan designed their cooler and warmer to cool your food quickly. That said, its main design, which cools your contents below 36 degrees of the current outdoor temperature, does not work that well on scorching days.
Size and Capacity
With an internal capacity of 11 inches by eight inches by 12 inches (being able to hold up to 24 liters), this can hold up to 27 cans or up to four two-liter bottles.
Temperature Settings
When heating, this can go up to 140 degrees. With the opposite, though, it will cool down to around 36 degrees below the ambient temperature.
Power Source
As typical with this type of unit, it runs off of a standard 12-volt DC receptacle. The cord itself, also, is seven feet in total length.
Portability
Wagan integrated a heavy-duty handle into their design and because of such, it can be easily transported in and out of your car when needed.
Overall
If your vehicle has air conditioning, you could still get away with using this on hotter days. But, the internal capacity is only going to be ideal for a few people.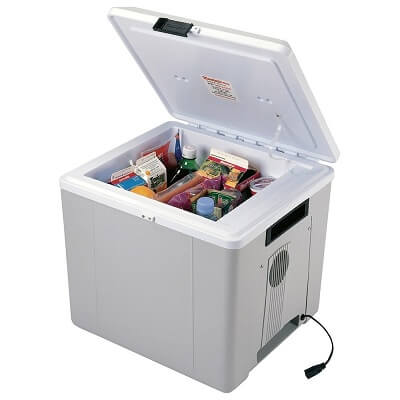 This next car refrigerator begins an ongoing theme for the next several entries. With this unit, the interior will be cooled down up to 40 degrees cooler than the ambient temperature.
Read more
Performance
Due to the main design of this Voyager Cooler, it is only going to perform well at certain temperatures. When it gets into the 90's and 100's (unless you have air conditioning), forget about it.
Size and Capacity
While some people will have issues with the performance, few will complain about the capacity of this unit. With 29 quarts, you could fit 48, 12-ounce soda cans inside at once.
Temperature Settings
Here is the deal, when cooling your items, this is designed to cool them approximately 40 degrees cooler than the ambient temperature. Of course, it can reach 130 degrees when heating.
Power Source
While one buyer noted this drove their battery down quickly, it does come with a nine-foot, 12-volt plug that uses the battery power from your vehicle.
Portability
In addition to the molded handles on each side, this can conveniently be mounted either horizontally or vertically inside your car.
Overall
This is not ideal as an all-year unit, let's just say that. Still, on cooler days or days that stay under 80 degrees, this can suffice for your needs.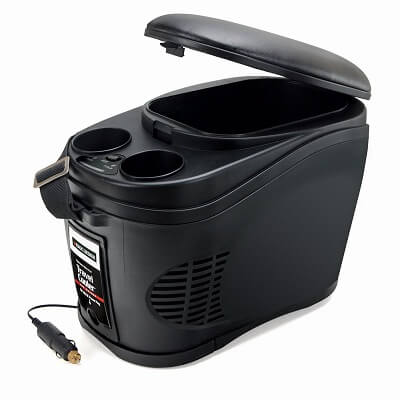 If you are looking for the coldest drinks possible, this is probably not going to be the model for you. However, if you are satisfied with items that get chilled to around 40 degrees, you will eat this unit up.
Read more
Performance
When you are on the go and simply need to keep your foods and liquids cold, this is going to perform admirably.
Size and Capacity
In addition to the base capacity of 2.3 gallons (which is on the smaller side), there are dual can and cup holders on the top and a side storage pocket.
Temperature Settings
The thermoelectric system is able to cool this refrigerator down to 40 degrees and heat it up to 120 degrees.
Power Source
Even if you wanted to plug this into your boot, you could; granted it has a standard 12-volt DC outlet. Either way, the included cord is six feet long.
Portability
The smaller size of this unit does lend its way to its compactness and overall portability. As such, it can easily rest in your vehicle seat or even on the floor.
Overall
While this is not a suitable choice for those looking to feed a family on a road trip, it is perfect for someone who is on the road all the time and only feeding themselves.

Subscribe to our Newsletter