Best Marine Speakers
In a
Hurry? Editors choice: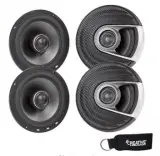 Test Winner: Polk MM652 Coaxial Speakers

Do you ever wish you could listen to some of your favorite tunes while out on your vessel? Sure, you could always tag along with your smartphone, but have you ever thought about installing or bringing along dedicated marine speakers? If you enjoy boating often, it may be a worthwhile investment.
Indeed, the thought of marine speakers must have piqued your interest; otherwise, you wouldn't have ended up here, right? As you might expect, these
types of audio devices
will be optimized for use on your vessel. However, if you have ever shopped for other audio equipment, you know that it is not as easy as it sounds.
There are a plethora of features to look out for (which we will get into) to ensure you receive the best marine speakers for your needs. But, first, check out some of the best models currently available.
Standout Picks
Criteria Used for Evaluation
Sound Quality
As with any other speakers you go to buy, sound quality is going to be very important here.
Whenever you shop for speakers of any kind online, it is tough to gauge how well they sound as you can't sample them beforehand. Hence, it makes it more challenging when shopping online. But, there are ways for you to deduce which speakers will sound better than others. If interested in some outdoor speakers, check our guide.
For starters, you will often see either dual cone or coaxial marine speakers. Out of the two, coaxial speakers will output the better sound quality. For the record, though, double cone speakers can still produce reliable quality. But, they will only consist of one speaker driver, and this will limit their ability to output elite sound.
As for coaxial speakers, these will consist of one speaker that is wrapped around another one. They will also have a tweeter in the middle and even a separate driver altogether. All you need to know, however, is that this system produces a little better sound quality.
Of course, if you want to dive even further, you could assess the sensitivity range of any given marine speaker. In short, the higher the sensitivity range, the louder the speaker will play at a specific wattage. For excellent sensitivity ranges, look for those that are 90 decibels and above.
Weather Resistance
If you are going to buy boat speakers, you probably want them to be able to handle the elements.
Regarding why you should not use traditional speakers out on your vessel, they will probably not be designed to handle the nature of the elements. This part is where marine speakers shine, and this is also where they get their name.
Typically, you will see automobile or home speakers made with paper cones, steel grilles, and possibly even have their wires exposed. As you can tell, this is a recipe for disaster out in the water. So, it is essential to invest in speakers that are rated and designed to handle marine environments.
In addition to being waterproof (to the extent that is), you should also look for models with features such as corrosion-resistant metal, UV-tolerant components, and even polypropylene cones. It is also not a bad idea to look for elements sealed with rubber gaskets and such.
Oh, and specific models will even sport IP ratings (which are used to determine an object's resistance to solids and liquids). The second digit will represent the object's protection against liquids. And, for these types of speakers, you will often see IP ratings of either IPX5 or IPX6.
Ease of Use
What you need to understand is that there are different speaker styles available for you to choose from and they will each be different when it comes to installing them.
The best way to go about this section is to document the different types of speakers that you can buy. While individual models will fluctuate regarding their ease of use, most styles will resemble each other quite a bit. And, as you saw from this list, the most popular type of marine speaker is the flush mount speaker.
The primary reason why this tends to be the most popular choice is that it can be mounted and installed in a manner that takes up no room on your vessel. Flush mount speakers are also found in motor vehicles so that you will be very familiar with them. For more info, check our guide on the best car phone mounts. However, they are arguably the most complex to install. But, once they are installed, you will be good to go in the future.
You also have wakeboard boat tower speakers, though, and these are quite different. These can be nice if you simply just want to mount your speakers on a bar or a tower for temporary use. In addition to being easy to install, these can also throw sound quite well.
And, of course, you even have enclosed speakers but these are not very popular for marine use. As they take up space, you will need to find an appropriate room for them on your vessel.
Features
There are a few features that need to be covered here but nothing too drastic.
In a technical sense, nothing in this section is going to be mandatory for you to shop for. But, as you will see, some of the content stated here will intrigue you quite a bit. So, let's start by talking about amplifiers.
An amplifier is a device that is commonly used in sound reproduction to amplify electrical signals. If you want more power and cleaner sound from your speakers, then you may want to buy a compatible amplifier. But, some sellers will include this for you, and that can be handy.
Looking in another direction, some models will be equipped with LED lighting. While this is more for visual pleasure than anything else, it can add a pretty cool fun factor overall. But, be aware, some speakers will require the use of a remote to change the color spectrum (which not all sellers will include).
And, heck, you can even look for other features such as built-in frequency range shut off and an in-line dial to adjust specific settings.
Value
You want to get the most out of your purchase, right? Well, pay close attention to this section then.
It is pretty impressive when you evaluate the value of a specific product. In this case, for boat speakers, you first want to assess what you need and want. As was noted earlier, some sellers will include an amplifier, remote control, or another such device with the actual speakers. But, again, none of this is technically mandatory.
Now, secondly, you also need to evaluate the individual quality of the speakers you are getting. While you can always look through user feedback, you also can't overreact to it. If a handful of buyers are saying the same thing, though, you can most likely take it to the bank. But, if only a few have had durability issues (for example), then you may not need to worry as much.
And, of course, lastly, you can assess your price range. Everyone has a price, right? Well, while it is generally not recommended just to buy the cheapest model you can find, you also need to stay within your budget. Thankfully, there are some excellent marine speakers for fair and affordable prices (as was seen on this list).
Our Top Picks for the Best Marine Speakers
1

. Polk MM652 Coaxial Speakers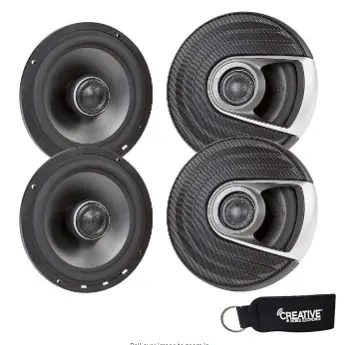 In addition to the fact that these boat speakers have an elite sensitivity range, they are also arguably the most well-protected speakers on the market today.
Read more
Sound Quality
These speakers have been designed with Dynamic Balance technology to deliver crisp and clean audio. And, as noted, the sensitivity rating is incredible at 93 decibels. With that being said, these are also not the loudest speakers out there.
Weather Resistance
All sorts of features (such as UV-tolerant titanium-plated composite cones, non-corrosive fiberglass reinforced baskets and waterproof outer and inner surrounds) allow these to sport an IP56 waterproof rating.
Installation
With the mounting hardware that is included, these speakers can easily be installed almost anywhere. In addition to being suitable for boats, they can also be used in cars and trucks.
Features
In regard to extra features, there is not too much to talk about here. Polk clearly spent most of their time focused on the sound quality and weather protection of their MM652 Speakers.
Value
This is actually a bundle purchase and, with it, you receive two pairs of coaxial speakers. Though the price is steep, the value is still really, really good overall.
Overall
Look, these marine speakers are simply in their own class of greatness. About the only reason you would want to look at other options is if the somewhat limited maximum volume bothers you.

2

. Fusion MS-FR6022 Speakers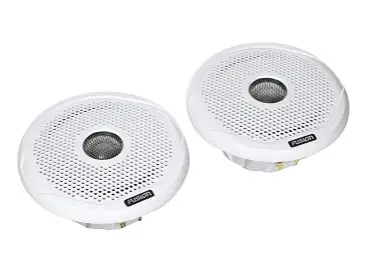 From their sound quality to their build quality to their versatility, you really just can't go wrong with these speakers. There is virtually nothing wrong with them and that is saying a lot.
Read more
Sound Quality
The primary reason why these Fusion marine speakers sound so nice is due to the implemented German CURV cone technology. This forms a lighter and stronger cone to ensure higher outputs and enhanced sound definition.
Weather Resistance
The same CURV technology also plays a role in this section. It allows these speakers to be better protected against marine environments. Additionally, these do comply with International Standards for salt and fog-resistance and UV stability.
Installation
For sure, this is a genuinely professional package as it comes with three different grille options and marine tinned wire.
Features
One of the best features of these speakers is the fact that you receive three different pairs of covers (as alluded to). You get one white pair and also two of the black variety.
Value
These are sold as a pair of two, and for the price of admission, it makes for a pretty solid deal altogether.
Overall
As with the top option on this list, from top to bottom, these are as good as it gets. Their elite combination of weather resistance, practicality, and sound quality is pretty much unmatched.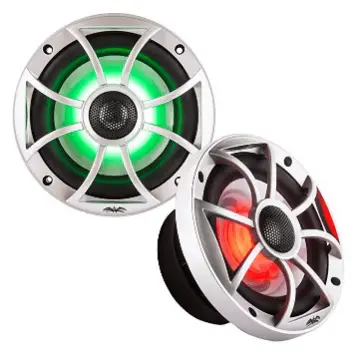 Outside of the fact that these sport incredible sound quality, they are also equipped with LED lights. Oh yeah, they are also built to withstand virtually any environment that they are put in.
Read more
Sound Quality
About the only aspect, these somewhat struggle in is their peak volume. Other than that, they sound incredible. You would be hard-pressed to find marine speakers that implement LED lighting that sound any better than these.
Weather Resistance
In addition to the composite mix of fiberglass and nylon for enhanced marine stability, the XS Series Speakers also implement rubber spiders. These are much more durable than traditional cloth spiders that other speakers utilize.
Installation
To allow the woofers to remain sealed, these speakers feature grill mounted tweeters. Also, these can be hooked up to 12 volts of power.
Features
While it appears as if the RGB LED controller needs to be purchased separately to have full control of the color spectrum, these speakers do sport LED lights. As is, they can display a single color of green, blue, or red.
Value
If you want the controller you will need to shell out some more dough. But, as is, these speakers offer great value as they are durable enough to last through many seasons.
Overall
Special technologies and incredible sound quality will be enough to sell most of you here. While these are not the loudest devices on the market, they are easily one of the best.

4

. Kicker KB6000 Speakers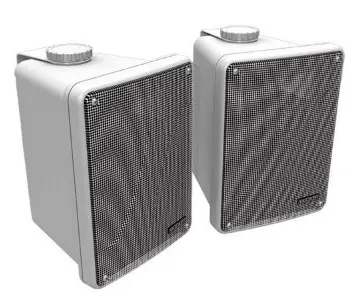 Now, even though you can use these speakers on the water, they are also great for general outdoor use. They can work great poolside, in your garage or even in your home. They are incredibly versatile that is for sure.
Read more
Sound Quality
The KB6000 Speakers are high in efficiency, and they are ready to be driven by stereo receivers. They also provide an 8-Ohm load making them suitable for indoors and outdoors. Of course, the range is somewhat limited as a whole.
Weather Resistance
These are an all-weather design and sport UV-treated enclosures. With that said, the included brackets are somewhat flimsy.
Installation
This is as versatile as it gets. Not only can these speakers be mounted vertically and horizontally but rubber feet also come with your purchase. The choices are nearly endless to how these can be utilized.
Features
One of the best features presented here is the fact that these can be adjusted when mounted. You can tailor the acoustics to your liking, and this will be appreciated by several of you.
Value
Again, the brackets are not the best, but the value here is good overall. The price is not too obnoxious, either, so that always helps.
Overall
You can't help but be impressed by the sheer versatility of the KB6000 Speakers. They also sport Kicker's signature sound, which means that most of you will be left satisfied.

5

. Sony XS-MP1611 Speakers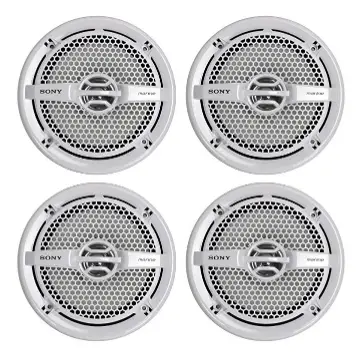 When it comes to audio equipment, it is easy to put your faith in Sony. They seem to always deliver and even though these speakers may not be their most impressive feat of engineering, they are darn good.
Read more
Sound Quality
No, these are not the most influential speakers on the market, and small distortion can be noticed when you play them at maximum volume. Still, the sound quality will be pleasant to the average user.
Weather Resistance
While these should not be submerged in water, their IPX5 rating allows them to combat the nature of marine use. They are also resistant to both saltwater and UV rays.
Installation
Wherever you plan to install these speakers, ensure that the holes you use are not larger than 5.5 inches. On another note, removing these speakers after they are installed is made tricky with the included screw covers.
Features
Because you can remove the grilles on these speakers, you can paint them if you want to. This would be a nice touch if you wanted to personalize these a little bit.
Value
All in all, this is one of the best value picks on this list. Outside of the price, the primary reason for this is you are provided with four individual speakers.
Overall
Given the high standards that most Sony products have, some of you may feel disappointed by these speakers. If this were any other brand, though, these same people would praise them. Let that sink in for a moment.

6

. Kicker OEM Coaxial Speakers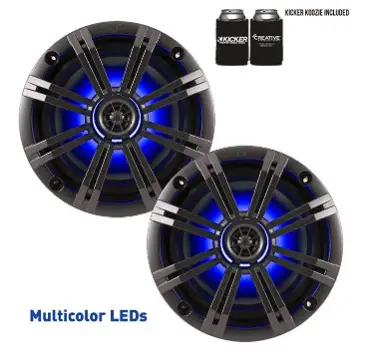 From the mids to the lows to the highs to the bass, these coaxial speakers are some of the best in the business. For full functionality, though, you may want to get your hands on the remote that is actually sold separately.
Read more
Sound Quality
Indeed, these are well-balanced and sound great any way you slice it. The 90-decibel magnetically shielded sensitivity range (and Santoprene surrounds Cone) sure does help.
Weather Resistance
There is no need to worry about these coaxial speakers as each of their connections is marine-industry compliant. Oh, and the coaxials are also sealed for enhanced protection.
Installation
For the record, the mounting depth is 2 7/8 inches for these speakers. Also, for your convenience, installation screws are provided with your purchase.
Features
An integrated DIP switch would have been nice to allow you to switch through the colors. As is, you will need the remote control (which is not provided to you). Still, indeed, these do sport LED lights.
Value
Admittedly, the value here would be better if the actual remote control were included. The speakers themselves, however, do make up for this.
Overall
To get the most out of the lights, you will want to purchase the remote for these speakers. But, even without the remote, these output wonderfully-sounding audio with optimal protection against the elements.

7

. Boss Audio Systems Speakers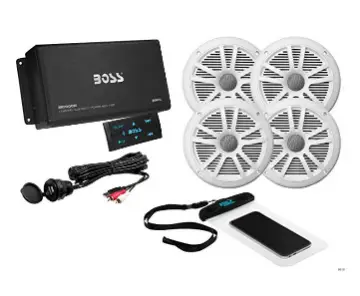 Now, unlike some of the other entries on this list, this is actually a combo kit. In addition to the actual speakers, you are also provided with a four-channel amplifier and inline remote control.
Read more
Sound Quality
The amplifier that is included is integrated with special linear circuitry. While reducing distortion and improving sound efficiency, this circuitry also increases the power output.
Weather Resistance
Speaking for the amplifier, it is built with weatherproof connectors that will not develop corrosion over time. Also, for the speakers, state-of-the-art waterproofing materials were utilized.
Installation
Everything you need to mount this is included, for the record. However, you will need to cut the specific surface you will be installing the bracket into. Overall, though, this will be nothing too overly complicated to achieve.
Features
With the included inline remote, you will not require an in-dash head unit to play your music. Additionally, with the integrated auxiliary input, you can even play music with an external device.
Value
For a combo kit, this is an excellent value. It is worth pointing out, though, that a few buyers have had issues with longevity.
Overall
This will be an excellent choice for several of you as it includes all the goodies. It also comes with an owner's manual in case you were worried about it being too confusing to operate.

8

. Polk Audio DB651 Speakers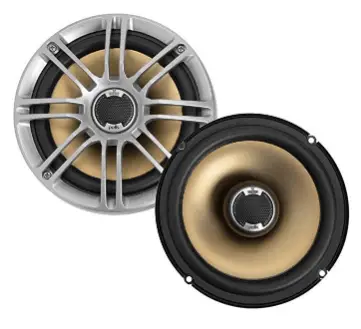 Even though these speakers have been discontinued, it does not mean that you still can't get your hands on them. As great as these are, though, do be aware that there is little to no bass present when audio plays.
Read more
Sound Quality
Indeed, these speakers lack bass and some of you will notice it right away. However, thanks to the Dynamic Balance Driver technology, they will still deliver crisp and distortion-free audio.
Weather Resistance
Polk actually exposed these speakers to everything but the kitchen sink when they tested them. For literally hundreds of hours, they were tested against extreme temperatures, UV lighting, and salt.
Installation
Mounting hardware and adapter rings are provided for you. With the adapter rings, these will fit both 6.5 and 6.75-inch openings. And, even though they can be installed into cars, they also work great for boats.
Features
What you get here are high-quality speakers that sound pretty darn good. But, there are no fancy features or anything like that to speak of.
Value
The fact that these were extensively tested by Polk proves that they care about what their consumers are getting. It also speaks for the value of these speakers.
Overall
Literally, unless you need bass (which is going to be essential for some people, admittedly), you should end up loving these bad boys.

9

. Kenwood 2-Way Speakers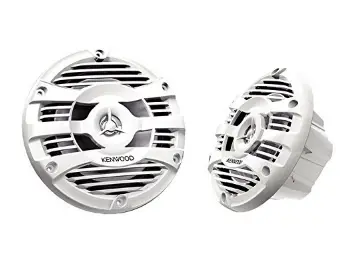 Some of you will be on a tighter budget but that does not mean you need to settle for cheaper speakers. These two-way iterations are a great example of speakers that are affordable yet high in quality.
Read more
Sound Quality
What these excel at is with their mids and highs. The lows, while not the absolute best, are competent too. Let's say they should easily outperform the speakers you are replacing them with.
Weather Resistance
Without question, these are designed for marine use. They have been designed with stainless steel hardware, composite speaker baskets, and UV-resistant grilles. All in all, they will shrug off the sun, salt, water, etc.
Installation
A few reviewers did make mention of the fact that they had a bit of trouble installing these. It should not be anything too cumbersome or tedious, however.
Features
The amp is designed with some pretty hand features. This included a frequency range shut off and also an in-line bass-boost dial. The latter is nice if your boat does not have an equalizer.
Value
There have been a few buyers who have had issues with the tweeters falling off. Not everyone has had these issues, however, so do be aware of that.
Overall
Kenwood is a brand that most of you will recognize as it is plastered on some of the best audio equipment out there. And, their speakers will work great in your boat or even in your car.

10

. Rockville Tower Speakers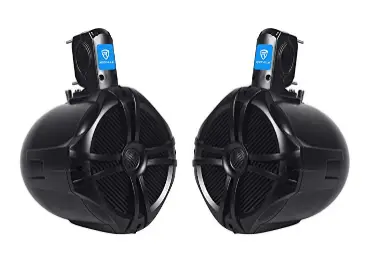 These are far from the flashiest speakers on this list but you better believe that they are as practical as it gets for marine use. They sound great, can easily be mounted and are fully marinized.
Read more
Sound Quality
The combination of the high-density magnets and polypropylene mica injected cone produce reliable sound quality from these wakeboard marine tower speakers.
Weather Resistance
As noted, these suckers are fully marinized against both saltwater and freshwater conditions. Part of the reason why is the terminals have been sealed with rubber gaskets.
Installation
For your benefit, these now come with improved mounting brackets. In addition to the fact that the brackets are waterproof, they are adjustable and incredibly strong with nylon reinforcements.
Features
For the most part, these are pretty basic in their design. This is far from a fault, but it is just something that you should be aware of.
Value
Alright, so longevity issues have been documented by a few reviewers. It does not seem to be too much of a common issue, however, so that is the good news.
Overall
These are unique in the fact that they are wakeboard tower speakers. They are equipped to handle all different types of conditions while still outputting high-quality audio.

Subscribe to our Newsletter