Best Posture Correctors
In a Hurry? Editors choice: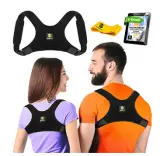 Test Winner: Evoke Pro Back Brace

Maintaining good posture sure does sound like a simple task. The reality of the situation is there are a plethora of factors that can get in the way of proper posture. And, while it is tough to fix all your mistakes, specific devices (such as posture correctors) can help you.
The focus for today is on posture correctors, in specific. As their name implies, these are devices that are designed to help you maintain better posture. They typically reduce the pressure on your neck and also your joints and muscles in your upper back. For more info on pressure's reduction
read here
.
Due to the different designs, sizes, and styles available on the market, though, buying an ideal posture corrector for you can prove to be a difficult task. Thankfully, we are here to help. But, first, check out some of the best models available right now.
Standout Picks
Criteria Used for Evaluation
Effectiveness
At the end of the day, the model you go with needs to help train your body to maintain proper posture.
Alright, so what do these devices do anyway? While they will not magically fix you in a few hours, they are going to train your back, neck, and shoulders to realign. They are pretty much just tools to help you get better with your posture, quite frankly. And, they come in several different styles.
Most commonly, you will see back braces. Even though these can take some time to get used to, they do work well. They fit right over your shoulders and will push the middle region of your spine to straighten both your neck and upper spine.
You will also see posture belts and shirts. The former can be useful for those of you who sit or stand at a desk all day. However, they are not great for people recovering from major injuries. As for posture shirts, these will work but come in the form of clothing.
Along the same line, you also have posture corrector bras. While men can still technically use them, these are optimized bras for women and can help you if you have chest issues. Of course, you also have electronic posture correctors.
Now, these are unique in the fact that they are used as training tools. Most of them will alert you in some fashion when you begin to slouch and such. Either way, you go, though, it is up to you to improve your posture.
Comfort
Look. these devices are not going to be incredibly comfortable but they also need to be comfortable enough.
There are multiple ways to dissect this section, but let's start by saying most models on the market will not precisely be super comfortable to wear. That is not the point of why you wear them. However, at the same time, a posture corrector should never cause you to have physical pain (as then something is wrong).
So, let's dive into this a little further. To start, you may want to select a model that does not irritate your skin. While most will be designed to be able to be worn outside of your clothing, the material should still not be itchy or scratchy or anything like that. Additionally, you may not want to tolerate straps that dig into your skin.
Additionally, depending on when you plan to wear your device, you may want one that is both lightweight and at least somewhat breathable. Some will be downright impossible to wear in the summer as they will trap your body heat. To avoid this, look for options made with lightweight and breathable materials.
A small note before this section wraps up; you will not be wearing your posture corrector for long periods. So, it is not as if you will need to tolerate it for several hours at a time or anything like that.
Adjustability
In addition to the fact that the model you buy needs to fit you properly, it should also be adjustable.
Alright, so let's not waste any time diving into this section. You need to assess two main areas. Firstly, you need to buy a shoulder brace for proper position or corrector that fits you comfortably. It should not be too tight, nor should it be too loose. Now, posture correctors can either come in one size or multiple sizes.
Regarding which one is better, it all depends on what works for you. For the record, most sellers will provide the chest sizes they recommend for each of their capacities. It will give you a perfect reference point when you go to find the right size.
However, buying a model of the right size is not enough. As the title of this section suggests, it is also ideal to find an adjustable corrector device. Thankfully, most of them will be.
But, it is not only significant to find adjustable models but also those that are easy to adjust. If you can't easily reach your hands around to access the adjustable straps, then the process of fixing them is going to be much more of a nuisance. Sometimes, it is the simple things that matter so much.
Materials
Because you will be wearing these types of devices, you will want to see what they are made with.
From one design to the next, posture correctors can vary quite a bit. And, you guessed it; this is another area where they can differ from one another. With that said, there are still common materials that will come up time and time again. One such element is cotton.
The benefit with cotton is that it is naturally breathable and also soft to the touch. Then again, though it is technically breathable, cotton is also going to absorb sweat. So, if you need a corrector device for physical activities, you may want to steer clear of cotton.
Latex, Lycra, and spandex are also accessible materials when it comes to these types of devices. However, speaking for latex, this is not going to be useful if you are allergic to it. Then again, spandex, Lycra, and latex are going to be very easy to maintain.
Lastly, rubber is often a material of choice. And, in specific, a lot of times you will see neoprene rubber. In addition to being a highly resilient material, it will also resist degradation more than usual or synthetic rubber will. Of course, as with any other rubber, it also comes with an acquired scent (to say the least).
Accessories
While not that important, this is still a section that you should give some thought.
For the record, nothing covered in this section is going to be mandatory for you to know. With that being said, you also may want to pay attention as, remember, sometimes the little things make the difference. What this is getting at is some sellers will include specific accessories with their posture correctors.
As an example, some sellers will include a carrying bag with your purchase. While you can always account for something like this yourself, if you want to travel with your posture brace, then this can be an excellent accessory to look out for.
Also, you may see some options come with a helpful guide or book about your posture. Some sellers may even send you an eBook instead of sending you a physical copy of the book. Either way, if you are looking to learn more about your posture and such, this sort of thing can be subtle.
Heck, you will also see some manufacturers include bonus items (such as resistance bands or medical tape). Again, these sorts of things and accessories will not make or break your purchase. But, who is going to have an issue with essentially receiving free items?
Our Top Picks for the Best Posture Correctors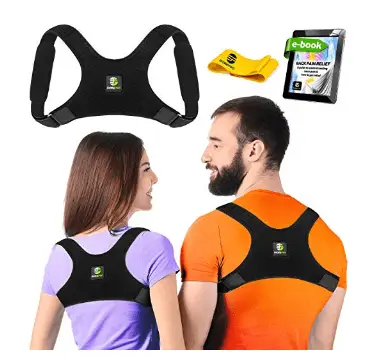 Being a back brace for posture, this is designed to provide you with reliable back support at all times. Plus, it sports an ergonomic design that molds comfortably to your body.
Read more
Effectiveness
Most previous users have agreed that this does improve posture. As noted, it is also going to deliver reliable back support while you wear it.
Comfort
While these devices are not exactly supposed to be incredibly comfortable, this one is good in the comfort department. This is mainly thanks to the ergonomic design and the included armpit pads.
Adjustability
Thanks to the combination of the front brackets and the flexible neoprene, this posture corrector is both highly adjustable and easy to adjust. It is hard to beat that combination.
Materials
Overall, this is as well-made as it gets. It sports breathable fabric, padded straps, metal brackets, and a strong core overall.
Accessories
In addition to the primary purchase, you also receive a bonus resistance band. Also, this comes with a guide that will help to educate you about back pain.
Overall
This is just a tremendous design overall and not too many of you will disagree. It also comes at an unbeatable price, and that is the icing on the cake.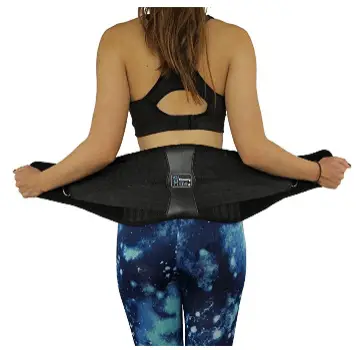 In addition to the back brace that is equipped with easy-grip handles, this also comes with a removable lumbar pad. Clearly, this is nice for those of you who need enhanced lumbar support.
Read more
Effectiveness
With the double pull compression band that sports three supportive bones on each individual side, it is safe to say this provides you the full support you need. As such, it will also help to relieve the pressure and pain your body is feeling.
Comfort
Thanks to the softness of the material, this is not at all unbearable to wear. It is not very breathable, however, but that is to be expected.
Adjustability
Now, even though this is an adjustable posture support device, it is only available in two different sizes. Neither of which will work very well for larger users.
Materials
Take comfort in knowing that this was engineered with premium quality in mind. Not only is this incredibly durable, but it is also washable.
Accessories
For the most part, there are little to no accessories that come with your purchase here. This is not a big deal due to the high-quality design of the posture corrector itself.
Overall
The lack of sizes may be problematic for some of you. However, the support that this provides, coupled with the above-average comfort makes this posture corrector worth the investment.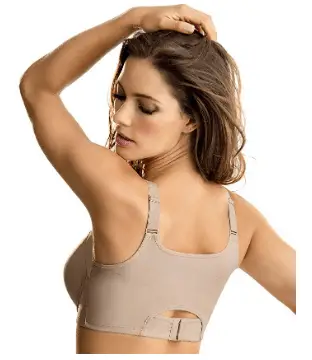 As you can see, this entry is only for women. It is also really unique in the fact that it is a sports bra. But, it is not an ordinary sports bra as, if it were, it would not be on this list.
Read more
Effectiveness
As this is a bra, it is going to support and compress your bust. Thanks to the high-back design, this is also going to help smooth and shape your underarms and back.
Comfort
The contour cups are not padded with foam or anything like that. However, they are soft, and this makes them pretty comfortable overall.
Adjustability
Based on the experiences of previous users, it is not uncommon if this fits snug for you. By the way, the straps are adjustable, and there are multiple sizes available.
Materials
This is made with a polyamide and elastane blend. Eighty-eight percent of the mixture is polyamide (otherwise known as nylon).
Accessories
As this is just a posture corrector bra, it does not come with any unique accessories or anything like that.
Overall
While most of the options on this list tailored to a broad demographic, this is no such option. Because it is a bra, it is only going to appeal to a select few of you.

4

. Upright GO Posture Trainer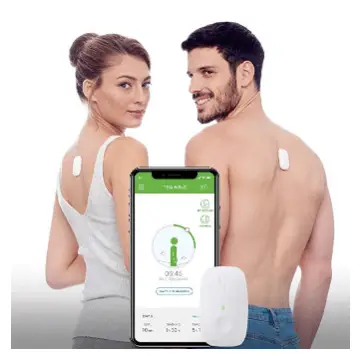 Now, you want to talk about unique? This model is arguably the most innovative posture corrector on this entire list. In fact, it is also the smallest.
Read more
Effectiveness
Technically, this does nothing. Think of this as more of a training tool than a supportive brace or anything like that. With the accompanying app, you will be able to set daily goals to help improve your posture over time.
Comfort
Though this may feel a little odd on your back, as it needs to be attached with the medical-grade adhesives, it is not cumbersome to wear or anything like that.
Adjustability
There is no adjusting needed as this is merely just a small little device that you attach to your upper back.
Materials
A few things to note here is the Upright Go is not waterproof or sweat-resistant. Also, the battery life leaves a lot to be desired to put it lightly.
Accessories
In addition to the actual posture training device, you also receive nine reusable medical-grade adhesives, a user manual, and a USB charging cable.
Overall
If you are not willing to put forth the effort to better your posture, then this purchase is going to be worthless to you. This is merely a training tool that can keep you on the right track.

5

. Marakym Posture Corrector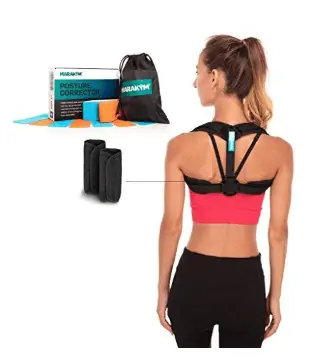 As with some of the other best posture correctors, this device actually feels like it works. Then again, the adjustment straps could have been a bit longer as they are somewhat difficult to adjust.
Read more
Effectiveness
For both men and women, this is going to be an excellent choice. It is a posture brace that is going to ensure proper alignment and also stability while you wear it.
Comfort
For the most part, this is not too unbearable to wear. Speaking for the straps, however, they are relatively thin and also tend to dig into your skin.
Adjustability
The good news is this model does allow for adjusting. At the same time, the straps could have been a bit longer as, the way they are, they can be hard to grab without compressing your body.
Materials
If one thing is for sure, this is going to last a long time if you treat it with care. The reason for this is the high-quality neoprene construction.
Accessories
To ensure you can take this with you wherever you want, a carrying bag comes with your purchase. And, if that was not enough, bonus kinesiology tape is also provided to you.
Overall
As you can see, there are some potential issues with this design. Yet, all you need to know is that this back posture corrector does its job and does so extremely well.

6

. Vibo Care Straightener Brace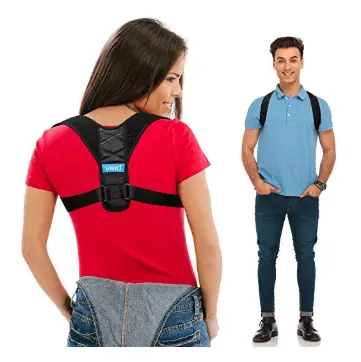 In addition to the fact that this straightener brace has been designed with reinforced X-shaped stitching, it is also sleek, lightweight, and ergonomically designed.
Read more
Effectiveness
To recover your mobility, strengthen your muscles, and realign your vertebrae, this back brace does wonder. Indeed, it is ideal for anyone trying to recover from a significant injury or anyone looking to improve their posture.
Comfort
Indeed, the light and ergonomic nature of this brace enhance its comfort. Then again, more protection would have been excellent as, still, this can place pressure on your skin after a while.
Adjustability
Yes, this can be adjusted to your needs. As for who it will work with, it is compatible with users who sport chests within 35 to 41 inches in width.
Materials
As noted, this is designed with reinforced X-shaped stitching for improved durability. Also, for the record, both neoprene and latex were used to make it.
Accessories
To at least make this a little more comfortable, you receive both leather inserts and armpit pads with your purchase.
Overall
This is not quite as universal of a posture brace as some of the others on this list. However, it is built to last and is optimized to help with severe injuries and incorrect posture.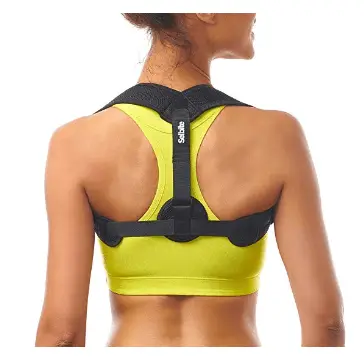 Even with some of the best models out there, they are going to help your posture at the sacrifice of optimal comfortability. That is the best way to describe this next option, quite honestly.
Read more
Effectiveness
This is specifically designed to align your spine by pushing your shoulders back. As you continue to wear it, you should start to notice a difference with your posture.
Comfort
On one hand, the padded neck and included armpit padding make this far from unbearable to wear. On the other hand, it is not as if you will be dying to wear this because it is so comfortable.
Adjustability
Even though the straps do tend to slip from time to time, this is a fully adjustable design. And, better yet, it can be adjusted without the need of assistance.
Materials
If you are allergic to latex, then we have some good news for you. This was engineered with breathable, latex-free material.
Accessories
In the product description, it is noted that an eBook will be included with your purchase. As it is an eBook, remember that you will not physically receive it (it is digital).
Overall
This has been known to correct posture, and that is all that matters. It does help, however, that it comes with armpit padding and is easy to adjust.

8

. StrictlyStability Corrector Brace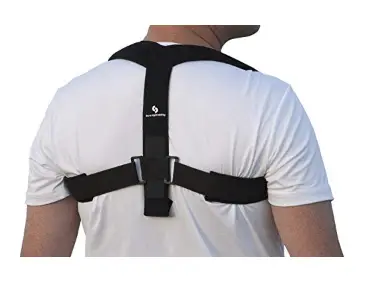 If you are looking to be mobile with your posture corrector then you may want to look for other options. While this works great while you are standing still, it restricts your mobility otherwise.
Read more
Effectiveness
Making this one of the best posture correctors in the business is its backpack-style design. This allows the brace to gently pull your shoulders back to help with both fractures and postural support.
Comfort
The straps are equipped with padded foam, and this allows them to be moderately comfortable. The top section can dig into your neck.
Adjustability
Thanks to the movable D-rings, it is rather easy to adjust this to your liking. But, to ensure a proper fit, make sure you buy the right size (which will be in accordance to your chest).
Materials
Being designed with high-quality materials, there is little to worry about regarding the longevity of this option.
Accessories
Provided with your purchase is simply this upper back brace. Nothing else too noteworthy to speak of is going to be included for you.
Overall
What makes this a compelling choice is the above-average combination of the easy-to-use D-rings and overall effective manner in which this pulls your shoulders back.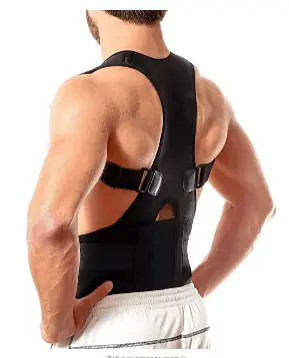 What more is there to say about this next model other than that it delivers on what it is supposed to do? Sure, it is not necessarily that comfortable but that is not exactly uncommon.
Read more
Effectiveness
As you can see from the photos, adequate lumbar support is provided to you. Additionally, the brace itself works to help train your spine and muscles to return to their natural alignment.
Comfort
Now, the straps that pull your shoulders back are cushioned. However, this is somewhat futile as the thick elastic bands tend to cut into your arms. Still, the lumbar support is helpful to have.
Adjustability
For the record, there are quite a few different sizes available for you to choose between. The fitting, overall, seems to be pretty good, but some users have had slight issues.
Materials
While the central core of this back brace is durable, it is also not even close to breathable. Instead, it is going to hold in your heat, making this not the best choice for use in hotter weather.
Accessories
As a bit of a bonus, a booklet is provided with your purchase. It just provides you with additional information that can be helpful and also some exercises.
Overall
The addition of the lumbar support will be enough to sell some of you. If you can deal with the mild discomfort of the brace itself, you can enjoy an incredibly effective solution to your posture issues.

10

. Lucky Clover Back Brace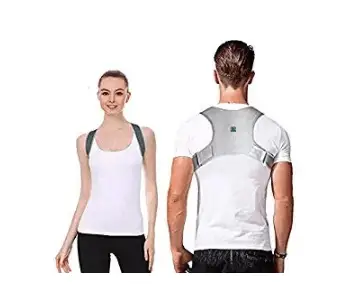 What is nice is this is one of the few posture correctors that are actually somewhat comfortable to wear. However, it seems to be much smaller than it appears.
Read more
Effectiveness
Because this is optimized to mold seamlessly with both your middle and upper back, it is going to provide you with postural support. Over time, it is going to help realign your spine.
Comfort
Indeed, this is somewhat comfortable to wear. This is thanks to the cotton lining and neoprene core that make this both soft and stretchy.
Adjustability
Everything else is terrific about this back brace. But, many reviewers have made mention of the fact that it is much smaller than it appears to be. For larger chests, the straps are too short.
Materials
Neoprene was the primary material of choice for this model (without the addition of latex). And, given it's breathable, lightweight, and wear-resistant properties, most would agree that was a smart choice.
Accessories
While no accessories are included with your purchase, this is backed by a 30-day money-back guarantee. So, that is something at least.
Overall
The smaller nature of this posture corrector is the only reason why it will not work for some of you. Regarding its quality and effectiveness, though, it is one of the best.

Subscribe to our Newsletter