Best Shower Tents
In a Hurry? Editors choice: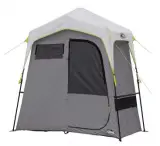 Test Winner: CORE Instant Changing Room

Are you sick and tired of either not taking showers, cleaning yourself in the water, or utilizing public showers while you are camping? There has got to be a more relaxed and more convenient way, right? Well, there most certainly is, and that is why you have come here today.
Have you ever heard of shower tents? In addition to being optimized for showers, they can also be used as privacy rooms for you to change out of your clothes. You can even use them to go to the bathroom. For more info on portable toilets,
click here
. Indeed, they are incredibly versatile in their design.
But, not all models are the same, and this is important to understand. There are several essential design features and integrations that will make specific designs better than others. You will get a glimpse of that with our top 10 list below.
Standout Picks
Criteria Used for Evaluation
Materials
In order for you to figure out how strong, durable, and well-built any model is, you need to know its materials.
One of the very first things you need to assess when you are looking to find the best shower tents is what they are made out of. And, there are two primary components that you will need to assess. The first of the two parts is the actual fabric (which is going to encompass the frame).
Two of the most popular fabrics you will run across are polyester and nylon. Both of these are synthetic, human-made fabrics and, quite frankly, they both have their advantages. In addition to being much lighter than most natural-based materials, polyester and nylon are also incredibly durable, quick-drying, and quite resistant to tears.
Oh, and you will also see these types of fabrics often be finished with certain coatings. Such coatings are going to make them more resistant to UV rays from the sun and water.
However, you also need to analyze what the frame is made out of. As with polyester and nylon, two of the most popular frame materials will be steel and fiberglass. While steel is generally preferred for strength and durability, it also erodes and can rust. Meanwhile, fiberglass has no such concerns.
Breathability
This section is all about ventilation. And, yes, this is oh so important for you to consider.
With virtually any tent that you ever buy, you need to ensure that there is optimal ventilation. When it comes to these types of tents, however, the need for ventilation is magnified and here is why.
Because you will presumably be taking showers in your new tent, water is going to get everywhere. Well, what happens to fabrics when they are exposed to moisture for too long? Mold and mildew can begin to grow that is what. You want to avoid this.
Of course, a well-ventilated shower tent will also keep it fresh and also enhance its breathability. The tent must be well-ventilated after you take your shower (as this will allow it to dry).
Either way, you understand the importance of it. Regarding what you need to do to ensure you buy a model that is well-ventilated, look for the mesh. Most models will sport mesh rooftops and also several mesh windows. Some will even sport mesh around the floor to allow the water to escape.
But, remember, because you still need some privacy, the entirety of the tent is not going to be made out of mesh.
Size
When looking for your ideal model, you will want it to provide you with as much space as you need.
As you noticed on this list, you will find both one-room and two-room shower tents on the market. Regarding which style is superior, it all comes down to your needs and preferences. We will say this; two-room tents are excellent in the instance someone needs to change their clothes while you are still showering.
Additionally, one of the rooms can be used to store your dry and clean clothes while you shower. In a way, two-room models offer a bit more convenience. But, they will also be bigger in scale, and this may not be what you want.
Either way, no matter if you are shopping for one-room or two-room tents, you will need enough space inside to freely bathe yourself. Our guide on the best toiletry bags can also be a useful read on this occasion. The last thing you want to feel is cramped inside while you are trying to enjoy a refreshing shower.
While it does depend on your physical size, you will still want to assess the physical dimensions of the model you go to buy. Assess the height, length, and width as all three measurements are going to dictate how much space you will have inside.
Features
The interior of the tent is just as important as the exterior. In specific, look for as many pockets and pouches as you need.
For sure, you do not want to sleep on this section here. While, technically, you can always customize your tent and add certain accessories to it, you may want to look for models that come pre-designed with everything you need.
For starters, how about interior mesh storage pouches? These will be great for some of your toiletries such as your shampoo, conditioner, soap, washcloth, etc. Then again, you can always put these anywhere inside the tent. Along the same line, to hang up your old clothes or even your towels, some models will come equipped with hooks or clotheslines.
Of course, what about the stuff that you need to keep dry (such as your drying towel and new clothes)? While this is where a second room can come in handy, some one-room designs will sport exterior towel bars and pouches.
Moving on, if the tents can support it, specific models will come equipped with hooks to store shower bags. But, it is worth noting that not all options will be designed in such a fashion (more on that later).
And, lastly, you will also see specific tents come with removable rainfly and floors. Rainfly can be nice gear for the rain during inclement weather and while floors can be lovely to stand on, they can also add one more component you need to clean afterward.
Ease of Use
Most of these tents will not be hard to set up but some will be easier than others.
The first order of business for this section is to keep in mind how easy your shower tent is going to be to set up. Let's face it; no one out there is going to want to spend an hour setting up a cumbersome shower tent. Thankfully, for the most part, this is not going to be the case very often.
Still, from brand to brand, it is going to differ. And, if you want the absolute most comfortable experience possible, then you should think about going with a pop-up shower tent. As the name implies, a tent of this nature is going to come pre-assembled nearly. The telescoping poles will, most likely, be pre-attached to the fabric, and all you will need to do is "pop it up."
Subsequently, pop-up tents are also more comfortable to pack down when you are done with them. Speaking of which, it also may be in your best interest to look for models that can easily be folded back into their carrying bags.
It is also worth noting that practice is going to make perfect with something like this. The more times you erect the shower tent, the easier it is going to be.
Our Top Picks for the Best Shower Tents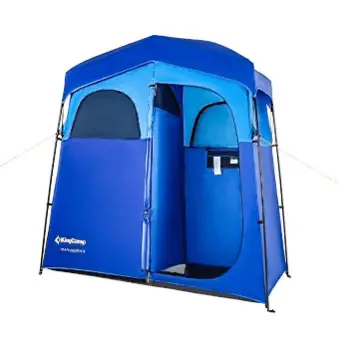 What helps to make this the best camping shower on the market is the fact that it is equipped with two rooms. If you and a friend need to both use it at the same time, it will be no problem.
Read more
Materials
This includes fiberglass poles and these add additional strength. As for the rainfly, it sports a waterproof coating and is made of 190T polyester fabric. But, in the wind, you will want to stake this down to prevent it from blowing away.
Ventilation
To allow the water to flow out, the floor has been engineered with mesh fabric. In addition to this, the roof is also made of mesh, along with the side windows.
Space
As noted, this is a two-room design. It is quite spacious for two full-grown adults. And, do not worry; the rooms are separated by an interior barrier.
Design Features
Inside, there are all sorts of features to make your showering experience easier. This includes two pockets (with four compartments) for some of your smaller items, top and side hooks to hang the shower bag, and also two straps to hang your clothes.
Ease of Use
The pole clips will quickly snap over the poles for easy and fast installation. Also, when you need to pack this thing down, you can stow it away in the included compression sack.
Overall
Spacious, durable, convenient, and breathable, could you really ask for much more out of a shower tent? This is as good as it gets, ladies and gentlemen.

2

. CORE Instant Changing Room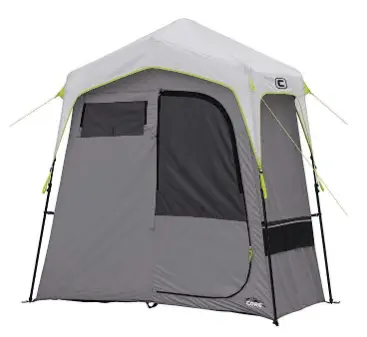 This is another one of the most spacious shower tents on this list. Due to its ample ventilation and waterproof foam floor, it is also one of the best too.
Read more
Materials
For certain, this has been designed with high-quality materials. In specific, as noted, it sports a waterproof PE foam floor. On bare feet, this makes standing quite lovely.
Ventilation
To allow excess water to run off of the floor, high-quality turtle mesh surrounds it. In addition to this, this tent has also been equipped with a mesh roof vent for increased air circulation.
Space
There is both a changing room and a room to shower. For the record, these rooms are separated by a D-style door. Overall, each room is quite spacious.
Design Features
The hanging storage pocket can account for some of your smaller objects and the integrated clothesline can hang your wet clothes and towels. Also, though you do receive a five-gallon shower sack with your purchase, it should not be filled all the way.
Ease of Use
As the telescoping poles actually come pre-attached to the structure itself, setting this up is a breeze. If you run into any issues, however, instructions are included with your purchase.
Overall
For whatever reason, the included shower bag (when filled to the brim) is too much for this to support. Other than that, this is a fantastic design from top to bottom.

3

. Texsport Camping Shower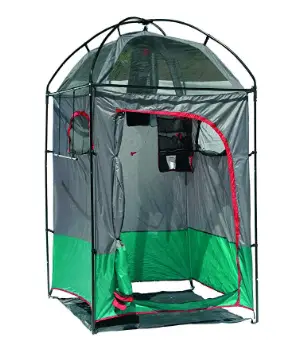 In regard to its build quality and ventilation, this is easily one of the better units on the market. Most of you will not feel cramped inside, also, which is a nice perk.
Read more
Materials
In addition to actually being flame retardant, this tent sports polyurethane-coated taffeta walls and also a ripstop polyethylene floor (which can be removed). The included steel poles are also rust-resistant.
Ventilation
What makes this such a nice design is the ample ventilation. After all, it has been engineered with four no-see-um mesh roof panels and also two no-see-um mesh windows.
Space
In addition to being nearly five feet in both width and depth, this stands 87 inches tall (which is over seven feet). Indeed, plenty of space is provided to you.
Design Features
To help keep your toiletries organized and such, this comes with an interior mesh shower rack and also an exterior hanging towel bar. Also, you do receive a five-gallon reservoir.
Ease of Use
Though setting up this tent is not too troublesome, the included corner brackets should be reinforced. Even duct tape will do the trick.
Overall
In spite of the subpar corner brackets (which can be reinforced as mentioned), this is excellent. It is spacious, well-ventilated and can easily be assembled.

4

. Browning Camping Privacy Shelter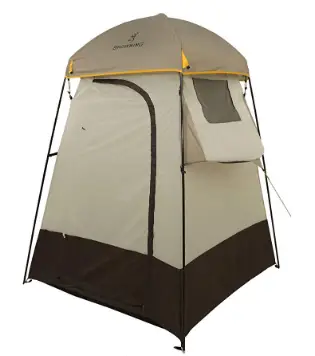 This is actually advertised as a camping shelter but it is a glorified shower tent. Its most impressive feature is the built-in shelf as this makes much easier for you.
Read more
Materials
All you need to know about this shelter is the fact that it was engineered with top-of-the-line materials. It is ready to handle the elements of the outdoor world.
Ventilation
The built-in vents allow you to control the airflow of this shelter. Both the windows and the roof can be vented, for the record.
Space
There is more space available in this one-person model than some two-person models out there. The 86-inch height, specifically, is really handy for taller users.
Design Features
In addition to the integrated shelf, this also sports several mesh storage pockets that you can use. Additionally, there is an exterior mesh pocket and, also, the floor is retractable.
Ease of Use
Based on user feedback, it appears as if this tent can take some time to fully set up. It comes with everything you need, clearly, but can be time-consuming.
Overall
As you can see, this is as good as it gets. The only flaw, if you want to call it that, is the fact that the assembly process is somewhat annoying.

5

. Quictent Upgraded Tent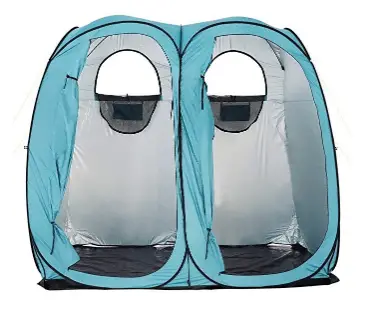 Even though this may not be one of the most advanced models on the market, it is tough to deny that it is one of the absolute best.
Read more
Materials
The combination of the waterproof Oxford fabric and fiberglass frame ensures that this going to last for a very long time. However, for hanging five-gallon bags, the supportive system could have been better.
Ventilation
Thanks to the two mesh side windows that have been implemented, you will not need to worry about this not receiving ample ventilation.
Space
Being a two-room model, this is much taller and wider than one-person shower tents will be. Both rooms will provide just about anyone with sufficient space.
Design Features
In each room, there is a hook that can be used to hold your shower bag. Also, there are four interior pockets and two large mesh pockets.
Ease of Use
No tools are going to be required for you to set this bad boy up. Additionally, it comes with a carrying bag for transport.
Overall
The best word to describe this model is consistent. From top to bottom, it sports nearly everything that you need to look for in a well-designed model.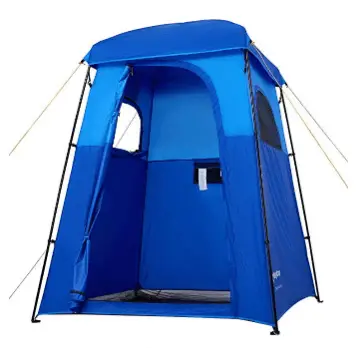 KingCamp makes its way on this list again and while this design is similar to their last, this one is optimized for only one person. If that is more in your nature then you will probably prefer this model, in fact.
Read more
Materials
This is a freestanding camping shower tent and it comes with fiberglass poles. Additionally, it sports a 190T rainfly that has been coated with a waterproof finish.
Ventilation
All sorts of mesh have been designed into this tent. There is mesh around the floor, on the roof and also in the windows. All this adds up to a shower tent that is incredibly breathable.
Space
Pretty much everyone who is reading this right now is going to love the amount of room you get in this tent. From the height to the width to the depth, all the measurements are sufficient.
Design Features
While not overloaded with shelves and pouches, this is designed with an interior pocket that sports multiple compartments. Also, there is an outside pocket that you can utilize.
Ease of Use
There have been some users who have made mention of the fact that this is not the easiest to set up. It is recommended that you peek at the manufacturer's installation video.
Overall
It is tough to go wrong with a KingCamp shower tent, let's just say that. Though you may need to practice erecting this thing, you will love it once you do.

7

. Ozark Instant Shelter Tent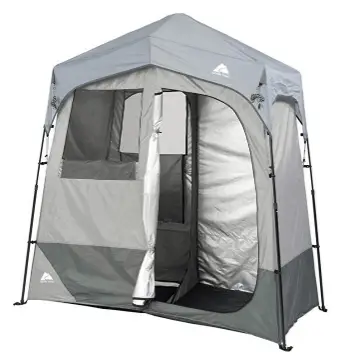 This thing is a beast but for being a beast, it is incredible how quick and easy it is to erect. No joking involved, it is possible to get this bad boy up and running in less than 60 seconds.
Read more
Materials
Overall, the quality of this tent does warrant the price. But, not all is good as the included zipper has been known to break prematurely.
Ventilation
Thanks to the mesh that surrounds the floor, water is allowed to easily escape. Additionally, there are mesh windows that allow for adequate air circulation.
Space
There are two rooms that can be accessed here. Overall, both of them will allow full-grown adults to have plenty of space to work with.
Design Features
Though the five-gallon water bag hangs a bit too low, it is nice that one is included for you. Also, there are multiple pockets inside that can be used to store toiletries.
Ease of Use
Without question, this is the main reason why this model is so beloved. The poles come pre-attached to the fabric and, within several seconds, the entire structure can be set up and ready to go.
Overall
It is not too hard to see why this is one of the highest recommended shower tents on the market. Being optimized for convenience, it is going to appeal to several of you.

8

. Green Elephant Utilitent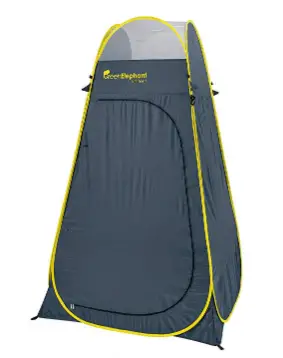 There are a few things to note right off the bat here. Firstly, this does not come with a floor and, secondly, it is a bit smaller than other shower tents available on the market.
Read more
Materials
Outside of the subpar stakes that are included, this is incredibly well-built. It features a water-resistant polyester construction with a heavy-duty zipper and also high-quality stitching.
Ventilation
To maintain privacy while at the same time providing you with sufficient air circulation, this comes with mosquito netting on the roof. Though subtle, this works really well.
Space
Now, this is far from small and most of you will not feel cramped in this tent. At the same time, it is only designed for one person and is more compact than others.
Design Features
As mentioned, there is no floor in this tent. Also, a rain cover is provided in the instance you need to shower in inclement weather. As for the interior storage, there are different pouches and hangers that you can utilize.
Ease of Use
Because this will pop up in record time, it is optimized for transport. With that being said, a few users have reported that it can be somewhat tricky to fold down properly.
Overall
Unique and different would be the best way to describe this pop-up shower tent. It is not going to fulfill everyone's needs, however, so be aware of that.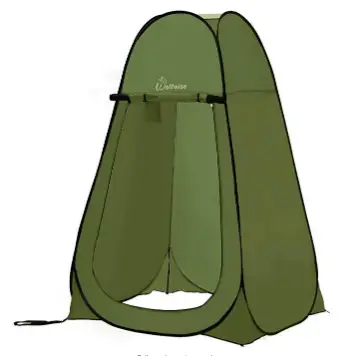 This is one of the most compact and lightweight options on this list. Due to this, it may not be the best choice if you will be camping during windier conditions.
Read more
Materials
In addition to the galvanized steel frame, this has also been designed with anti-tear 190T polyester fabric. This same fabric has been coated to be protected from both UV rays and also water.
Ventilation
The zippered window and top mesh design ensure optimal ventilation and breathability.
Space
As you can see from the photos, this is only suitable for one person. For the record, it measures 47.2 by 47.2 by 74.8 inches.
Design Features
You will have access to one side bag (which can be used for items you do not want to get wet) and also a clothesline (which can be used to hang your wet clothes and towels). Also, just to note, there is no floor.
Ease of Use
This is a pop-up tent and that means that it is optimized to fold down and assemble in seconds. However, it can only be folded in one manner to get it to fit back inside the bag.
Overall
If you are looking for a more lightweight and compact option, this is for you. Heck, even backpackers could use something like this.

10

. G4Free Outdoor Shelter Tent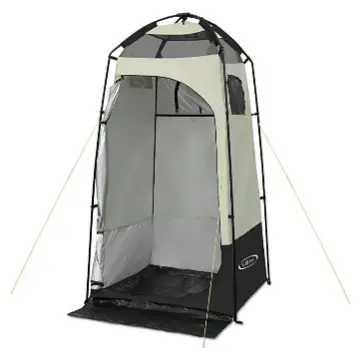 In addition to the actual quality of the design, this portable camping shower is popular due to its height. This extra headroom will be appreciated by virtually everyone.
Read more
Materials
The PE Velcro floor (which is abrasion-proof) is nice (though not perfect). Also, the frame has been finished with anti-rust painting.
Ventilation
The combination of the mesh windows and mesh roof make this an incredibly breathable and well-ventilated model.
Space
Indeed, this sucker is tall (it is nearly seven feet, in fact). The 47.24-inch depth and width, however, are also excellent and should provide you with plenty of breathing room.
Design Features
Both the rainfly and PE floor are removable. Speaking for the PE floor, though, it is a little bit too small for its good. On another note, this is lacking quite a bit when it comes to interior storage.
Ease of Use
Instructions are included with your purchase. However, one reviewer reported that they modified theirs a bit to make things a bit easier. Then again, it still should only take around 15 or 20 minutes to assemble this.
Overall
The lack of interior storage is a bit of a bummer but, overall, this is a well-thought-out design. You simply may need to account for that yourself.

Subscribe to our Newsletter