Best Shower Tents
In a
Hurry? Editors choice: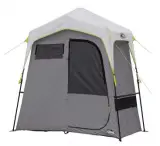 Test Winner: CORE Instant Changing Room

Are you sick and tired of either not taking showers, cleaning yourself in the water, or utilizing public showers while you are camping? There has got to be a more relaxed and more convenient way, right? Well, there most certainly is, and that is why you have come here today.
Have you ever heard of shower tents? In addition to being optimized for showers, they can also be used as privacy rooms for you to change out of your clothes. You can even use them to go to the bathroom. For more info on portable toilets,
click here
. Indeed, they are incredibly versatile in their design.
But, not all models are the same, and this is important to understand. There are several essential design features and integrations that will make specific designs better than others. You will get a glimpse of that with our top 10 list below.
Standout Picks
Criteria Used for Evaluation
Materials
In order for you to figure out how strong, durable, and well-built any model is, you need to know its materials.
One of the very first things you need to assess when you are looking to find the best shower tents is what they are made out of. And, there are two primary components that you will need to assess. The first of the two parts is the actual fabric (which is going to encompass the frame).
Two of the most popular fabrics you will run across are polyester and nylon. Both of these are synthetic, human-made fabrics and, quite frankly, they both have their advantages. In addition to being much lighter than most natural-based materials, polyester and nylon are also incredibly durable, quick-drying, and quite resistant to tears.
Oh, and you will also see these types of fabrics often be finished with certain coatings. Such coatings are going to make them more resistant to UV rays from the sun and water.
However, you also need to analyze what the frame is made out of. As with polyester and nylon, two of the most popular frame materials will be steel and fiberglass. While steel is generally preferred for strength and durability, it also erodes and can rust. Meanwhile, fiberglass has no such concerns.
Breathability
This section is all about ventilation. And, yes, this is oh so important for you to consider.
With virtually any tent that you ever buy, you need to ensure that there is optimal ventilation. When it comes to these types of tents, however, the need for ventilation is magnified and here is why.
Because you will presumably be taking showers in your new tent, water is going to get everywhere. Well, what happens to fabrics when they are exposed to moisture for too long? Mold and mildew can begin to grow that is what. You want to avoid this.
Of course, a well-ventilated shower tent will also keep it fresh and also enhance its breathability. The tent must be well-ventilated after you take your shower (as this will allow it to dry).
Either way, you understand the importance of it. Regarding what you need to do to ensure you buy a model that is well-ventilated, look for the mesh. Most models will sport mesh rooftops and also several mesh windows. Some will even sport mesh around the floor to allow the water to escape.
But, remember, because you still need some privacy, the entirety of the tent is not going to be made out of mesh.
Size
When looking for your ideal model, you will want it to provide you with as much space as you need.
As you noticed on this list, you will find both one-room and two-room shower tents on the market. Regarding which style is superior, it all comes down to your needs and preferences. We will say this; two-room tents are excellent in the instance someone needs to change their clothes while you are still showering.
Additionally, one of the rooms can be used to store your dry and clean clothes while you shower. In a way, two-room models offer a bit more convenience. But, they will also be bigger in scale, and this may not be what you want.
Either way, no matter if you are shopping for one-room or two-room tents, you will need enough space inside to freely bathe yourself. Our guide on the best toiletry bags can also be a useful read on this occasion. The last thing you want to feel is cramped inside while you are trying to enjoy a refreshing shower.
While it does depend on your physical size, you will still want to assess the physical dimensions of the model you go to buy. Assess the height, length, and width as all three measurements are going to dictate how much space you will have inside.
Features
The interior of the tent is just as important as the exterior. In specific, look for as many pockets and pouches as you need.
For sure, you do not want to sleep on this section here. While, technically, you can always customize your tent and add certain accessories to it, you may want to look for models that come pre-designed with everything you need.
For starters, how about interior mesh storage pouches? These will be great for some of your toiletries such as your shampoo, conditioner, soap, washcloth, etc. Then again, you can always put these anywhere inside the tent. Along the same line, to hang up your old clothes or even your towels, some models will come equipped with hooks or clotheslines.
Of course, what about the stuff that you need to keep dry (such as your drying towel and new clothes)? While this is where a second room can come in handy, some one-room designs will sport exterior towel bars and pouches.
Moving on, if the tents can support it, specific models will come equipped with hooks to store shower bags. But, it is worth noting that not all options will be designed in such a fashion (more on that later).
And, lastly, you will also see specific tents come with removable rainfly and floors. Rainfly can be nice gear for the rain during inclement weather and while floors can be lovely to stand on, they can also add one more component you need to clean afterward.
Ease of Use
Most of these tents will not be hard to set up but some will be easier than others.
The first order of business for this section is to keep in mind how easy your shower tent is going to be to set up. Let's face it; no one out there is going to want to spend an hour setting up a cumbersome shower tent. Thankfully, for the most part, this is not going to be the case very often.
Still, from brand to brand, it is going to differ. And, if you want the absolute most comfortable experience possible, then you should think about going with a pop-up shower tent. As the name implies, a tent of this nature is going to come pre-assembled nearly. The telescoping poles will, most likely, be pre-attached to the fabric, and all you will need to do is "pop it up."
Subsequently, pop-up tents are also more comfortable to pack down when you are done with them. Speaking of which, it also may be in your best interest to look for models that can easily be folded back into their carrying bags.
It is also worth noting that practice is going to make perfect with something like this. The more times you erect the shower tent, the easier it is going to be.
Our Top Picks for the Best Shower Tents
Subscribe to our Newsletter